The Paid Surveys Online website (found at paid-surveys.tv) promises to provide you with access to super high paying surveys that could allegedly see you working full-time from home & earning thousands of dollars per month.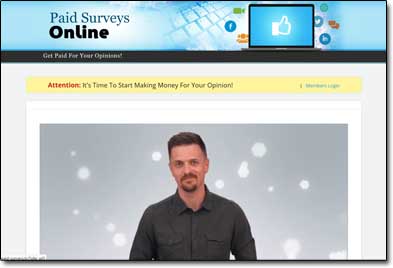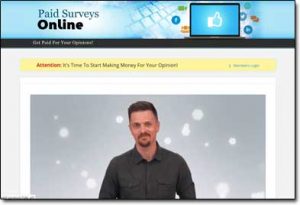 But as you probably already know, typically paid survey sites only pay very little in return for your opinions…
So what's the deal, will Paid Surveys Online scam you? Or can you really make money through their site as they claim?
Well if that's what you've been looking to find out then you can rest assured that you've landed in exactly the right place as I've taken a closer look into how it all works & in this review, I'll be uncovering the honest truth about the new paid-surveys.tv site.
What Is Paid Surveys Online?   |   How Does Paid Surveys Online Work?   |   Is Paid Surveys Online a Scam?   |   A Better Alternative
What Is Paid Surveys Online?
Paid Surveys Online is a relatively new website which has allegedly been put together by a lady named Lauren Anderson & it promises to provide you with a way to earn as much as $50 per survey from online paid survey sites.
Lauren claims that the "trick" she discovered completely changed her life & that she's now put the Paid Surveys Online website together to help others change their lives just like her.

She then goes on to state that by signing up to her program you'll get access to high paying surveys & that if you complete them regularly you'll be able to earn enough money to quit your job & work from full-time from home.
It all sounds pretty interesting… After all, who wouldn't want to earn such substantial amounts of money in return for completing such an easy task as filling in quick & simple little surveys online?
Sadly though whilst it might sound interesting, it's not at all true. In fact, the Paid Surveys Online site is actually just a rehashed version of the Gold Opinions scam that I exposed on this blog literally the other day.
And the Gold Opinions isn't the only other paid surveys scam I've come across to date… In fact, there are quite a few others to watch out for such as;
So when looking into paid surveys, whilst there are indeed some legitimate paid survey sites it's always good to keep on your toes. If the opportunity sounds too good to be true, then as the saying goes – it probably is!
Obviously, I don't just expect you to take my word for it when I say it's a scam though – after all, I appreciate that you might have been getting really excited about the potential of earning money from home… So instead, keep reading & I'll show you exactly how it all really works so that you can see for yourself what's going on.
How Does Paid Surveys Online Work?
Essentially the Paid Surveys Online website isn't actually a paid surveys site at all – the site is just selling you access to a rather lame digital product instead (which I'll explain more about in a moment).
You see a legitimate paid surveys site is a site that connects you (somebody looking to make money and willing to share their opinion) with a company who is looking for opinions & willing to pay for them…
They provide the platform to connect you together, and they handle the payments from the companies – taking a little cut for themselves then passing the remainder down to you in return for your efforts.
A good example of a reputable & legitimate paid surveys site would be Global Test Market.
The Paid Surveys Online site, on the other hand, doesn't do any of that. They don't work with any survey companies & they will not be the ones providing you with any surveys (despite what they promise).
The Paid Surveys Online website is just a hyped-up sales page to trick you into purchasing an educational product. So whilst you think you're going to be getting access to high-paying survey sites after handing over the requested $27 entry fee, all you really get access to is some training which allegedly contains the "secret" to earning lots of money from paid surveys.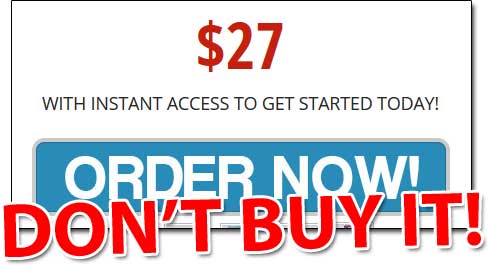 And guess what the so-called secret is? According to them, the "secret" is to simply sign up to as many paid survey sites as you possibly can. That is their "revolutionary" trick of making lots of money from paid surveys.
But guess what? It won't work! It doesn't matter how many paid survey sites you sign up to you'll never manage to make any sort of substantial income because they pay way too little in return for your time. For example, if you were to complete paid surveys for 18 hours per day (which it's unlikely that you'd ever get provided with enough surveys to do that) you probably still wouldn't earn much more than $25.
If you really want to earn a full-time income online you need to do something like affiliate marketing instead.
The whole Paid Surveys Online site at paid-surveys.tv is just a con to trick you into signing up to a $27 per month subscription. The whole thing is built upon lies & deceit. In fact, even the person in the video is a phoney. He's just an actor from Fiverr (as shown below) and he's the same guy featured on the Gold Opinions site: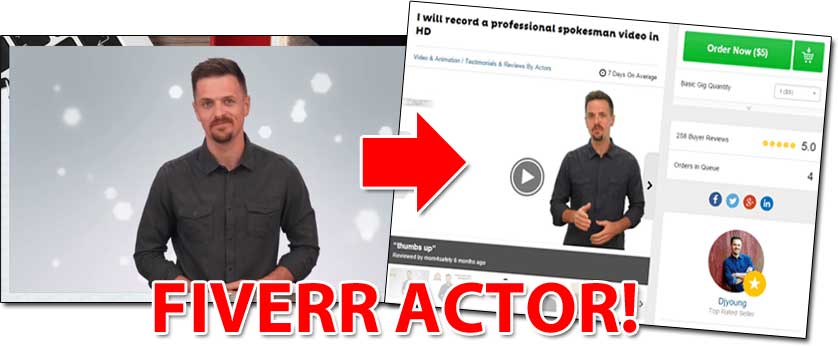 You can't trust a single word that's written on their site or spoken in the video, and that brings me onto…
Is Paid Surveys Online a Scam?
Ultimately that totally depends on how you define a scam. I mean yes, in return for your money you do actually get access to something (even though it's super lame), but the whole website is built upon lies & deceit & therefore, in my opinion, it is 100% a scam.
I mean the truth is that there is just no way you're going to make good money as a result of going through the Paid Surveys Online site – in fact, there's no way you're going to make good money from paid surveys at all… They really are just a time-killer more than anything.
So overall I would advise that you avoid the Paid Surveys Online website because as far as I'm concerned it's just been set out to make its creator wealthy at your expense & if you happen to spend money on it you'll just find yourself disappointed at what you receive.
Like I said earlier in this review it is indeed possible to make a full-time income online but it's not going to be possible with paid surveys – plus it's not going to be "easy" either… To make a good income online you must be prepared to put in some work (just like you would offline).
The good news though is that if you are prepared to put in the work then you can learn how to get started properly online over at Wealthy Affiliate – and it's there that you'll be able to work towards building a decent income.
But anyway whatever you decide to do I just hope that my review here has given you a better insight into the Paid Surveys Online scam & hopefully it's helped you save some cash. If you do still happen to have any questions about it though then don't hesitate to leave them below & I'll do my best to get back to you as soon as I can.
A Better Alternative
The sad truth is that unfortunately most of the programs promising to help you make money online are scams. I can say that confidently after exposing over 500+ of them here on this blog.
But the good news is that even though most of them are indeed scams, there are actually some very good programs in amongst them - some programs that can truly help you to earn money.
And out of all of the legit programs I've seen, the one I would recommend the most to anybody looking to get started online is Commission Academy. In my own opinion, that's the best place to start.
At Commission Academy, you'll be provided with everything you need (including the training & tools) to begin earning real money by promoting products or services for companies like Amazon online.
The best part is that there's literally no limit on the amount you can earn with it & the process is pretty simple which means that it's absolutely perfect for people that don't have much experience.
Some wealthy affiliates even earn as much as 5-figures per month... Or more!


I mean don't get me wrong, that kind of money won't just fall into your lap without doing any work... But the harder you're willing to work at it, the more you stand to earn with it.
So if you're looking to get started but don't know which route you should go down or which program you should join (and don't want to waste money on bogus things that don't actually work), then I'd highly recommend checking out Commission Academy first. You can learn more about it here.