Gold Opinions is a website that claims it can help you live "the good life" by completing paid surveys online & they lead you into believing that you'll be able to work from home earning as much as $50 for every single survey that you complete.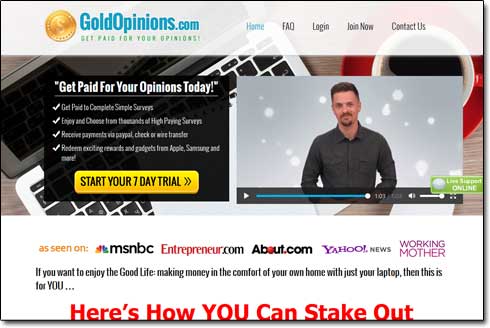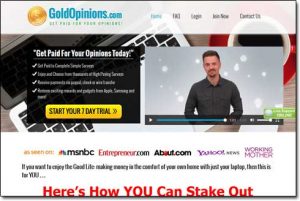 But you're probably pretty sceptical about the whole thing (and rightly so) as typically paid surveys only pay out very, very little…
So is it really legit, or is Gold Opinions a scam that'll just somehow end up costing you money rather than actually helping you make it?
Thankfully you've landed in exactly the right place to find out the answer to that question as I've taken a closer look into it & in this honest review I'll be uncovering how it all works & whether or not you can really make any money through their site.
What Is Gold Opinions?   |   How Does Gold Opinions Work?   |   The Biggest Problem   |   Is Gold Opinions a Scam?   |   A Better Alternative
What Is Gold Opinions?
So essentially Gold Opinions portrays itself as a high-paying, legitimate paid surveys site & it claims to have already paid out over a whopping 8 million to its users which I think you'll agree sounds pretty amazing.

In fact, at a glance, the whole thing seems pretty amazing… After all who wouldn't want to work from home & earn a large amount of money by just carrying out such a simple task like filling in surveys online?
Sadly though I can tell you right from the off that it's nowhere near as amazing as it's made out to be. In fact, the Gold Opinions site isn't actually a paid surveys site at all, it's actually just an "educational" site.
You see a legitimate paid surveys site is a site that connects you, the person looking to make money by completing surveys, with the companies who are looking to receive opinions & willing to pay for them. An example of a popular legitimate paid surveys site would be Global Test Market, which is a company you may already be familiar with.
Well, Gold Opinions doesn't do any of that – instead what you're actually getting access to via Gold Opinions (as I mentioned above) is just some "educational" material that will allegedly teach you how to make more money from paid surveys… And alongside that, they just give you a list of some paid survey companies that you can get started with (but they do NOT pay anywhere near $50/survey like you're told).
There's simply no need to pay any money to access a list of survey companies though – I mean you can access the list I put together for free by clicking here. Plus the "educational" material you're provided with is totally bogus too. It basically just says you should sign up to as many companies as you can to make more money which I think you'll agree is pretty obvious stuff.
Sadly though the harsh truth is that you're just never going to earn a full-time income online from paid surveys – not even if you were to join up to every paid survey company in the world. The reason for that is because they are so easy they don't reward their members well at all for their time, and even if you were to complete surveys back to back for 24 hours you would probably not even earn as much as $30.
So if you were to factor in 8 hours sleep, you are probably looking at earnings of around just $20 or less – and that's without ANY time to do anything else, and also assuming that you actually get provided with enough surveys to make that happen (which is extremely rare).
In short Gold Opinions, in my opinion, is no different to the Take Surveys For Cash scam or the Paid Surveys At Home scam & you'll see why I'm saying that when I show you how it all really works below…
How Does Gold Opinions Work?
Ultimately it's clear for me to see that Gold Opinions is not really set out to help you make it money like it claims it is at all. The truth is that it's just set out to make its creators money at your expense instead.
Oh and by the way, its creator "Paul Parker" is not the real creator at all. That's just an alias that's being used to hide the real people behind the whole thing – and the guy in the video is a cheap actor (as shown below):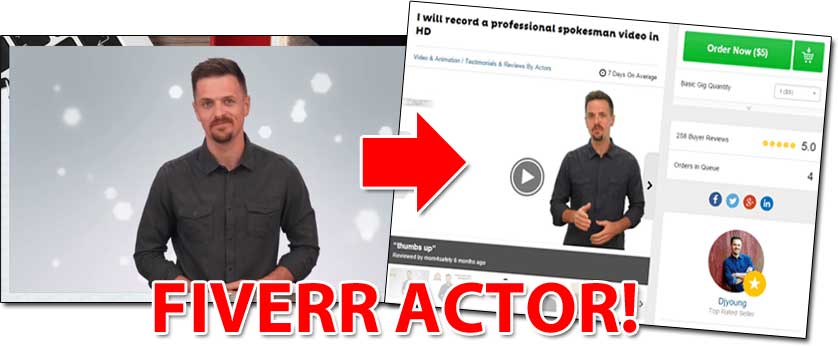 So yeah, it works like this…
The creator (whoever he or she really maybe) has affiliated themselves with a whole bunch of paid survey companies. This means if they recommend you there & you sign up, they earn some money.
This in itself isn't all that bad – many people earn money through affiliate marketing (in fact you can learn how to make money with affiliate marketing yourself here) & it doesn't cost you any extra to actually join the survey companies.
But the problem is that the website is very misleading & that they actually charge you a fee to access the companies.
You have to pay $1 to get access to Gold Opinions for 7 days, and then after that, you will be charged $27 which will continue to be billed to you every single month… That's pretty expensive in my opinion! Especially since like I mentioned earlier in this review you're just paying for stuff that you can actually easily access elsewhere for free.
You Might Also Like:
The Biggest Problem
I don't have any problems with affiliate marketing (since it's legit & it's the same way I personally make most of my own money online) and I don't have any problems with people charging for access to products…
However, what I do have a problem with is being totally lied to! I mean the whole Gold Opinions website basically makes out like you're going to get access to super high paying paid survey jobs & that you'll be able to make money right away which is completely untrue.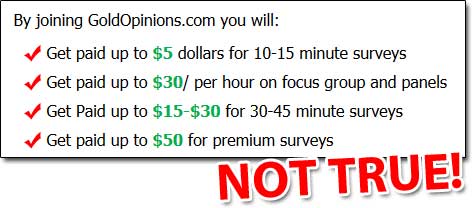 If you sign up on that basis then you will be completely & utterly disappointed at what you receive in my opinion.
In fact to be honest I think no matter who you are or what you are expecting from the site, I still think that given what you actually receive in return for your money that you will certainly be disappointed overall.
$27/month to access "average" paid survey sites that can be found elsewhere for free? And to access "training" that in short just states the "secret" to earning lots of money from paid surveys is to sign up to as many sites as possible? That's just total junk as far as I'm concerned.
Which brings me onto…
Is Gold Opinions a Scam?
You hand over your money & you get access to some "training" and a list of paid survey sites… So I guess from a technical point of view they can claim their site is legit because they do actually provide something in return for your money…
However, in my personal opinion, I believe the whole thing is built on lies & deceit & I think that you are basically being tricked into purchasing something other than what you are actually expecting to receive… So what I am saying is that in my opinion, I DO believe it to be a scam.
There is just simply no way you're ever going to be able to earn a full-time income online from completing paid surveys – and there are no "secret" companies that will pay you as much as $50 per survey like Gold Opinions makes out.
Therefore overall my advice here is for you to just avoid Gold Opinions because it is just not going to help you make money at all. Instead, if you really want to make money & you are prepared to put in the work to make it happen then I suggest you check out Commission Academy. That's one of the few programs out there that will genuinely help you build a full-time income online… But like I say, you must be prepared to put in the work… After all the internet is not magical and it is not going to help you make lots of money without doing anything.
Whatever you decide to do though I just hope my review here has given you a better insight into how the Gold Opinions program actually works & more importantly I hope it's helped you save your hard-earned cash. If you do still happen to have any further questions then don't hesitate to leave them below & I'll get back to you as soon as I can.
A Better Alternative
The sad truth is that unfortunately most of the programs promising to help you make money online are scams. I can say that confidently after exposing over 500+ of them here on this blog.
But the good news is that even though most of them are indeed scams, there are actually some very good programs in amongst them - some programs that can truly help you to earn money.
And out of all of the legit programs I've seen, the one I would recommend the most to anybody looking to get started online is Commission Academy. In my own opinion, that's the best place to start.
At Commission Academy, you'll be provided with everything you need (including the training & tools) to begin earning real money by promoting products or services for companies like Amazon online.
The best part is that there's literally no limit on the amount you can earn with it & the process is pretty simple which means that it's absolutely perfect for people that don't have much experience.
Some wealthy affiliates even earn as much as 5-figures per month... Or more!

I mean don't get me wrong, that kind of money won't just fall into your lap without doing any work... But the harder you're willing to work at it, the more you stand to earn with it.
So if you're looking to get started but don't know which route you should go down or which program you should join (and don't want to waste money on bogus things that don't actually work), then I'd highly recommend checking out Commission Academy first. You can learn more about it here.