The Click 4 Surveys website (found at click4surveys.com) promises to provide you with access to a "secret" which can allegedly show you how you can start making between $500 to $3,500 per month all from paid surveys.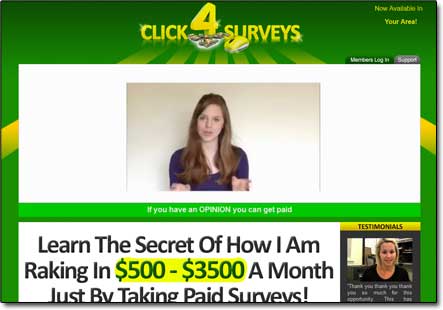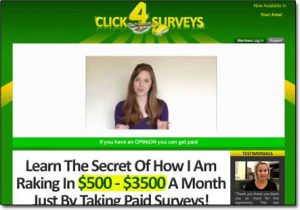 The website makes out like it's all super easy & that you can even profit from it if you're completely brand new to making money online…
But is it actually legit or will Click 4 Surveys scam you instead & take your cash rather than help you make it?
Thankfully you've landed in the right place to find out as I've taken a closer look into it & in this review, I'm going to be uncovering the truth about how it all actually works, including whether or not you can really make any money from it.
What Is Click 4 Surveys?   |   How Does Click 4 Surveys Work?   |   Fake Creator   |   The Red Flags   |   Is Click 4 Surveys a Scam?   |   A Better Alternative
What Is Click 4 Surveys?
Click 4 Surveys is a website which has allegedly been put together by a guy named Daniel Cooper & as I briefly touched on above you're led to believe that it can give you access to some sort of "secret" for earning a ton of cash from paid surveys.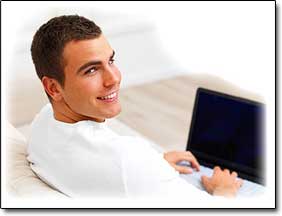 Now, this is pretty interesting because whilst paid surveys are easy to do, typically they pay out very, very little. In fact, when you average it out they often tend you pay you less than $1 per hour which is why I almost never recommend them.
So there are indeed some legitimate paid survey sites, but you'll be lucky to earn anything more than $25 per month from them & even if you signed up to multiple you'd be working long hours for very little pay.
In my opinion, it doesn't make sense & that's why I often recommend better methods like affiliate marketing (which you can learn more about at Wealthy Affiliate).
But anyway along comes the Click 4 Surveys system & this system can supposedly "fix" the problem with paid surveys. So you're led to believe that you'll just be filling in paid surveys as normal, but rather than earning the small amounts usually paid out you'll be earning BIG money instead.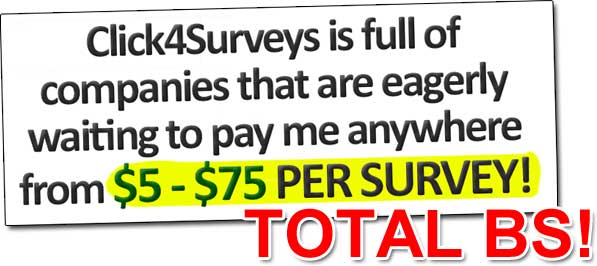 And the reason I've stressed the word big is that Daniel Cooper through the Click 4 Surveys website wants you to believe that you'll be able to earn as much as $50+ per survey which is an insane amount.
The question you've got to ask though is why would any survey company pay you such a high amount for completing such a simple survey? A survey that they could get pretty much anybody could complete…
The simple answer is they wouldn't – and they don't.
Unfortunately, I can confirm right from the off that the Click 4 Surveys system is actually nothing but a scam & rather than being designed to help you make money it's actually just been designed to take money from you.
The reason I can say that so confidently right from the off is that it's actually just a re-hashed version of a scam I've previously exposed on this blog named Take Surveys For Cash. The names changed & the website looks a little different but believe me, it works exactly the same way.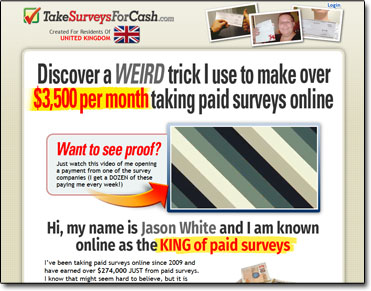 And that's what I'll explain right now…
How Does Click 4 Surveys Work?
Well, in short, the Click 4 Surveys program doesn't work as promised – at all. I just wanted to reiterate that in case you happened to jump straight down to this part of the review & skipped the section above.
In fact, the Click 4 Surveys website isn't actually a paid surveys website at all. It's actually just a training program that's been sold through ClickBank & after handing over your cash all you get access to is a list of survey websites.
These are websites that you could find elsewhere for free – such as here for example.
But the Click 4 Surveys team want you to believe that they're giving you access to something "secret", and that's why they're charging money. They want you to think that after handing over your cash you're going to get access to some secret high-paying survey sites.
The truth is they don't, and there is actually no such thing.
NO survey sites pay out anywhere near $50+ per survey & the reason for that is simply because there are so many people willing to complete the surveys they have absolutely no need to pay such high amounts.
Think about it, even if a survey site promises to pay as much as $5 for every survey people would come flocking & the site would be overwhelmed… Paying $50+ would just be outrageous.
The so-called "secret" is that you should sign up to as many websites as possible & that's literally all they tell you. They say that by signing up to all the sites you'll receive more surveys & you'll be able to make more money.
That's true, but you still only have 24 hours in a day – 8 of which you probably sleep, which leaves 16 to complete surveys. Even if you worked every single hour as I said above in this review on average even the highest paying survey sites only payout on average around $1 for every hour of your time.
That's $16 per day… There's no way you're ever going to get rich from paid surveys.
The Only Person Making Money Is The Creator
The person behind the Click 4 Surveys program isn't really named Daniel Cooper, that's just a fake alias that's being used to hide the identity of the person who's really behind it all (because it's a scam).
The whole thing is just false hype & the intention is to simply get you to hand over your cash so that the creator can make money at your expense. The program isn't really designed to help you at all.
You Might Also Like:
Proof You're Lied To…
I appreciate that you might not really want to just take my word for it when I say it's a scam – after all, you might have been really hoping that you had finally found a super-easy way to make lots of money.
For that reason let me show you some solid proof of the lies that are told…
#1 – Despite everything you're told on the website, at the very bottom of the page there is an income disclaimer which states "there is no guarantee that you will earn any money using the techniques and ideas in these materials". So basically all through the website, they promise you will make X amount of money & that it will be super easy, then at the bottom there is a disclaimer saying that they are lying & that they don't really guarantee you'll make anything.
#2 – There are a lot of people in the video on the Click 4 Surveys website that claim to have made a whole bunch of money & at a glance they can seem convincing… Until you discover that they are all paid actors from the website Fiverr! The creator of the system has hired them to say that they are making money from the system… So tell me, if the method was truly legit why would you need to pay people to say it works? Simple – it doesn't!
Here's the proof of that:

Which brings me onto…
Is Click 4 Surveys a Scam?
In my opinion yes, Click 4 Surveys is a scam. The reason I say that (even though it does give you something in return for your money) is because the whole thing is just built upon lies & deceit.
There is no way that you make the amounts of money that you're promised you will & it's easy for me to see that the true intention is just for the creator to make money at your expense instead.
Therefore overall there is no way I am going to be recommending it to you because I know that if you hand over your cash & join you will just find yourself disappointed at what you actually receive.
I mean don't get me wrong, yes there are many legitimate ways to make money online & some of them can indeed generate you enough money to live off but it is not going to be as easy as the Click 4 Surveys program makes out.
The good news though is that if you are prepared to put in the work required to make it happen then are places where you can learn how to properly build an income online, such as Commission Academy. So if you're interested in building a full-time income online then I'd recommend you join up there instead.
But whatever you decide to do I just hope that my review here has given you a good insight into how the Click 4 Surveys site all works & hopefully you can see why I've come to the decision to not recommend it.
If you do have any further questions or comments though then don't hesitate to leave them below & as always I'll do my best to get back to you with a response as quickly as possible.
A Better Alternative
The sad truth is that unfortunately most of the programs promising to help you make money online are scams. I can say that confidently after exposing over 500+ of them here on this blog.
But the good news is that even though most of them are indeed scams, there are actually some very good programs in amongst them - some programs that can truly help you to earn money.
And out of all of the legit programs I've seen, the one I would recommend the most to anybody looking to get started online is Commission Academy. In my own opinion, that's the best place to start.
At Commission Academy, you'll be provided with everything you need (including the training & tools) to begin earning real money by promoting products or services for companies like Amazon online.
The best part is that there's literally no limit on the amount you can earn with it & the process is pretty simple which means that it's absolutely perfect for people that don't have much experience.
Some wealthy affiliates even earn as much as 5-figures per month... Or more!


I mean don't get me wrong, that kind of money won't just fall into your lap without doing any work... But the harder you're willing to work at it, the more you stand to earn with it.
So if you're looking to get started but don't know which route you should go down or which program you should join (and don't want to waste money on bogus things that don't actually work), then I'd highly recommend checking out Commission Academy first. You can learn more about it here.