The Automated Profit Formula system has just launched & it promises to give its members access to a way to easily generate as much as $616.86 per day online in just 3 steps, even if they're totally brand new at making money online…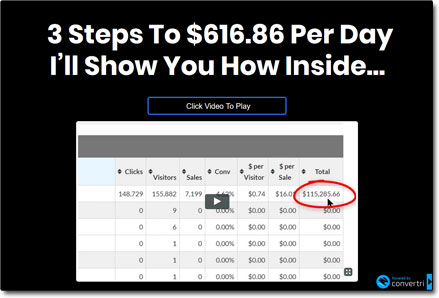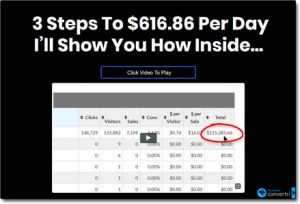 But before you can access the so-called steps you're forced to hand over some of your hard earned cash first, which is a huge red-flag… So what's the deal? Does it actually provide a legit way to make money or is the Automated Profit Formula system a scam?
Well thankfully you've landed in exactly the right place to find out as I myself have personally taken a closer look into it to see exactly how it all works & in this honest review I'll be uncovering the REAL truth about it, as well as outlining why you likely won't find yourself earning anything as a result of buying into it.
What Is Automated Profit Formula?   |   How Does Automated Profit Formula Work?   |   Is The Automated Profit Formula a Scam?   |   A Better Alternative
What Is Automated Profit Formula?
As the name suggests, the Automated Profit Formula system essentially portrays that it will give you access to some sort of entirely automated way to begin making lots of money online, even if you're totally new…

However what I can tell you right from the off is that this couldn't be further from the truth – and if any system or program tries to sell you in on the idea of being able to make money without doing anything then you should generally run a mile.
The reason for that is because whilst the internet is great & certainly provides many new legitimate ways to make money, sadly it's not magical & there isn't & never will be a way for it to generate you good money with little to no work at all.
If there was, then everybody would be doing it – nobody would be left working a job & the world would be in crisis.
But the question is, now that we know that the Automated Profit Formula won't be generating us any kind of "automated income", can it actually generate us any kind of income at all? Can we still see the $616.86 commissions that are promised?
Let's take a closer look into exactly how it all works to find out…
How Does Automated Profit Formula Work?
In short, the Automated Profit Formula is nothing new or exciting – it's just an over-hyped sales page that tricks you into handing over your cash on the promise of obtaining easy money, but then just provides you with some pretty basic training on affiliate marketing in return.
And sure, you can indeed make good money with affiliate marketing – but you can get much better training for free over at Wealthy Affiliate (and they also give you all of the tools you need to started as well).
So yeah, whilst the sales page for the Automated Profit Formula makes the whole thing look really glamorous, in reality it's not – and because (in my opinion) the training provided through it is so poor, I doubt you'll see yourself earning anything with it… Let alone the whopping profits of $616.86 per day that were promised.
To be honest though I was hardly surprised at that because I noticed that the program was being sold through the WarriorPlus platform & generally most of the things sold through there are just complete utter junk.
I've already exposed many other WarriorPlus programs on this blog such as From Zero To $100 In 24 Hours & The El Bandiot System… They're all just gimmicky & essentially all designed to trick people into handing over their cash so the creators can earn at their expense – just like a typical get-rich-quick scam.
What's funny though is the fact that the creator of the Automated Profit Formula forgot to edit a piece of text on the homepage which reveals that the whole thing is actually just a re-hashed version of the Bulletproof Profits scam which I previously exposed:

He's simply changed the name & appearance of the website a little in an attempt to escape the negative reviews that surfaced of his previous platform (Bulletproof Profits) in an attempt to continue parting more people with their cash.
You Might Also Like:
So What Can You Do Instead?
Sadly there are many scam programs & systems out there that try to lure people in with the promise of easy money, however the good news is that there are also indeed many legitimate & proven ways to make good money online too.
Many of those ways I've already covered on my top picks page here, however I'll point out that one of the best ways I've personally found is affiliate marketing – which is the same way I personally make most of my own income online.
And yes, affiliate marketing is the same thing taught through the Automated Profit Formula system, but the problem is not with the method itself… The problem is with the Automated Profit Formula's approach to teaching it.
Basically the training they provide sucks…
But as I mentioned there are other legitimate & proven places that you can get started with it & learn how to make money properly with it, like Wealthy Affiliate – which is one of my all-time top recommended programs.
I know what you might be wondering though – how does affiliate marketing work? And how much can you make with it? So let me explain…
Basically with affiliate marketing you are simply connecting people with the products that they're looking for online, and if they happen to go on to make a purchase then you get paid a commission as a result.
So as an example you could sign up as an affiliate of Amazon (which doesn't cost anything to do) and this would give you the opportunity to promote any of the products from their website for a commission.
As shown below, you simply get a unique link to each of the products with a special code added which tracks all of the clicks and sales back to you: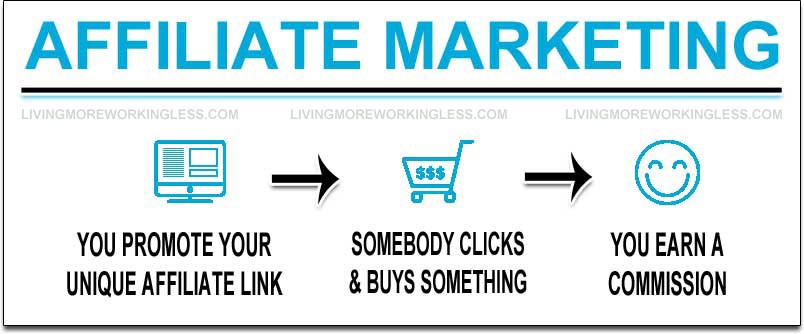 And the best part is that if done correctly, affiliate marketing doesn't involve any selling – because rather than "selling" things to people, you are just connecting them with the things they're already looking for.
Plus in terms of income, the sky is the limit. You can earn as much as you want with affiliate marketing & believe it or not there are actually many affiliate marketers out there earning hundreds of thousands of dollars every month.
I myself have even managed to build up an income over $10,000 per month with it, and if I can do it (a former electrician) then I know 100% that others can too.
But anyway, back onto the Automated Profit Formula system, I think it's time for…
Is Automated Profit Formula a Scam?
Well I wouldn't go as far as to call it a scam as such since you do actually get some training in return for your money, however what I will say is that in my opinion the whole thing is extremely misleading & it is very unlikely that you'll actually find yourself making money with it.
As far as I'm concerned the Automated Profit Formula system basically makes extremely bold claims, pushes you into handing over some cash to find out more & then fails to deliver on its promises once you've done so.
There is just no way the training is in-depth enough to see you earning the promised sum of $616.86 per day, and as I mentioned above I think to be honest you'd be lucky to see yourself earning so much as a single dollar from it.
But like I also said earlier in this review there is simply no need to waste your time or money with the Automated Profit Formula system anyway because you can actually get free access to Wealthy Affiliate which is a proven & legitimate platform that will give you a much better chance of success.
Or alternatively you could just check out all of these other cool ways to make money online that I've put together.
But whatever you decide to do I just hope that my Automated Profit Formula review here has given you a good insight into how it really works & more importantly I hope it has helped you to save your hard earned cash.
If of course though you do still happen to have any further questions or comments about it then don't hesitate to leave them below & as always I will do my best to get back to you as quickly as I can.
A Better Alternative
The sad truth is that unfortunately most of the programs promising to help you make money online are scams. I can say that confidently after exposing over 500+ of them here on this blog.
But the good news is that even though most of them are indeed scams, there are actually some very good programs in amongst them - some programs that can truly help you to earn money.
And out of all of the legit programs I've seen, the one I would recommend the most to anybody looking to get started online is Commission Academy. In my own opinion, that's the best place to start.
At Commission Academy, you'll be provided with everything you need (including the training & tools) to begin earning real money by promoting products or services for companies like Amazon online.
The best part is that there's literally no limit on the amount you can earn with it & the process is pretty simple which means that it's absolutely perfect for people that don't have much experience.
Some wealthy affiliates even earn as much as 5-figures per month... Or more!


I mean don't get me wrong, that kind of money won't just fall into your lap without doing any work... But the harder you're willing to work at it, the more you stand to earn with it.
So if you're looking to get started but don't know which route you should go down or which program you should join (and don't want to waste money on bogus things that don't actually work), then I'd highly recommend checking out Commission Academy first. You can learn more about it here.