Bitcoin Lifestyle is the name of a new app that can supposedly trade Bitcoin profitably on your behalf & it claims that it can enable you to generate a completely automated income.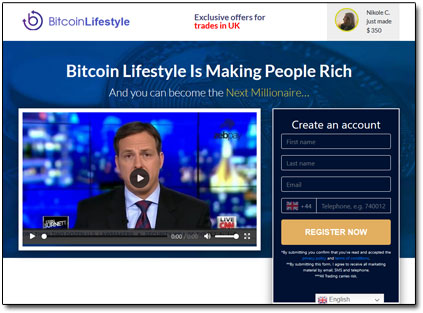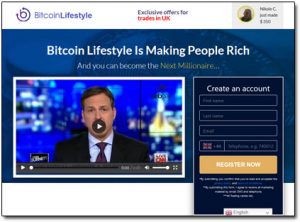 You're told that the Bitcoin Lifestyle App is making people rich & that by signing up you can become the next millionaire. All you need to do is deposit just $250 to get started.
But is Bitcoin Lifestyle actually legit? Or is it just a scam that's set to sucker you out of your hard-earned cash?
Well, thankfully you've landed in the right place to find out because I've personally taken a closer look into the Bitcoin Lifestyle App & in this honest review I'll be uncovering everything you need to know.
What Is Bitcoin Lifestyle?   |   How Does The Bitcoin Lifestyle App Work?   |   The Red Flags   |   Is Bitcoin Lifestyle a Scam?   |   A Better Alternative
What Is Bitcoin Lifestyle?
Bitcoin Lifestyle is the name of an app that can supposedly generate automated profits by trading Bitcoin entirely on your behalf.
You're led to believe that you don't even need to know the first thing about Bitcoin & that you can simply sign up, deposit $250 with the broker & activate the app to begin earning money.
And I think you'll agree, that sounds pretty darn nice.
But no doubt you'll also agree that it sounds too good to be true.
Well, that's because it is.
The reality here is that the Bitcoin Lifestyle App is nothing more than a scam & I can say that so confidently because it's a scam that I've actually already exposed on this blog several times before.
The person behind it simply keeps on changing its name in an attempt to escape the negative reviews so that he or she can continue tricking people into joining & suckering them out of their hard-earned cash.
Some of its previous names include Bitcoin Digital & Bitcoin System, among others.
But, of course, you don't just have to take my word for it when I say that it's a scam. Instead, keep on reading & in the next section of this Bitcoin Lifestyle review, I'll explain exactly how it works.
Or should I say, how it doesn't work…
How Does The Bitcoin Lifestyle App Work?
In theory (or as the Bitcoin Lifestyle website claims), here's how the Bitcoin Lifestyle App is supposed to work:
You sign up for the app
You make a $250+ deposit with the broker that they recommend
You activate the app
It begins trading on your behalf
You become a millionaire (woohoo!)
But sadly, in reality, that's not how it works.
You see, there are 2 very important things that the Bitcoin Lifestyle website fails to mention & when they are coupled together, these 2 things literally prove that the entire thing is a scam.
The first thing the website fails to mention is that it is affiliated with the broker that it recommends to you. This means that if you make a deposit, the creator will be paid a commission.
And the second thing that it fails to mention is that the broker that you're recommended to make a deposit with is not a traditional broker. Instead, it's what's known as a binary options broker.
So why do these 2 things prove that it's a scam?
Well, binary options brokers work differently from normal brokers. Through a binary options broker you don't "invest", instead, you place "bets" on whether you believe the value of something will rise or fall over a set period of time.
This means that if you win, the broker has to pay your winnings out of their own pockets.
With that in mind, you can therefore see that it's in their interests for you to lose, not win.
So ask yourself this…
Why would a broker, that loses money when you make money, be paying commissions to the creator of a system that could supposedly guarantee you to win on every single trade?
The answer is that they wouldn't.
And the real reason they're paying the creator of the Bitcoin Lifestyle App commissions is that they know that the system isn't really designed to make you win. It's designed to make you lose.
You see, after depositing via the Bitcoin Lifestyle website you do actually get provided with access to an "app" as promised & it does indeed appear to begin generating profits on your behalf…
But the app isn't really connected to any live markets.
It's essentially just a video game & the profitable trades that you appear to be making are all fake. It's just a ploy to trick you into making more & more deposits with the broker.
And each time you make a new deposit, the creator gets paid yet another commission.
So whilst it may seem harmless (as you're led to believe you'll just be able to get your money back if it doesn't really work) you can likely now see that it is certainly not.
The reality is that it's actually a very dangerous scam as it could result in people making several deposits before figuring out that they're actually getting conned.
In fact, one man was reported to have lost $65,000 to this exact type of scam.
Not good!
And just in case you're still thinking of "trying it out", let me highlight some of the other red flags to you below so that you can see first-hand for yourself that it is far from being legit.
You Might Also Like:
The Red Flags
The first red flag is the most obvious one, the fact that it sounds way too good to be true. As the saying goes, "if something sounds too good to be true, it probably is".
In the instance of the Bitcoin Lifestyle App, it most definitely is.
I mean, think about it. If there was really such an app that could generate people thousands of dollars per day all on complete autopilot then the world would be in absolute crisis.
Everybody would quit their jobs… The entire world would shut down.
So, put simply, it can't happen. It's not possible. I mean yes, there are many ways that you can legitimately make money online but you cannot make lots of money quickly without any work whatsoever.
That's just a pipe dream.
The good news, however, is that if you are prepared to put in some work then there are methods such as affiliate marketing that can provide you with a passive income further down the line.
But as for magical millionaire-making apps? Those don't exist.
And alongside that, there are also several other red flags too such as the fact that the Bitcoin Lifestyle App website displays absolutely no ownership or contact information whatsoever.
Would you really invest money with an anonymous website?
I sure as heck hope you wouldn't. That's just as good as asking to be scammed.
Then, there's the fact that a quick reverse image search using Google's Reverse Image Search tool reveals that the Bitcoin Lifestyle App website leverages fake testimonials.
Take a look:


As you can see from the image above, the image of "Amira S" from Southampton (who has allegedly generated profits of $3,041) has just been pulled from a free stock photo website named Pexels.
And as you can probably guess, it's the same for all of the others too.
This brings me nicely onto my next point…
Is Bitcoin Lifestyle a Scam?
Yes, I can tell you with 100% certainty that Bitcoin Lifestyle is a scam (and after reading this in-depth review of the Bitcoin Lifestyle App you can probably now already see that for yourself).
The entire system is fake & it has just been designed to trick you into making a deposit with an unlicensed binary options broker. You will NOT make money via the Bitcoin Lifestyle App.
And as I mentioned towards the beginning of this review, this exact same scam has actually circulated for several years under various different names.
Some of its previous names include Bitcoin Prime, Bitcoin Digital & Bitcoin System.
The Bitcoin Lifestyle App is literally the exact same scam, just launched under a new name.
So, take my advice & avoid the Bitcoin Lifestyle App… Unless you wish to lose money, of course.
Instead, if you're still looking to legitimately earn an extra income online then I'd recommend that you just stick with the proven alternatives that I've listed on my top picks page.
Hint: My personal favourite is something known as affiliate marketing. In my opinion, it's hands down the best way to build an income online (and you can earn as much as you like).
But either way, whatever you decide to do I just hope that my honest review of the Bitcoin Lifestyle App here has helped you to see how it really works & most importantly, helped you to save your cash.
Feel free to leave any additional questions or comments below.
A Better Alternative
The sad truth is that unfortunately most of the programs promising to help you make money online are scams. I can say that confidently after exposing over 500+ of them here on this blog.
But the good news is that even though most of them are indeed scams, there are actually some very good programs in amongst them - some programs that can truly help you to earn money.
And out of all of the legit programs I've seen, the one I would recommend the most to anybody looking to get started online is Commission Academy. In my own opinion, that's the best place to start.
At Commission Academy, you'll be provided with everything you need (including the training & tools) to begin earning real money by promoting products or services for companies like Amazon online.
The best part is that there's literally no limit on the amount you can earn with it & the process is pretty simple which means that it's absolutely perfect for people that don't have much experience.
Some wealthy affiliates even earn as much as 5-figures per month... Or more!

I mean don't get me wrong, that kind of money won't just fall into your lap without doing any work... But the harder you're willing to work at it, the more you stand to earn with it.
So if you're looking to get started but don't know which route you should go down or which program you should join (and don't want to waste money on bogus things that don't actually work), then I'd highly recommend checking out Commission Academy first. You can learn more about it here.