The Biz Building Blocks system (found at bizbuildingblocks.com) which has been put together by Teo Vee promises to provide you with access to some sort of online business secret that'll supposedly see you creating your own wildly successful online business by leveraging an "ordinary children's toy"…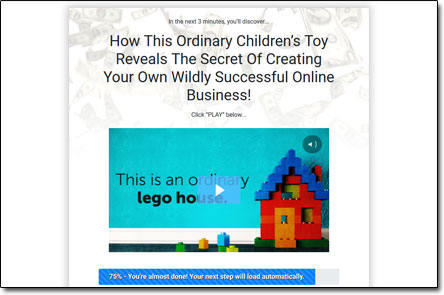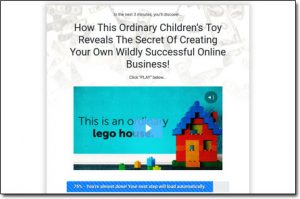 You're basically led to believe that you'll be able to simply sign up, follow some steps & achieve easy riches – but there's catch, which is that in order to "get access" you hand to firstly hand over some of your own hard earned cash…
So what's the deal? Is it actually legit & can you really make money with it, or is Biz Building Blocks a scam that's just set out to part you with your cash instead? Thankfully you've landed in the right place to find out because in this honest review I'll be uncovering literally everything you need to know, including of course whether or not it actually lives up to any of its claims.
What Is Biz Building Blocks?   |   How Does Biz Building Blocks Work?   |   Can You Make Money With It?   |   Is Biz Building Blocks a Scam?   |   A Better Alternative
What Is Biz Building Blocks?
Essentially without directly saying it, the Biz Building Blocks website makes out as if you'll be copying the same method that Lego used to create a wildly successful business, and they claim that the method is a "secret".

But to be honest I can tell you right from the off that's a bit of a gimmick…
The Biz Building Blocks system doesn't really have anything to do with Lego, and to be honest it isn't actually a system at all – it's just a doorway website that funnels you through into something called My Ecom Club.
My Ecom Club is an expensive ecommerce training program that has been put together by Teo Vee & because it's received a lot of negative reviews & complaints Teo has begun creating several of these types of "doorway websites" to basically trick people into purchasing it.
Some of the other sites he's created include the likes of;
All of the doorway pages he creates boast similar wild & weird claims, and they all also in one way or another ultimately promises easy online riches… But sadly that's not what his My Ecom Club program actually provides.
In fact as shown below according to a recent survey they carried out, 93% of people reported they made less than $500 since starting their ecommerce store:

…and that's not good, especially considering My Ecom Club costs over $1,997, as highlighted below by a member in the Facebook group: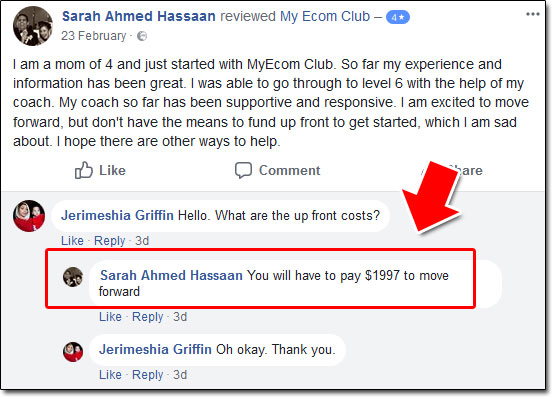 So is it worth buying into the Biz Building Blocks program? And can you make ANY money as a result of doing so? Keep on reading to find out as I explain in detail exactly how it all works below…
How Does Biz Building Blocks Work?
Okay so as I mentioned in the previous section of this review, essentially the Biz Building Blocks website is just a doorway page for My Ecom Club. This means that after handing over $97 to buy into the Biz Building Blocks program what you'll be left to discover is that you've actually bought into the My Ecom Club program, NOT Biz Building Blocks.
So right from the off it's safe to say that it's pretty darn deceiving… And that's why the checkout page gives no mention of the system's name, instead (as shown below) it just states that you'll get access to "the entire system":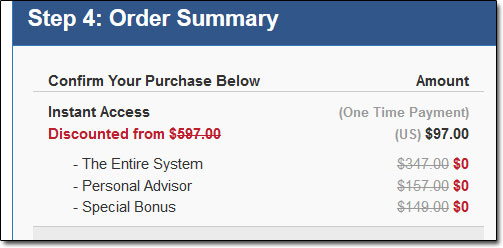 Then you'll also be left to find out that in reality the $97 fee that you paid is just for "teaser access", because from there in order to progress forward you'll be required to pay hundreds & potentially thousands of dollars more.
And the content that you do get access to for the $97 is basically just "hype" to persuade you to upgrade. It doesn't really delve into the specifics or give you any guidance on how to get started – instead it basically just talks more about the potential opportunity & then pushes you towards upgrading.
So what are the specifics? What does the My Ecom Club program consist of?
Well basically the whole thing is geared around teaching its members how to create ecommerce businesses – primarily on platforms like Shopify, and this basically involves selling physical products online.
But to be honest I'll point out here that whilst you can indeed make money with an ecommerce business, running one ain't easy at all – and it's also a pretty expensive method to get started out with as ecommerce promotions generally involve paid advertising.
Instead of ecommerce I'd recommend something called affiliate marketing – because with affiliate marketing you don't need to mess around with selling or dealing with customers, instead you just connect people with the products that they're looking for & get paid commissions in return.
Rather than you doing the work yourself, you just leverage existing ecommerce businesses (like Amazon), promote their products & get a cut of the profits…
As far as I'm concerned that's a much better method & it's the same method I personally use to make my own money online.
Plus the other added benefit of affiliate marketing is that you can get started with it for free over at Wealthy Affiliate.
You Might Also Like:
But Can You Actually Make Money With My Ecom Club?
The truth is that yes, you could indeed make money as a result of going through the My Ecom Club program because the method that it teaches is actually legitimate… However the reality is that you'll likely spend more than you'll ever make.
The reason I say that is because in my opinion the My Ecom Club program is VERY expensive & the training is very low quality.
That's likely the reason as to why 93% of their members have made less than $500 since starting their store, as I mentioned earlier in this review (and as quoted once again below):

And that's likely the reason behind all of these complaints of people wanting their money back: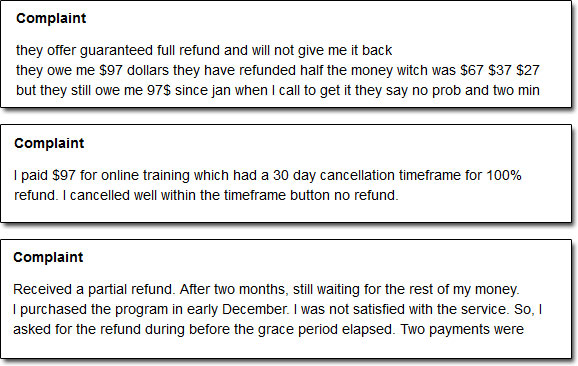 Plus on top of that, I think the fact that the program's creator Teo Vee has gone to extraordinary efforts to create "doorway websites" like Biz Building Blocks to essentially trick people into buying it is a major red-flag.
Legitimate programs like Commission Academy are honest & open about what they involve.
You should never be asked to hand over money to "find out more" and anything that asks you do so is likely trying to scam or deceive you.
And as I mentioned earlier in this review, in my opinion affiliate marketing is a WAY better method anyway…
Why Is Affiliate Marketing Better?
As I discussed a little bit above in this review, affiliate marketing consists of you promoting third party products or services in return for commissions – and there are a good number of reasons why this is better.
Firstly, you don't have to handle stock or sales, and you don't have to deal with customers.
As an affiliate you simply promote existing products or services & let the companies that are selling them deal with everything. Once the sale is made, you get paid a commission – no messing around.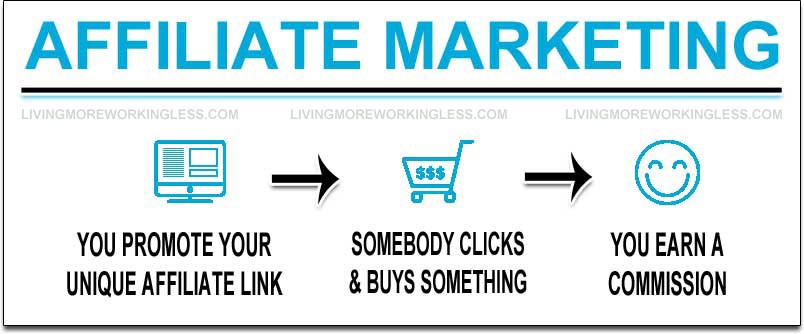 With ecommerce you have to source/handle stock, handle sales, process refunds, sort out disputes with customers & answer customer questions. There's a LOT to take care of when it comes to ecommerce.
For one person to take care of all of that, it's pretty difficult – which is why I always recommend affiliate marketing as a better place to start… Because if you're just trying to do it alone, it's much easier to do.
Also when it comes to ecommerce stores, due to they way they're built they generally require paid advertising to stand any chance of seeing success. Now on the surface this might not sound too bad, but paid advertising requires a lot of trial & error which in turn requires a large budget.
If you don't have $5,000 to $10,000 that you can afford to lose, then I wouldn't suggest dabbling in paid advertising, and without paid advertising the chances of you seeing success with ecommerce are very slim indeed.
On the flip-side with affiliate marketing you don't need to pay for advertising as you can get free traffic from search engines like Google, Yahoo & Bing – and often that type of traffic converts WAY better than traffic from paid advertising too, so it's a win-win.
And as I also mentioned earlier the other upside of affiliate marketing is that you can get started for free at Wealthy Affiliate (which will save you from having to pay $1,997+ on the Biz Building Blocks program).
Which brings me onto…
Is Biz Building Blocks a Scam?
Well the answer isn't quite so clear cut, because whilst you do get access to some training which would generally lead me to saying it's not a scam, in my opinion the whole thing is very misleading & I believe that it's primarily set out to make it's creator wealthy at your expense – which would lean me towards saying it IS a scam.
You see I don't mind expensive programs, providing they have been built with the buyer in mind & providing the content provided justifies the cost – but in the instance of the Biz Building Blocks / My Ecom Club program I don't believe that's the case.
I believe that the program has been built with the creator's earnings in mind rather than the member's success – and I think the data from the survey reflects that (in which it was recorded that 93% made less than $500).
Plus the sales page for the whole thing is very misleading. It makes out as if you'll almost be getting access to some sort of "done-for-you" method for generating easy online riches but that just simply isn't the case – in fact it's far from it. Finding success with ecommerce would take a LOT of work.
So with all of that in mind I am not going to be recommending the Biz Building Blocks program to you & instead if you really want to find good success online I suggest you stick with affiliate marketing & get started with Wealthy Affiliate.
Or alternatively you could check out my other top picks for making money here.
But whatever you decide to do I just sincerely hope that my review of Biz Building Blocks here has given you a good insight into how it works & I also hope that it's helped you to save your cash. If of course though you do happen to have any further questions or comments then don't hesitate to leave them below & as always I'll get back to you as soon as I can.
A Better Alternative
The sad truth is that unfortunately most of the programs promising to help you make money online are scams. I can say that confidently after exposing over 500+ of them here on this blog.
But the good news is that even though most of them are indeed scams, there are actually some very good programs in amongst them - some programs that can truly help you to earn money.
And out of all of the legit programs I've seen, the one I would recommend the most to anybody looking to get started online is Commission Academy. In my own opinion, that's the best place to start.
At Commission Academy, you'll be provided with everything you need (including the training & tools) to begin earning real money by promoting products or services for companies like Amazon online.
The best part is that there's literally no limit on the amount you can earn with it & the process is pretty simple which means that it's absolutely perfect for people that don't have much experience.
Some wealthy affiliates even earn as much as 5-figures per month... Or more!

I mean don't get me wrong, that kind of money won't just fall into your lap without doing any work... But the harder you're willing to work at it, the more you stand to earn with it.
So if you're looking to get started but don't know which route you should go down or which program you should join (and don't want to waste money on bogus things that don't actually work), then I'd highly recommend checking out Commission Academy first. You can learn more about it here.