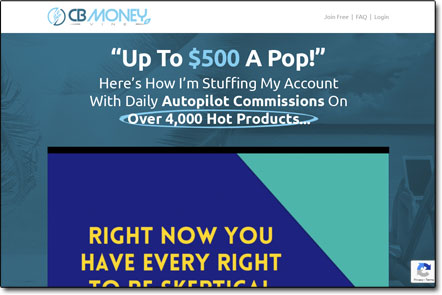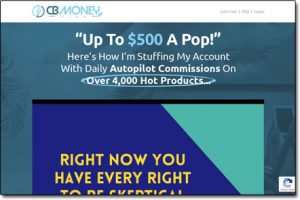 CB Money Vine is a program that's been recently launched by a guy named Brian Winters & it promises to provide you with a way to make daily autopilot commissions of up to $500 a pop from over 4,000 hot products.
You're led to believe that you can simply join for free & begin making money by investing just a mere 20 to 30 minutes of work per day.
But is it really legit – and is it really free? Or is CB Money Vine a scam that'll just end up parting you with your cash?
Well what I can tell you right from the off is that it is certainly NOT what it seems & as you'll soon see in this CB Money Vine review not only does it require you to spend money but it also requires you to put in a lot more work than a mere 20-30 minutes per day if you want to stand any chance of earning anything back.
What Is CB Money Vine?   |   How Does CB Money Vine Work?   |   The Problem   |   Hidden Costs   |   Is CB Money Vine a Scam?   |   A Better Alternative
What Is CB Money Vine?
CB Money Vine is a website that essentially promises to provide you with an easy way to make lots of money online even if you're brand new & have no previous experience whatsoever. It's been put together by a guy named Brian Winters.
You're led to believe that you'll be able to create a free account & that you'll be getting access to a way to make "autopilot commissions" of up to $500 a pop from what Brian calls "4,000 hot products"…
But there are some things I almost immediately noticed about it which are…
It's not really free if you want to actually try to make money
It will require a lot more than 20-30 minutes of work per day
It's associated with the MoolaVine program that I reviewed in the past (and didn't recommend)
Brian Winters the guy behind this CB Money Vine program was also the guy behind the MoolaVine program & that clicked in my mind the moment I heard him mention the phrase "it's like affiliate marketing but in reverse" in his sales video.
He used the exact same phrase to describe his previous MoolaVine program & basically it seems that CB Money Vine is just a re-hashed version of that.
If you remember my previous review I actually ended up making the decision not to recommend it because I noticed some fundamental flaws with it. I believed that people would stand more chance of achieving success by joining Commission Academy instead.
But has Brian now fixed those flaws? Can we now actually make good money with CB Money Vine as easily as he claims?
Well sadly not quite, but keep on reading & I'll explain why…
How Does CB Money Vine Work?
So basically the CB Money Vine program is based around something called affiliate marketing (which is actually the same way I make money online) and it specifically involves promoting products from a marketplace called ClickBank.
CB in the name of the program stands for ClickBank…
The problem here though is that whilst affiliate marketing in itself is a legitimate way to make money by promoting products or services online, ClickBank is known for hosting lots of very low-quality products/programs.
This means that ClickBank products are typically more difficult to earn commissions from because people are often "wary" about them… However Brian Winters claims that his CB Money Vine solves that problem.
And in a way it does, but in my opinion, it also introduces more problems of its own…
You see traditionally to earn money from ClickBank as an affiliate what you would do is sign up to ClickBank, find a product to promote & then build a website to promote it. You'd then earn commissions if anybody purchased it via your link.
However with Brian's method what you will be doing is signing up to CB Money Vine which is indeed free to do as he claims, and then you will be inserting your ClickBank affiliate ID.
Now inside of Brian's CB Money Vine program you will get your own "done for you" marketplace place of ClickBank products which all have your affiliate ID attached… Meaning rather than promoting individual products from ClickBank you will simply promote your CB Money Vine marketplace page.
Then when people visit your CB Money Vine marketplace page they will be able to browse the products themselves & if they click on one and make a purchase, you will earn a commission as a result.
Sounds Good In Theory, But Here's The Problem…
In order to keep your CB Money Vine marketplace page active you must personally purchase a ClickBank product yourself each month. If you don't purchase a product then your page will be deactivated & you will stop earning commissions (or be prevented from earning if you're not already).
So whilst his system is indeed free to join, if you want to actually make money from it you'll need to purchase a new product every single month… A product that you may not necessarily want, and a product that could see you getting billed recurring amounts.
Therefore, in theory, the whole thing sounds appealing but in my opinion, in practice, it's not all that great.
You Might Also Like:
And It's Not Really Automated
One of the biggest selling points Brian uses for promoting his CB Money Vine system is saying that it is a way for you to generate "autopilot commissions" but it's really not automated at all… In order to make money, you still need to promote your page.
If you can't promote your page, you won't make any money… It's as simple as that.
So really you could just go to ClickBank directly (for free) and try to promote your links and make money that way… Or you could use Brian's system & try to promote his system… Either way, you are still having to promote things, Brian's system doesn't contain anything revolutionary that will "make money for you".
It's basically just a bit of a gimmick to encourage you to sign up.
Brian mentions his system's free however as mentioned above if you want to actually stand any chance of making money with you're forced to purchase at least 1 product per month from ClickBank, but the extra costs don't end there…
Instead, there are actually 5 extra upsells inside of the CB Money Vine program & Brian kind of portrays the idea that you "need" these to be able to properly get the maximum benefit out of his program.
Guess how much they cost though?
In total, they cost a whopping $935… So Brian's program quickly goes from being "free", to having to purchase a product every month (which could come with a monthly fee) to then buying upsells costing $935…
That's a lot of money to have to spend on a "FREE" program, right?
And that's basically why I ended up recommending Commission Academy instead when I reviewed his MoolaVine program last time… Because at least Commission Academy tells you exactly what's involved right from the off… No hidden tricks, and that's the way I like it.
So yeah, you could potentially make money with Brian's CB Money Vine program but in reality, there's nothing magical inside that's going to see you making money any easier than if you were to just promote ClickBank products on their own…
Which brings me onto…
Is CB Money Vine a Scam?
Well no, the CB Money Vine program is definitely not a scam but at the same time I do believe it to be a little misleading & in my opinion, the reality is that it's not really going to help you make money any easier than if you were just to promote ClickBank products without it.
I think that overall the CB Money Vine program is more geared towards making Brian money because he'll be at the top of the chain & when all of the members are purchasing 1 ClickBank product every month he'll be earning the commissions from all of those sales.
But like I say it's not really a scam, it's definitely possible to make money with it but it's not going to happen for you on autopilot like you're led to believe it will. Instead, you'll still need to heavily promote it & get people to sign up.
So yeah, it's not the worst program I've seen but at the same time, I am not going to be recommending it because I don't like the whole thing about being forced to purchase new products every single month.
Therefore instead if you really want to make good money online properly I'll suggest you just stick with a legitimate & proven platform like Commission Academy instead rather than relying on some sort of gimmicky system like CB Money Vine.
At Commission Academy, you'll learn the right ways to actually promote your products so that you can build up a passive income without having to recruit people into a system where they have to purchase things each month.
Or alternatively, you could also check out these other ways to make money aside from affiliate marketing.
But whatever you decide to do I just sincerely hope that my honest review of CB Money Vine here has given you a good insight into how the whole thing actually works & hopefully you can now see why it might not be quite as great as it's made out to be.
If of course you still happen to have any questions or comments then don't hesitate to leave them below. 🙂
A Better Alternative
The sad truth is that unfortunately most of the programs promising to help you make money online are scams. I can say that confidently after exposing over 500+ of them here on this blog.
But the good news is that even though most of them are indeed scams, there are actually some very good programs in amongst them - some programs that can truly help you to earn money.
And out of all of the legit programs I've seen, the one I would recommend the most to anybody looking to get started online is Commission Academy. In my own opinion, that's the best place to start.
At Commission Academy, you'll be provided with everything you need (including the training & tools) to begin earning real money by promoting products or services for companies like Amazon online.
The best part is that there's literally no limit on the amount you can earn with it & the process is pretty simple which means that it's absolutely perfect for people that don't have much experience.
Some wealthy affiliates even earn as much as 5-figures per month... Or more!

I mean don't get me wrong, that kind of money won't just fall into your lap without doing any work... But the harder you're willing to work at it, the more you stand to earn with it.
So if you're looking to get started but don't know which route you should go down or which program you should join (and don't want to waste money on bogus things that don't actually work), then I'd highly recommend checking out Commission Academy first. You can learn more about it here.