Chris Farrell Membership is a website that claims to have made online success simple & you're led to believe that it will act as your "one-stop-shop" for creating a successful online business through something called affiliate marketing.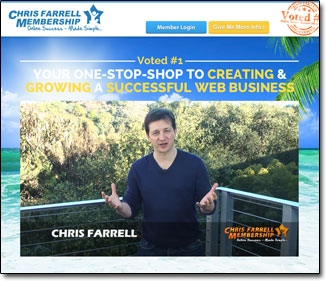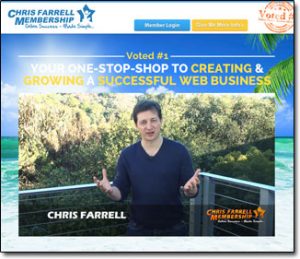 Chris Farrell (the founder) even claims that his program has been rated the number 1 online income service for over 4 years…
But is it actually legit or is Chris Farrell Membership a scam that'll just end up costing you money rather than helping you make it?
Thankfully you've landed in the right place to find out because I've taken a closer look into it all to see exactly how it all works & in this review I'll be uncovering everything you need to know, including of course whether or not you can really make any money with it.
What Is Chris Farrell Membership?   |   How Does Chris Farrell Membership Work?   |   The Costs   |   Can You Really Make Money With It?   |   Is Chris Farrell Membership a Scam?   |   A Better Alternative
What Is Chris Farrell Membership?
Basically the Chris Farrell Membership is a training program that's geared around helping you make money online through something called affiliate marketing – and surprise surprise its creator is a man named Chris Farrell.
The first thing that I can point out is that Chris is indeed a real person (unlike the fake actors seen in many of the get-rich-quick style scams I expose), and he's a pretty darn successful internet marketer too.
He's actually very well known for having generated over $1 million dollars in just 24 hours… Yes, I know it sounds crazy – but it's actually true. Obviously he put a lot of work in prior to those 24 hours to pull it off but yeah, because the email list he had managed to build over the years was so big, when he promoted a new product to his list he generated an insane amount of commissions in a super short space of time.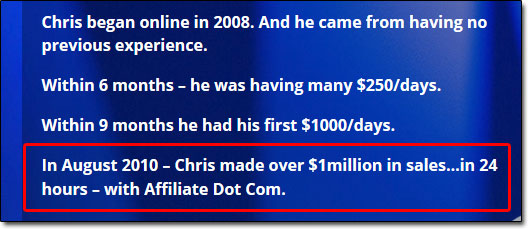 Now I'm not saying you're going to achieve similar results to him, and neither is Chris – but essentially his Chris Farrell Membership program is built around the same affiliate & email marketing strategies he used to achieve what he did.
So it's safe to say he's a pretty good guy to learn from…
And one thing I can immediately say I like about his program is the fact that he doesn't hype anything up – he keeps it all very real. He doesn't show you super-cars or mansions to suck you in & he doesn't promise you overnight riches… He just states that if you put in the work & follow his training then you can learn how to build an income online for yourself.
But can you really make money by following his training? Let's take a look…
How Does Chris Farrell Membership Work?
Okay so basically Chris Farrell Membership consists of 5 different training modules which are named Getting Started, 10 Minutes To Success, Money Making Labs, I Love Traffic & Webinars.
Module 1, the Getting Started module is more just an introductory module than anything & in it Chris just talks about his training program & the basic concept of making money online through affiliate marketing.
In this module you're basically told that you'll be finding a profitable niche, building an email list & then promoting products to your list. So this is the concept of making money through the Chris Farrell Membership.
There are actually several other good ways you can make money online, but I'll admit that the one Chris teaches through his program is probably one of the best methods (and it's the same method I use personally to generate the majority of my own income online)…
However, what I will point out here is that the content of the Chris Farrell Membership program doesn't seem to have been updated in a while & in my opinion, it's pretty outdated… The method itself still works, but some of the tactics have changed a little… So I personally think Commission Academy (which is a similar program that's more up to date) is a better place to get started.
But anyway diving back into Chris' teachings…
Module 2 of his program, named 10 Minutes To Success consists of 31 training videos & this is where you'll begin to learn how to actually implement his method & start moving forward with it.
Some of the things he covers in this module include how to find a profitable niche, how to get a domain name & web hosting, how to use the WordPress platform, how to choose products to sell & how to create email marketing campaigns through AWeber.
He also touches a little bit on traffic generation too…
But if you think you're going to find success in 10 minutes like the module's name suggests then think again. The reason it's called 10 Minutes To Success is actually just because every video in the module is under 10 minutes long… There'll still be a long way to go from here before any money gets made.
Module 3, named Money Making Labs basically covers a whole bunch of random topics related to marketing methods & making money. Some of them may be relevant to you, some of them may not be.
It covers things like using paid advertising on Facebook, promoting videos on YouTube, hosting live webinars, setting up landing pages & sales funnels, creating eBooks to use as lead magnets…
The training is pretty good, but as I say it's kinda "random" and doesn't follow any real order… It's just a case of you picking which ones you want to try it. There's no kind of "blueprint" formula to it all.
Module 4, which is named I Love Traffic, as you can probably guess goes over a bunch of different traffic generation methods. Some of them are paid, some of them are free, and the training is pretty good… BUT… Surprisingly he doesn't cover a method name Search Engine Optimisation (or SEO for short). I was very disappointed by that because, in my opinion, it's one of the best methods out there.
Module 5 is not really a module as such – it's just were Chris stores his webinar replays, but the problem is that whilst he claimed he was going to host regular webinars he doesn't actually seem to have followed through on it… So, as a result, there's only actually 7 webinars available in this section.
The webinars that are there don't really give you much extra information either because they only really re-iterate what's already covered in the training such as advertising on Facebook & creating landing pages with LeadPages.
How Much Will It Cost You?
The Chris Farrell Membership program is pretty decent & if you're new to online marketing the information in it will certainly be helpful to you… But no doubt you're left wondering about the cost of it all.
Well, the good news is that in my opinion, the whole thing isn't actually that badly priced. You can get 7 days access to the whole thing for $4.95, then after that, if you decide to stick with it it'll cost you $37/month from there onwards.
Alternatively, you can sign up to his program as a yearly member instead for $297.

Chris does push an upsell on you when you first sign up though & that upsell is his "email swipe file" package which will cost you an extra $47 if you decide to go for it. This basically contains 27 pre-written emails & an additional guide explaining how to best write emails to make sales.
You don't have to buy it if you don't want to, and the positive here is that this was the only upsell (other than the yearly membership upgrade option) that I came across whilst navigating through his program.
The one really good thing I have to say about the Chris Farrell Membership program though is that Chris makes it very easy to cancel so you'll be unlikely to find yourself lumbered with a recurring subscription that you can't figure out how to stop…
Now is it worth the money? Well, I'll cover that in the next section below…
You Might Also Like:
Can You Make Money With Chris Farrell Membership?
The truth is that yes, you can make money by following Chris Farrell's training – but what I will say (as I mentioned earlier in this review) is that a lot of the content is outdated which isn't very good…
He also doesn't go over Search Engine Optimisation at all when he talks about getting traffic which in my opinion is one of the best methods you can use… So I was disappointed by that too.
Therefore whilst yes, you can make money as a result of following the training in his program, I think there are now better alternatives available such as Commission Academy for example which is a similar program that's completely up to date.
Plus unlike the Chris Farrell Membership program which doesn't provide you with any tools, the Commission Academy program actually provides you with everything you need to get started as well… And you can try it for free.
So to answer the question "is Chris Farrell Membership worth the money"… The answer is possibly if you're a beginner as it will give you a fairly good insight, but overall I think it's run its course & in my opinion, it's not as great as it once was…
If Chris had been actively updating it then I may have been able to recommend it to you – but like I say because he hasn't I now believe that there are better alternatives available that give you more bang for your buck.
Is Chris Farrell Membership a Scam?
One thing I can say for certain is that the Chris Farrell Membership program is not a scam. It's a legitimate training program & Chris presents it all with a very honest approach, no get-rich-quick claims.
Overall I do actually like the program & I do like Chris Farrell's approach – but it's just a shame that he hasn't seemed to update the program in so long because as a result, it's kind of fallen behind…
I mean don't get me wrong, the actual method it's based around still works exactly the same as it did when Chris first published his training… But some of the stuff he teaches has since changed quite a bit.
This means that the program could now leave you a little bit confused… Or you may find that some of the videos have you hitting stumbling blocks as things now look different to when he first recorded them.
So overall whilst I think it's a pretty good program, I won't be recommending it to you simply because I think there are now better & more up to date alternatives like Commission Academy for example… Which also comes bundled together with all the tools you need as well.
I mean don't get me wrong, if you bought into Chris Farrell's program you probably wouldn't find yourself massively disappointed – you'd probably find his training insightful, but it's just not quite as effective as it once was in my opinion.
Anyway, that's my take on it all – but hopefully, you enjoyed my review & hopefully it gave you the information you were looking for. If you do happen to have any further questions or comments about it then don't hesitate to leave them below & I'll get back to you as soon as I can.
A Better Alternative
The sad truth is that unfortunately most of the programs promising to help you make money online are scams. I can say that confidently after exposing over 500+ of them here on this blog.
But the good news is that even though most of them are indeed scams, there are actually some very good programs in amongst them - some programs that can truly help you to earn money.
And out of all of the legit programs I've seen, the one I would recommend the most to anybody looking to get started online is Commission Academy. In my own opinion, that's the best place to start.
At Commission Academy, you'll be provided with everything you need (including the training & tools) to begin earning real money by promoting products or services for companies like Amazon online.
The best part is that there's literally no limit on the amount you can earn with it & the process is pretty simple which means that it's absolutely perfect for people that don't have much experience.
Some wealthy affiliates even earn as much as 5-figures per month... Or more!

I mean don't get me wrong, that kind of money won't just fall into your lap without doing any work... But the harder you're willing to work at it, the more you stand to earn with it.
So if you're looking to get started but don't know which route you should go down or which program you should join (and don't want to waste money on bogus things that don't actually work), then I'd highly recommend checking out Commission Academy first. You can learn more about it here.