The online world needs more content creating everyday & content writers need reliable sources for work. Content mills like Crowd Content claim to serve these needs & essentially act as intermediaries between the two…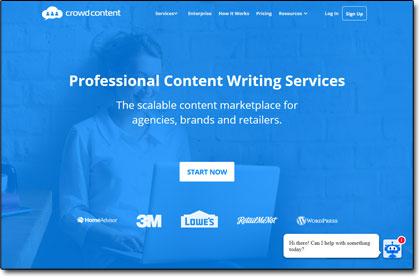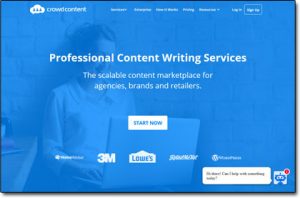 However, with every day that passes, it seems like there's a new "content mill" appearing and so there are often concerns about their legitimacy.
Everyone wants credible work and everyone wants to be paid enough to make their efforts worthwhile.
To find out whether Crowd Content is a place that content writers can trust for a reliable source of work we decided to take a closer look into it & put together an honest Crowd Content review.
We spent some time to see what exactly this content mill has to offer the writers, how it works and if it's really a credible place to find work or not.
We can't always believe the buzz internet makes, so we had to take a look into it ourselves. This Crowd Content review summarizes everything we were able to find.
What Is Crowd Content?   |   How Does Crowd Content Work?   |   What Kind of Work Can You Find?   |   How Much Money Can You Make?   |   Is Crowd Content a Scam?   |   A Better Alternative
What Exactly Is Crowd Content?
Crowd Content is a content mill and has a pretty typical layout. It essentially provides writers with a place to find work online and agencies, brands and other people in need to find writers.
This mill, however, works on a smaller scale than many other freelance writing platforms. We found that they have some 5,000 writers listed with them which may sound like a lot but in comparison to others, it isn't really a great deal at all.
It works for brands and other agencies because they can pitch their projects for fairly less price and get the work done. Content mills suit these firms better than regular, in-house writers for content creation. This is the sole reason that these mills exist and content writing has developed as an independent field of work itself.
We found that the pays scales on Crowd Content cannot be compared with the bigger and more established names like BKA Content. However, they do still pay better than other lesser-known content mills.
They also offer a good support system for their writers. We found that problems are addressed effectively. However, we did find many complaints about the editors on this portal. They are said to give bad, incomplete feedback.
We also found complains about editors providing late feedback which would delay submissions. The support staff is, however, reported to be great according to reviews compared to the editing panel.
Now let's take a closer look into how it all actually works & what you can expect to earn…
How Does Crowd Content Work?
To find work on Crowd Content, you have to sign up and become a member of their website. The good news is that it doesn't cost you anything and it's free for anyone to join. You will have to provide some basic information that adds to your profile as a writer.
There are two types of writing areas that you can gain access to which are outlined below:
The Freelance Writing Marketplace
If you want to join this marketplace, you will have to file an application and write a sample for the website. You will be given a star rating (1 to 4) on this sample which determines your level as a writer. Depending on this level, all the projects available in the marketplace become available to you. You can pitch for anything you want from this list.
Managed Content Projects
These are larger projects generally managed by someone at the offering company. You have to apply for these projects and get accepted to work on them. Getting accepted on these projects is very hard. Some reviewers have complained that editors might reject your application without even specifying the reason. That sounds pretty frustrating.
What Kind of Work Can You Find at Crowd Content?
Most of the content writing gigs posted on this website include:
Articles
Social Media Posts
DIY or "How To" guides
White Papers
Product Descriptions
There are some other types of work available as well, but you probably get the idea from the list above.
You Might Also Like:
How Much Money Can You Make At Crowd Content?
You may find some very experienced writers making $500 a week on this website, however, in the same breath, there are likely also many writers that are not even making so much as $100 per month through Crowd Content.
The amount of work you would find depends on your star ratings as well as your alertness. It is typical of these content mills. If you don't hurry up and get a project, there would be too many other writers jumping onto it… It's extremely competitive.
Here's a list of pay rates for writing marketplace according to the specific star ratings:
1 Star: 1.2 cents per word (bonus would make it up to 1.4 cents if you submit your work quickly).
2 Star: 2.0 cents per word (bonus up to 2.3 cents).
3 Star: 4.4 cents per word (bonus up to 5.2 cents).
4 Star: 6.6 cents per word (bonus up to 7.6 cents).
You can earn bonus money only if you have a great turnover time. Alternatively, you would be penalized for late submissions.
Also, it's worth pointing out that whilst you may indeed earn as much $500 for one month, there is no guarantee that you would earn the same again the next month… The income could be very unstable because you're relying on battling against other writers bidding for work.
In my opinion, there is a much better way to make money by writing & that method is to start a blog & make money blogging.
You see many of the people that are paying money for content are paying money for it because they are earning more in return. They might buy a piece of content for $50, but that piece of content may make them thousands.
Yes, the benefit is that through sites like Crowd Content you can get an instant return & don't have to mess around setting up a blog, but if you follow my free guide here then you will see how blogging with your own content can be MUCH more lucrative in the long run.
That aside though I think it's about time for…
My Verdict – Is Crowd Content a Scam?
We did some pretty in-depth research to put together this Crowd Content review & to see if it's a legitimate place to find work or not. Our review concludes as being positive. We didn't find anything to believe that this place is a scam. There are complaints, yes, but there are no claims of fraud or scam to be found.
It may not work out for some writers because you need good ratings and need to develop your network to get regular work. But we like the whole layout and find it very user-friendly. It is worth a try for anyone who wants to look for work on a moderately paying small-scale content mill.
However in the same breath what I will say is that like I mentioned in the previous section of this review there is actually a better way to make money from your content & that is to start a blog & make money from it for yourself.
When you are selling content you are typically selling it to people who are then making even more money from it & what many people don't realize is that it's actually much easier than you think to make money from it yourself. My free guide shows you exactly how you can do that.
But if you are specifically looking for a writing job & are not interested in starting a blog then Crowd Content could be a good site to bid for jobs on. There are also some other good alternatives as well that you might want to check out such as BKA Content & even sites like Fiverr or Freelancer.
Plus aside from writing there are also these other great ways that you can make money online.
Whatever you decide to do though I just sincerely hope that my review of Crowd Content here has given you a good insight into the platform & provided you with some good alternatives to try as well. If you still happen to have any comments or questions then, of course, don't hesitate to leave them below. 🙂
A Better Alternative
The sad truth is that unfortunately most of the programs promising to help you make money online are scams. I can say that confidently after exposing over 500+ of them here on this blog.
But the good news is that even though most of them are indeed scams, there are actually some very good programs in amongst them - some programs that can truly help you to earn money.
And out of all of the legit programs I've seen, the one I would recommend the most to anybody looking to get started online is Commission Academy. In my own opinion, that's the best place to start.
At Commission Academy, you'll be provided with everything you need (including the training & tools) to begin earning real money by promoting products or services for companies like Amazon online.
The best part is that there's literally no limit on the amount you can earn with it & the process is pretty simple which means that it's absolutely perfect for people that don't have much experience.
Some wealthy affiliates even earn as much as 5-figures per month... Or more!

I mean don't get me wrong, that kind of money won't just fall into your lap without doing any work... But the harder you're willing to work at it, the more you stand to earn with it.
So if you're looking to get started but don't know which route you should go down or which program you should join (and don't want to waste money on bogus things that don't actually work), then I'd highly recommend checking out Commission Academy first. You can learn more about it here.