The Desktop Commission System might seem like a dream come true as it promises you that by signing up you can see profits of around $1,000 per day by using some "forgotten" method for making money online.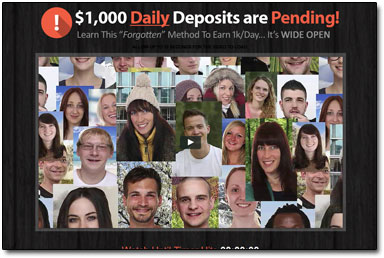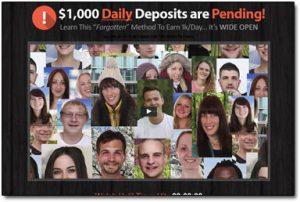 It even claims that you don't even really need to do a great deal either to make that money and that you can do it even if you have absolutely no experience… But what's the deal here?
Is it actually legit or is the Desktop Commission System a scam?
Thankfully you've landed in the right place to find out because I've done the digging & in this Desktop Commission System review I'm going to be uncovering literally everything there is that you need to know.
What Is The Desktop Commission System?   |   How Does The Desktop Commission System Work?   |   Is The Desktop Commission System a Scam?   |   A Better Alternative
What Is The Desktop Commission System?
The Desktop Commission System is one of the latest (and according to them, greatest) money-making systems to launch online. You're led to believe that by signing up "for free" you can start seeing profits of around $1,000 per day, even if you have no previous experience at making money online.
And as mentioned above it might initially seem like a dream come true, but sadly the reality isn't as great.
Firstly there is the *small* fact that despite this system claiming to be free, it absolutely isn't. To get access to the system you'll actually have to pay a fee of $37 but you'll only find this out after entering your email address.
Basically they're just lying to get you to enter your email so that if you leave the web page they can persuade you to come back & in my opinion being lied to is certainly not a very good start – but sadly it only gets worse.
If you try & leave the web page you will eventually (after going through a whole bunch of popups trying to convince you to stay) arrive at a page which recommends you should try out one of their other programs before you leave – as shown below: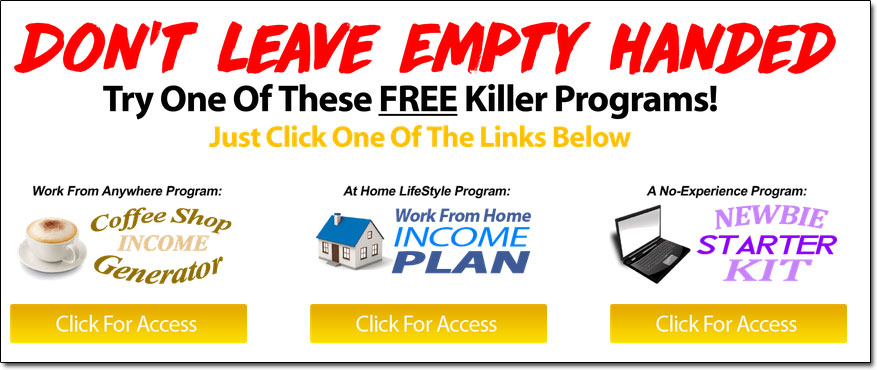 The banner suggests that the three "killer programs" are the Coffee Shop Income Generator, the Work From Home Income Plan & the Newbie Starter Kit. However, after clicking on any of these buttons what you are actually taken to is a program named the EZ Money Team which a massive scam that I previously exposed here on my blog. This alone was a huge red flag to me.
Unfortunately, the Desktop Commission System seems to be no better…
How Does The Desktop Commission System Work?
Well in terms of making you profits of $1,000 per day – it doesn't work, that's just a gimmick they're using to draw you in (a common trait used by get-rich-quick scams like The Job Quitter System & My Super Affiliate Mentor).
After taking a closer look at what's going on here it's clear to me that the Desktop Commission System is actually nothing more than a sales funnel that's been built purely with the intention of parting you with as much cash as possible.
So much so that they can't even seem to decide a price for the program… Some pages tell you it's $67 reduced to $37, other pages tell you it's $47 reduced to $27… It seems they're not really bothered & that they just want literally any money they can get off you.
And what do you get in return for that money?
Well, honestly not a lot – certainly nothing that will see you making profits of $1,000 per day. All you get access to do is some really poor quality affiliate marketing training, the exact same stuff that's provided to you through most of these other bogus programs.
Don't get me wrong you can make money with affiliate marketing if you follow a legitimate training program (such as Commission Academy for example) but honestly the training provided through the Desktop Commission System is just so rubbish that you probably won't even be able to get yourself off the mark let alone see yourself earning $1,000 per day as they promise.
The only reason they actually give you "something" is so that they can claim they fulfilled their promise of delivering you a product, that way they can sneakily attempt to get out of giving you a refund – whereas if they give you literally nothing at all it would be harder for them to argue their case.
Basically this way (even though the training is rubbish) they can blame YOU for not following the training rather than you blame them for not providing a product… I know it's stupid but hey-ho that's how these scams work.
And It Doesn't Stop There…
These guys really do just want to squeeze every penny they can get out of you so even if you don't purchase the Desktop Commission System itself you'll be continually bombarded with additional sales offers as you try to leave the page.
And once you do manage to leave the page it doesn't end there – if you entered your email into their system then you can expect for your inbox to almost immediately start getting bombarded too.
Apparently these guys seem to know a lot of magical systems that can generate you thousands of dollars per day on complete auto-pilot LOL. Unfortunately for them, I've already exposed the majority of them right here on this blog… They're nothing but scams!
It's actually quite likely that the same person is operating all of these websites & that they're merely running them under different names with different approaches to scam as many people as they possibly can… That's another tactic I've seen many times before (but in this particular instance it's something I have no proof of so can't confirm).
Anyway…
You Might Also Like:
Is The Desktop Commission System a Scam?
For those of you who jumped right down here to see my conclusion the answer to that question is in my opinion, YES, I believe the Desktop Commission System to be nothing but a big fat scam that's been designed with the simple intention of parting you with your hard-earned cash.
Can you make money following the method taught by this program? Yes – but will you make any money following the training they provide to you? NO, and certainly nowhere near their claim of $1,000 per day.
Basically they're just feeding you a whole bunch of BS in the hope that they can get you to make a payment to "check it out", then once your money is in their pocket the likelihood of you getting it back is next to zero… That's the point in which you'll realize you've been scammed.
Hopefully, you managed to find this review first & having yet signed up. If not good, and I don't recommend you do either. There are many legitimate ways to make money online but this particular program is certainly not one of them.
If you have any further questions or comments feel free to leave them below, but as I say hopefully this review has helped to prevent you from parting with your hard-earned cash.
A Better Alternative
The sad truth is that unfortunately most of the programs promising to help you make money online are scams. I can say that confidently after exposing over 500+ of them here on this blog.
But the good news is that even though most of them are indeed scams, there are actually some very good programs in amongst them - some programs that can truly help you to earn money.
And out of all of the legit programs I've seen, the one I would recommend the most to anybody looking to get started online is Commission Academy. In my own opinion, that's the best place to start.
At Commission Academy, you'll be provided with everything you need (including the training & tools) to begin earning real money by promoting products or services for companies like Amazon online.
The best part is that there's literally no limit on the amount you can earn with it & the process is pretty simple which means that it's absolutely perfect for people that don't have much experience.
Some wealthy affiliates even earn as much as 5-figures per month... Or more!


I mean don't get me wrong, that kind of money won't just fall into your lap without doing any work... But the harder you're willing to work at it, the more you stand to earn with it.
So if you're looking to get started but don't know which route you should go down or which program you should join (and don't want to waste money on bogus things that don't actually work), then I'd highly recommend checking out Commission Academy first. You can learn more about it here.