The Fast Cash Club is a brand new website that's allegedly been launched by a man named John Harris & it claims to provide you with one of the easier ever "done-for-you" ways to generate lots of money online really quickly…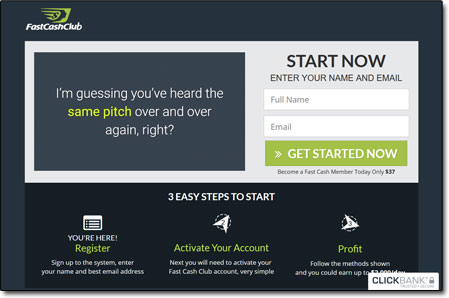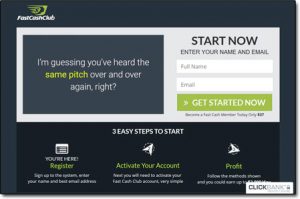 In fact John the creator claims that you can literally just register, activate & profit – seeing earnings of up to $2,000 per day right from the get-go… But is it really legit & will it really make you money or is the Fast Cash Club a scam that's just set out to take your money instead?
The good news is that you've landed in exactly the right place to find out as I've personally taken a closer look into it to see exactly what's going on & in this honest & unbiased review I'll be sharing the REAL truth about how it all works as well as outlining whether or not you can truly make any money with it. So keep on reading to find out everything you need to know!
What Is Fast Cash Club?   |   How Does Fast Cash Club Work?   |   Taking a Reality Check   |   Is Fast Cash Club a Scam?   |   A Better Alternative
What Is Fast Cash Club?
The Fast Cash Club system is a brand new ClickBank product that promises to provide you with access to immediate riches all via "the click of a button" & its creator John Harris claims that it'll make you around $2,000 per day all on auto-pilot…


But obviously those are some pretty bold claims & you know what they say about stuff that sounds too good to be true… It usually is!
So is there real any substance behind the Fast Cash Club? Well given that it's a product sold via ClickBank I don't really have my hopes up as I don't think I've ever actually came across a fully legitimate program being sold via that site…
Today alone I already exposed 2 other ClickBank scams named Income Magnet & Greedy Mentor, will this just be a third? At a glance I'm going to say yes – especially since John gives very little away as to how it all actually works & instead pushes you towards spending $37 of your own hard earned money to find out more.
In case you don't already know that's a typical tactic of a get-rich-quick scam so you should always be wary of anything claiming to provide you with a way to make money & asking for cash before telling you how it actually works…
But we won't brush it off so soon, instead let's take a closer look into it below to see exactly how it all works & whether there's any money whatsoever to be made via this so-called automated profit system.
How Does Fast Cash Club Work?
It took a lot of research to find out how the Fast Cash Club system actually worked but after some digging I did indeed manage to find out & essentially in short the whole thing is just yet another low-quality ecommerce training program.
So there isn't really any "done-for-you" system or anything you can plug into to begin automatically making money like the creator claims… That's all just lies to get you to hand over your cash.
When you do hand over your cash (which I don't recommend doing) that's when you'll get to really find out how it all works & I have to say that the chances are you'll be pretty darn disappointed because the method it's based around requires a LOT of time & money.
Plus the training side of the program is so rubbish it'll likely just leave you feeling stuck & confused as opposed to seeing success..
The Fast Cash Club Method…
Basically the Fast Cash Club is focused on something called Shopify, which is a website that enables you to create your own online shop… So the Fast Cash Club will show you how to set up the shop, select products & advertise it online…
However Shopify is not free, it's actually very expensive – and the Fast Cash Club also has several upsells on the inside as well so if you want the full program you should be expecting to pay hundreds of dollars, not just the seemingly small fee of $37… That's basically just an "entry fee".
So step 1 is to buy the Fast Cash Club (hundreds of dollars)…
Step 2 is to buy Shopify ($79 per month)…
Step 3 is to pay for advertising (thousands of dollars)
Therefore if you don't have at least $5,000+ of disposable income I wouldn't advise getting started with trying to setup an ecommerce store as you'll need that sort of money to see any chance of finding success with it.
And if you do have the sort of money I definitely wouldn't advise starting with the Fast Cash Club as the training provided via that program is very low quality & the truth is it's just designed to make it's creator wealthy at your expense… That's why the sales page is full of so much hype.
Legitimate ecommerce training programs like the Amazing Selling Machine cost thousands of dollars…
But There's a Better Way To Make Money
For some reason lately everybody seems to be focused on setting up these ecommerce stores & making money by selling products or by doing dropshipping but honestly in my opinion that is not the right way to go about things, especially if you're new to making money online.
The reason I say that is because if you setup a shop you have to deal with sourcing products, advertising, selling, handling refunds, customer support – all of that sort of stuff which takes a LOT of work.
But with the alternative method known as affiliate marketing you can make just as much money with only a fraction of the work. You see with affiliate marketing you just promote other companies products in return for commissions, so there's no need to deal with refunds, support, sourcing products or anything like that.
Just promote & earn… Which is why affiliate marketing is so great.
And do you know what else is great about it? The fact that you can get started free with affiliate marketing over at Wealthy Affiliate – which is one of my all-time number 1 places for anyone looking to make good money online.
But anyway, back onto the Fast Cash Club system…
You Might Also Like:
It's Time For a Reality Check
Lately I've been coming across an awful lot of these money-making systems that are promising to give people the ability to make loads of money really quickly, but you have to step back & think about it for a second…
If these systems could really generate people so much money so easily then why isn't everybody doing it?
The answer is simple – because they don't work!
You see I'll admit that the internet is great & it certainly provides people with many legitimate ways to make good money however it's not magical & it's not going to see you earning loads of money with little to no work.
Anything that promises you that it can help you do that is likely trying to scam you, and like I said at the start of this Fast Cash Club review, if something sounds too good to be true then it probably is.
The good news though is that if you are indeed willing to put in the work then there are certainly places where you can learn how to genuinely build a good income online such as Wealthy Affiliate for example. You just need to realize that it isn't going to happen overnight, but in the long run it will most certainly be worth it.
Anyway with all that being said I think you already get my feelings about this program which brings me onto…
Is Fast Cash Club a Scam?
It's true that you do indeed get some training for a legitimate method that you could potentially make money with through the Fast Cash Club system however due to the fact that it's extremely hyped-up & that the chances of you actually making money with are very slim, in my opinion I am going to say that yes it is a scam.
As far as I'm concerned the program is not set out to help you at all, it's just set out to help the creator get wealthy at your expense instead & after paying $37 you'll just be presented with more & more upsells so that he can squeeze as much cash out of you as possible.
All you'll get at the end of it is some very basic training on starting a shop with Shopify & to be honest the majority (if not all) of the training that's provided to you can be quite easily found elsewhere online for free.
So with all that being said there's simply no way I'll be recommending the Fast Cash Club program to you & instead if you really want to learn how to make good money a legitimate way then I suggest you just stick with my free guide here.
And also don't forget to check out all of these other legit methods too.
But whatever you decide to do I just hope that my review of the Fast Cash Club here has given you a good insight into how it truly works & more importantly I hope it's helped you to save some of your hard earned cash. If you do happen to have any further questions or comments then don't hesitate to leave them below & I'll get back to you as soon as I can.
A Better Alternative
The sad truth is that unfortunately most of the programs promising to help you make money online are scams. I can say that confidently after exposing over 500+ of them here on this blog.
But the good news is that even though most of them are indeed scams, there are actually some very good programs in amongst them - some programs that can truly help you to earn money.
And out of all of the legit programs I've seen, the one I would recommend the most to anybody looking to get started online is Commission Academy. In my own opinion, that's the best place to start.
At Commission Academy, you'll be provided with everything you need (including the training & tools) to begin earning real money by promoting products or services for companies like Amazon online.
The best part is that there's literally no limit on the amount you can earn with it & the process is pretty simple which means that it's absolutely perfect for people that don't have much experience.
Some wealthy affiliates even earn as much as 5-figures per month... Or more!

I mean don't get me wrong, that kind of money won't just fall into your lap without doing any work... But the harder you're willing to work at it, the more you stand to earn with it.
So if you're looking to get started but don't know which route you should go down or which program you should join (and don't want to waste money on bogus things that don't actually work), then I'd highly recommend checking out Commission Academy first. You can learn more about it here.