The FB Freedom System is something that's just launched & claims you can make upwards of $3,000 per day just by liking, sharing and commenting on posts on Facebook… A very bold claim indeed!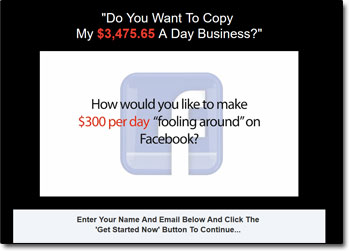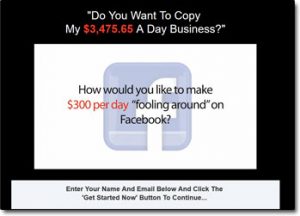 So I've decided to take a closer look into this system to find out what it's all about, if it's actually legit & whether or not you can really make money.
Therefore if you've come across the FB Freedom System & have been thinking about trying it out you can rest assured you've landed in the right place to find out everything you need to know about it before you part with any cash.
What Is The FB Freedom System?   |   Is FB Freedom Legit?   |   How Can I Be Sure It's a Scam?   |   The Bottom Line   |   A Better Alternative
What Is The FB Freedom System?
As I touched on above the FB Freedom System is a system that claims it can enable you to generate profits in excess of $3,000 per day just by posting, liking & sharing things on Facebook.
The creator (supposedly a guy named Joseph Magnum) claims that he has found a loophole in Facebook which is enabling people to generate such profits and that Mark Zuckerberg even recently had a meeting with Bill Gates discussing this particular loophole.
Joseph then goes on to claim that he too was at the meeting where they were discussing the loophole (that he says is worth over 2.8 billion dollars) & that he's fed up with Zuckerberg pocketing all the money himself so he wants to enable other people to be able to tap into the profits which is why he created this system.
Is FB Freedom Legit?
Unfortunately not – the FB Freedom System is nothing but total BS & everything you're told on the website is a pack of lies. There is no loophole & there isn't even a "Joseph Magnum", it's just a scam to part you with your hard-earned cash.
But no doubt right from the start when you heard the extremely bold claim that you could generate upwards of $3,000 per day just by "fooling around" on Facebook you probably suspected that already right?
You see that's the bit that annoys me most because it's claims like that which give people unrealistic expectations of what's achievable online, and they give the "make money online" industry a bad reputation.
Ultimately they make people think everything is a scam – but it's not, it is possible to make money online it's just not as easy as the FB Freedom System makes out. I mean I've been doing this for around 5 years now & there's only been a handful of days during that period where I've been able to make over $3k in a day myself…
And that didn't happen through some "loophole" as the FB Freedom System claims… That happened through hard work.
You see the internet is a very powerful tool & it can certainly help you make money from home, or pretty much anywhere to be honest, but it's not magical & it isn't going to make you rich overnight.
If you want to learn how to build a genuine income online the real way then, in my opinion, this is the best way to get started. Forget the likes of the FB Freedom System, those types of things are just set out to part newcomers with their hard-earned cash.
How Can I Be So Sure It's A Scam?
If you were pretty interested in the idea of being able to earn thousands from fooling around on Facebook then you might be disappointed to hear that it's a scam & you're probably wondering how I can be so sure…
Firstly I want to tell you that I've been in the game for around 5 years & over that period of time I've reviewed literally hundreds of different systems. It's fair to say I've learned how to spot a scam when I see one.
The FB Freedom System follows all the common traits of what I like to call a "hype scam". Some similar examples I've reviewed in the past on this blog include Clone My System & The Affiliate Millionaire Club.
How the scam operates is actually quite simple – they basically give you a load of hype & make it seem like it would be really easy to make lot's of money through their system, then right at the end they mention that you've just got to pay a small fee to get access.
In the case of the FB Freedom System, that small fee equates to $47, but they claim that it's been discounted from $197 (only this system has never been priced at $197 at all).
Then, once you hand over the money you're left to find out that the system doesn't work as promised at all. They give you bogus training on internet marketing & simply make it very difficult for you to get your money back.
It's a simple scam but it's effective because who doesn't like the sound of easy money? That's why I always recommend people start out with something that's free like this here first so that they know exactly what they're getting.
I mean if Mr Magnum (the supposed creator of this system) really had access to a $2 billion+ loophole then why on earth would be bothering charging people a measly $47 to access his system? He wouldn't!
And the other major telltale sign is that several of the people who give testimonials in the video are actually actors from a website called Fiverr, which as the name suggests is where you can pay people to do things for $5. In this case the creator of the FB Freedom System has paid actors $5 to create fake testimonials to try and draw people into his scam.

You Might Also Like:
The Bottom Line – My Verdict
Absolutely not, it's clear to me that this system is blatantly a scam & I wouldn't recommend it to anybody. The claims made by this system are absolutely outrageous & there is no way that they could provide anything for $47 that would give you results similar to what they claim in the video.
Whilst you can make money through affiliate marketing (and lots of it) the training these bogus systems provide you with is so poor that you will be lucky if you manage to make any money at all.
I can be almost 100% certain that if you hand over $47 to the FB Freedom System you will decide you want your money back, only the creators make it almost impossible for you to actually get it back.
My advice is for you to stop looking at get-rich-quick systems like the FB Freedom System because it's not possible to make this much money without doing anything. Instead, if you're still looking for ways to make money online you should join a legitimate training company where you'll learn how it's actually done the right way.
A Better Alternative
The sad truth is that unfortunately most of the programs promising to help you make money online are scams. I can say that confidently after exposing over 500+ of them here on this blog.
But the good news is that even though most of them are indeed scams, there are actually some very good programs in amongst them - some programs that can truly help you to earn money.
And out of all of the legit programs I've seen, the one I would recommend the most to anybody looking to get started online is Commission Academy. In my own opinion, that's the best place to start.
At Commission Academy, you'll be provided with everything you need (including the training & tools) to begin earning real money by promoting products or services for companies like Amazon online.
The best part is that there's literally no limit on the amount you can earn with it & the process is pretty simple which means that it's absolutely perfect for people that don't have much experience.
Some wealthy affiliates even earn as much as 5-figures per month... Or more!

I mean don't get me wrong, that kind of money won't just fall into your lap without doing any work... But the harder you're willing to work at it, the more you stand to earn with it.
So if you're looking to get started but don't know which route you should go down or which program you should join (and don't want to waste money on bogus things that don't actually work), then I'd highly recommend checking out Commission Academy first. You can learn more about it here.