Earn daily pay-checks from your laptop, without a boss, experience or website – that's what the Get Paid Daily system claims it can enable you to do… And it's all allegedly been put together by an online entrepreneur named Justin Stevenson who apparently has the secret for "making easy money online"…
He wants you to believe that you can just sign up & start making money right away – and he even claims that you don't even need to spend any money to start… But it all sounds a bit too good to be true, don't you think? So what's the truth… Is it really legit & true like Justin claims? Or is the Get Paid Daily system a scam that'll just end up costing you money rather than actually helping you make it?
Thankfully you've landed in exactly the right place to find out as I've personally taken a closer look into this system to see what it's all about it & in this review I'll be uncovering everything you need to know – including of course whether or not you can really actually make any money with it. 🙂
What Exactly Is The Get Paid Daily System?
So as I briefly touched on above, the Get Paid Daily system has allegedly been put together by a guy named Justin Stevenson, and Justin claims to be some sort of trading expert that's appeared in various prestigious financial magazines…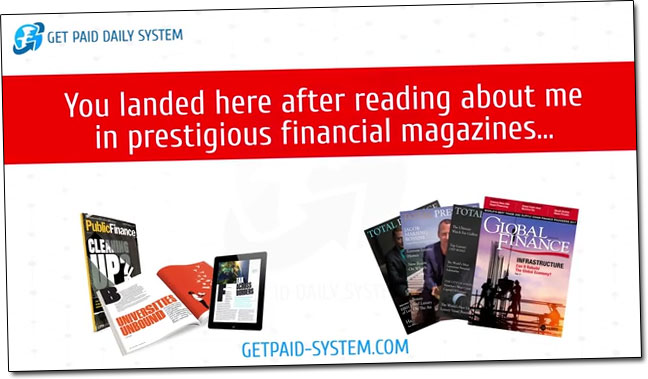 He says that he's discovered a proven & guaranteed method for making money from trading, and he states that whilst he's been personally using the method to make money for himself, he's now built a system so that anybody can now use it – even you…
So essentially the Get Paid Daily system is a system that's supposed to have been built around his trading method, and you're led to believe that if you become a member of his system that it will trade on your behalf & make you money on auto-pilot…
But what's more is that he even claims to be giving all this away for free… So I hear ya, "what's the catch?"…
Well the catch is that sadly the whole thing is just a load of BS – and our guy "Justin Stevenson" isn't even real. The name is just a fake name that the real creators of the system have come up with to use as their fake alias to hide behind…
The reason I can tell you that so confidently right from the off is because I've seen this scam many times before – it's called a binary options trading scam & it is basically designed to trick you into depositing with a broker like IQ Option.
Let me explain how it all really works & you'll soon see what's actually going on here…
How Does The Get Paid Daily System Work?
The Get Paid Daily system is essentially all just a big fat con & it's been designed solely to make its creator (and the people promoting it) wealthy at your expense – by tricking you into signing up with a binary options broker.
You see the people behind this scam are affiliated with the brokers that they recommend via the site (like IQ Option) which means that if you visit their site, click on the link to their "recommended" broker and make a deposit, they earn a commission at your expense.
Of course, this wouldn't be bad if the system actually worked as promised – but after making your deposit and getting access to the system you'll just be left to find out the hard way that the whole thing has just been a pack of lies.
By this point though it'll be too late – you've made your deposit, the creators of the system have made their commission & you won't be able to get your money back (at least not without filing a chargeback).
Essentially you'll have been scammed!
Justin Makes It Sound So Easy…
On the Get Paid Daily system website everything is made to sound so easy, and you're led to believe that you'll be able to begin making money almost right away after signing up which sounds like a dream come true.
The website lists just 3 steps to start earning as shown below: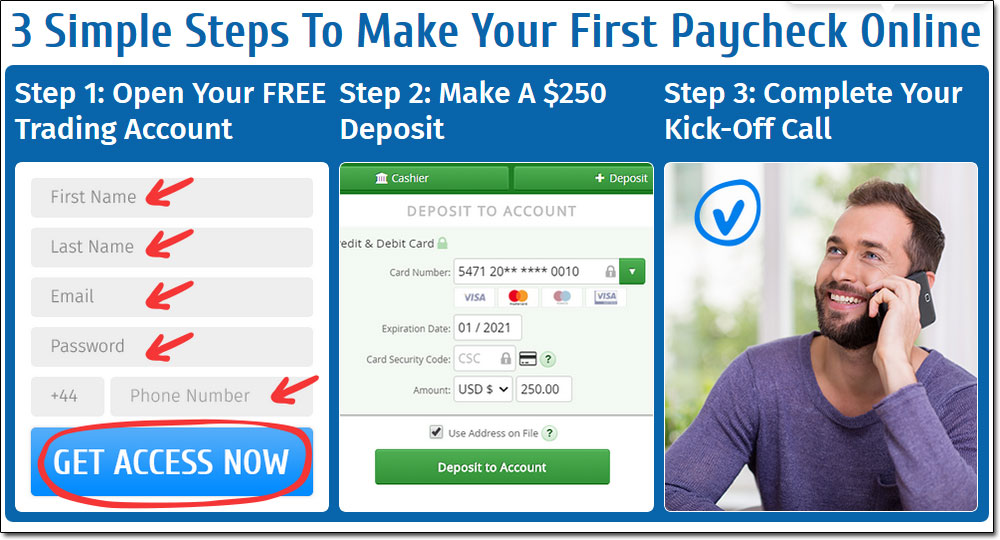 But like I mentioned earlier in this review it is NOT that easy – the creators just want to trick you into making that deposit so that they can earn a commission, and the reason they want to get you on the phone (in your "kick-off call") is so that they can try to get you to deposit as much as they can.
They'll tell you that you'll be guaranteed to make money & that the more you deposit the more you'll make, but it's all lies – they just want you to deposit more because the more you deposit the more they earn.
(check this post out – the true face of binary options scammers to see how ruthless they really are)
The literally just care about themselves, not you.
And There's a HUGE Red-Flag That Proves It's Fake
These types of binary options trading scams prey on people who are brand new to binary options or know very little about it, because if you did know anything about binary options then you would be able to spot that this is a scam from a mile away…
The reason?
Well binary options brokers only make money when you lose money since they don't add fees to trades. This means that when you win money (which happens very, very rarely) the broker actually loses money.
So stop for a moment here & ask yourself this – if Justin Stevenson was real, and if he had really developed a system which could guarantee that people would make money from trading… Then why would a broker be paying him commissions for getting new members to sign up & trade?
The broker does not want people to win… So a broker would NEVER do this.
The real reason that the broker is paying the person that's behind the Get Paid Daily system commissions for each of the new members they refer is because they know that they will ultimately end up losing money, not making it.
Honestly I see these types of binary systems all the time, some others include the likes of:
If you take a look at any of my reviews of those systems above you'll see that they make almost exactly the same claims as the Get Paid Daily system… So if they really worked as promised, and there where so many of these "automated money making systems", then why isn't everybody using them?
Why are people still working jobs if this stuff is real?
The answer – because it's not real! Which brings me onto…
My Verdict – Is The Get Paid Daily System a Scam?
Yes, there's absolutely no doubt in my mind that the Get Paid Daily system is a scam. As I mentioned several times throughout this review I've exposed these types of binary options scams literally hundreds of times on this blog over the years & I can spot one a mile away these days.
The truth is that the entire Get Paid Daily system has been built up on pure lies. It's sole intention is to trick you into signing up with a rogue binary options broker so that the people behind it can earn themselves some commissions at your expense.
Once you hand over your money you'll just be left to discover that it doesn't really work as promised & then when you try to withdraw your funds back out you'll find that the broker will block your withdrawal. That's when you'll realize you've been scammed.
So take my advice & steer well clear of the Get Paid Daily system – or any other system that makes "too good to be true" type promises. The internet is great for sure, but it's not magical & nothing is going to make you lots of money on auto-pilot. To make good money online you must be prepared to put in the work.
The good news though is that if you are prepared to put in the work to make money then there are many legitimate programs out there like this one here where you can get started absolutely free of charge.
You can also see a list of my top picks for legitimately making money on this page here.
But whatever you decide to do I just hope my review has helped you out & more importantly I hope it helped prevent you from parting with your hard earned cash. If you do happen to have any further questions or comments then of course don't hesitate to leave them below – I'll get back to you ASAP. 🙂