The High Ticket Accelerator program (which also weirdly goes under the names of Transcend Accelerator & High Ticket Help) claims to provide you with access to what the creators refer to as "the next generation of wealth".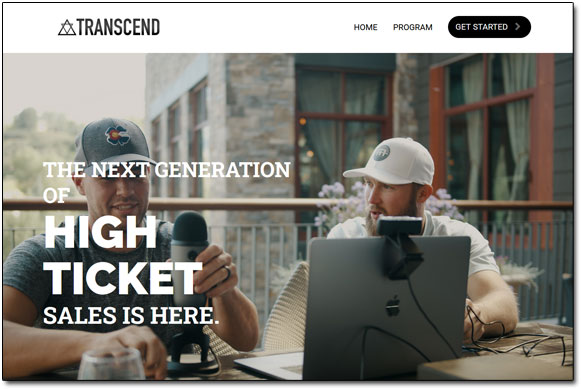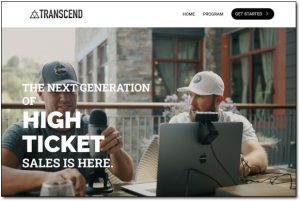 You're led to believe that you can sign up & be shown a proven way to begin predictably generating 10-20 high ticket affiliate sales every single month like clockwork.
And the creators, Joshua Eldar & Brian Dickson even claim that you don't need to have any prior experience whatsoever. You can be completely brand new & still see success, according to them.
But that's a pretty bold claim considering that 10-20 high ticket affiliate sales per month would equate to over $20,000 per month in income… So is that really achievable? And is it really achievable for a newbie, too?
Or is High Ticket Accelerator a scam?
Well, the good news is that you've landed in exactly the right place to find out because in this High Ticket Accelerator review I'm going to be uncovering everything there is that you need to know.
What Is High Ticket Accelerator?   |   Who Is Behind It?   |   How Does High Ticket Accelerator Work?   |   What Are The Costs?   |   Can You Get a Refund?   |   Is High Ticket Accelerator a Scam?   |   A Better Alternative
What Is High Ticket Accelerator?
Well, the first thing I can tell you about the High Ticket Accelerator program is that it's a program of many names because alongside High Ticket Accelerator it also goes under the names of Transcend Accelerator, High Ticket Help & High Ticket Affiliate Accelerator.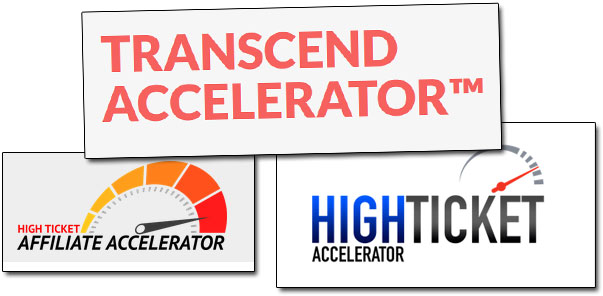 It's a bit strange, and generally, the use of multiple names is not really a good sign.
But anyway, the program has been created by two marketers named Joshua Eldar & Brian Dickson & it's geared around teaching people how to generate high ticket affiliate sales – as the name(s) suggests.
Now, in case you don't already know – high ticket affiliate sales basically refers to promoting expensive items from third-party companies that payout big commissions per sale.
Many people (especially newbies) get attracted to the idea of high ticket affiliate marketing because it seems like an easy way to make more money in a short space of time.
After all, bigger commissions = more money, right?
And I even dabbled with it myself some years ago… In fact, I actually met Joshua Elder (one of the guys behind High Ticket Affiliate Accelerator) at an event in Las Vegas.
But I got out of high ticket affiliate marketing literally just a few months after getting in because I came to realize that many of the high ticket products being sold didn't actually offer good value for money.
Instead, the "high ticket" products were simply being overpriced to create bigger commission margins for affiliates, and I just couldn't feel good promoting them after finding that out.
So firstly I just want to point out that that's something you should keep in mind when considering getting involved with high ticket marketing.
High ticket commissions mean higher profit margins, which means the customer is paying more money than they need to do for the product.
But let's say you're not bothered about morals & you just want to make money even if that involves ripping people off – High Ticket Accelerator is a program that's geared towards helping you to do that.
It'll show you how to find expensive (overpriced) products with large commission margins & it'll show you how to create a sales funnel & advertise them to people.
Pretty simple, right?
And I'll explain in more detail exactly what you actually get inside of the program in just a moment but first, before I do that, let's take a closer look at the 2 guys behind it.
Who Is Behind High Ticket Accelerator?
The two guys behind High Ticket Accelerator (or Transcend Accelerator, whatever they want to call it) are Joshua Eldar & Brian Dickson.
Now, Joshua I have heard of – and as mentioned in the previous section of this review I've actually met him at a past online marketing event which was held in Las Vegas.
He's a cool guy & does definitely know his stuff, no doubt. He used to put out a lot of material on YouTube & he's fantastic at marketing through the use of video.
The downside, however, is that I've previously since him involved with Empower Network & Digital Altitude, two high ticket marketing scams that were shut down by the FTC.
I also just recently noticed him promoting a scam on YouTube that I recently exposed on this blog named Forsage too, as shown below:


And here's what his viewers had to say about his decision to promote the Forsage scam:


Brian Dickson, however, is somebody I haven't previously heard of – not until coming across his High Ticket Accelerator program, anyway.
I decided to look him up and a search brought me to his Facebook account on which he boasts private jets, luxury cars & just general "luxury lifestyle" kind of stuff… Which is generally a red-flag.
And another thing I noticed is that in his videos he appeared with another marketer named Chris Record who has been known for creating several controversial high ticket marketing programs such as Tecademics & the 90 Day CBD Challenge.
Not good.
This might start to explain why High Ticket Accelerator appears under so many different names… Maybe there is something shady going on behind the scenes after all.
I won't jump the gun just yet though, instead, let's take a closer look into exactly how it all works & what you actually get in return for your money if you sign up.
How Does High Ticket Accelerator Work?
In short, High Ticket Accelerator is a program that provides training on finding niche markets, finding high ticket affiliate products related to those markets & then promoting them through paid advertising.
But guess what?
Whilst the training does indeed provide training that you can apply to any niche, the program ultimately pushes you towards simply promoting High Ticket Accelerator to others instead.
You see, in the first course (the Beginners Quick Start course) you'll come across a lesson entitled "Partner With HTA", which basically encourages you to promote HTA to others.
So in reality, it's a case of signing up to High Ticket Accelerator, then learning how to promote High Ticket Accelerator to others.
Here's the mention of that on their website:


Now, what I want you to notice is that they mention $1,250 is a 60% commission which means that the true cost of the program to the customer is $2,083.
That's a LOT of money.
And remember what I mentioned further up in this High Ticket Accelerator review? About most high ticket products being overpriced?
Well, in return for your $2,083 you get the following:
Overview of high ticket marketing
Facebook marketing training
YouTube marketing training
Basic email marketing & sales funnel training
Training on leveraging chatbots
Access to additional weekly training
Access to a private Facebook group
And you can get all of that, and more, at Commission Academy (my top recommended affiliate marketing platform) for $49.
So would I say $2,083 for High Ticket Accelerator is overpriced?
I'll let you make up your own mind.
But other than that, in terms of "how it works" there isn't really a great deal else to it.
You'll learn about high ticket marketing, how to find niche markets & how to promote… Then you'll be encouraged to promote HTA to others so that you can earn at their expense.
Unfortunately, however, if you do actually want to do that then you'll have to purchase some additional things as the High Ticket Accelerator purchase doesn't include everything you actually need in order to get started.
More on that below.
You Might Also Like:
What Are The Costs?
Well, the "entry-fee" of the High Ticket Accelerator / Transcend Accelerator program is seemingly low at just a mere $7, but the true cost is actually a whopping $2,083.
That's a LOT of cash, and yet despite that, it still doesn't give you access to everything you need.
If you actually want to pursue the methods taught by High Ticket Accelerator then you'll need to purchase an additional program named ClickFunnels.
ClickFunnels costs between $97 & $297 per month depending on which plan you choose & the downside of this additional monthly fee (other than the obvious one) is that I feel it puts pressure on you to rush the process.
You'll want to start making money as quickly as you can in order to start turning a profit so that you can cover the cost of all of the expenses, but rushing your success is the surest way to fail.
And that's not even all of the costs either, because the primary traffic method taught through High Ticket Accelerator is paid advertising, so you'll also need a budget set aside for that too.
Now, due to the amount of trial & error involved in paid advertising, you'll need a pretty large budget to stand any chance of seeing success – and around $5,000 is what I'd recommend.
This means that to get started with High Ticket Accelerator & stand a relatively decent chance of earning something back, you'd need to around $8,000 to $10,000 to spare.
And remember, there's no guarantee that you'll actually make anything back.
So with that in mind, I'm pretty sure that joining Commission Academy instead for just $49 is probably seeming more attractive now, LOL
At least at Commission Academy, you get everything that you need included – there are no additional extras you need to purchase & no need to risk money on paid advertisements.
Can You Get a Refund?
$2,000+ is obviously a heck of a lot of money to dump on an internet marketing training course so one of the things you're probably wondering is whether or not you can get a refund if you decide it's not for you.
And unfortunately, it's a bit of a grey area.
You see, on one hand, High Ticket Accelerator states the following:
You have 14 days from the date of purchase to request a 100% refund.
But then further down, it states this:
​If you complete 40% or more of the program, you are NOT ELIGIBLE for a refund under any circumstances, NO EXCEPTIONS!
And then more worryingly, even further down it states this:
​All refunds are discretionary as determined by us. If we determine that you are abusing our refund policy, we reserve the right to suspend or terminate your access to the program without providing a refund.
So with regards as to whether or not you can get a refund, I guess it depends on how they're feeling on the day that you request it.
Maybe you can, maybe you can't… Who knows. Their refund policy isn't clear at all.
Is High Ticket Accelerator a Scam?
It's not a scam because the program does indeed provide the training as promised & as a result of following it, you could actually go on to earn money as they claim.
However, in my opinion, it is simply WAY overpriced & I believe that it focuses too heavily on simply signing up & then promoting the system to others to get them to do the same.
So for that reason, and for that the fact that I simply believe high ticket affiliate marketing to be a bit "shady" at the best of times, I won't be recommending it as something you should join.
As I've mentioned throughout this High Ticket Accelerator review I believe that there are simply better (and certainly cheaper) alternatives, such as Commission Academy.
And you can even get access to my own guides completely free of charge too, such as my beginner's guide to affiliate marketing.
As far as I'm concerned there is simply no need to dump thousands of dollars of a program like High Ticket Accelerator & if you do, then, in my opinion, you will probably regret it.
But either way, whatever you decide to do, I just hope that my High Ticket Accelerator review here has given you a good insight into what you can really expect from the program.
And of course, if you happen to have any further questions or comments then don't hesitate to leave them below.
A Better Alternative
The sad truth is that unfortunately most of the programs promising to help you make money online are scams. I can say that confidently after exposing over 500+ of them here on this blog.
But the good news is that even though most of them are indeed scams, there are actually some very good programs in amongst them - some programs that can truly help you to earn money.
And out of all of the legit programs I've seen, the one I would recommend the most to anybody looking to get started online is Commission Academy. In my own opinion, that's the best place to start.
At Commission Academy, you'll be provided with everything you need (including the training & tools) to begin earning real money by promoting products or services for companies like Amazon online.
The best part is that there's literally no limit on the amount you can earn with it & the process is pretty simple which means that it's absolutely perfect for people that don't have much experience.
Some wealthy affiliates even earn as much as 5-figures per month... Or more!


I mean don't get me wrong, that kind of money won't just fall into your lap without doing any work... But the harder you're willing to work at it, the more you stand to earn with it.
So if you're looking to get started but don't know which route you should go down or which program you should join (and don't want to waste money on bogus things that don't actually work), then I'd highly recommend checking out Commission Academy first. You can learn more about it here.