Welcome to my Home Income Millionaire review in which I'll be taking a look at the brand new Home Income Millionaire system which claims it can allegedly enable you to generate thousands of dollars per day online after just watching a "short video", even if you're brand new…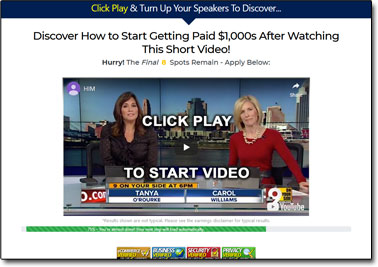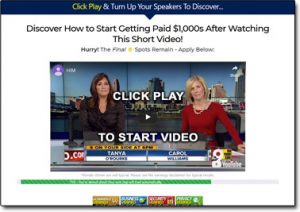 According to the website promoting it you'll be getting access to a 100% automated way for making money online, but in order to start you're required to hand over $97 of your own cash first… So what's the deal, is it legit? Or is the Home Income Millionaire system a scam to avoid?
Well thankfully you've landed in the right place to find out as I've personally taken a closer look into it & the good news is that I'm NOT affiliated with it (like most other reviewers are), so you'll be getting the honest unbiased TRUTH about how it works & whether or not you can really make money with it.
What Is Home Income Millionaire?   |   How Does Home Income Millionaire Work?   |   The Red Flags   |   Is Home Income Millionaire a Scam?   |   A Better Alternative
What Is Home Income Millionaire?
The Home Income Millionaire is a brand new system that launched on the 4th of June 2019 (just 6 days ago at the time of writing this review) and it essentially promises to provide its visitors with an automated, easy way to make money.
In short you're basically led to believe that you can simply sign up for $97, hit a button & begin making thousands of dollars per day every day all on complete auto-pilot… Which sounds pretty good, right?
But it also sounds a bit too good to be true, doesn't it? And you know what they say about stuff that sounds too good to be true… It usually is!
So can you really just sign up for $97 and begin making money so easily? And if so, how does it all work? Where is the money coming from?
Well sadly the answer is no… The Home Income Millionaire system is not going to make you any money because the truth is that it's actually nothing but a get-rich-quick scam that's been designed to part you with your cash.
The reason I know that is because it's actually a rehashed version of a scam I exposed just recently, named the Website ATM scam.
The only person that'll really be getting rich from it is the person behind it, and he'll be doing that at the expense of all of the members that are joining in the hope of being able to generate profits.
But I appreciate that you probably don't just want to "take my word for it" when I say that – after all I understand that you might have been really hoping that the Home Income Millionaire system was going to work for you… So instead keep on reading & I'll show you exactly what's really going on below…
How Does Home Income Millionaire Work?
Basically the Home Income Millionaire system is just your typical make money online scam in that it promises you the world, asks you to hand over your hard earned cash – and then fails to deliver on its promises…
So basically they're just tricking you to get your money, then you'll be left to find out the hard way (by losing your cash) that the whole thing was just built on lies & deceived you.
But in order to try to make their system "somewhat" legitimate to stop it getting shut down they've piggybacked off a method called affiliate marketing, which in itself is actually a legit way to make money online.
It's actually the same way I make most of my own money online.
And in case you don't know, affiliate marketing basically involves connecting people with the products that they're looking for online & getting paid commissions in return.
So as an example (as shown below) you could sign up to Amazon as an affiliate which would get you a unique link to all of their products… Then if somebody clicked your link & purchased something, you'd get paid a commission.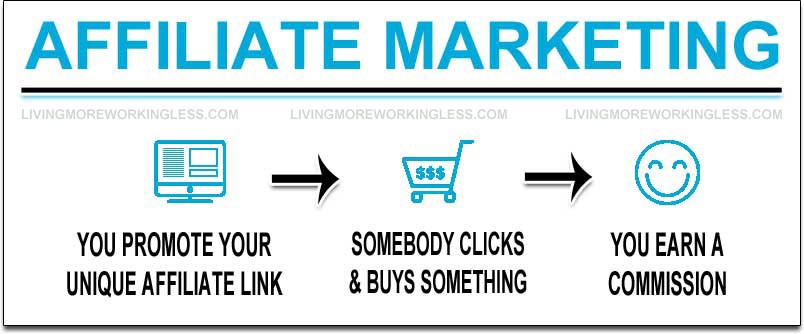 As I mentioned above affiliate marketing in itself works. The problem when it comes to the Home Income Millionaire system is not with affiliate marketing, it's with the "training" on it that they provide you with.
You see it is indeed actually possible to make $1,000+ per day with affiliate marketing.
I've even met people making $100,000 per month with it (I know – crazy money)… But in order to achieve those kind of results you need 2 things – you need good training/tools & you need to work hard.
That kind of money is not just going to fall into your lap like the Home Income Millionaire system claims it will. They're just claiming that to trick you into handing over your cash – and then they give you some extremely basic training on affiliate marketing to "cover their butts".
That way by giving you some training they can claim they technically lived up to their side of the deal to prevent you from getting a refund.
But there's simply no need to waste your money on a bogus program like the Home Income Millionaire system in the first place because you can actually get started with affiliate marketing for free over at Wealthy Affiliate.
Plus over at Commission Academy you'll also get all of tools you need as well.
But back onto the Home Income Millionaire system…
The Red-Flags That Prove It's a Scam
Well the first red-flag is simply the fact that it sounds WAY too good to be true, and as I said towards the very beginning of this review, if something sounds too good to be true then as the saying goes it's because it usually is.
I mean yes sure, the internet certainly provides many legitimate ways to make money however it is not magical & it does not provide ways to make lots of money with little to no work or risk.
If such a thing ever existed then nobody would be left working a job & the world would be in crisis, which is why it couldn't possibly happen.
But on top of that there are several other red-flags too, such as…
1. The Use of Unrelated News Clips
Many of these make money online scams often pull random unrelated news clips & merge them together to make it seem like the system has been promoted on the news, when in fact that is far from the truth.
For example taken a look at the news clip below which is shown on the Home Income Millionaire website: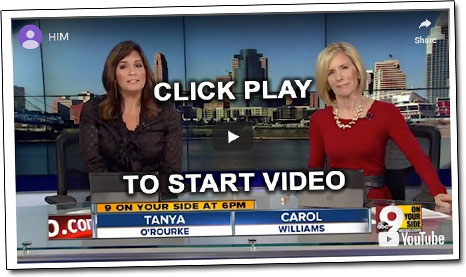 Yes it is a real news clip, however it is NOT talking about the Home Income Millionaire system – it is simply talking about working from home in general (which is possible). The creators of the Home Income Millionaire are trying to trick you into thinking the presenters are talking about their system.
2. The Use of Paid Actors & Fake Testimonials
If the Home Income Millionaire system really worked as promised then I'm pretty darn sure they wouldn't have to pay people to say good things about it… So why have they hired paid actors to present "testimonials" in their video & claim to be real members?
Take a look at the proof below: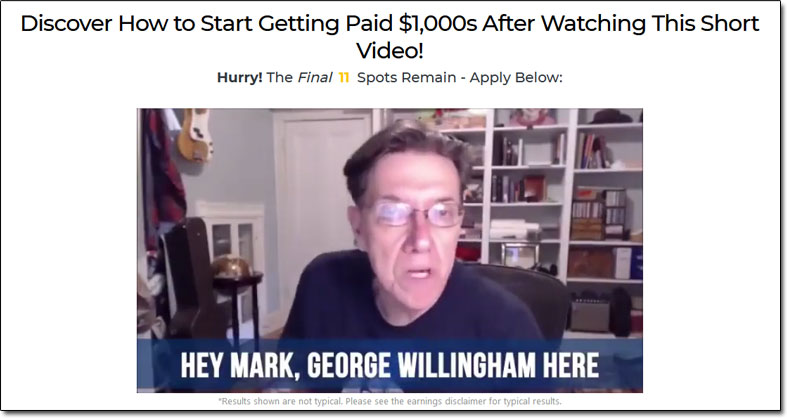 Mr George Willingham shown in the video claims to be a member of the Home Income Millionaire system & he claims to be making thousands from it, but he's actually just an actor from Fiverr that's associated with several other get-rich-quick scams as shown below: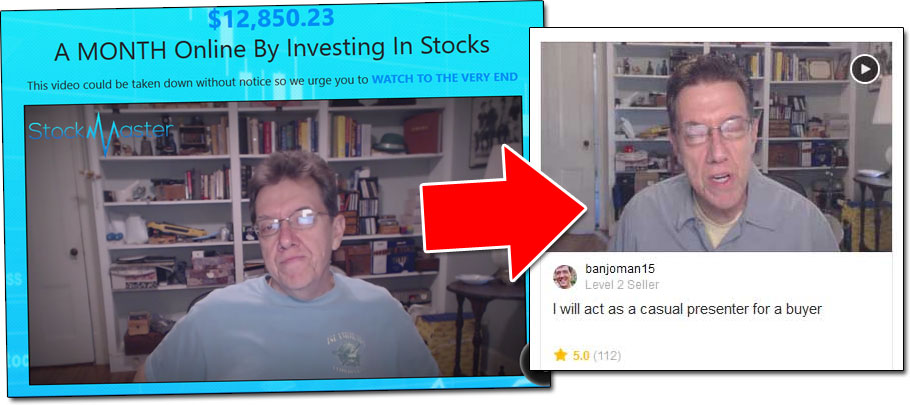 3. Fake Scarcity To Pressure You
On top of all of the video fakery there's also fake scarcity all over the website too which has been put there to attempt to pressure you into making a rushed decision to spend money on the system without you looking at reviews first.
And the reason the creator wants to pressure you into doing that is because he knows that if he gives you chance to look at some reviews first that you'll almost certainly find out that the whole thing's a scam.
As an example of some of the fake scarcity, check out this fake counter on their homepage which resets to 11 every time you refresh the page:

Which leads me onto…
Is Home Income Millionaire a Scam?
Yes absolutely, there is no doubt in my mind that the Home Income Millionaire is a scam. The whole thing has been built on pure lies & deceit in an attempt to trick you into parting with your cash so that the person behind it can earn at your expense.
I can safely tell you that NOBODY who joins the Home Income Millionaire system will find themselves generating $500+ per day like they're promised, and heck they'd be lucky to find themselves making $1 per day… The likelihood is that they will just lose money instead.
The reason for that is because the whole thing is very loosely based around affiliate marketing (which is a legitimate method) however the training provided is just such poor quality that it won't help you to get started at all.
But the good news is that if you do want to build a good income with affiliate marketing there are legitimate places that you can join for free such as Wealthy Affiliate & it's there that you'll stand a much greater chance of success.
Or alternatively if you want to check out other methods you can take a look at my top picks page here which contains the top ways for making money that I've personally come across over the years.
But whatever you decide to do I just hope that my review here has given you a good insight into how the Home Income Millionaire system really works & I hope it has helped you to save your money as well.
If you do still happen to have any further questions or comments about it though then don't hesitate to leave them below & as always I'll do my best to respond back to you as quickly as I can.
A Better Alternative
The sad truth is that unfortunately most of the programs promising to help you make money online are scams. I can say that confidently after exposing over 500+ of them here on this blog.
But the good news is that even though most of them are indeed scams, there are actually some very good programs in amongst them - some programs that can truly help you to earn money.
And out of all of the legit programs I've seen, the one I would recommend the most to anybody looking to get started online is Commission Academy. In my own opinion, that's the best place to start.
At Commission Academy, you'll be provided with everything you need (including the training & tools) to begin earning real money by promoting products or services for companies like Amazon online.
The best part is that there's literally no limit on the amount you can earn with it & the process is pretty simple which means that it's absolutely perfect for people that don't have much experience.
Some wealthy affiliates even earn as much as 5-figures per month... Or more!


I mean don't get me wrong, that kind of money won't just fall into your lap without doing any work... But the harder you're willing to work at it, the more you stand to earn with it.
So if you're looking to get started but don't know which route you should go down or which program you should join (and don't want to waste money on bogus things that don't actually work), then I'd highly recommend checking out Commission Academy first. You can learn more about it here.