HoneyBTC is a bee themed website that claims to be able to provide you with a way to earn passive Bitcoins online. You're led to believe that you can simply sign up, buy a "slot" and start earning more & more Bitcoins every single day on complete autopilot.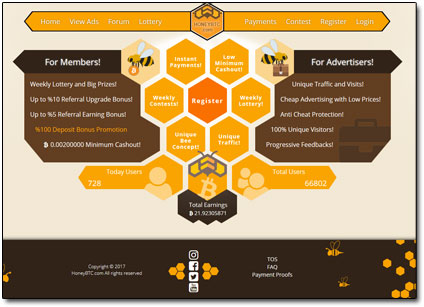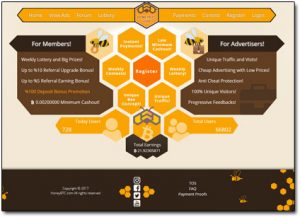 On top of that, the website also states that you can earn even more money by referring new members as well, but this is where things start to sound a bit like a Ponzi scheme.
So what's the deal?
Is it actually legit or is HoneyBTC a scam?
Thankfully you've landed in the right place to find out because I've done the digging & in this review, I'm going to be uncovering everything there is that you need to know about this company & outlining whether or not you can actually make any money with it.
What Is HoneyBTC?   |   How Does HoneyBTC Work?   |   The Problem   |   Is HoneyBTC a Scam?   |   A Better Alternative
What Is HoneyBTC?
HoneyBTC is a website that claims it can enable you to earn passive Bitcoins online. For some reason, I don't know why, the whole website is themed around bees – it's pretty unique but also pretty peculiar.
Anyway, the website poses as a legitimate PTC website which stands for Pay-To-Click. This is a type of website through which advertisers buy advertising & members get paid for clicking on the ads.
There are some legitimate PTC websites out there but usually, they pay very, very little. Often they don't even pay as much as a single cent per click & I will share the reason why in just a moment… But as to whether HoneyBTC is a legitimate PTC website well that's pretty questionable.
The reason I say it's questionable is that immediately upon landing on the website the whole thing looks very heavily focused around the money-making side of things as opposed to the advertising, and I can see that there are investments required along with recruiting… This sounds a lot like a Ponzi scheme & it kind of reminds me of a scam I previously exposed on this blog named Bitty Cash.
But that is just my initial suspicion from landing on the website, I will look into it in more depth in this review & I will find out or sure what's going on…
How Does HoneyBTC Work?
Well, the concept here is the same as it is with any PTC website. Advertisers are said to be able to buy advertising slots & members can sign up & click on ads to earn money. The strange thing is though that HoneyBTC claim you can still earn money without even clicking on ads.
It seems to me that the whole PTC site thing is just a cover-up for the investment scheme that is going on… AKA Ponzi scheme. I see mention of "ROI" within the Frequently Asked Questions page & that is very worrying.
So basically what seems to be happening is this. You sign up & buy a slot, then this slot will give you a passive ROI of 0.0002 BTC per day for a maximum of 30 days. However it looks like the only money coming into the company is coming from the new members that are investing, so I believe the money is simply getting passed up from new investors to old investors like a pyramid scheme.
This means that if you invest & new members stop coming in, or not enough new members are coming then you will not earn anything back. That's a common thing that happens in these types of schemes & that's why lot's of people end up losing money through them. The opportunity of a passive income sounds nice but generally most people who get involved just end up getting burned.
Anyway so yeah, you sign up, buy a slot & start earning 0.0002 passive BTC per day (as long as enough new members are coming in). You can buy more slots to earn more BTC if you wish but this depends on your account level, here are the details of that:
Standard members can buy up to 6 slots
Silver members can buy up to 12 slots
Gold members can buy up to 18 slots
So as a Gold member with all 18 slots purchased you would potentially be able to earn up to 0.0036 BTC per day passively. It sounds nice but remember, it is very risky because payouts are reliant on enough new members continually investing.
On top of that Gold members can also buy what they call Queen Bee slots. Queen Bee slots payout 0.00061 BTC per day & a Gold member can have a maximum of 18 of these, so an additional 0.01098 BTC per day passive income.
They also supposedly run a lottery & this is where the ads come into play. Every 10 minutes you will have the opportunity to earn a lottery ticket & you do this by clicking on the ads that are found inside of HoneyBTC. The lottery is drawn every week & the prizes are also BTC but it does seem that do sometimes give away quite substantial amounts.
Regardless as to what level you are inside of the program the minimum withdrawal limit is 0.002 BTC. Once you have earned that amount you will be able to request a cashout but not before that. BTC earned can be transferred to your CoinBase account.
You Might Also Like:
The Problem…
I'll admit that HoneyBTC almost seems legitimate, but the big push on recruiting is very worrying. They really want you to recruit more people into the opportunity & they stress the fact that you will earn more money by doing so.
It does seem that they do have some adverts in place for you to click so I assume they are getting paid from advertisers somewhere, but at the moment there are only around 40 adverts live on the website so from my experience that just doesn't seem like it would equate to anywhere near the amounts of money that they are paying out to their members.
It seems to me that what is going on here is that they are indeed relying on investments made by new members signing up to pay out the people who have signed up before them. This is very risky & also it's not a legitimate way to make money.
Also as a member of HoneyBTC, you will be continually encouraged to buy more & more slots, this can get very expensive very quickly. You'll also be encouraged to upgrade to the highest level (Gold) to earn more too.
In my opinion schemes like this are WAY too risky because there is no telling when they will collapse, and believe me they will 100% inevitably collapse – there is no way this type of thing could ever be sustainable.
There are many genuine ways that you can make money online so I would never advise trying out a silly scheme like HoneyBTC. Why would you want to put your money at risk when you don't need to? I know it seems easy, but it is not as easy as they make out – there are many better, legitimate options like Commission Academy for example where you do not need to put your money at risk.
Is HoneyBTC a Scam?
Well, I am going to be totally honest here & say that I don't really think it's a scam as such, it is more of a scheme. Whilst it might initially come across as a legitimate PTC website I feel like if you dig deeper it looks an awful lot more like a Ponzi scheme or pyramid scheme… Something you definitely want to avoid.
Either way, the website requires investment & yet the company does not provide any contact details whatsoever – I would NEVER advise you to invest money into a company that does not provide contact details because that is a common tell-tale sign of a scam. Basically, they keep their details hidden so that when their scheme collapses they can just proceed to launch the same thing under a different name without repercussion.
Basically, the whole thing just screams bad news. It looks like an easy way to make money but I bet the reality is that if you were to invest you would probably find out that it's actually the easiest way to LOSE money instead… Don't fall for it.
My advice is to avoid this type of thing, it looks like a classic investment scheme to me. Don't be lured in by the promise of easy money, instead feel free to check out my free guide for legitimate ways to start making money online.
A Better Alternative
The sad truth is that unfortunately most of the programs promising to help you make money online are scams. I can say that confidently after exposing over 500+ of them here on this blog.
But the good news is that even though most of them are indeed scams, there are actually some very good programs in amongst them - some programs that can truly help you to earn money.
And out of all of the legit programs I've seen, the one I would recommend the most to anybody looking to get started online is Commission Academy. In my own opinion, that's the best place to start.
At Commission Academy, you'll be provided with everything you need (including the training & tools) to begin earning real money by promoting products or services for companies like Amazon online.
The best part is that there's literally no limit on the amount you can earn with it & the process is pretty simple which means that it's absolutely perfect for people that don't have much experience.
Some wealthy affiliates even earn as much as 5-figures per month... Or more!

I mean don't get me wrong, that kind of money won't just fall into your lap without doing any work... But the harder you're willing to work at it, the more you stand to earn with it.
So if you're looking to get started but don't know which route you should go down or which program you should join (and don't want to waste money on bogus things that don't actually work), then I'd highly recommend checking out Commission Academy first. You can learn more about it here.