The Insider Profit Groups system claims to have been put together by an ex-baker named Steven Jason who allegedly managed to turn a mere $9 into a small fortune by cashing in on a "$4.7 billion honey-pot" that's supposedly named "the new internet"…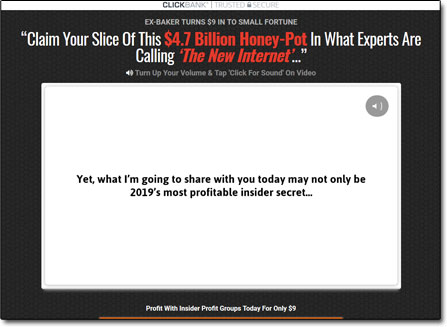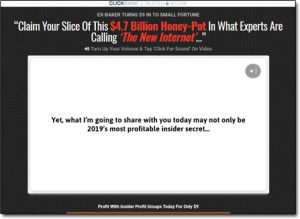 And surprise surprise he claims that you too can do exactly the same – only first you have to pay him the $9 to get access… So what's the deal? Is this whole thing really legit & can you actually make money with it or is Insider Profit Groups a scam that'll just end up costing you instead?
Thankfully you've landed in exactly the right place to find out as I myself have personally taken a closer look into it to find out how it all really works & in this honest review I'll be uncovering everything you need to know – including whether or not it actually lives up to its claims & whether or not you can actually make any money with it.
What Is Insider Profit Groups?   |   How Does Insider Profit Groups Work?   |   Pushy Upsells   |   Steven Jason Doesn't Exist   |   Is Insider Profit Groups a Scam?   |   A Better Alternative
What Is Insider Profit Groups?
In short what I can tell you right from the off is that the Insider Profit Groups system is essentially a very hyped-up system & whilst you can potentially make some money with it, the real reason it's been put together is not to make you wealthy like it claims, it's to make its creator wealthy at your expense instead…
And the reason I can say that so confidently right from the off is because I've seen this exact same system in the past. It was previously launched under the name of The China Secret – but the name has since been changed in an attempt to escape the negative reviews (like mine) so that the creator can continue trying to part unsuspecting "victims" with of their hard earned cash.
You see, the Insider Profit Groups website states that you're going to be getting a "slice of a $4.7 billion honey-pot in what experts are calling the new internet"… But in reality after handing your cash to find out more (which I don't recommend doing) you're just left to discover that the statement is a complete lie…

The "$4.7 billion honey-pot" that's being referred to is Facebook… And whilst the creator makes out like you can just sign up and "get a slice of the pie" to begin making money right away with little to no work, that just couldn't be farther from the truth.
And you'll soon see all that for yourself below as I explain exactly how it all really works…
How Does Insider Profit Groups Work?
Well as you've probably discovered for yourself already, the main Insider Profit Groups website doesn't really give a great deal away as to how the whole thing actually works… Instead it just makes an effort to hype you up about how much money you're going to make & how easily you're going to be able to make it…
BUT… The "catch" is that in order to get access to this amazingly easily money making method you have to firstly hand over some of your own cash… Which is pretty much the number 1 common trait of every get-rich-quick scam ever.
I mean sure, there are some legitimate training programs out there that do require some money upfront – but if they don't tell you in proper detail how any of it actually works or what you will be doing then you can almost always assume that it's likely a scam.
I mean truly legitimate programs like Commission Academy even give you the option to start entirely free, so that you can check it out for yourself first & see if it's actually something you feel you can do before you pay.
But yeah, in short basically the Insider Profit Groups website is just a ploy to get you to hand over your cash so that the creator can earn some money at your expense – and what it really revolves around is affiliate marketing on Facebook.
Now here is where things get a little bit confusing because affiliate marketing in itself is actually a legitimate way to make good money online – in fact it's actually the same way I make most of my own income online…
It basically involves you connecting people with the products that they're looking for & getting paid commissions in return – and most companies these days (even big companies like Amazon) have affiliate programs that you can join.
So the process looks somewhat like this: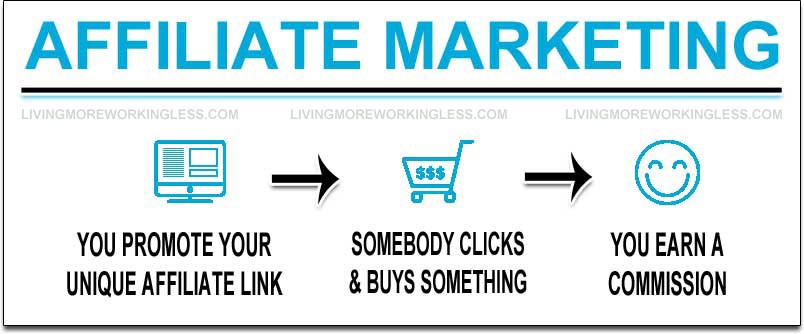 Now here's the important part – the problem doesn't lie with affiliate marketing, it lies with the training provided by the Insider Profit Groups system.
Basically all of the training inside of the Insider Profit Groups system is geared around teaching you how you can use Facebook to promote your affiliate links & earn commissions by doing that… But there are some big problems here.
Firstly, the quality of the training is very poor – and for $9 you only get access to the "teaser course" (more on that in a moment).
But secondly, Facebook is a pretty darn tricky place to start with affiliate marketing because there's a very fine-line between what Facebook class as legitimate affiliate promotions & what they class as spam.
Even the experts often get this wrong & it results in their accounts quickly getting banned…
Instead if you're a newbie you should start out by just creating your own website (which using my guide you can do for free & in under 1 minute, even if you're brand new) – as in my opinion that's the best way to get started.
By creating you're own website (which trust me, isn't as daunting as it sounds) you can play around without the fear of getting banned by anybody (like Facebook)… And also with your own website you don't have to work tirelessly promoting your affiliate links – instead you can actually attract visitors as the content on your website will ultimately end up getting listed on the likes of Google, Yahoo & Bing (where there are millions of people looking for stuff everyday)…
So yeah – pretty poor training coupled with a pretty poor method to be honest… That's my "short summary" of Insider Profit Groups. But those aren't the only problems because there's also the…
Pushy Upsells – Something I Really Hate!
Yep – despite being repeatedly told on the Insider Profit Groups website that you can get access to the whole thing & begin making money for just $9, that's not true either (but you probably already guessed that).
Instead in reality after paying the $9 all you really get is "teaser access".
The reason they've done that is because they just want your credit card on file, because as soon as you've paid the $9 you're then presented with the real costs – but from there it's all one-click billing.
They're just hoping that you'll click, click, click & get billed, billed, billed!
That's why immediately after joining for the $9 you're then presented with 3 consecutive upsells, which include:
Platinum Group = $197
Crypto Millionaires Calendar = $147
Diamond Profit Booster = $97
Each upsell is presented to you as some sort of way to make even more money & to make it even faster, but to be honest none of them in my opinion really provide any true value for money, and even if you purchased them all I still don't find yourself likely to make money with the whole thing.
As far as I'm concerned it would still be a much better option to just stick with a legitimate & proven platform like Commission Academy.
You Might Also Like:
Steven Jason Doesn't Even Exist
Yep that's right – after reading the disclaimer on the Insider Profit Groups website I read the following:
This letter features the use of a "pen name" to protect the privacy of the creator.
So ask yourself this, why would the creator of a wonderful system that enables people to make so much money so easily want to use a fake name in the video?
Surely it would be easier & more honest to say "because I want to keep my identity private I won't be disclosing my name"… But nope, the "real" creator has gone to the lengths to lie to us… And I'll let you come to your own conclusion as to why.
But anyway with all that being said I think it's about time for…
Is Insider Profit Groups a Scam?
Well some people might argue that it's not because you do actually get access to "some" training (even if it is low quality & overpriced), but in my opinion I do believe the Insider Profit Groups system is a scam because as far as I'm concerned it is primarily geared towards making its creator wealthy, not you… And it employs a lot of deceitful tactics to do that.
I mean sure, you do get access to a method inside that could potentially work & could possibly enable you to earn some money – however not only are the chances of it working slim, but there is no mention of the amount of work that's actually involved with it to stand any chance of truly finding success.
If you are going to attempt to make money with affiliate marketing through Facebook alone then you will either see yourself burning through a lot of money very quickly (using paid ads) or you will see yourself spending next to every waking hour behind your PC writing posts & sending messages… And probably getting banned!
So instead of doing that, I'd advise just steering clear of the Insider Profit Groups system (and other similar hyped-up systems or programs) and just sticking with a legitimate & proven program such as Wealthy Affiliate instead.
Or alternatively you could also check out all of my top picks for making money online here too.
But whatever you decide to do I just hope that my honest review of Insider Profit Groups here has given you a good insight into how it all works & I also hope that it's helped you to save some money too.
If you do however still happen to have any further questions or comments then don't hesitate to leave them below & as always I'll do my best to respond to you as soon as I can. 🙂
A Better Alternative
The sad truth is that unfortunately most of the programs promising to help you make money online are scams. I can say that confidently after exposing over 500+ of them here on this blog.
But the good news is that even though most of them are indeed scams, there are actually some very good programs in amongst them - some programs that can truly help you to earn money.
And out of all of the legit programs I've seen, the one I would recommend the most to anybody looking to get started online is Commission Academy. In my own opinion, that's the best place to start.
At Commission Academy, you'll be provided with everything you need (including the training & tools) to begin earning real money by promoting products or services for companies like Amazon online.
The best part is that there's literally no limit on the amount you can earn with it & the process is pretty simple which means that it's absolutely perfect for people that don't have much experience.
Some wealthy affiliates even earn as much as 5-figures per month... Or more!


I mean don't get me wrong, that kind of money won't just fall into your lap without doing any work... But the harder you're willing to work at it, the more you stand to earn with it.
So if you're looking to get started but don't know which route you should go down or which program you should join (and don't want to waste money on bogus things that don't actually work), then I'd highly recommend checking out Commission Academy first. You can learn more about it here.