The China Secret system is something that's just recently launched via the ClickBank network & it's allegedly been put together by a disabled man named Robert Walter who claims he has a secret for making money online through what he calls "China Messenger Profit Centres".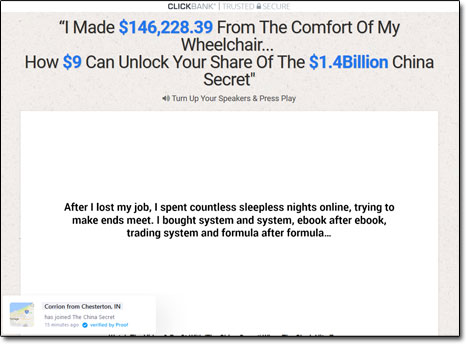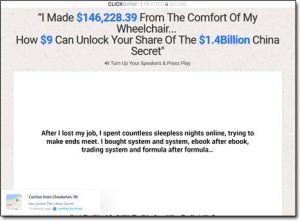 He claims to have personally made hundreds of thousands from the method by simply tapping into a $1.4 billion China secret using Facebook Messenger, and he promises that for just $9 you too can get access to the exact same method to start making the same kind of money for yourself…
But it sounds a little bit too good to be true, don't you think? Which is likely why there are already so many China Secret scam rumours circulating the web… But what's the truth?
Can you really make any money with it at all, or is it just another bogus get-rich-quick system?
Well, you can rest assured that you've landed in exactly the right place to find out as I'm going to be uncovering everything you need to know right here in this review (including how it all really works).
What Is The China Secret?   |   How Does The China Secret Work?   |   The Process Explained   |   The Good News   |   The True Cost   |   Is The China Secret a Scam?   |   A Better Alternative
What Is The China Secret?
The China Secret system is one of the latest money-making products to launch via the ClickBank network alongside the likes of the Millionaire Dollar Replicator & the Money Looper system…
It's said to have been created by a guy named Robert Walter, a disabled man who claims that thanks to this so-called "China secret" he's been able to make $146,228.39 from the comfort of his wheelchair as shown below:

But obviously that's an extremely bold claim, and the video promoting the system doesn't really give a great deal away as to how any of it actually works… Instead, you're pushed towards handing over some cash to "find out more" which is generally the number 1 trait of a get-rich-quick scam.
And I can tell that whilst the ClickBank network itself is legit, many of the products on there are flat-out scams… In fact, out of the hundreds that I've reviewed on this blog I think I've only come across 1 or 2 that are actually "borderline" legit, like the EZ Battery Reconditioning system…
The rest of them have just been hyped up BS, and I'm gonna be honest – right from the off I believe that The China Secret system is yet another one of them.
The reason I say that is because the promises it makes are simply too good to be true, and I know for certain that whilst you might be able to make some money with it (which we'll find out in a moment), you 100% won't be able to make the kind of "easy riches" claimed in the sales video.
You see the truth is whilst the internet provides many legitimate ways to make money it's not magical & it doesn't provide any ways for you (or anybody else) to make lots of money without having to do anything…
I mean think about it, if it did then everybody would be doing it – nobody would be left working a job & the whole world would be in utter chaos!
But anyway the question here is, can we make any money with The China Secret at all? Is it any legitimacy to it whatsoever? Let's find out…
How Does The China Secret Work?
After taking a closer look into The China Secret system I was quickly able to determine exactly how it works, and whilst it is "kind of" built around a legitimate method, I can say that there is NO way you will make money with it…
And that's likely why there's a disclaimer at the bottom stating the following:
This letter features the use of a "pen name" to protect the privacy of the creator.
I imagine the true creator wants his privacy protecting because he will likely know that in not such a long period of time there will probably be an angry mob hunting him down seeking for their money to be returned!
You see essentially The China Secret system just teaches you how to become a Facebook spammer – hence the whole mention of the "Facebook Messenger" thing in the promotional video for the system.
But I can tell you that it will NOT work as you're told – and instead of making money, you'll just land yourself with a banned Facebook account.
So In Detail, Here's How The Process Works…
Basically The China Secret doesn't give you access to any secrets at all, instead the name for the system is just a gimmick to trick you into signing up because the creator is just set out to make some cash at your expense & at the expense of others too.
Once you've signed up (which I obviously don't recommend doing) you'll find that all you really get access to is some extremely basic training on something called affiliate marketing, which is actually a legitimate method for making money online that consists of you promoting products for 3rd party companies.
You promote the links, and if you generate any sales you get paid a commission as shown in the diagram below: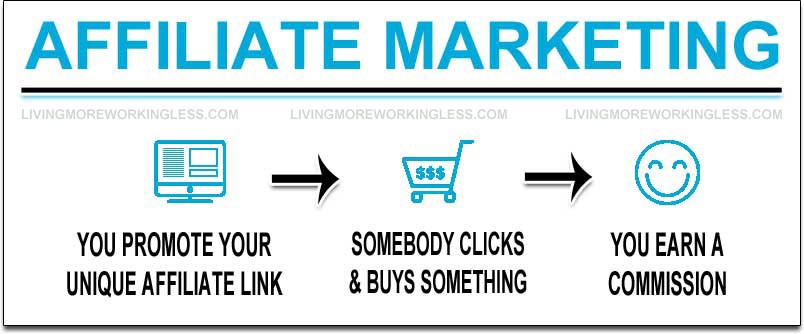 However whilst the method itself is actually pretty simple, in order to find success with affiliate marketing you need to know how to effectively promote your links, that's the key – and without that, you'll struggle to earn a penny.
And this is where the problem lies with The China Secret system because instead of showing you how to do it properly they claim that you can literally just head to Facebook & "spam" your links to people using Facebook Messenger…
I'm sure you can see the obvious problem here, but just in case you can't then let me highlight them:
Firstly, without a doubt, you are going to get your Facebook account banned. Facebook does not tolerate spamming whatsoever (because it's annoying) and the moment somebody reports it, you'll be shut down.
Secondly, nobody, and I mean NOBODY will even click your link, let alone purchase anything from it if it arrives in a spam message. I mean come on, tell me – when was the last time you clicked in a link in a spam mail? People are too afraid of viruses these days (and rightly so).
And thirdly – you won't even be able to get any affiliate links because The China Secret doesn't show you how to create a free blog or website which most affiliate networks require you to have before they'll approve you.
So in short, the whole thing is fundamentally flawed – but like I say the people behind The China Secret system don't really care because they're not really interested in helping you to make money as they claim.
They just want to take money from you so that they can earn at your expense instead, then they just provide you with some BS training in an attempt to prevent you from getting a refund.
You see because they've actually given you something instead of nothing they can claim that "now you've seen the material you aren't entitled to a refund"… It's a common trick used by ClickBank scammers.
There Is Some "Good" News Though…
The good-ish news is that if you have already fallen victim to The China Secret scam then you should actually stand a fairly good chance at getting your money back, because ClickBank is often pretty good at handling refunds (if contacted directly).
So whilst the people behind The China Secret itself might ignore your requests for a refund, if you actually send a message to ClickBank directly about your order then they should be able to help you out… Hopefully, anyway.
Obviously, the best situation though is to simply have just held onto your cash in the first place, and instead of joining up to a bogus over-hyped program like The China Secret just sign up to something free & legitimate like Wealthy Affiliate where you'll actually learn how to make money properly.
You Might Also Like:
And By The Way, $9 Is NOT The True Cost
I appreciate that because of the seemingly low cost for the program you might still be thinking about signing up to it anyway to "try it out" despite my negative review here outing it as a scam… So just to let you know, $9 is not actually the true cost of the program…
Instead, the $9 is merely just an "entry fee" that gets you inside & then on the inside you will be presented with several upsells which cost much more money.
That's the way most ClickBank products are structured, unfortunately, which is really frustrating…
In fact on their own affiliate page for the program the creators of The China Secret literally state the following:
Killer Bizopp. Low Ticket Frontend + 3 Killer Upsells = Make It Rain.
And here's another MAJOR red-flag… The China Secret has an affiliate program…
Ummm so what?…
Well, if The China Secret system really worked as promised then 1, why would they need to pay people to promote it? And 2, why on earth would people waste their time promoting it when they could just sign up to it & earn automated commissions?
The answer is easy – it's because it 100% does not work as promised.
So that brings me nicely onto…
Is The China Secret a Scam?
Yup, in my opinion, The China Secret is 100% a scam – and it's actually a disgusting scam that has been set out to primarily targeted disabled people, which I believe is just plain-utter wrong… And as I say, disgusting.
Now don't get me wrong here I know there will be some people who will argue with me and say "but they give you training so it can't be a scam", and whilst that is true that they do give you training, ultimately the whole thing is built upon lies & deceit which is my personal definition of a scam.
If you do not get what you were promised, you have been scammed – that's the way I see it… And there is no way that you'll find yourself making money through The China Secret program, certainly none of the "easy riches" that they claim.
But like I mentioned earlier in this review the method behind it all (which is affiliate marketing) is indeed legitimate in itself, and there are places out there like Wealthy Affiliate that will actually help you get started with it properly… And I'd highly recommend trying it because you can 100% make good money with affiliate marketing.
And just in case for whatever reason affiliate marketing doesn't tickle your fancy then you can also check out all of these other great ways to make money online.
But regardless as to what you decide to do I just hope that my review has given you a great insight into how The China Secret system actually works & hopefully you can now also see why it should be avoided. If you do happen to have any further questions or comments about it though then, of course, don't hesitate to leave them below.
A Better Alternative
The sad truth is that unfortunately most of the programs promising to help you make money online are scams. I can say that confidently after exposing over 500+ of them here on this blog.
But the good news is that even though most of them are indeed scams, there are actually some very good programs in amongst them - some programs that can truly help you to earn money.
And out of all of the legit programs I've seen, the one I would recommend the most to anybody looking to get started online is Commission Academy. In my own opinion, that's the best place to start.
At Commission Academy, you'll be provided with everything you need (including the training & tools) to begin earning real money by promoting products or services for companies like Amazon online.
The best part is that there's literally no limit on the amount you can earn with it & the process is pretty simple which means that it's absolutely perfect for people that don't have much experience.
Some wealthy affiliates even earn as much as 5-figures per month... Or more!

I mean don't get me wrong, that kind of money won't just fall into your lap without doing any work... But the harder you're willing to work at it, the more you stand to earn with it.
So if you're looking to get started but don't know which route you should go down or which program you should join (and don't want to waste money on bogus things that don't actually work), then I'd highly recommend checking out Commission Academy first. You can learn more about it here.