The Money Looper system is yet another ClickBank product that's just launched promising to provide you with a method for generating easy riches online & it's allegedly been put together by a guy named Mike Dee – or Mike Thomas as he alternatively seems to call himself on the sales page…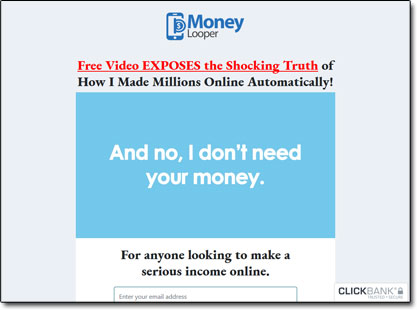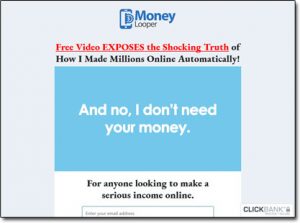 You're led to believe that the system will provide you with a way to make millions automatically… But can you really trust a system that appears to have been put together by a guy who forgets his own name? Or is Money Looper a scam that's just set out to take your cash?
Well, thankfully you've landed in exactly the right place to find out as I've taken a closer look into it to see exactly how it works & in this honest review I'll be uncovering the truth – as well as outlining whether or not there's really any chance of you actually making money with it.
What Is Money Looper?   |   How Does Money Looper Work?   |   Is Money Looper a Scam?   |   A Better Alternative
What Is Money Looper?
The Money Looper system as I mentioned above is a brand new money-making product that's just recently launched through the ClickBank marketplace & it's being hosted on the same website that hosts the Copy His Success program, so the 2 programs are clearly interlinked.

Now if you follow my blog then you'll likely know that I recently published a review of the Wealth Project system, and in it I mentioned how most of the products/programs I've been coming across lately through ClickBank have all turned out to be scams…
Well here we are once again with another ClickBank product (the Money Looper system) which looks an awful lot like a scam.
It promises easy riches, it asks you for money to get started without telling you much detail about what it actually entails, and it's been put together by a guy who can't even seem to remember his own name…
Sometimes he calls himself Mike Dee, sometimes he calls himself Mike Thomas – and underneath the video on the system's website you're presented with a disclaimer that states Mike Thomas is actually just a pen name… So the true creator remains anonymous…
Now why would the true creator want to remain anonymous? That is a MAJOR red-flag right from the off.
But anyway, all that aside – the Money Looper system basically claims that it can provide you with access to an automated way of making millions of dollars online, even if you've never previously made any money whatsoever online before…
And if you watch the video promoting the whole thing you'll see that "Mike" goes on to show proof of his commission checks which he's allegedly been receiving from various networks – however if you take a closer look then (as shown below) you'll see all the dates are actually from way back in 2009: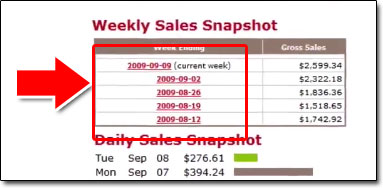 That's ten years ago… And yet Mike claims that these screenshots allegedly "verify" that his system is real… But I personally don't take that as verification at all – and I hope you don't either.
I mean for one, screenshots can be faked… And for two, what worked 10 years ago probably doesn't work the same today.
Are we once again just getting peddled some "out of date" junk from ClickBank? It sure as heck looks that way right from the off, but let's take a closer look into the system to see how it all actually works…
How Does Money Looper Work?
Remember when I said towards the very beginning of this review that the Money Looper system was being hosted on the same website as the Copy His Success program & that I believed the two were interlinked?
Well yes, it turns out they are indeed interlinked… And that's not good!
You see essentially in short the Money Looper system is actually just an online marketing coaching scam, just like Digital Altitude & MOBE (which have now both been shut down by the FTC).
Rather than help you to make money like it claims, the true intention of the Money Looper program is actually just to take money from you instead to make the creators wealthy at your expense.
And as a result you can expect it will cost you a LOT more than the advertised $37…
That $37 fee that's boasted on the main sales page of the Money Looper is actually just the entry fee, and it's been designed purely to separate the tyre kickers from those who are actually willing to whip out their credit cards & spend some money.
After handing over that money all you literally get access to is some extremely basic training on something called affiliate marketing, which is where you promote products for 3rd party companies online in return for commissions.
Now affiliate marketing in itself is actually legit – and you can actually make money from it, but NOT through the Money Looper system because the training provided through their program is extremely low quality, and it's low quality on purpose (more on that in a moment)…
First though I want to give you a brief run down of how affiliate marketing actually works: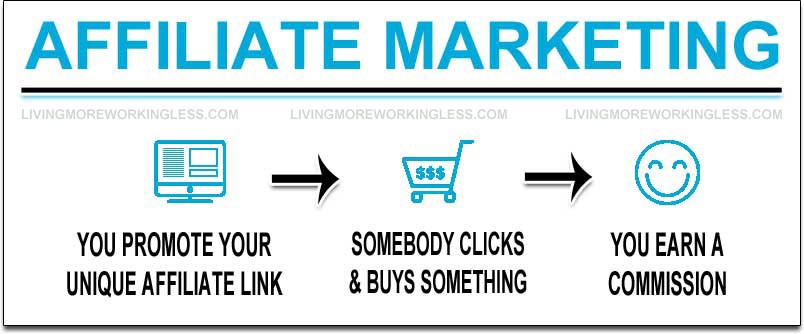 Basically as shown in the image above, affiliate marketing consists of you signing up to an affiliate program, getting a unique link which you then promote online – and earning commissions from the people that make purchases after clicking through your link.
So for example if you became an affiliate of Amazon you'd get unique links to share the Amazon products, which means if somebody clicked through your link & purchased something from Amazon… You'd earn a commission for the sale!
It's actually a really simple way to make good money online & if you have a legitimate training program to hand like Wealthy Affiliate, you can actually make quite a lot of money from affiliate marketing.
But anyway, like I mentioned prior to that the Money Looper system just provides you with some low quality training – and as I also said, they do that on purpose (which I understand might sound a little strange).
You see the people behind the Money Looper program essentially just want to give you a "taster" of how affiliate marketing works because their true intention is to sell you into a coaching program named Copy His Success.
So after signing up for $37 they'll basically give you a load of hype about affiliate marketing and how you can make LOT'S of money with it… Which you can, and you can see how I make $10k+ per month myself from it here…
But the problem here is that they'll claim you need to join their coaching program to see success – and they'll charge hundreds, if not thousands of dollars for this service… However you won't really be getting coached by any sorts of experts at all.
Instead they've just trained up a bunch of call centre staff – so you'll be paying hundreds (or thousands) of dollars and somebody will just be reading from a script to you on the other end of the phone… Claiming that they're a "six-figure earner".
Like I said earlier in this review, MOBE worked in the exact same way & that's why it was shut down by the FTC.
What's more, the people behind the Money Looper program don't even give you any of the tools that's required to start your own successful business either – instead they'll tell you that you need to go out and buy them separately (costing you hundreds more).
So you'll be left paying hundreds (if not thousands) for "coaching" and you'll be told to spend hundreds more on various different tools & services… When you could actually be getting all of this for free at a place like Wealthy Affiliate.
And even if you did pay all the money to the Money Looper / Copy His Success coaching program then there's still no guarantee you'll find yourself making any money… And to be honest, I highly doubt you actually would end up making any money with it.
The reason I say that is because as far as I'm concerned they don't care about you – they just care about lining their own pockets, that's all.
Which brings me onto…
You Might Also Like:
Is Money Looper a Scam?
Some might say it's not a scam because you do get access to some training and if you pay more money you do get access to some coaching, but in my opinion it IS a scam because the way it's sold is totally misleading.
Frankly there's no way that you're going to make millions automatically through the Money Looper system like the sales page for it wants you to believe – and you'd be lucky to make so much as a single $1.
Plus on top of that if you did decide to pursue the program then as I mentioned earlier in this review it would definitely end up costing you a LOT more than the promised "small fee" of just $37… It could end up costing you thousands!
So overall it's clear to me that the primary intention of the Money Looper program is not to help you make money like it claims, it's just to take money from you so that the creators of it can get rich at your expense. With that in mind, it should be avoided at all costs.
And like I also said earlier if you truly want to make good money online then you should just stick with a legitimate training program like this one here – it's there that you'll find proper success online (and it's free to start with).
But regardless as to what you decide to do the one thing I hope is that my review here helped you save your hard earned cash, and I hope it's given you a better insight into how it all really works.
If you do still happen to have any further questions or comments though then don't hesitate to leave them below & as always I'll do my best to respond back to you as quickly as I can.
A Better Alternative
The sad truth is that unfortunately most of the programs promising to help you make money online are scams. I can say that confidently after exposing over 500+ of them here on this blog.
But the good news is that even though most of them are indeed scams, there are actually some very good programs in amongst them - some programs that can truly help you to earn money.
And out of all of the legit programs I've seen, the one I would recommend the most to anybody looking to get started online is Commission Academy. In my own opinion, that's the best place to start.
At Commission Academy, you'll be provided with everything you need (including the training & tools) to begin earning real money by promoting products or services for companies like Amazon online.
The best part is that there's literally no limit on the amount you can earn with it & the process is pretty simple which means that it's absolutely perfect for people that don't have much experience.
Some wealthy affiliates even earn as much as 5-figures per month... Or more!

I mean don't get me wrong, that kind of money won't just fall into your lap without doing any work... But the harder you're willing to work at it, the more you stand to earn with it.
So if you're looking to get started but don't know which route you should go down or which program you should join (and don't want to waste money on bogus things that don't actually work), then I'd highly recommend checking out Commission Academy first. You can learn more about it here.