The Instant Income At Home system claims to contain a "weird trick" that can see you making upwards of $500 per day online by merely "playing around on the internet" (their words, not mine).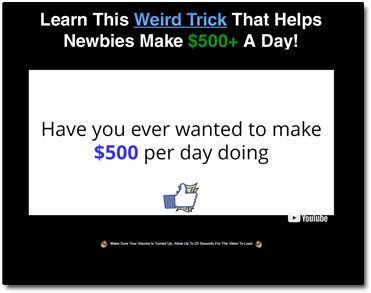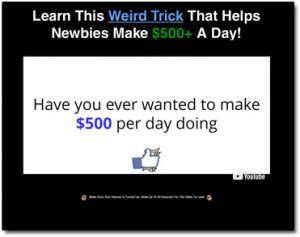 But like me you'll probably think that sounds a little too good to be true, so what's the deal? Is it legit or is Instant Income At Home a scam?
Well, at a glance it sure looks like a huge scam but thankfully you've landed in the right place to find out for sure because in this review I'm going to be uncovering literally everything there is you need to know.
So if you've been thinking about signing up to the Instant Income At Home system then be sure to read this review right through before you hand over any money.
What Is Instant Income At Home?   |   The Truth   |   From Bad To Worse   |   Is Instant Income At Home a Scam?   |   A Better Alternative
What Is Instant Income At Home?
The Instant Income At Home system claims to be able to provide you with a way to make upwards of $500+ per day by just "playing around" on social media sites online.
You're told that with literally just 1 click of the mouse everything will be set up for you & that all you need to do to begin making money is like, comment & share posts on Facebook…
It sounds super simple, right? And who wouldn't be interested in earning $500+ per day by completing such simple tasks? Sadly it sounds far too good to be true & guess what? That's the common tell-tale sign of a SCAM.
You see I'll admit that the internet is a fantastic tool & it provides you with many different income opportunities, but it's not magical & it's not going to see you earning such large sums of money so easily.
Sure you can build a full-time online, you can even earn more than you can in a traditional job online, but to do so you must be prepared to put in some work. The internet is not just going to make you money for nothing – if it could then everybody would be doing it.
The Truth About Instant Income At Home
The Instant Income At Home system isn't actually anything new. After spending just a few moments watching the video on the main page of their website I quickly realized that it is just a re-launch of a previous scam named Paid Social Media Jobs.
A lot of people (including myself) exposed the previous scam Paid Social Media Jobs & it's therefore likely that they've changed the name to escape the negative reviews so that they can continue scamming people. This is a common trick used – recently a scam named The Crypto Edge system changed its name to The Crypto Genius system after being exposed, it happens all the time with this type of thing.
Do you notice how throughout the whole video on the Instant Income At Home website there is no name given? They have purposely left the name of the system out of the video so that they can just keep using the exact same video to scam people regardless of what they decide to call the website.
How does it work?
Basically, the scam here is actually quite simple. They are just hyping you up about the potential opportunity of earning a lot of money by doing a very easy task (which in this case is just posts on social media).
Sadly this potential opportunity does not exist, at least not through this particular system anyway. Yes you can make money by managing social media accounts for businesses, but that's not what this system is about – this system claims to give you access to some kind of "loophole".
Instead, the ploy is to simply part you with your money. To get access to the system you will need to first pay a fee of $37, and that is just the beginning – after paying that there are many, many upsells inside.

The problem is that once you get inside there is not a great deal – there is certainly no loophole or $500 per day method. All you are provided with is a bunch of junk training that will supposedly teach you how to get rich through social media.
The training is so bad that I would not even say it's worth $37. Yes, you can make money by managing social media accounts for business or by promoting products on social media, but even if you were to the follow the Instant Income At Home training to the letter the chances of you making money are very slim because it's simply such poor quality.
Not to mention the fact that you can get this training elsewhere for free (through Commission Academy for example).
You Might Also Like:
It Goes From Bad To Worse…
As I say the $37 access fee is just the beginning, from there you will be forced through many upsells & you could see yourself parting with hundreds of dollars before you even gain access to the system… However, once you are in the upsells do not stop.
Shortly after going through the initial training, you will be told that you can quadruple your income by signing up to a company called MOBE. I have previously exposed MOBE on this blog & it is not a company I recommend as it could see you parting with around $50k before you even have any chance at making money. Not to mention the chance you have of making money with MOBE is very slim.
The reason the creator of the Instant Income At Home system wants to sign you up to MOBE so badly is that he (or she) is affiliated with it & this means that they get paid a huge commission if you sign up at invest.
It's clear to me that the creator of this system is just out to make a whole bunch of money at your expense, and as I say it works identically to the Paid Social Media Jobs scam that I previously exposed. Don't fall for it!
Is Instant Income At Home a Scam?
Yes, it 100% is. As I say it's just a rehashed version of another scam that I have previously exposed on this blog & I know exactly how it works. There is no way that you can begin generating the kind of money they promise with such ease, the method is completely flawed – all they are trying to do is make money at your expense.
This is not even an elaborate scam, basically, all they are doing is feeding you a whole bunch of lies in the hope that they can get you to part with your cash. They even promise you a 60-day refund & claim that the system is risk-free but once you've handed over your money you'll find out that they actually make it very difficult for you to get it back.
Basically, the whole thing is just a piece of junk. It is preying on people who are new to making money online & people who are not quite sure how it works or who are in a desperate situation and need cash quickly. Sadly there is no such way to get cash quickly with ease – if there was everybody would be doing it.
I'd therefore advise you to avoid this system & if you really want to learn how to make money online I suggest you check out my free guide here.
A Better Alternative
The sad truth is that unfortunately most of the programs promising to help you make money online are scams. I can say that confidently after exposing over 500+ of them here on this blog.
But the good news is that even though most of them are indeed scams, there are actually some very good programs in amongst them - some programs that can truly help you to earn money.
And out of all of the legit programs I've seen, the one I would recommend the most to anybody looking to get started online is Commission Academy. In my own opinion, that's the best place to start.
At Commission Academy, you'll be provided with everything you need (including the training & tools) to begin earning real money by promoting products or services for companies like Amazon online.
The best part is that there's literally no limit on the amount you can earn with it & the process is pretty simple which means that it's absolutely perfect for people that don't have much experience.
Some wealthy affiliates even earn as much as 5-figures per month... Or more!

I mean don't get me wrong, that kind of money won't just fall into your lap without doing any work... But the harder you're willing to work at it, the more you stand to earn with it.
So if you're looking to get started but don't know which route you should go down or which program you should join (and don't want to waste money on bogus things that don't actually work), then I'd highly recommend checking out Commission Academy first. You can learn more about it here.