The Real Wealth Strategist is an investment newsletter edited by a guy named Matt Badiali & published through a company called Banyan Hill Publishing. It promises to give you access to "the biggest cash grab in US history" & claims that it will show you how you can get yourself a chunk of a "massive $34.6 billion payout"….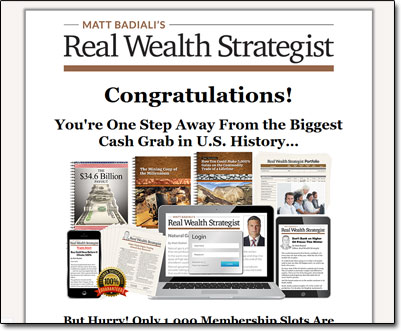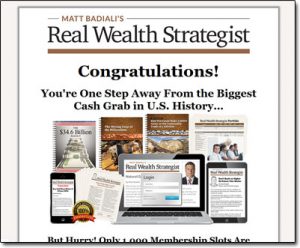 You're led to believe that by signing up to the newsletter you'll be able to find out how you can see five-digit & six-digit checks being sent to you up to 4 times a month & that the sky is the limit in terms of how much you can make… But is it actually legit or is the Real Wealth Strategist a scam that'll just see you spending money rather than making it?
Thankfully if that's what you've been wondering then you've landed in exactly the right place to find out because I've taken a closer look into how it all works & in this review I'll be uncovering everything there is you need to know, including whether or not you can really make money through it all.
What Is The Real Wealth Strategist?   |   How Does The Real Wealth Strategist Work?   |   Can You Really Make Money With It?   |   Is The Real Wealth Strategist a Scam?   |   A Better Alternative
What Is The Real Wealth Strategist?
As I very briefly touched on above the Real Wealth Strategist is a monthly newsletter that's edited by a guy named Matt Badiali & published through a company named Banyan Hill Publishing.
The website promoting it claims that the members-only newsletter will show you how you can become a part of the biggest cash grab in US history & see yourself earning a huge chunk of an alleged massive $34.6 billion payout.
This promise of easy money has likely got you pretty interested about the whole thing but at the same time the bold claims have likely got you feeling pretty sceptical… After all as the saying goes "if it sounds too good to be true, it generally is"…
And I'm not gonna lie, you'd be right to be sceptical…
Especially when you're told things like "you could see six-digit checks up to four times a month", "the sky is the limit on how much money can be made" and that "there are only 1,000 membership slots available"…
Those are all the sorts of claims that are normally found associated with your typical get-rich-quick scam. Usually I'd say when you hear things like that you should exit the page and avoid it at all costs…
But the Real Wealth Strategist has actually been advertised on the radio under it's alter-ego named Freedom Checks so I figured I'd stick around & take a closer look to see if there was actually any substance to it…
After all you can't advertise a scam on the radio… Can you? Let's take a look…
How Does The Real Wealth Strategist Work?
When you sign up to the Real Wealth Strategist newsletter what you're paying for is Matt Badiali to send you his investment recommendations every month based on alleged profitable opportunities he discovers.
He claims he's helped his readers see gains of up to 597% and that if you follow his advice then you should be able to the same.
On top of that though by signing up to his newsletter he also promises you access to 4 other publications offered by Banyan Hill Publishing, these include:
The $34.6 Billion Payout
The Mining Coup of the Millennium
"Magic" Metal Riches: Make 3,000% Gains on the Commodity Trade of a Lifetime
Bauman Letter
He stresses (as shown below) that if you sign up to his Real Wealth Strategist program that you'll get all these for free – but in reality that's not quite so true as you'll soon see in just a moment.

You do see it too right? I'm not just making this up?… Good, because if you take a look at the small print you'll see that they are only free temporarily. When you subscribe to the Real Wealth Strategist you'll be automatically subscribed to his other newsletter, the Bauman Letter & this will charge you $79 in renewal fees when it becomes due – on top of the $97 Real Wealth Strategist renewal fee.

That's hardly free in my opinion…
FYI initially the Premium Subscriptions costs $79 (allegedly reduced from $496), the Deluxe Subscription costs $129 & the standard subscription costs $47.
They've priced it in a way so that almost everyone coming through the website will opt to pick the Premium Subscription – and surprise surprise that happens to be the one which will automatically re-bill you for the Bauman Letter.
And the reason I say the price was "allegedly" reduced from $496 above is because based on the history of the website it never appears to have actually retailed at this price the whole time the site has been online.
It seems to me like they're just making it seem like you're getting a better deal so that you'll be more enticed to buy. It's like the way they claim there's only 1,000 copies available which is also non-sense… This website has been online for several months & it's been getting promoted very heavily so if that were actually the case then they'd have sold out a long time ago.
Again… Just a scarcity tactic – a common marketing tactic to rush you through the sign up process & get you to make that impulse purchase without really thinking too much about what you're doing.
But Can You Actually Make Money From The Real Wealth Strategist?
As I've mentioned several times throughout this review, the claims boasted by the Real Wealth Strategist website are very bold – but if they're true then of course that's not a problem at all… The question is are they?
Well the good news is that I recently reviewed the Freedom Checks website (the website that funnels people through to the Real Wealth Strategist) and lot's of members came to my blog to share their opinion.
One of the customers who'd purchased the Real Wealth Strategist left the following review:
It may not be a scam but they are sure good at bait and switch! They promote one price ($79) and then end up trying to charge over $2500, not once but twice!!!!! Stay away from it.
Another person left a very insightful stating the following:
I listened to part of Matt's endless spiel and one thing he said is a true red flag, i.e. that some of the checks could also be a "return of capital." That happens when a dividend is composed of a part of the company's free cash flow and a part of the shareholder's equity. You see that when the dividend is $1.00 and the value of the share drops from $10.00 to $9.50. You can lose much of your investment this way – hardly "free cash."
And the same person that left the above comment also went on to state:
It appears that Freedom Checks are dividends paid by Master Limited Partnerships (MLPs) in the US oil, gas and gas/oil transmission (pipeline) business. You can find oil/gas MLPs for free by Googling "Energy MLPs." But investors should definitely check out the tax implications first to make sure it fits with the type of their brokerage account. Can I get $49.00 for revealing Matt's secret sauce for free cash?
So the answer seems to be yes, it is possible to make money as a result of following Matt's advice in his newsletter – but at the same time it seems that it also very risky based on the way it works.
But to be honest that's pretty much always the case when it comes to investing. You may stand a good chance to make money, but more often than not you'll also stand a good chance at losing money too.
In my opinion it seems Matt Badiali and/or Banyan Hill Publishing are more interested in merely getting newsletter subscribers than anything else & it seems they're willing to say or do anything they can to get them.
I mean even if Matt's advice was the best in the world, the claims made by the Real Wealth Strategist are just so bold it's off putting. I don't understand why they couldn't have just been honest & upfront about what the program entails… And what the true amount of money needing to be spent will be…
You Might Also Like:
Is The Real Wealth Strategist a Scam?
Well it's not a scam since they're technically selling a newsletter & if you sign up that's exactly what you get access too – but in my opinion as I've said above the whole thing seems to be very misleading.
You're led to believe that you're just going to get access to easy money, or "free money" as it's made out on their website but in reality this just isn't the case. The whole thing involves risky investments & could potentially see you losing your money rather than making it.
Therefore overall I am not going to be personally recommending the Real Wealth Strategist because I think that if you do buy into it you will probably find yourself either disappointed or losing money. As far as I'm concerned, in my opinion there are much better ways to make money online – ways that do not involve such risk or large upfront investments being required.
If you want to see the way I personally generate an income online then I suggest you check out my Wealthy Affiliate review – that's the program I use to build my own income & my review explains how it all works.
But anyway that's all I have to say about the Real Wealth Strategist – I just hope my review provided you with the insight that you were looking for into it. If you do happen to have any additional comments or questions though then don't hesitate to leave them below.
A Better Alternative
The sad truth is that unfortunately most of the programs promising to help you make money online are scams. I can say that confidently after exposing over 500+ of them here on this blog.
But the good news is that even though most of them are indeed scams, there are actually some very good programs in amongst them - some programs that can truly help you to earn money.
And out of all of the legit programs I've seen, the one I would recommend the most to anybody looking to get started online is Commission Academy. In my own opinion, that's the best place to start.
At Commission Academy, you'll be provided with everything you need (including the training & tools) to begin earning real money by promoting products or services for companies like Amazon online.
The best part is that there's literally no limit on the amount you can earn with it & the process is pretty simple which means that it's absolutely perfect for people that don't have much experience.
Some wealthy affiliates even earn as much as 5-figures per month... Or more!


I mean don't get me wrong, that kind of money won't just fall into your lap without doing any work... But the harder you're willing to work at it, the more you stand to earn with it.
So if you're looking to get started but don't know which route you should go down or which program you should join (and don't want to waste money on bogus things that don't actually work), then I'd highly recommend checking out Commission Academy first. You can learn more about it here.