Banyan Hill Publishing claims to be America's number 1 source for smarter, safer & profitable investing. They have a team of alleged experts & they offer various premium investment-related newsletters which promise to provide their subscribers with lucrative returns.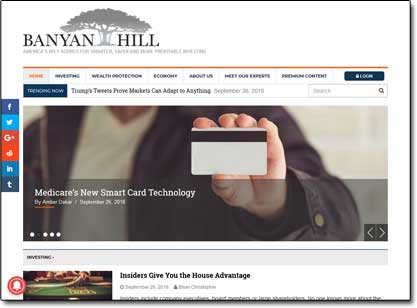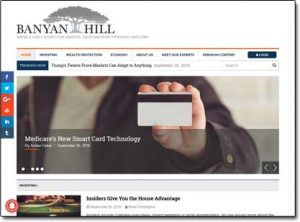 Some of their products even boast that you'll be able to see ROI's of up to 8,000%, with one stating that a subscriber made $16,000 literally overnight…
But can you trust these promises? I mean, is there advice legit or will Banyan Hill scam you & just leave you out of pocket instead?
It seems a lot of people are looking to find out the answer to that question & if you are too then you can rest assured that you've landed in the right place. I've taken a closer look into Banyan Hill & in this honest review I'll be uncovering the real truth, including whether or not you can actually make any money with their so-called premium investment newsletters.
Who Exactly Is Banyan Hill Publishing?   |   Banyan Hill Scam Rumours & Complaints   |   Is Banyan Hill Publishing Legit?   |   A Better Alternative
Who Exactly Is Banyan Hill Publishing?
Banyan Hill Publishing is (as the name suggests) a publishing company that's part of the Agora Inc group, which also includes Agora Financial – a company that also publishes similar premium investment newsletters.
Banyan Hill is behind some BIG investment publications, some of which you've probably already heard of if you're here reading this review. These include the likes of:
And I think it's fair to say that Paul Mampilly is probably one of their most forefront investment strategists…
So basically they have a team of expert financial analysts, coupled with a team of expert online marketers. The analysts produce content and primarily seem to look for "quirky" ways to make money, then the marketers do their thing & promote the heck out of it.
Naturally as you can imagine because of the quirkiness of some of their publications (and bold promises) this has led to a lot of Banyan Hill scam rumours surfacing on the web, but Banyan Hill Publishing is NOT a scam.
In fact, Banyan Hill Publishing is actually a huge company – growing from $6 million to $113 million in the last three years. They are an extremely fast-growing company and the screenshot below (taken from a job listing page) shows how Banyan Hill describe themselves:

The Banyan Hill Scam Rumours & Complaints
As you can imagine, turning over $113 million, Banyan Hill is a HUGE company and they have thousands upon thousands of subscribers to their premium investment newsletters. In fact Paul Mampilly's Profits Unlimited newsletter is said to have over 90,000 subscribers alone!
Now, some of their products – like Freedom Checks (and actually also Profits Unlimited) make some rather bold claims. They basically in one way or another suggest that they'll be able to help you get very rich, very quickly…

Which they potentially could – but since they involve investing, they could potentially also cause you to lose money… There's definitely a solid element of risk there.
However it's clear that the marketers have decided to go for this approach to catch as much attention as possible, and it works. The Freedom Checks newsletter gained massive exposure – however due to the claims, naturally many people branded it as a mere get-rich-quick scam.
These people sadly then went to also spread rumours on the web – without actually knowing the facts.
Like I mentioned above, Banyan Hill Publishing is NOT a scam – nor are their newsletters. Yes they make bold claims, and I admit that I am not particularly too fond of their marketing efforts on that front, but they do deliver good quality newsletters from genuine experts as promised… Which in turn could enable you to cash in a profit.
But how you can you be assured they're not a scam? What about the Banyan Hill Publishing complaints on the BBB website?
Well, personally I think the complaints say it all. As I said, turning over $113 million it's clear to see that Banyan Hill is HUGE and that they have many, many subscribers… Yet only 58 complaints on the BBB.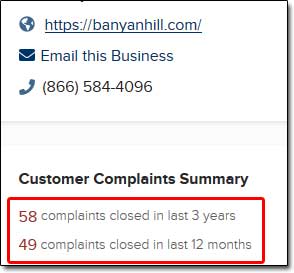 58 complaints would normally be a massive red-flag to me, but given that they likely have hundreds of thousands of customers I think in terms of the ratio it holds out pretty well & speaks volumes about the company.
58 people who've decided to complain – potentially hundreds of thousands who haven't.
That says to me Banyan Hill Publishing must be pretty darn good!
Also, within one of the complaints about Banyan Hill a lady had asked for a refund. Banyan Hill responded, apologized that she had suffered a bad customer experience & then later the same reviewer had responded stating "I was issued the appropriate credit Thanks for your assistance".
Seems all fair & well as far as I'm concerned!
Is Banyan Hill Publishing Legit?
Yes, as far as I'm concerned Banyan Hill Publishing is absolutely 100% legit. They have a team of expert financial analysts & they provide high-quality newsletters which could potentially help you to make some money.
I mean don't get me wrong, I am personally not a big fan of their marketing tactics (such as the hyped-up income claims) which in my opinion I think can be a little misleading, however there's no denying they do deliver solid value through their newsletters.
So what I would say overall is that if you are looking into one of Banyan Hill's newsletters and seeing it as a "push button" way to make money, I'd likely advise you to steer clear of it, because that's not what they are… However if you realize that what you are getting is access to expert tips, which may or may not help you make money – then there doesn't seem to be any harm in trying it out.
Me personally though, I am not a big fan of trading – I guess I just don't like risk. I prefer ways to make money that involve no risk where I am in control of my income, like affiliate marketing (which you can learn about at Commission Academy). Whatever you decide to do though it's up to you. I just hope my review here helped you out.
Don't forget there are also several other safe ways to make good money online which you can see here… And also if you happen to have any further questions or comments don't hesitate to leave them below.
A Better Alternative
The sad truth is that unfortunately most of the programs promising to help you make money online are scams. I can say that confidently after exposing over 500+ of them here on this blog.
But the good news is that even though most of them are indeed scams, there are actually some very good programs in amongst them - some programs that can truly help you to earn money.
And out of all of the legit programs I've seen, the one I would recommend the most to anybody looking to get started online is Commission Academy. In my own opinion, that's the best place to start.
At Commission Academy, you'll be provided with everything you need (including the training & tools) to begin earning real money by promoting products or services for companies like Amazon online.
The best part is that there's literally no limit on the amount you can earn with it & the process is pretty simple which means that it's absolutely perfect for people that don't have much experience.
Some wealthy affiliates even earn as much as 5-figures per month... Or more!

I mean don't get me wrong, that kind of money won't just fall into your lap without doing any work... But the harder you're willing to work at it, the more you stand to earn with it.
So if you're looking to get started but don't know which route you should go down or which program you should join (and don't want to waste money on bogus things that don't actually work), then I'd highly recommend checking out Commission Academy first. You can learn more about it here.