Profits Unlimited is an investment newsletter that's been put together by a guy named Paul Mampilly, an alleged expert investor, and the whole thing's been creating quite a buzz because through this newsletter Paul supposedly gives you access to what he claims to be "the most lucrative investment of all time"…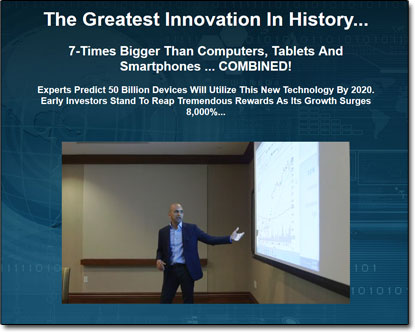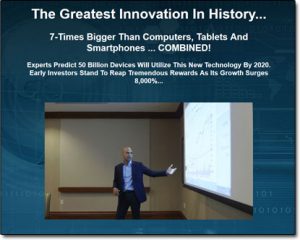 He says that people who get in early will put themselves in a position to earn tremendous rewards as he predicts the suggested investment will grow by over 8,000% – but is it actually legit, or is Profits Unlimited a scam that'll ultimately just see you wasting money for nothing?
At a glance, you might lean towards the latter due to the extremely hyped up sales pitch promoting the newsletter but thankfully you can rest assured you've landed in the right place to find out for sure because I've done the digging & in this Profits Unlimited review I'm going to be uncovering everything there is that you need to know.
What Is Profits Unlimited?   |   How Does Profits Unlimited Work?   |   Who Is Paul Mampilly?   |   Profits Unlimited Complaints   |   The Costs   |   Is Profits Unlimited a Scam?   |   A Better Alternative
What Is Profits Unlimited?
Profits Unlimited is both a website & a newsletter and essentially it provides investment advice. The idea is that you're supposedly able to "copy" the trades sent to you via the newsletter & you should hopefully generate a profit as a result…
The website itself has been launched by a company named Banyan Hill Publishing, the same guys behind the Freedom Checks website that I previously reviewed on this blog. The newsletter that's being sent out to members of the site though is being put together by a guy named Paul Mampilly (more on him in a mo).
Now to get access to the newsletter you'll have to firstly go through their website (and pay a subscription fee) but the one thing you will likely notice is that the website is extremely "hyped up"… In my opinion I actually feel it follows several common traits of a typical get-rich-quick scam.
However the first thing I want to point out here is that Profits Unlimited is not actually a scam.
I'm not actually so sure why they've created the website in the way that they have because as far as I'm concerned all it does is raise suspicion… In fact that might be the reason you're here reading this review.
It issues out bold claims like "the greatest innovation in history", "investment growth surges 8,000%" & when you try to leave the website you're presented with a popup window that tells you you're about to miss out on the greatest investment ever…
Even the testimonials sound fake with people claiming they made $16,000 overnight & another claiming profits of $18,268 in 33 months…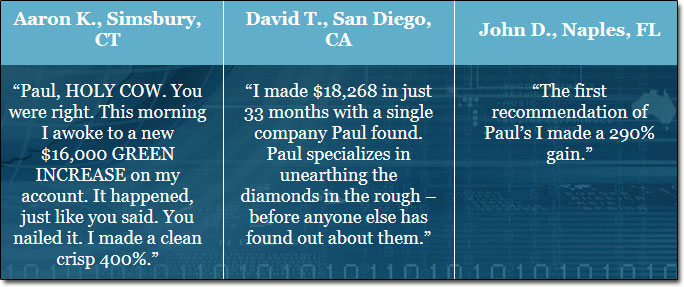 If I didn't know better I would definitely brush this off as a scam right away… But like I say, it's not…. Profits Unlimited is actually legit (surprisingly).
Which brings me onto my next point…
How Does Profits Unlimited Work?
Profits Unlimited is actually pretty straight forward – there isn't really a great deal to it. It's just a subscription based investment newsletter service provided by Banyan Hill Publishing & edited by Paul Mampilly.
To get access to the newsletter you'll need to pay a recurring fee of $49 per month but the idea with this particular newsletter is that Paul will send you good "picks" so you can copy his recommended investments & ultimately make more money back.
But be aware that there is absolutely no guarantee you will make money, instead you could actually end up losing money – ultimately if you want to try this out you are just going to have to be willing to put your trust in Paul.
The good news though is that Paul generally recommends a stop-loss of 8-12% on every trade, which means if his pick doesn't work out as hoped then your trade should stop once you pass this amount in losses to present you losing all of your funds.
And whilst 8-12% could still be a nasty hit, when you weigh it against the potential returns promised by Profits Unlimited it's nothing in comparison (providing of course they actually work out).
So How Can Profits Unlimited Boast Such High Profits?
One of the main things that's led to all of the Profits Unlimited scam rumours being bantered about the web is the extremely high ROI's & predictions that are claimed on the website, such as "8,000%" for example…
So how can Paul Mampilly promise you should expect such high returns?
Well, realistically he can't guarantee anything in terms of returns – but Paul claims to have expertise within the tech industry stock market. Whilst he does from time to time offer entirely different recommendations, most of his "picks" relate to the IOT, otherwise known as the Internet of Things.
Paul sees real potential in the IOT industry (as do many other people) and to be honest I agree in the fact that it is likely to going to grow a LOT over the coming years.
The Profits Unlimited website makes claims of the IOT technology growing 7 times bigger than computers, tablets & smartphones combined which honestly is a pretty bold claim, and it might be overly bold… But regardless it does undoubtedly have a lot of potential.
So whilst the investments might not rise quite as high as the website makes out, there is still a good chance that the picks offered by Paul could be pretty good picks & could make you money.
But of course trading is trading & what you have to realize that there is also the potential to lose money… Even the best do, because you know – sh!# happens!
Who Is Paul Mampilly?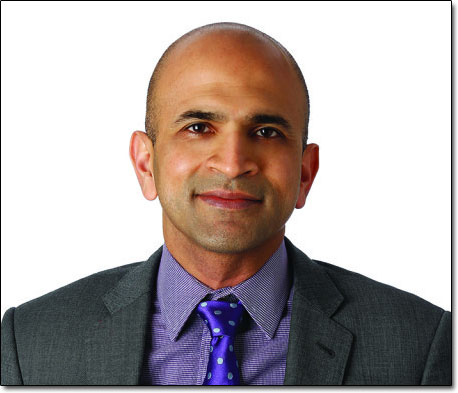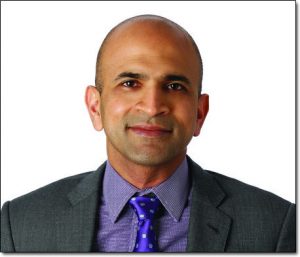 I've mentioned his name a few times throughout the review but I haven't really touched on who he actually is & why you should potentially be willing to take his advice which is probably pretty important!
So the first thing I want to point out here is that Paul Mampilly is indeed the real deal.
I've exposed several trading scams on this blog such as the likes of BitsTrades for example & all too often they use actors & aliases to hide the real people behind the schemes… It's an easy, common way to detect a scam.
Anyway in this instance the good news is that Profits Unlimited does not – Paul Mampilly, the man they claim to be associated with the newsletter is indeed associated with the newsletter… And he is also allegedly a very good trader.
Paul's managed several multi-million dollar portfolios, he's worked directly for big banks like the RBS (Royal Bank of Scotland) & Swiss Bank and in total he's even got over 25 years experience working on Wall Street.
So when it comes to trusting somebody with your money it seems like Paul is indeed a fairly good bet. He's still obviously not a magician, but looking at his track record it would seem he comes pretty close!
Profits Unlimited Complaints
It's likely that you arrived at this review from a search engine & if you did you'll have probably been aware that there are several other reviews that have been posted about the Profits Unlimited program…
The trouble is that the majority of them are not quite as kind as mine – in fact some of them call Profits Unlimited (and even Paul Mampilly himself) a flat out scam… So what's the deal with this? What's the truth?
Well firstly you might be thinking that I have some sort of affiliation with Profits Unlimited & that that's why I've written a positive review but I can tell you that I don't. I have absolutely no affiliation with this program whatsoever, I'm just stating my personal opinion on it.
It just appears that the seemingly over-hyped claims on the Profits Unlimited website have caused a lot of controversy. Like I say these are the types of claims that are usually associated with get-rich-quick scams.
I think it's the classic case of people jumping to conclusions without actually having all the facts first.
As far as I'm concerned Profits Unlimited is not a scam, neither is Paul Mampilly. Sure, some of his "picks" may not turn out so great & you may lose money, but realistically that's the nature of trading. As far as I can see Paul is giving out genuine advice, and doesn't seem to have any monetary interest in making you lose on purpose.
You Might Also Like:
How Much Does The Newsletter Cost & What Do You Get?
Okay so you might have seen that I mentioned earlier in this review that access to the newsletter costs $49, well that is true but that is just for the most basic version of the newsletter – there are actually 2 more versions.
You can alternatively purchase the premium subscription for $79, or the deluxe version for $129. It is not actually made very clear what the difference is here with these 2 subscriptions, I can only assume that you are provided with more picks the more you pay.
So what do you get in return for your money?
Well you get access to Paul Mampilly's personal portfolio so you can see exactly what he's doing himself, and if you wish you can copy the trades that he is personally making within his own portfolio. This is live info.
On top of that you'll get weekly updates from him – he's send you things like details about trends he's noticed, changes that could negatively impact profits & other "need to knows" that he feels you should be aware of.
Then alongside the weekly newsletter which is more of a roundup type newsletter you'll also be sent a full-blown monthly newsletter which will give you all the details on the latest investments he is looking into. Paul goes into a LOT of detail in these emails & really does give you the full low-down so that you can make a truly informed decision as to whether or not you want to get involved yourself.
Is Profits Unlimited a Scam?
I've already said several times throughout this review that I don't believe it to be a scam. As far as I can see Paul is providing genuine advice through the newsletters with your interests in mind, I can't seem to see any incentive that he would have to do otherwise.
Obviously though this is trading, so there is absolutely no guarantee you're going to make money with it. You could spend $47 on the subscription for a year and not make a penny – who knows what will happen. Paul gives tips but then after that what happens is out of his control.
The question here is simply whether or not you feel it's worth it. If you have $47 to spare each month & money to invest (without breaking the bank) then it's something you could potentially try out if this is the type of thing you're interested in.
What I will say though is that this is NOT the type of thing for people who are running shortly on cash & looking for a desperate way to make money. If you are in that situation then trading is never a good option – instead I'd suggest you take a look at alternatives here.
But yeah hopefully this review provided you with the insight that you were looking for into this program & of course if you do happen to have any further comments or questions please don't hesitate to leave them below.
A Better Alternative
The sad truth is that unfortunately most of the programs promising to help you make money online are scams. I can say that confidently after exposing over 500+ of them here on this blog.
But the good news is that even though most of them are indeed scams, there are actually some very good programs in amongst them - some programs that can truly help you to earn money.
And out of all of the legit programs I've seen, the one I would recommend the most to anybody looking to get started online is Commission Academy. In my own opinion, that's the best place to start.
At Commission Academy, you'll be provided with everything you need (including the training & tools) to begin earning real money by promoting products or services for companies like Amazon online.
The best part is that there's literally no limit on the amount you can earn with it & the process is pretty simple which means that it's absolutely perfect for people that don't have much experience.
Some wealthy affiliates even earn as much as 5-figures per month... Or more!

I mean don't get me wrong, that kind of money won't just fall into your lap without doing any work... But the harder you're willing to work at it, the more you stand to earn with it.
So if you're looking to get started but don't know which route you should go down or which program you should join (and don't want to waste money on bogus things that don't actually work), then I'd highly recommend checking out Commission Academy first. You can learn more about it here.