There's been a lot of talk about Paul Mampilly lately, ever since he launched his Profits Unlimited program which claims to provide its members with a way to cash in on the "greatest innovation in history", promising ROI's of up to 8,000%…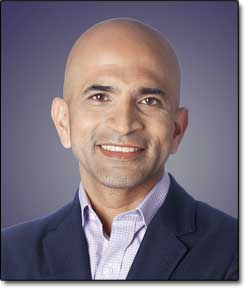 His program even claims to have helped people earn as much as $16,000 overnight… But is he really legit & can you trust him? Or will Paul Mampilly scam you & just leave you out of pocket instead?
Thankfully you've landed in exactly the right place to find out as I've taken a closer look at Paul Mampilly & his programs to see exactly what's really going on, and in this review, I'll be uncovering the truth… Including of course whether or not you can actually make any money with him.
Who Is Paul Mampilly?   |   A Look At His Investment Background   |   Paul Mampilly Scam Rumours   |   Is Paul Mampilly Legit?
Who Is Paul Mampilly?
So if you're reading this review of Paul Mampilly then chances are you probably know of him from his Banyan Hill backed make-money programs, which include Profits Unlimited & True Momentum.
However Paul Mampilly is actually quite a big name in the world of investing, and whilst he now seems to work primarily as an author/editor for Banyan Hill Publishing, prior to that he has been featured on Bloomberg & picked up by websites like Stock Gumshoe.

But being featured in those publications alone doesn't really prove you're legit. After all I've seen several people appearing on Forbes etc that turned out to be complete fraudsters… So what about Paul, is Paul Mampilly a fraudster?
Well the short answer to that is NO he's not. However I will also state that whilst he does give out seemingly genuine advice, the programs he's involved with (like Profits Unlimited) seem to be incredibly hyped up.
I believe this is the fault of Banyan Hill though as opposed to his own…
It seems like Banyan Hill Publishing, just like Agora Financial (a similar company behind similar newsletters under the Agora Inc umbrella) are going all-out on their marketing & putting together really hyped up pitches for his investment programs.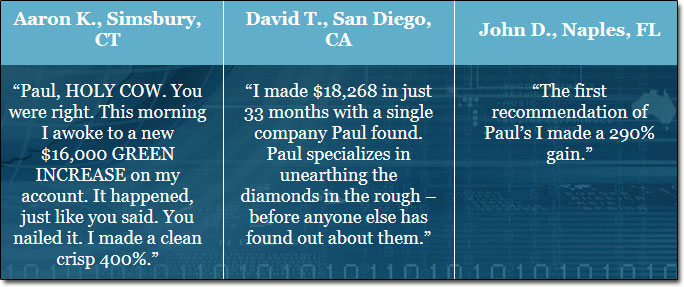 I mean sure – when it comes to investing you COULD potentially make a lot of money, but typically the higher the promised ROI, the more risk there is involved… That's just how the game goes.
Naturally though the bold claims boasted via the sites he's associated with have triggered a lot of Paul Mampilly scam rumours. People see the promise of quick riches & naturally assume somebody is a scammer without even doing any due diligence whatsoever.
I mean don't get me wrong I always advise that you tread carefully whenever something promises easy riches (as it has the potential to be a get-rich-quick scam) – but that promise alone does not necessarily mean that it's a scam as such.
In the case of Paul Mampilly's programs they are not scams, but as you can probably guess they are quite unlikely to deliver on their promises – and I'll talk more about that in just a moment.
Firstly though…
Paul Mampilly's Investment Background
If you're looking into any of Paul's programs, like Profits Unlimited for example then the first thing you are probably wondering is how you can trust the guy. How can you be sure the information he provides is legit?
Well like I mentioned earlier in this review Paul has been featured in the likes of Bloomberg, and that feature was due to the fact that he had a pretty darn impressive background as an investor prior to retiring at the age of 42.
Some notable events in Paul's background include:
Working on Wall Street for 2+ decades
Managed multi-million dollar accounts at the Bankers Trust Private Bank, Deutsche Bank and ING
Increased assets of Kinetics Asset Management to 25 billion dollars
Managed money for the Royal Bank of Scotland as well as private Swiss banks
Anyway, like I mentioned before that – Paul decided to retire at the age of 42. He had a pretty successful, and no doubt it was a lucrative career for him… So I guess why not? It seems though that he did not want to stop there though…
Instead he retired from managing money, but he went on to work for Banyan Hill Publishing producing newsletters through which he'd share his picks & personal investment advice. He joined Banyan Hill (which is part of Agora Inc, the same company that owns Agora Financial) back in 2016 and already in just 2 years he has over 90,000 subscribers to his newsletter.
I guess that's hardly surprising though given his success coupled with the powerful marketing team at Banyan Hill Publishing.
Why The Paul Mampilly Scam Rumours?
The whole reason I decided to put this post together was that after reviewing Paul's Profits Unlimited program I noticed there was quite a few people on the web who were calling him a scam artist, so I wanted to get to the bottom of it.
What I can say is that as far as I can see Paul Mampilly is NOT a scam artist, in fact it seems that overall the picks he has sent out via his newsletters have been profitable. Sure, some have lost – but he has had proven gainers of up to 253% which is pretty darn impressive.
So why are people calling him a fraudster?
Well sadly I think that's down to the hyped-up promises boasted on the sales pages of his newsletter. For example his Profits Unlimited program features testimonials of people claiming to have made $16,000 overnight which is just crazy.
I mean sure, it's definitely possible to do that – but it's the unlikely scenario, and it's the minority that will… So naturally when people see such incredibly bold claims they just assume it's a scam without doing any due diligence.
Sadly these misinformed people then even go on to state to others that the whole thing is just a scam, without even knowing how it all actually works. Sure, it's risky – but it is definitely not a scam.
This is just the type of marketing the companies under the Agora Inc umbrella like to do though – it's typical of both Banyan Hill & Agora Financial to push out programs with incredibly bold claims… They're good marketers & they just know what grabs peoples attention.
The good thing about Paul is that he generally seems to use 8-12% stop losses. So whilst there is risk involved, these stop losses minimize the risk by closing out the investment if it doesn't go in the direction it was anticipated to. You'll still lose money, but the stop losses keep the losses to a minimum.
My Verdict – Is Paul Mampilly Legit?
As far as I'm concerned Paul Mampilly is definitely legit. From the research I've carried out he seems to be a real guy with an impressive background & overall it seems his recommendations are generally profitable.
I think that it's just a case of using common sense when you're looking into subscribing to any of his newsletters. You should keep in mind that they are not just going to be "push button" money makers & if that's what you're hoping for then you should just steer clear of them.
However on the other hand if you're aware of the risk & you have enough money that you can afford to lose if things don't go as hoped then Paul Mampilly's newsletters might be something that you'd find value from.
Personally though I am not a big risk taker when it comes to the likes of trading & I like to make money through means that I have full control over, that way I eliminate any risk & know that I am in control of my income. One of the best ways to do exactly that is via something called affiliate marketing, which you can learn more about (for free) at Commission Academy. That's helped me build a solid, substantial income over the years & I'd highly recommend it.
But overall whatever it is you decide to do, whether it be investing, affiliate marketing, or any of the other ways to make money online – I just hope that you found this review of Paul Mampilly useful. If you do have any further questions or comments though then of course don't hesitate to leave them below & I'll get back to you as soon as I can. 🙂