Bank profits daily with no boss, no cubicle & no experience necessary – that's what the brand new Lazy Wealth System claims it can enable you to do but obviously I think you'll agree with me when I say that that's a pretty darn bold claim.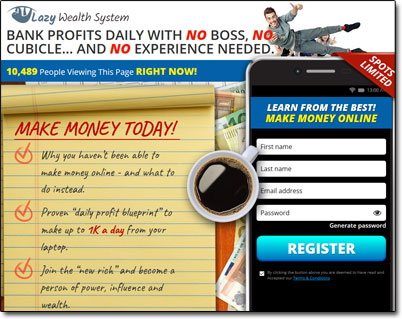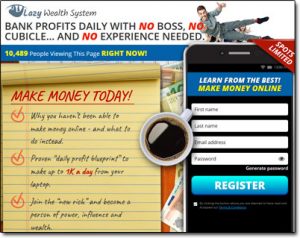 I mean, can you really just sign up to the Lazy Wealth System & start making money as easily as you're led to believe?
In fact, can you really make any money from it all… Or will the Lazy Wealth System just scam you instead?
If that's what you've been trying to figure out before paying good money to join up to this new system then firstly good on you for doing your due diligence, and secondly you can rest assured that you've landed in exactly the right place to find out everything you need to know as I'll be uncovering the full truth about it right here in this review.
What Is The Lazy Wealth System?   |   How Does The Lazy Wealth System Work?   |   Is The Lazy Wealth System a Scam?   |   A Better Alternative
What Is The Lazy Wealth System?
The Lazy Wealth System (as the name suggests) claims to be a brand new system that can help you to make money online really easily and judging by the sales page which appears to have "10,489 people viewing it right now" it seems to be pretty darn popular…

But don't rush into signing up too quickly because things are not quite as they seem… In fact the whole "10,489 visitors" thing is just a trick, and no matter which time you visit the website day or night there are always coincidently "10,489 people viewing it right now"… And of course "limited spots remain" as well…
Now in case you don't know these types of lies about limited spaces or how many people are viewing the page are common tactics used by get-rich-quick scams to trick you into signing up – they try to create a false sense of urgency to make you feel like you don't have time to look for reviews because they know if you look for reviews you'll find out the truth…
So what is it that they want to hide? That's the question!
Well let's take a look into exactly how it all works & we'll sure enough find out… And we'll also find out whether you can really join the "new rich" & generate $1,000 per day from your laptop like the creators of the whole thing claim you can…
How Does The Lazy Wealth System Work?
In order to get access to the Lazy Wealth System you're required to hand over some money – $4.95 to be precise & you're told that literally right after making the payment you'll be able to make money right away (as shown below):

But why if the method of making money is so easy is the creator requiring you to hand over money before he (or she) gives you access to it? This is another common trait of a get-rich-quick scam too.
The website states that the money is used to pay for customer support and the cost of running the website but that simply doesn't wash with me. I mean if the method really worked as promised then why are the customer support staff still working their jobs? If they know about the method then why are they not using it to profit for themselves? Something is not right…
And after digging deeper I was able to find out what it was.
In short, the Lazy Wealth System is basically what's known as an online coaching scam – and it's very similar to programs like MOBE or Digital Altitude that you might have heard of, which have now been shut down by the FTC.
These programs are very cunning and they catch a lot of people out… And those that they catch out they take a LOT of cash from.
I've heard of people losing over $50,000 to these types of scams.
But How Does It Actually Work?
Well, these types of coaching scams basically use a small introductory offer to draw you in – like the promise of the "proven money making method" for $4.95 that is offered by the Lazy Wealth System, then they offer you a 1-to-1 coaching call.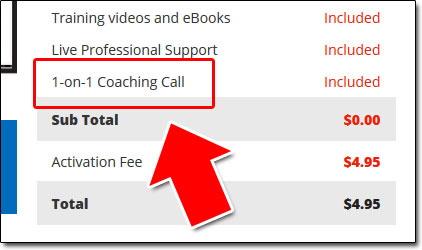 The problem though is that whilst coaching, in general, is legit, these scams are not putting you on the line with a real coach – instead, they're just putting you on the line with a salesperson & its in the "coaching call" where they'll put pressure on you to spend more money.
What they say in the call will vary, but ultimately they'll just tell you what you want to hear to get you to hand over your cash. They'll likely start out by asking about your current financial situation (to figure out how much cash you have) and then they'll move on to asking about how much you'd be open to investing if it meant that you could generate some sort of passive income online…
They'll really big it up & make it seem like you'll start earning lot's of money with ease but that couldn't be further from the truth.
I mean sure, with a legitimate program like Wealthy Affiliate (which is free to join) you'd likely have your own thriving business up & running in no-time, but the scammers behind systems like the Lazy Wealth System aren't really interested in your success at all… They just want to take money from you, not help you make it & as a result once they've got your cash they'll just dump you with some guides & tell you to "get on with it".
That's why the FTC is really hot on shutting down these coaching scams at the moment. Sadly though the people behind them are clever and as a result, they keep switching up the names of them.
Just recently I exposed a similar scam under the name of Money Looper, and prior to that, I exposed another one under the name of Legit Online Jobs.
If ever you want legitimate online coaching then you should either go direct to somebody that you know is actually an expert at what you want coaching in, or you should get the coaching via a site where you can actually see legitimate reviews left by other users to get a proper idea of what you'll be provided with.
Taking out 1-on-1 coaching via a random website that promises to provide you with easy riches is NOT a good idea.
Simple But Clever Scam
Ultimately the Lazy Wealth System is a very simple scam, but at the same time it is also very clever & if you are new to making money online it could seem like a trustworthy opportunity, especially due to the low cost… But that's what they prey on.
They lure you in with that small $4.95 fee knowing that most people will think "what the heck, I'll try it out", then they give you some taster material to get you hyped up about the potential opportunity of making money & finally in the "coaching" call they use a highly trained salesperson to get you to hand over as much money as possible.
It's all too easy to get carried away with it all & pull out your credit card during the call only to later realize that you've made a huge mistake & that's why I say that despite its simplicity it's actually a very clever scam because it's essentially unsuspecting.
And that brings me onto…
Is The Lazy Wealth System a Scam?
The answer to that, in my opinion, is yes – I mean sure, you do indeed get provided with some educational material in return for your money but the reality is that this is mainly just taster material to lure you further into the scam.
It's clear to me that the true intention of the creators of the Lazy Wealth System is to get you onto a so-called "coaching call" and to get you to hand over as much money as possible which could end up being thousands (or tens of thousands) of dollars.
If you happened to proceed right the way through & do exactly that then that's when you'll be left to discover that from there you'll just be told to essentially "get on with it" and figure things out on your own as the coaches are not really coaches, they're just salespeople trained in pushing people into handing over their cash.
Like I said earlier in this review that's exactly why the FTC is coming down so hard on these types of coaching scams because they're catching so many people out for so much amount of cash.
The good news though is that whilst the Lazy Wealth System is BS, there are indeed legitimate places out there that you can get started properly online (without paying crazy amounts of money) like Commission Academy.
What you must realize though is that there isn't really any "lazy" way to make money online – because whilst the internet is great for providing opportunities, it's not magical & to make money you must be prepared to put in the work to make it happen. What I can tell you though is that it's definitely worth the work!
Regardless though – whatever you decide to do I just hope that my review here has given you a good insight into how this type of scam works & more importantly I hope it helped you save your cash too. If you do still happen to have any questions though then don't hesitate to leave them below & of course if you have any additional comments feel free to leave those as well.
A Better Alternative
The sad truth is that unfortunately most of the programs promising to help you make money online are scams. I can say that confidently after exposing over 500+ of them here on this blog.
But the good news is that even though most of them are indeed scams, there are actually some very good programs in amongst them - some programs that can truly help you to earn money.
And out of all of the legit programs I've seen, the one I would recommend the most to anybody looking to get started online is Commission Academy. In my own opinion, that's the best place to start.
At Commission Academy, you'll be provided with everything you need (including the training & tools) to begin earning real money by promoting products or services for companies like Amazon online.
The best part is that there's literally no limit on the amount you can earn with it & the process is pretty simple which means that it's absolutely perfect for people that don't have much experience.
Some wealthy affiliates even earn as much as 5-figures per month... Or more!

I mean don't get me wrong, that kind of money won't just fall into your lap without doing any work... But the harder you're willing to work at it, the more you stand to earn with it.
So if you're looking to get started but don't know which route you should go down or which program you should join (and don't want to waste money on bogus things that don't actually work), then I'd highly recommend checking out Commission Academy first. You can learn more about it here.