Next Generation Affiliate V2 is an affiliate marketing training program that's been put together by a guy named Tony Marriott and prior to this one, Tony has actually launched several other similar training programs too.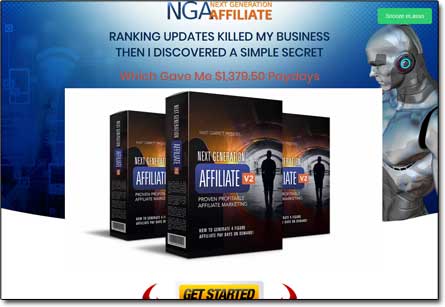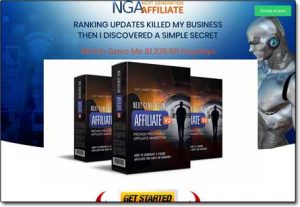 As the name suggests he's even previously launched the NGA program as well and this is his second take on it…
But can it really help you make money online as easy as it claims or is Next Generation Affiliate a scam that'll just fail to deliver on its promises?
If that's what you've been looking to find out then thankfully you've landed in the right place as I've taken a closer look into exactly how it all works & in this review I'll be uncovering everything that you need to know… Including of course whether you can really make any money with it or not.
What Is Next Generation Affiliate V2?   |   How Does Next Generation Affiliate V2 Work?   |   Can You Actually Make Money With It?   |   Is Next Generation Affiliate a Scam?   |   A Better Alternative
What Is Next Generation Affiliate V2?
Basically, the Next Generation Affiliate V2 program has been designed by Tony Marriott to teach you how to make money from affiliate marketing in 2018… Well, at least that's what he tells you anyway.
He claims that the whole affiliate marketing game has changed & that the other methods taught by other courses no longer work. Naturally, as you'd expect, he then goes on to state that thankfully he's sussed out how to actually beat the system & still make a profit in 2018…


So through the Next Generation Affiliate V2 program, you're led to believe that you're going to get access to some sort of new & secret methods for generating traffic & earning commissions as an affiliate… However, in reality, that's not quite the case.
I mean, to be honest, the truth is affiliate marketing hasn't really changed at all, and I should know because I've been in the game for a LOT of years.
Sure, there's been a few updates to search engine algorithms & yeah admittedly some of the black-hat tricks that used to work no longer work any more… But to be honest that's actually given you an advantage.
You see several years ago it was difficult to find success as a new affiliate marketer because people were constantly using dodgy techniques to promote their stuff – meaning it was hard for you as a "legit" marketer to get your stuff seen.
Nowadays though the majority of that has all been cleared up meaning there's a level playing field so you, even as a newbie, have the same opportunity to compete against others that have been in the game for years.
I will admit though that Tony Marriott has put together an awesome sales page for his program & as a newcomer (or to be honest even as an experienced marketer) it could be easy to get drawn in by his pitch. It truly does sound like the "real deal" & it would be quite easy to believe that you're going to be getting access to something that is going to finally help you make good money…
But is his program actually going to make you money? Or is it just yet another bogus offer that doesn't really deliver on its promises (like the Affiliate Revival program that I just reviewed)?
You'll get the exact answer to that question below when I show you how it all really works…
How Does Next Generation Affiliate V2 Work?
The first thing I can say is that sadly the program itself isn't anywhere near as great as the sales page (which pretty much always seems to be the case with these types of things) & you will probably end up spending more through the program than you actually ever make back.


I mean don't get me wrong there is actually some decent to be found inside for a change, but there's also a LOT of information… Which is usually a good thing, but due to the way it's presented, it'll probably just see you suffering from information overload.
I don't know about you but I like things shown to me in a good old step-by-step fashion, which is why I'm such a huge fan of the Wealthy Affiliate training program (which is actually free to join) because that's exactly how it goes down there.
The Next Generation Affiliate V2 program kinda just throws everything at you which in my opinion is not so great.
And then there's the upsells…
Literally as soon as you sign up to the program & hand over your cash (which will initially be an amount of $27) you're hit with 3 immediate upsells.
The first upsell is called Affiliate Rex Funnel Builder & costs $47. The second is called Affiliate Rex Pro & that costs $17 per month. The third one is called WP Toolkit Dev Lifetime & costs you $97.
So what appears to be a "cheap" $27 product could soon end up costing you $171 & see you stuck in a $17 per month subscription.
You Might Also Like:
But Can You Actually Make Money With It?
The truth is that yes, you could potentially make money by following through & taking action on the methods that Tony teaches you in his program… However the likelihood is that you won't, and there's a couple of reasons I say that.
The first reason is that you don't actually get access to any of the tools that are required to put his methods into practice. Instead, you have to sign up for 3rd party tools & the ones recommended to you via his program are pretty darn expensive.
The second reason is that the method he teaches you is pretty basic & the training doesn't really go into detail on how to generate solid traffic… So by the end of it you'll have a landing page setup & an offer to set up, but you'll find yourself struggling to figure out how to actually get good traffic to the page.
And the third reason is that the same "done-for-you" materials are being given out to every single member that signs up which reduces their overall effectiveness as essentially they're just copies.
At the end of the day, it's time for a reality check…
Do you really think a $27 method is going to teach you how to generate an auto-pilot income of $1,379.50 per day? Nope, me either… If it were really true then Tony, the creator would be selling it for a LOT more.
Well, either that or he wouldn't be selling it at all – he'd be keeping it quiet so that he could profit from it himself rather than risk saturating the method & losing his income by sharing it with others.
The truth is that this is just another get-rich-quick style product that promises the world but fails to deliver on its promises.
Is Next Generation Affiliate a Scam?
Going as far to call it a scam would be way too harsh. I don't believe the program is a scam, after all, you are told that you're getting training & when you hand over your cash that is indeed what you get… It's just that it's not as good as it's made out to be & it will likely leave you disappointed.
So I'm not going to say it's a scam, but at the same time, I won't be recommending it either because I believe that rather than being set out to make you money as it claims, it's just set out to make Tony money instead.
And like I mentioned earlier in this review you can get great affiliate marketing training over at Commission Academy for free so why pay for it? Plus Wealthy Affiliate has been around for years & the methods taught there are proven to work.
But anyway yeah, that's where I stand out it – I just hope that you've found this review useful & I hope that it's given you the insight that you were looking for into how it all works. If you do happen to have any further questions or comments though then do feel free to leave them below & I'll get back to you as soon as possible.
A Better Alternative
The sad truth is that unfortunately most of the programs promising to help you make money online are scams. I can say that confidently after exposing over 500+ of them here on this blog.
But the good news is that even though most of them are indeed scams, there are actually some very good programs in amongst them - some programs that can truly help you to earn money.
And out of all of the legit programs I've seen, the one I would recommend the most to anybody looking to get started online is Commission Academy. In my own opinion, that's the best place to start.
At Commission Academy, you'll be provided with everything you need (including the training & tools) to begin earning real money by promoting products or services for companies like Amazon online.
The best part is that there's literally no limit on the amount you can earn with it & the process is pretty simple which means that it's absolutely perfect for people that don't have much experience.
Some wealthy affiliates even earn as much as 5-figures per month... Or more!

I mean don't get me wrong, that kind of money won't just fall into your lap without doing any work... But the harder you're willing to work at it, the more you stand to earn with it.
So if you're looking to get started but don't know which route you should go down or which program you should join (and don't want to waste money on bogus things that don't actually work), then I'd highly recommend checking out Commission Academy first. You can learn more about it here.