Omnia Tech is a networking marketing style cryptocurrency opportunity that's been launched by a guy named Thomas Hintermaier who claims it can enable you to earn passive income through cryptocurrency investments.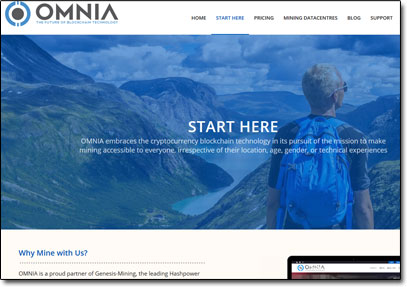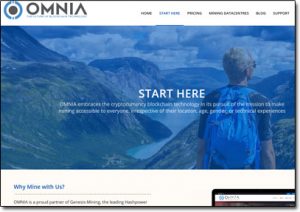 According to their website, Omnia Tech claims to make cryptocurrency mining accessible for everybody to profit from, but is it actually legit?
Or is Omnia Tech a scam that's out to part us with our cash?
Well, you can rest assured that you've landed in the right place to find out as I've personally taken a closer look into it & in this review, I'll be uncovering the truth.
What Is Omnia Tech?   |   How Does Omnia Tech Work?   |   Is There Really a Mining Operation?   |   Is Omnia Tech a Scam?   |   A Better Alternative
What Is Omnia Tech?
Omnia Tech is one of the latest cryptocurrency opportunities to launch & it claims to give you a variety of ways to earn money but says that its main focus is making mining accessible to everyone.
The company has been launched by Thomas Hintermaier & Thomas claims that through the Omnia Tech opportunity you can see yourself earning passive daily profits from various different cryptocurrencies.
However, it all sounds a little bit fishy to me, especially since there seems to be a heavy focus on recruiting & getting other people to invest in the opportunity. It reminds me of the DasCoin scam.
How Does Omnia Tech Work?
Okay, so as I mentioned above there are actually a couple of ways you can earn (or can supposedly earn) through the Omnia Tech opportunity so I'll explain about each of them in a little more detail.
To start with, Omnia Tech claims to run a cryptocurrency mining operation which they claim you're able to invest into & will see passive daily returns as a result. You can invest in packages ranging from $100 to $25,000.
They claim your money will be used to purchase hardware so that you essentially become part of the mining operation & that that's where your profits will be coming from, but to date, there is no solid proof of a real mining operation going on.
It's possible (and likely) that the funds being paid out to investors are merely the funds that are getting paid in by the new investors signing up which of course would be very bad news indeed.
That brings me to the next point…
Omnia Tech also runs a network marketing style recruitment program through which you can bring other people into the scheme & earn commissions on the investments they make (10% on direct referrals).
But being a network marketing style this program also gives you the opportunity to earn commissions across multiple levels – so if the people you refer also refer people then you'll earn from their investments too.
Which sounds an awful lot like a pyramid scheme…
Don't get me wrong both options could prove to be quite lucrative but if there's no real mining operation going on (which I suspect there isn't) then the only money coming into the company is from new investors…
So if the new investors stop coming so does the money…
And bye-bye company!
Is There Really a Mining Operation?
This is the big question – if there is then the company could be deemed to be legitimate, but if there isn't not only would it be breaking the law but it would also be inevitably going to collapse.
Omnia Tech has a page on their website dedicated to their alleged mining operation & they claim that they're partnered with Genesis Mining but ultimately there is no solid proof to confirm it.
I've seen several other companies like the Power Mining Pool for example that had lied about their mining operations & for that reason I absolutely wouldn't risk getting involved with a company unless there was undeniable proof.
Also, the other red flag is that the company runs a recruitment program alongside their investment scheme which makes it look an awful lot like a Ponzi scheme – something you definitely don't want to be involved with.
Literally, every single cryptocurrency opportunity that I've come across so far that also operated a recruitment scheme has turned out be a scam – aside from the Bitcoins Wealth Club at least.
Is Omnia Tech a Scam?
At the moment there is no way to definitely say whether it is a scam or not but due to the lack of evidence regarding the mining operation, I certainly won't be recommending it because, in my opinion, it's leaning towards being a Ponzi scheme, especially with all the recruiting going on.
If they're able to provide solid proof of the mining operation then it could be deemed as legitimate but at the moment based on what I can see & what I have seen with similar companies it just looks far too risky.
There is a good chance that if you invest money into this company that you won't see it again because like we've seen with companies such as JetCoin they just go bust & disappear overnight.
Ultimately there is no need to participate in schemes like this anyway because most cryptocurrencies are going up in value meaning you'll be able to make money just by holding the coins.
It seems to me like these schemes are just out to take advantage of people who are looking to making bigger & faster returns – but clearly, that doesn't come without a higher degree of risk.
So overall I won't be recommending this company because whilst I can't 100% confirm it I have a hunch that it's not legitimate & by participating in it you could end up losing all of your investment.
A Better Alternative
The sad truth is that unfortunately most of the programs promising to help you make money online are scams. I can say that confidently after exposing over 500+ of them here on this blog.
But the good news is that even though most of them are indeed scams, there are actually some very good programs in amongst them - some programs that can truly help you to earn money.
And out of all of the legit programs I've seen, the one I would recommend the most to anybody looking to get started online is Commission Academy. In my own opinion, that's the best place to start.
At Commission Academy, you'll be provided with everything you need (including the training & tools) to begin earning real money by promoting products or services for companies like Amazon online.
The best part is that there's literally no limit on the amount you can earn with it & the process is pretty simple which means that it's absolutely perfect for people that don't have much experience.
Some wealthy affiliates even earn as much as 5-figures per month... Or more!


I mean don't get me wrong, that kind of money won't just fall into your lap without doing any work... But the harder you're willing to work at it, the more you stand to earn with it.
So if you're looking to get started but don't know which route you should go down or which program you should join (and don't want to waste money on bogus things that don't actually work), then I'd highly recommend checking out Commission Academy first. You can learn more about it here.