Are you wondering if you can actually make $876 a week with Online Flex Job? Going through their page, you might have stumbled onto claims that you'll make $876/week, which is a pretty striking amount for a part-time online job. Don't get your hopes up too high before reading the whole review.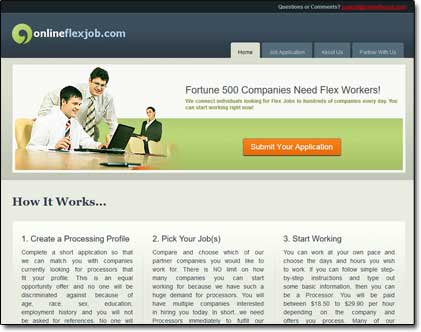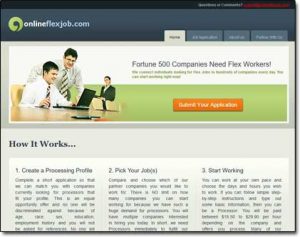 There are numerous websites on the internet which claim that you can earn a generous amount of money online, but you must go further into the details of each system to make sure you can trust the program completely. I am excited about revealing the facts to help you determine if Online Flex Job is a scam or legitimate way to make money.
This Online Flex Job review will dig deeper in attempt to provide you with facts and guide you with information on what the program really does, how it works and whether or not you can actually trust it.
What Is Online Flex Job?   |   How Does Online Flex Job Work?   |   Is Online Flex Job a Scam?   |   A Better Alternative
What Is Online Flex Job?
Going through their website, I read that this website is a ground for individuals, who are looking for a solid and flexible career, and they can find excellent paying part-time, as well as full-time jobs online with reputable companies around the world.
Online Flex Jobs also claim that they work with Fortune 500 companies and that you can get your desired job right away. Apparently, these jobs that are offered on the website are worksheet processing jobs. There is no detail on what these jobs require you to do and what you will be working on. They claim you can earn almost $18.50 – $29.90 an hour and $876.50 a week with this online job.
Signing Up
All this description about the weekly pay and flexible jobs given on the website homepage sounds amazing, but when you click on the Job Application tab, it leads you to a form that doesn't even look like a job application form for a serious job application. You are only required to fill out mere personal details about yourself, for example, your name, email address, residential address and phone number.

I personally have never come across a legitimate job application form that asks for such few minor details about the applicant. It seems like the system does not want to know what type of work you are looking for or the form of skills or education you have acquired in the past. Most job application forms I've filled require you to state each and every achievement, be it educational or occupational. They tend to ask you about your interests and your desired field of work before they even consider hiring you.
How The Website Claims It Works
After you are finish filling out the small form with your personal details, your application is reviewed. In the video, they tell you how to install anti-virus software on your computer before you start working because you will be dealing with sensitive data. They further tell you that the process is free and that the prices you pay will be refunded to you later. But is that true? I don't think it is because most websites give such false claims to their audience just to get them to sign up.
I've previously exposed two scams named American Online Jobs & NorthAmeriCorp which said the exact same thing but failed to deliver on their promise. They said that members should pay for anti-virus, and that the fee would be refunded to them shortly afterwards… But unfortunately, the members were tricked & they never got the fee paid back to them.

It sounds to me like this is just another copy of that same scam. Often scams keep launching their programs under different names to try & escape the negative reviews so that they can continue scamming people… That's likely what's happening here with the Online Flex Job program.
How Does Online Flex Job Really Work?
Here I will explain to you how this system really works, what you need to be careful about and why you shouldn't trust anything you see on the internet.
The Anti-Virus Software
The anti-virus software that the system claims to give to its users, is a software that every new employee of the website has to buy, in order to install it. Any legit company would have bought a license for all its users and staff members already, so each individual wouldn't have to buy the software. This is the money that they claim to reimburse, but what's the point? They make you buy software and then pay you back for it when they could have just bought it for you in the first place.
Online Flex Job is making you buy the software and they are making money from it. The system offers you the software which is linked with Max Bounty. This is a way in which they make money by forcing you to buy software that you probably already have running on your computer. There is no option to skip the anti-virus software part, even if your computer already has one installed, and so the users have to buy the software in order to proceed. This is basically another way of forcing you to buy a product from their website to earn money. I have seen this scam on other websites too as I mentioned earlier in this review, so be careful before getting involved with websites that make fake claims about their purpose.
No Real Processing Jobs
There are a large number of pages offering online worksheet processing jobs in different forms and names nowadays, which makes it even harder to recognize which ones are a scam. They tell the audience that users are earning good money working on their website and that some companies help people get their money back.
Apparently, these companies get almost 30% of the fees off the balance that they recover, and you only get 75% of that fee. For this, all you have to do is fill out a form copying their information that they themselves provide you with. When you submit the form, you are required to pay an amount of $5 for each worksheet you have processed and are advised to send 4 worksheets at a time.
After all this, you still don't get paid and they also keep the $5 that you sent in with your worksheets. If you take a look at my Federal Account Recovery scam review (which works the same way) & read through the comments from users that tried it you will soon see what I mean and how it tricks people.
You Might Also Like:
Fake Testimonials
You'll find a lot of fake testimonials about Online Flex Job being legit and about people who earn their wages on this website. These testimonials are found on YouTube on Online Flex Job's channel itself, and not one of the testimonials has been uploaded on the employees own channel.
The people that have put those testimonials together have been paid to do so through the website Fiverr. Again this another trick that's often carried out by online scams to make them seem legit.

Is Online Flex Job a Scam?
I definitely agree with the Online Flex Job scam rumours. You should never trust this website or any of its claims because all the claims are false. The system is a rip-off that makes you buy software products that they are selling, saying that your money will be reimbursed.
The website does not offer real processing jobs where you can get paid for your hard work. There are a lot of websites that do offer legit job opportunities for people who wish to earn a decent living online, but Online Flex Job is not one of them. I'll NEVER recommend anyone to sign up for this website.
If you really want to learn how to make good money online then I recommend you check out Wealthy Affiliate program. That's a free program which will give you legitimate step-by-step training & all of the tools you need to get started. It's one of my top-rated programs & it's there that you'll find proper success.
So overall to reiterate I won't be recommending the Online Flex Job website & after reading this review hopefully you can see why. I also hope that this review helped prevent you from losing any of your hard-earned cash.
If you do happen to still have any further questions or comments too then don't hesitate to leave them below. As always I'll do my best to get back to you as soon as possible.
A Better Alternative
The sad truth is that unfortunately most of the programs promising to help you make money online are scams. I can say that confidently after exposing over 500+ of them here on this blog.
But the good news is that even though most of them are indeed scams, there are actually some very good programs in amongst them - some programs that can truly help you to earn money.
And out of all of the legit programs I've seen, the one I would recommend the most to anybody looking to get started online is Commission Academy. In my own opinion, that's the best place to start.
At Commission Academy, you'll be provided with everything you need (including the training & tools) to begin earning real money by promoting products or services for companies like Amazon online.
The best part is that there's literally no limit on the amount you can earn with it & the process is pretty simple which means that it's absolutely perfect for people that don't have much experience.
Some wealthy affiliates even earn as much as 5-figures per month... Or more!

I mean don't get me wrong, that kind of money won't just fall into your lap without doing any work... But the harder you're willing to work at it, the more you stand to earn with it.
So if you're looking to get started but don't know which route you should go down or which program you should join (and don't want to waste money on bogus things that don't actually work), then I'd highly recommend checking out Commission Academy first. You can learn more about it here.