Piggy Bank GPT is a website that claims to provide you with an easy way to earn extra cash online – you're told that all you need to do is sign up, start completing offers & that you can begin earning money right away.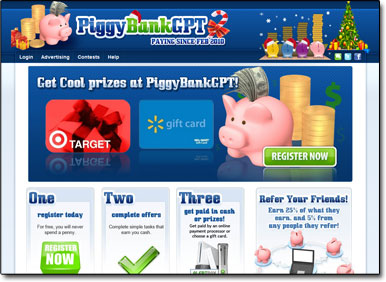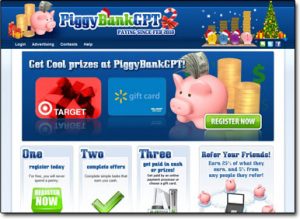 On top of that you can even earn money by simply referring friends too – but is it actually legit & will they pay you your earnings or is Piggy Bank GPT a scam site that you should avoid instead?
Thankfully you've landed in the right place to find out because I've personally taken a closer look into this site & in this review, I'll be uncovering everything you need to know, including whether or not you can really make money with them.
What Is Piggy Bank GPT?   |   How Does Piggy Bank GPT Work?   |   Increasing Your Earnings   |   Pros & Cons   |   Is Piggy Bank GPT a Scam?   |   A Better Alternative
What Is Piggy Bank GPT?
Piggy Bank GPT is what's known as a Get-Paid-To website, hence their name. This basically means that they pay their members in return for completing short, simple tasks – or allegedly anyway.
The reason I say allegedly is that whilst there are indeed several legitimate Get-Paid-To websites sadly there are also many scams. For example, a similar GPT site named Dollar True which I previously exposed on this blog promised they too would pay their members but in reality, they were just set out to steal people's details & many people found out the hard way that they didn't actually pay.
So yeah it certainly pays to do your due diligence when you're looking into this sort of thing but the good news is that I can confirm from the off that Piggy Bank GPT is indeed a legitimate site, but after reading this review you'll see why you might not really want to sign up with them…
Which brings me onto my next point…
How Does Piggy Bank GPT Work?
Okay so the concept here with this site is pretty simple – in fact, overall it's actually a pretty simple way to make as you'll see in a moment but the problem is that you'll only really be able to earn pocket change here, nothing more…
Basically all you need to do to start earning with them is sign up & begin completing the offers that they present to you in the members' area. Each offer you complete will pay you around $0.25 to $2.00, but you'll find it's generally the smaller amount that you'll be paid.

It's not the end of the world though I guess, the offers are pretty simple – but they'll take you around 10-20 minutes to complete so as you can see whilst it's an easy way to make money you are not really getting paid a great deal for your time.
The likelihood is you will only earn around a dollar or two per hour – and the added problem on top of that is that if you think you could just sit completing offers for 10 hours straight or something to earn more money sadly you can't because they will run out…
You can actually only complete a handful of offers per day, so like I say whilst it's easy, there is no great earning potential here… A couple of extra dollars per month or maybe a little more but that's about it.
There is a way you can boost your earnings slightly though…
Increasing Your Earnings
As I mentioned above if you focus your time on completing the offers inside of the Piggy Bank GPT website then the likelihood is you are not going to earn a great deal, however, if you take part in their referral program you could potentially leverage other people to help you earn more money.
That's because you'll get paid 25% of the money earned by anybody you directly refer, and you'll also be paid 5% of the money earned by any of the people that they then go on to refer.
So if you refer 4 people who actively use the site then overall you will be earning 100% earnings so it will be basically like you are sitting and completing the offers yourself, only you don't actually have to do that since you're getting paid the money from other people doing it.
Hopefully, you see what I mean…
Now the potential here is unlimited, you could refer 100 people & get a percentage from all of them, providing they all keep up working on the site of course. But overall again whilst you can earn more money this way, realistically there are many more affiliate programs out there that will pay you much more money for referring people.
If you want to find out about these affiliate programs & learn how you can make money as an affiliate instead (which I really recommend because it's a good way to make money) then Wealthy Affiliate is a cool program you should check out.
You Might Also Like:
Pros & Cons of Piggy Bank GPT
Whilst I personally don't really rate GPT sites all that much since they don't really pay you well for your time, this site is legitimate & it does provide you with a way to make a little bit of extra money pretty easily…
So rather than me telling you not to join I figured I'd list the pros & cons side by side so that you can decide for yourself. ?
Starting with the PROS:
It's a pretty easy way to make money without any commitment
They have a pretty decent referral program so you can boost your earnings
It's free to join, there's no real risk
Now onto the CONS:
You are not going to earn a great deal in return for your time
Sometimes the offers can be tedious
Certain offers require you to sign up to trials which could cost you money if you forget to cancel
Lately, it seems the site has changed owners & people have been facing problems getting paid
Is Piggy Bank GPT a Scam?
As far as I'm concerned Piggy Bank GPT is not a scam, though there have been reports of a few people facing problems getting paid after the site has allegedly gone through a change of ownership. I imagine that this is possibly just a case of a delay or something as there may have been a backlog during the transition period. It's still not the best, but hopefully, people will get paid in time.
In my opinion, based off its previous track record the site seems to provide a legitimate way for you to earn extra money online. All I am going to say is that you are not going to really be able to earn much money through this site & for that reason I won't personally be recommending it. I just feel that there are many better ways that you could make money online, ways that would ultimately reward you much more handsomely for your time.
So overall yes Piggy Bank GPT seems to be a good site for earning extra pocket money but that's about it – I don't really recommend it myself but if you're into this sort of thing & just looking for an easy option then there's no harm in signing up. You can also find a list of more legitimate GPT sites here.
Anyway, hope you appreciated this review & hopefully it gave you the insight you were looking for. If you do happen to have any further questions or comments as always don't hesitate to leave them below.
A Better Alternative
The sad truth is that unfortunately most of the programs promising to help you make money online are scams. I can say that confidently after exposing over 500+ of them here on this blog.
But the good news is that even though most of them are indeed scams, there are actually some very good programs in amongst them - some programs that can truly help you to earn money.
And out of all of the legit programs I've seen, the one I would recommend the most to anybody looking to get started online is Commission Academy. In my own opinion, that's the best place to start.
At Commission Academy, you'll be provided with everything you need (including the training & tools) to begin earning real money by promoting products or services for companies like Amazon online.
The best part is that there's literally no limit on the amount you can earn with it & the process is pretty simple which means that it's absolutely perfect for people that don't have much experience.
Some wealthy affiliates even earn as much as 5-figures per month... Or more!


I mean don't get me wrong, that kind of money won't just fall into your lap without doing any work... But the harder you're willing to work at it, the more you stand to earn with it.
So if you're looking to get started but don't know which route you should go down or which program you should join (and don't want to waste money on bogus things that don't actually work), then I'd highly recommend checking out Commission Academy first. You can learn more about it here.