Prosperity Income Network is the name of a new money-making opportunity which has attracted a LOT of attention lately as it claims to be the world's first fully automated system for generating income.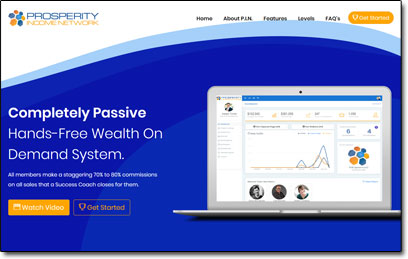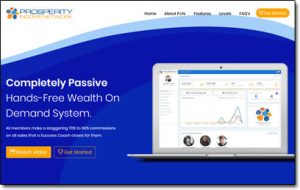 You're led to believe that everything has been done for you inside of the network so that you can just sign up & profit. It literally calls itself a "completely passive hands-free wealth on-demand system"…
But in order to get started, you have to hand over at least $597 of your own hard-earned cash.
So what's the deal? Is it actually legit or will the Prosperity Income Network scam you instead?
Well, I'm really glad that you decided to come here to my Prosperity Income Network review before you went ahead & signed up because I'm going to exposing the TRUTH about it & uncovering why you'll likely just end up losing money, not making it.
What Is Prosperity Income Network?   |   How Does It Work?   |   Can You Make Money With It?   |   How Much Can You Earn?   |   The Rotators Explained   |   Who Owns It?   |   Is Prosperity Income Network a Scam?   |   A Better Alternative
What Exactly Is Prosperity Income Network?
The Prosperity Income Network is a brand new money-making opportunity that launched just a little over a month ago at the time of writing this review & it essentially portrays itself as providing an automated way of making money.
There are various websites that have been launched to promote it, including one which claims that you can call a "top-secret phone number" to make money within weeks, but here's a screenshot of one of the official ones: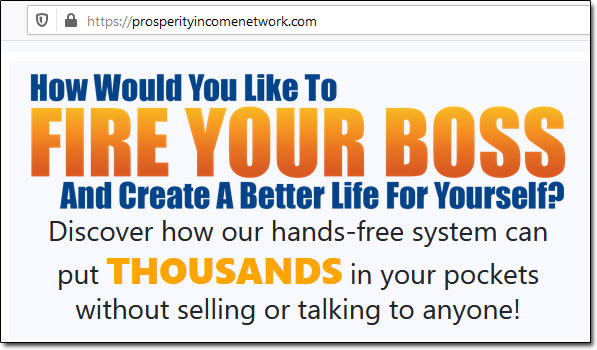 As you can see the website makes some extremely bold promises & it essentially leads you towards believing that you can just sign up & begin making money right away… But that's far from the truth.
You see if you decide you want to join the Prosperity Income Network (which I don't recommend) then you're forced to call a phone number & provide a referrer ID – and it's on this call that you'll find out the minimum cost to join is $597.
Now I'm sure if you happened to click on a random website (like the Prosperity Income Network website) and were asked for $597 to get started you'd probably just click-away & avoid it, but the high-pressure sales tactics start on the call & before you know it you could actually see yourself parted with as much as $25,997.
Yes – $25,977…
And I'm sure you're probably thinking that after spending so much money you'd certainly be guaranteed to make some back, right?
But no – in fact, as you'll soon see when I explain how it all really works below the chances are that you'll just end up LOSING money instead because the Prosperity Income Network is NOT what it seems.
And that's likely why the Prosperity Income Network has chosen to hide all of the information with regards as to who's actually behind it. The whole thing is operating totally anonymously.
Keep reading & I'll show you what's really going…
How Does Prosperity Income Network Work?
In short, the Prosperity Income Network is merely a recruitment scheme, which means that basically, people sign up for the opportunity to make money & then find out that the way you actually make money with it is by recruiting others.
So you sign up, invest, then get others to sign up & invest… That's basically how it works.
Of course, though they do claim to have "products" in place to try & disguise the fact that it's actually just a pyramid scheme but it's quite clear that nobody is really buying into the Prosperity Income Network for the "products"…
The people who are buying into it are simply buying into it for the opportunity to make money – and then they're promoting it to others based on the opportunity to make money… There's no emphasis on the products whatsoever.
And that essentially makes it a pyramid scheme, which is illegal.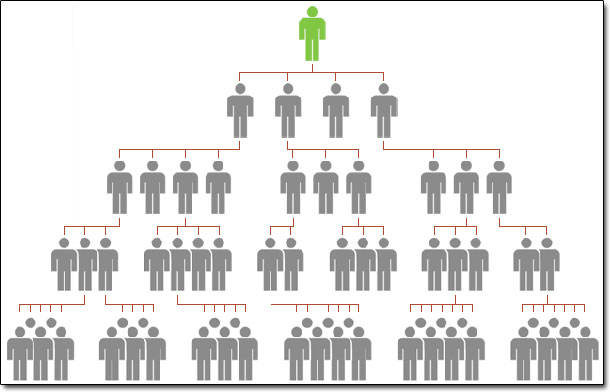 The reason these types of schemes are illegal is because they are unsustainable. They rely solely on new members coming in & investing to keep profits coming into the company & when that stops, the company goes bust.
This means that those who had money invested & hadn't yet made anything back (which will be the majority of the investors) will be left parted from their investments and will have simply LOST money, not made it.
But to be honest most of these companies get shut down by the authorities before that happens… Take MOBE & Digital Altitude for example – those were 2 similar schemes which pretty much disappeared overnight after the FTC took action on them.
Again, those involved ended up parted from their investments…
But Can You Actually Make Money With It?
Okay so the truth is yes, theoretically, you could make money with it – but the likelihood is that you won't. In fact, the FTC actually put out a statement in a recent publication that showed only a mere 1% of the participants in these types of schemes ever see a profit.
Here's a snippet which highlights that fact: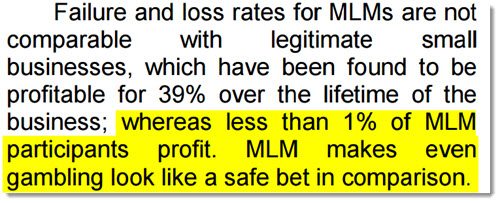 You see the problem with programs like Prosperity Income Network is that they make everything seem super easy. They lead you towards believing that everything is "done-for-you" and that you can just sign up to make money…
In reality, though things don't really work like that.
That's because the way you make money with Prosperity Income Network is by promoting the system to others & then getting them to invest just like you did… So unless you're already an experienced marketer you're going to have a pretty hard time doing that.
And to be honest, no matter how much money is on offer, even if you were an experienced marketer I would really hope that you wouldn't want to promote something knowing that those who you get to join are probably just going to lose money.
Take me for an example – I could quite easily promote the Prosperity Income Network & earn at the expense of others but I don't, because I know that the people who join will only find themselves disappointed.
Instead, I just stick to promoting legitimate programs that people will actually get value from – such as Commission Academy.
That aside though, let's say you're dead set on promoting Prosperity Income Network for one reason or another…
You Might Also Like:
How Much Can You Earn?
Well, this is where we run into yet another problem because even if you're absolutely dead-set on getting involved with the Prosperity Income Network then you'll have to have a big stack of cash ready to invest.
The reason for that is because it's a "pay-to-play" program.
This basically means that you can only earn commissions by reselling the levels that you've personally purchased.
As an example, if you've only purchased the $597 level & somebody buys in at the $25,997 level then you wouldn't earn the commission for the money spent above the $597 level, it gets passed up to the next qualified person above you.
And on the topic of levels, here's a breakdown of the levels inside of the Prosperity Income Network:
Starter $597 ($500 + $97 admin fee)
Deluxe $2,197 ($2,000 + $197 admin fee)
Premium $3,797 ($3,500 + $297 admin fee)
Master $6,497 ($6,000 + $497 admin fee)
Diamond Elite $12,697 ($12,000 + $697 admin fee)
Executive Elite $25,997 ($25,000 + $997 admin fee)
So back to the "pay-to-play" example I mentioned, if you're just a Starter member then you will only be able to earn commissions from sales of the Starter membership to others.
This sort of tactic is done to try & push you towards upgrading because on the initial phone call you make to join Prosperity Income Network the "success coach" will tell you that the higher you join in at, the quicker you'll be able to make more money.
In terms of commissions rates, you'll earn 70% commissions on whatever level you get somebody to sign up at unless you're at "Executive Elite" because at the level your commissions will be raised to 80%.
It's also worth pointing out that you only earn commissions on the "product" fee with the admin fee excluded. So as an example with the Starter membership you'd earn 70% of $500, not 70% of the $597.
And on the topic of admin fees I have to ask, what the heck are they doing to require as much as a $997 admin fee? At $997 you could hire an administrator for almost a month. That's crazy.
Then There's The "Rotators"…
The Prosperity Income Network have put in place what they call rotators, which means that when somebody joins without a referrer ID to hand they get assigned to a random member within the system.
The creators of the Prosperity Income Network (who remain anonymous) claim that this will automate the process for you as you're told that you'll be able to get sales without even having to do anything.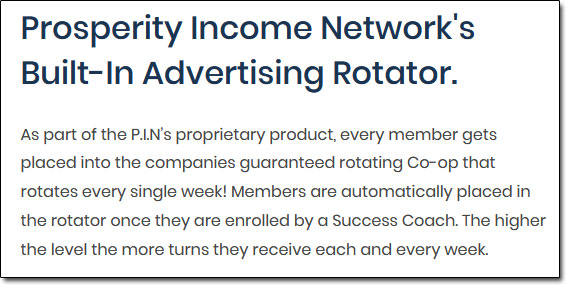 However again that's not quite true because it's essentially like a lottery & with every member that joins the Prosperity Income Network your chances of getting a referral from the "rotator" get lower & lower.
It's just another gimmick these types of schemes use to lure you in.
And of course, they promise that the higher level you upgrade to, the more positions in the rotator you will get to supposedly stand more of a chance of getting "free referrals" from the rotator.
Starter membership gives you 1 position in the rotator, then this rises to 6 at the Executive Elite level.
So Who's Actually Behind It?
Shockingly the Prosperity Income Network website gives away absolutely no information as to who's behind the whole operation & it seems every effort has been made to actually hide their identities.
Would you really want to invest as much as $25,997 through a website at which the creator's had gone to extreme lengths to keep themselves anonymous?
Heck, would you even want to invest so much as $597 through such a website? I hope not.
The website could literally disappear at any moment without a trace & to be honest, I suspect that it will before it suffers the same fate as MOBE & Digital Altitude… Unless of course the creator's get greedy which is often the case.
Rumour has it though that the people who created the Prosperity Income Network are the same people that launched the Simple Wealth Creators scam as the material inside of the program is apparently all the same.
But we don't know for sure & that brings me onto…
My Verdict – Is Prosperity Income Network a Scam?
Well, there is actually the potentially you could make money with it if you're already an expert marketer (even though that would be done by essentially taking advantage of others) so I guess I can't really say it's a "scam" as such…
But what I will say is that it's certainly a scheme, because it basically just involves signing up, spending money & then getting others to do the same so that you can earn at their expense.
In my opinion it is NOT a genuine program for learning how to properly make money online.
Instead, if you want to make money online legitimately then I would advise you check out a proven program like Commission Academy which will teach you step-by-step how to promote actual products or services, rather than getting involved with a BS "opportunity" like Prosperity Income Network.
At Commission Academy, you'll learn how to promote actually, physical products from sites like Amazon that will actually both help people and make you money at the same time which is much better in my opinion.
Or alternatively, you can check out all of these other great ways to earn money online.
But whatever you decide to do I just hope that my review of Prosperity Income Network here has given you a good insight into what's really going on with this system & I hope I have helped you from potentially losing as much as $25,997.
If you still happen to have any further questions or comments though then, of course, don't hesitate to leave them below & as always I'll do my best to respond back to you as quickly as I can. 🙂
A Better Alternative
The sad truth is that unfortunately most of the programs promising to help you make money online are scams. I can say that confidently after exposing over 500+ of them here on this blog.
But the good news is that even though most of them are indeed scams, there are actually some very good programs in amongst them - some programs that can truly help you to earn money.
And out of all of the legit programs I've seen, the one I would recommend the most to anybody looking to get started online is Commission Academy. In my own opinion, that's the best place to start.
At Commission Academy, you'll be provided with everything you need (including the training & tools) to begin earning real money by promoting products or services for companies like Amazon online.
The best part is that there's literally no limit on the amount you can earn with it & the process is pretty simple which means that it's absolutely perfect for people that don't have much experience.
Some wealthy affiliates even earn as much as 5-figures per month... Or more!

I mean don't get me wrong, that kind of money won't just fall into your lap without doing any work... But the harder you're willing to work at it, the more you stand to earn with it.
So if you're looking to get started but don't know which route you should go down or which program you should join (and don't want to waste money on bogus things that don't actually work), then I'd highly recommend checking out Commission Academy first. You can learn more about it here.