The Secret $20 Bitcoin Blueprint website which has been put together by a company named Agora Financial claims that it can provide you with a "secret" blueprint that will allegedly enable you to turn a single $20 bill into a massive fortune through Bitcoin.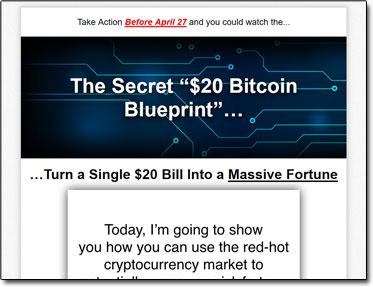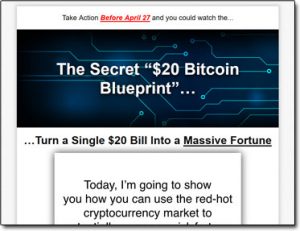 The website even states that it's so-called "secret" blueprint could enable you to retire incredibly wealthy in less than a year…
But is it actually legit, or is the Secret $20 Bitcoin Blueprint a scam that'll just see you spending money rather than making it?
Thankfully you've landed in the right place to find out because I've taken a closer look into it to see what it's all about & in this review, I'll be uncovering everything you need to know, including whether or not you can really make any money with it.
What Is The Secret $20 Bitcoin Blueprint?   |   How Does The Secret $20 Bitcoin Blueprint Work?   |   Can You Really Make Money With It?   |   Is The Secret $20 Bitcoin Blueprint a Scam?   |   A Better Alternative
What Is The Secret $20 Bitcoin Blueprint?
As I briefly touched on above, the Secret $20 Bitcoin Blueprint is basically what the name suggests – a blueprint that can supposedly enable you to turn a single $20 bill into a massive fortune by investing it in Bitcoin (and other cryptocurrencies known as altcoins).
The website promoting the Secret $20 Bitcoin Blueprint has been put together by Agora Financial & it makes some pretty bold claims… For example, it even makes the following statement at one point:

Yep, that's right, allegedly the blueprint can enable you to retire incredibly wealthy in as little as a year… All from just a mere $20 investment, or at least that's what you're led to believe anyway…
They also claim that you don't need any cryptocurrency knowledge or investment experience & that all you need to do is essentially follow simple instructions on what to buy, when to buy & where to buy it from…
They pretty much make out that a monkey could get rich with this thing…
But is it actually legit & can you really make money with it? Well… Kinda, but once you start seeing through all their hyped-up claims things don't really look so great, and you'll soon see what I mean when I explain how it all works…
How Does The Secret $20 Bitcoin Blueprint Work?
Well before I get into explaining the finer details of how it works, I'll first point out that it's not really a scam… But at the same time, in my opinion, it's very over-hyped & as far as I'm concerned you will not make money like they claim you will.
In fact the truth you could actually end up losing more than you ever make…
But anyway, yeah – basically after watching the video promoting the blueprint & reading through the near 2,000-word sales page what you're left to find out is that the whole thing is pretty much just a ploy to get you to buy into one of Agora's newsletters.
You see Agora Financial is a publishing company that puts out various different financial newsletters, several of which I've already reviewed on this blog such as the Altucher Report & Ultimate Retirement Loophole.
All of their newsletters tend to follow a similar topic, which is making money through investments… But each one puts a unique spin on it.
And all of them (at least all of the ones I've come across so far anyway) are promoted through extremely hyped up websites promising you great riches like the one promoting the Secret $20 Bitcoin Blueprint.
But what I will point out here is that a lot of them have received many negative reviews. In fact, Agora Financial themselves as a company has received a lot of negative reviews… Some people on the BBB website (as shown below) have even called them a flat out scam company: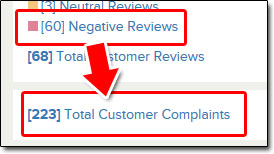 Obviously that's not me personally calling them a scam, in my opinion, they are technically legit – but it's worrying to see that a customer of their newsletter has come to that extremely outright conclusion.
And there are several more similar reviews…
Which is likely down to the way their products are marketed. I mean yes they're legit in the sense that they sell newsletters & that's what they provide… But in my opinion, the way they sell them is by promising easy riches, which ultimately is not what they provide.
Sure you could make money by following some of the investments sent out in the newsletters, but it's investing & nothing is guaranteed so similarly, you could lose a lot of money too.
And that's clearly why they have a disclaimer like this hidden away at the bottom of their website:

But yeah, getting back onto how it all works…
Like I say after going through the whole sales spiel regarding the Secret Bitcoin Blueprint, after hitting the button to have the blueprint sent to you you're then redirected to another page on their website which is where you find out that in order to get access to the blueprint you have to sign up for one of their newsletters…
Now when I clicked the link it took me to a page asking me to purchase Callum Newman's Small Cap Alpha newsletter, but from what I've read online it seems this sometimes changes… So they might send you off to a different newsletter instead.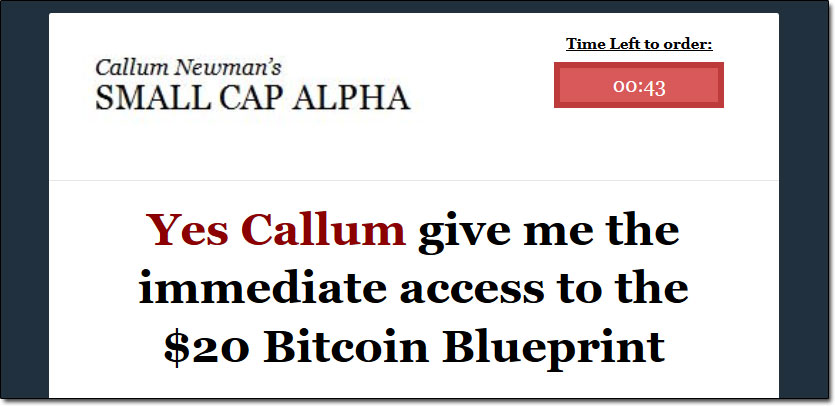 Either way, the principle is the same – they want you to spend money on a newsletter subscription before giving you access to the Secret $20 Bitcoin Blueprint, and this subscription will likely cost you around $99 per year (but discounted to $49 for the first year).
They do however push you into purchasing a more expensive lifetime membership instead (rather than the yearly subscription) which costs around $249… Though despite this being appearing to be a one-off cost, the small print on the checkout page does state that it will still require you to pay a $19 per year maintenance fee if you wish to keep accessing the product after the first year.
So, in my opinion, the Secret $20 Bitcoin Blueprint is just a hyped-up bonus to get you onto one of their subscription plans…
You Might Also Like:
Can You Really Make Money With It?
Well the truth is yes, you can make money with it – but it's unlikely that you're going to make anywhere near the amounts of money they claim you will, and nothing is guaranteed so it could also see you losing money too.
Basically as far as I'm concerned it is not as good as it seems.
I mean ultimately all you are getting from them with this is investment advice – and they are merely basing their income claims off past events, which is easy to do… We all could say "look how rich we would have got if we invested back then"… But it's not so easy to predict a future event.
So yes it's possible to make money with the investment advice they give you – but you should know that like with any investment, the greater the potential return the greater the risk…
This means that going off their claims there will be a LOT of risks.
Therefore, in my opinion, the so-called Secret $20 Bitcoin Blueprint will be more likely to see you losing money in the run long than it will be to see you making it… Because the investments appear so risky.
Like I say it appears to me that they are more interested in just getting newsletter subscribers & they're just over-hyping all of the information to get you to sign up onto their newsletter… Then when you do, that's when you'll likely find out that things aren't really as good as they seemed on the sales page.
Is The Secret $20 Bitcoin Blueprint a Scam?
Well no it's not a scam by any means since Agora Financial (the publishing company behind it) promise you a newsletter/blueprint & that's exactly what they deliver… But in my opinion, it is pretty darn misleading.
I mean as far as I'm concerned the idea of turning $20 into a "quick fortune" as they claim is just a fantasy. The way they get around making such claims is by basing them on past events, but that's no guarantee that the same events will happen again in the future or that Agora Financial will be able to spot them before they happen.
Plus as I also said above, a higher ROI generally involves more risk – so if you were making investments with this sort of income potential through the Secret $20 Bitcoin Blueprint then those investments would likely come with HUGE risk, meaning overall you'd be more likely to lose money than you would be to make it.
So overall I am not going to be recommending the Secret $20 Bitcoin Blueprint to you because I feel like if you spent your money & signed up to it you would probably just find yourself disappointed at what you actually received (judging from other customer reviews).
I mean, to be honest as far as I'm concerned there is simply no need to put your money at risk to make money – not when there are programs like Commission Academy that will teach you how to build an income online without risking any capital or anything like that. Personally I'd recommend that over something like the Secret $20 Bitcoin Blueprint.
But anyway hopefully my review here gave you a good insight into how it all works & helped you make up your mind as to whether or not you really want to get involved with it all. If you do happen to have any further questions or comments though then don't hesitate to leave them below & I'll get back to you as soon as possible.
A Better Alternative
The sad truth is that unfortunately most of the programs promising to help you make money online are scams. I can say that confidently after exposing over 500+ of them here on this blog.
But the good news is that even though most of them are indeed scams, there are actually some very good programs in amongst them - some programs that can truly help you to earn money.
And out of all of the legit programs I've seen, the one I would recommend the most to anybody looking to get started online is Commission Academy. In my own opinion, that's the best place to start.
At Commission Academy, you'll be provided with everything you need (including the training & tools) to begin earning real money by promoting products or services for companies like Amazon online.
The best part is that there's literally no limit on the amount you can earn with it & the process is pretty simple which means that it's absolutely perfect for people that don't have much experience.
Some wealthy affiliates even earn as much as 5-figures per month... Or more!


I mean don't get me wrong, that kind of money won't just fall into your lap without doing any work... But the harder you're willing to work at it, the more you stand to earn with it.
So if you're looking to get started but don't know which route you should go down or which program you should join (and don't want to waste money on bogus things that don't actually work), then I'd highly recommend checking out Commission Academy first. You can learn more about it here.