America as a country is full of opportunities but does this hold true when it comes to making money online? Like many other American based online income programs, Springboard America also promises a lot but what's the reality?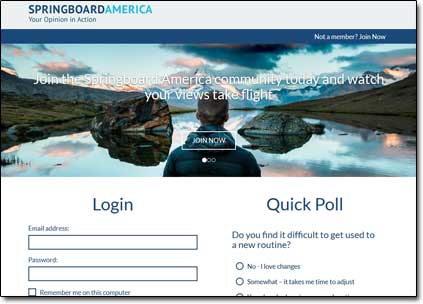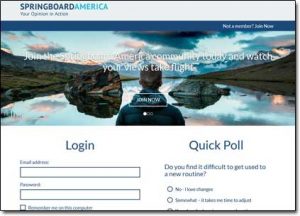 It was only a few days ago that a friend of mine came to me and mentioned this relatively new online money making opportunity and he looked pretty enthusiastic about it.
That's what motivated me to search and come up with a third-party Springboard America review in an attempt to help my friend, my followers and readers.
It is important to find out what a potential money-making opportunity is all about and how the structure really works. If you don't concentrate on those factors, it becomes hard to judge the legitimacy level of the platform.
Is Springboard America a scam? We'll soon find out – let's take a good look into it to decide whether or not it actually has something valuable on offer.
What Is Springboard America?   |   How Much Does It Pay?   |   How Does Springboard America Work?   |   Is Springboard America a Scam?   |   A Better Alternative
What Is Springboard America?
The website's content reflects that Springboard America is devoted to spreading your opinion to not only bring about a change in your life but also to shape the future of America. Well, that's a pretty big claim for sure.
Limited To America
The unfortunate thing about this platform is that it only facilitates US residents. The company itself claims to be a leading online marketing company which helps other companies with its research services. The claims are elevated with the statement that Springboard America not only serves private companies but it also facilitates policymakers through massive market research campaigns.
So here is the basic model …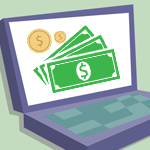 Springboard America earns revenue from its market research services. They are constantly looking for survey takers and encourage the website visitors to join.  According to the website, the members are then compensated with a percentage of the revenue they generate for their participation in surveys.
Most of the surveys are focused on consumer behaviour but they also entertain political issues. The platform also offers money to product testers. Get Paid To Try is another program I recently reviewed which also claimed to offer money for product testing too. I gave that one a thumbs down… Will Springboard America be any better? There's only one way to find out…
How Much Does It Pay?
Survey participants are served with short surveys which range from 10 to 15 minutes in terms of expected duration. The income per survey varies. It ranges from as little as $0.50 all the way to up as much as $5. But don't take those higher-paying surveys as a general rule because surveys paying over $1 are rare. Earning $5 per survey will only happen once in a blue moon.
Apart from completing surveys and sharing opinions about products, the website also offers you the ability to earn $2 for each successful referral.
How Does Springboard America Work?
Let's begin with the good news! Springboard America is FREE which means that you don't have to worry about spending money or facing any costly hidden upsells which happens in the case of many of the online income systems that I review.
To qualify as a survey taker, you'll have to complete a questionnaire
Once the questionnaire is approved, you'll be presented with the survey
The selection depends on the suitability of the respondent on the basis of his/her demographics
The questionnaire is of general nature which demands information about your DOB, Name, Email, Income, Employment Status etc.
A Warning
NO legitimate paid survey site will ever demand for your credit/debit card information. If you come across such a situation while taking an online survey, you simply need to close the window and leave the website for good.
It just struck my mind so I included this warning because it was the case at a company I recently reviewed (named Reward Survey). The good news though is that Springboard America DOES NOT ask for credit/debit card information.
The Points System
After you complete a survey, the Springboard America system will award you with some points, anywhere from 50 to 500. These points are the determinant of your income from surveys. 1 point is worth $0.01 which means if you are awarded with the least amount of points i.e. 50 points, you earn $0.50.
Withdrawing Your Money
The minimum amount which you can withdraw is $50. This means that you need to earn a whopping 5000 pints to be able to withdraw your money via Visa Debit Card, Bank Transfer, Amazon Gift Card, or PayPal. It is unfortunate to see $50 as the minimum amount you can withdraw because it will likely take a long time to reach this barrier. In most cases at other paid survey sites, this threshold doesn't exceed $20.
Don't expect anything more than 5 to 10 surveys a month either. This figure has been shared by some current survey takers who are not happy with this workflow. It means that you hardly make $25 a month. So, in order to withdraw your money, it'll take at least a couple of months before your each the threshold.
Compatible Devices
These days, we mostly prefer to use apps via smartphones. Springboard America is compatible with smartphones and tablets. Don't try to search for the app but just open the website on your mobile or tablet and it'll work as smoothly as it does on a PC.
Some survey sites, even some of the big ones like Global Test Market still don't provide the ability for people to complete offers from their mobile so this is another plus point for Springboard American.
Is Springboard America a Scam?
Springboard America is definitely not a scam. The website is legitimate and offers a real online money making opportunity, though the money you can earn is not as much as you'd likely anticipate before joining.
However, if you're a person who doesn't measure everything in terms of dollars then it is a good opportunity to have your say as an American. If you love presenting your opinion to the public then Springboard America is the right place for you… But if money is your primary focus then sorry, you're not going to earn any sort of fortune through the Springboard America site. In addition, it'll take forever to keep waiting for $50 threshold.
To be honest though even though I've deemed Springboard America as being legit I personally won't be recommending it as an opportunity you should join because in my opinion paid surveys don't really reward you well enough for your time. As far as I'm concerned there are many better ways to make money online instead.
One of the best ways I've personally come across is something called affiliate marketing & that's the same way I personally make my own income online. If you're interested in learning more about that then you can do so over at a place called Commission Academy. I'd highly recommend you check it out.
But whatever you decide to do I just hope that my review here has given you a better insight into how Springboard America works & what you can expect to earn through the platform. If you do happen to have any further questions though that you feel I haven't covered in this review then don't hesitate to leave them below & I'll get back to you as soon as possible.
A Better Alternative
The sad truth is that unfortunately most of the programs promising to help you make money online are scams. I can say that confidently after exposing over 500+ of them here on this blog.
But the good news is that even though most of them are indeed scams, there are actually some very good programs in amongst them - some programs that can truly help you to earn money.
And out of all of the legit programs I've seen, the one I would recommend the most to anybody looking to get started online is Commission Academy. In my own opinion, that's the best place to start.
At Commission Academy, you'll be provided with everything you need (including the training & tools) to begin earning real money by promoting products or services for companies like Amazon online.
The best part is that there's literally no limit on the amount you can earn with it & the process is pretty simple which means that it's absolutely perfect for people that don't have much experience.
Some wealthy affiliates even earn as much as 5-figures per month... Or more!

I mean don't get me wrong, that kind of money won't just fall into your lap without doing any work... But the harder you're willing to work at it, the more you stand to earn with it.
So if you're looking to get started but don't know which route you should go down or which program you should join (and don't want to waste money on bogus things that don't actually work), then I'd highly recommend checking out Commission Academy first. You can learn more about it here.