The Super Affiliate Success System claims to be a "secret" system that can allegedly see you cashing up to 4 to 6 checks every single week & passively earning thousands of dollars in online income all from the comfort of your home.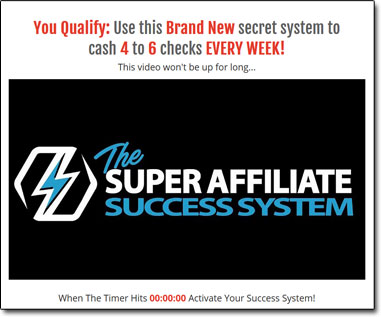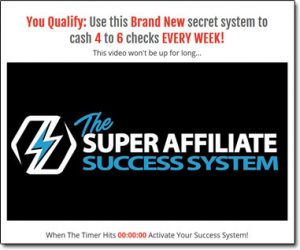 You're pretty much led to believe that all you need to do is sign up, follow some simple steps & that you'll begin making money almost right away…
But is it actually legit or is the Super Affiliate Success System a scam that'll just see you spending money rather than making it?
Thankfully you've landed in the right place to find out because I've taken a closer look into it all to see what it's all about & in this review, I'm going to be uncovering everything you need to know including whether or not you can really make any money with it.
What Is The Super Affiliate Success System?   |   How Does The Super Affiliate Success System Work?   |   The Big Problem   |   Is The Super Affiliate Success System a Scam?   |   A Better Alternative
What Is The Super Affiliate Success System?
The chances are you've already heard about affiliate marketing – if not, it's basically a method of making money online whereby you promote products for 3rd party companies & earn commissions on any sales…
It's a legitimate way to make money, and to be honest affiliate marketing itself is actually a very good way to make money… But the Super Affiliate Success System claims to have taken things to the next level.
You see whereas affiliate marketing normally takes some work, the Super Affiliate Success System claims that everything has been "done-for-you" so that you can just sign up & start making money, without the work…
And not just any money, it claims you can earn thousands per week…
But as far as I'm concerned these bold claims are a massive red-flag because whilst yes the internet provides you with several legitimate ways to make money – it's not magical & it's going to make you rich with little to no work.
If it could, then everybody would be doing it & everybody would be rich!
The simple truth is that if you want to make good money online then you must be prepared to put in some work… And if a system promises you can make lot's of money without doing much work then it's likely trying to scam you… Especially if it requires a fee to get started (without telling you exactly how it works).
But as you'll soon see the Super Affiliate System is NOT what it seems…
How Does The Super Affiliate Success System Work?
The truth is that the Super Affiliate Success System isn't actually a system at all, it's just a sales page that's been put together in an attempt to get you to buy into something called The Super Affiliate Network.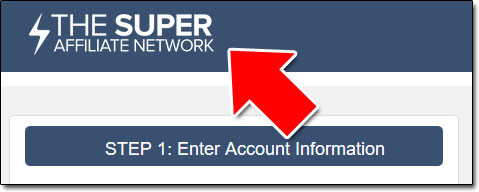 The Super Affiliate Network is an entirely different business opportunity & when I reviewed it on this blog I chose not to recommend it because in my opinion, it was more likely to see you losing money rather than making it…
But stick with me here & you'll soon see why…
Basically The Super Affiliate Network is a multi-level-marketing program that claims to teach people how to make good money online through affiliate marketing which initially all seems fair & well…
The problem comes though when you start progressing through their "training" because that's when you come to realize that the way you actually make money with The Super Affiliate Network is by selling it onto other people.
So you'll sign up under the impression that you'll learn how to make money, but then you'll come to find that the way you actually make money with it is by getting others to sign up & invest just like you did…
It's not really a business model I'm a fan of to be honest because in my opinion it too closely resembles that of a pyramid scheme. I mean technically it's not because they do have "products", but hey – so did Digital Altitude & the FTC still closed that program down (which worked in a very similar way to this one).
AWOL Academy is another similar program as well…
To be honest there are loads of them online – they promise easy riches, force people to spend money and push them into promoting the program onto others so that they recoup their funds & potentially profit…
As I mentioned above though the truth is that most of the people who join these programs actually end up spending more money than they ever manage to make.
That's because these systems make everything seem so easy when in reality it's not – the systems are not "automated" at all, it requires a good amount of work on your behalf to find success with them.
And that's why The Super Affiliate Network has a huge 1,700+ word earnings disclaimer on their website – so that they can cover their butts in the likely event that you don't end up making money.
You Might Also Like:
The Biggest Problem With It All…
I mean yes, you can potentially make money with programs like The Super Affiliate Network – however, there's something very important that you should know about it before you even think about getting started…
And that is the hidden costs that are involved.
You see all of these types of programs make out to be "cheap". They lead you into believing that you can get access to all the stuff they promise for a measly $37 or something… Sometimes even just $1.
However, as you progress through the so-called "training" you're presented with upgrade after upgrade, until eventually, you could see yourself being parted with several thousand dollars.
Some programs like My Own Business Education cost over $50k in total!

And what's even more deceitful in my opinion is the fact that they claim to provide you with personal coaches, and these personal coaches make out like they're helping you through the training steps… But in reality, they're just salespeople that are there to push you into upgrading.
They get paid commissions for getting you to upgrade!
And you should know that if you don't spend the money then you won't be able to earn money… Because these programs are known as pay-to-play programs which means you can only earn commissions on products you own.
So let's say you buy-in at the $37/month level… You'll only be able to earn commissions on the sales of the $37/month product. If somebody you refer signs up & spends thousands, the commission will get passed to the next person above you instead who's bought in at that level.
Like I say you truly are pressured into spending money.
Is The Super Affiliate Success System a Scam?
Well, it's not a scam since there is actually the potential to make money with it, but in my opinion, it's very misleading & in reality, you'll be much more likely to lose money through this thing rather than make it.
As I mentioned towards the start of this review there are simply no ways that you can get rich online with little to no work. If there was, everybody would be doing it. The real truth is that if you want to make good money online you must be prepared to put in some degree of work.
The good news though if you are prepared to put in the work to make it happen is that there are plenty of legitimate programs out there that can help you get started, such as the likes of Commission Academy for example.
And as far as I'm concerned you should never have to pay thousands of dollars just to learn how to get started online which is what the Super Affiliate Success System pushes you into doing, so for that reason, I won't be recommending it.
But hopefully, this review here has given you a good insight it how it all works, so hopefully, you were able to make a decision about it without losing any money. If you do happen to have any further questions though or comments then don't hesitate to leave them below & I'll be sure to get back to you as soon as possible.
A Better Alternative
The sad truth is that unfortunately most of the programs promising to help you make money online are scams. I can say that confidently after exposing over 500+ of them here on this blog.
But the good news is that even though most of them are indeed scams, there are actually some very good programs in amongst them - some programs that can truly help you to earn money.
And out of all of the legit programs I've seen, the one I would recommend the most to anybody looking to get started online is Commission Academy. In my own opinion, that's the best place to start.
At Commission Academy, you'll be provided with everything you need (including the training & tools) to begin earning real money by promoting products or services for companies like Amazon online.
The best part is that there's literally no limit on the amount you can earn with it & the process is pretty simple which means that it's absolutely perfect for people that don't have much experience.
Some wealthy affiliates even earn as much as 5-figures per month... Or more!


I mean don't get me wrong, that kind of money won't just fall into your lap without doing any work... But the harder you're willing to work at it, the more you stand to earn with it.
So if you're looking to get started but don't know which route you should go down or which program you should join (and don't want to waste money on bogus things that don't actually work), then I'd highly recommend checking out Commission Academy first. You can learn more about it here.