Looking to find high-paying survey sites that'll give you good money in return for sharing your opinions?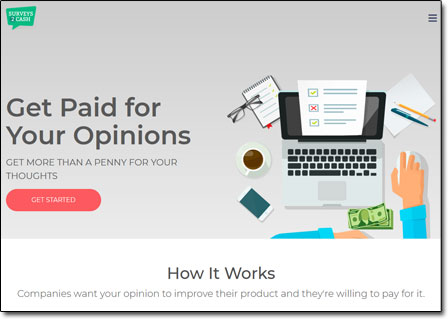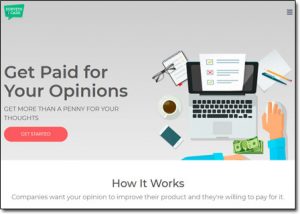 Surveys2Cash is a newly launched website that claims it can help you to do exactly that… But is it actually legit? Or is Surveys2Cash a scam that'll just see you wasting your time & getting nothing in return?
Well you've landed in the right place to find out because in this honest Surveys2Cash review I'll be uncovering the real truth about how it all works as well as uncovering why you shouldn't use it & what to do instead.
What Is Surveys2Cash?   |   How Does Surveys2Cash Work?   |   How Much Can You Earn?   |   Is Surveys2Cash a Scam?   |   The Bottom Line   |   A Better Alternative
What Is Surveys2Cash?
Surveys2Cash is a new website that's recently launched promising to connect people with high-paying surveys & it has been getting promoted pretty heavily which has left a lot of users questioning it's authenticity.
The site itself (unlike most other paid survey websites) doesn't actually provide you with any surveys. Instead it merely acts as a "middle man" connecting you to paid survey companies & the creator of it gets paid a commission in return for doing so if you happen to sign up.
The question though is what's in it for you?
What's the benefit of signing up to Surveys2Cash as opposed to just going to a paid survey website directly?
Well essentially Surveys2Cash lead you into believing that by using their service they'll match you with the best & highest paying survey companies, however as far as I can see that is not really the case.
They don't really seem to be too interested in helping you at all – instead it appears they're set out to primarily help themselves as from what I've seen it seems they're simply more interested in getting the highest commissions.
It's even been rumoured that Surveys2Cash have recommended flat-out scams like Take Surveys For Cash to people as well…
That's why I always advise that you should tread VERY carefully if you want to try one of these survey aggregator sites… And generally I just recommend avoiding them altogether because you can get access to my list of paid survey companies for free right here.
But let's take a closer look into how it works & let's see if there really is any benefit to you at all…
How Does Surveys2Cash Work?
Surveys2Cash claim that all you need to do is sign up to their website & complete a questionnaire, and that they will then send you through specialized offers which can see you earning money in your spare time.
A screenshot of that process as they explain it is shown below:


However in reality as I mentioned in the previous section of this Surveys2Cash review that is not quite the case…
The truth is that the people behind Surveys2Cash seem more bothered about themselves than you, and that quickly became evident when I tried signing up myself…
Immediately on the sign-up page they made the extremely bold claim of being able to earn $100 from my first survey (as shown below) which in my opinion is just a completely outlandish claim:

In all my years of working online I have never ever seen a legitimate paid survey site paying so much money for surveys. Instead the only sites I've seen offering such large amounts of money have been scams, like Take Surveys For Cash.
Anyway, I decided to press on & sign up all the same just to check it out for sure…
To my surprise though after submitting my name, email & age I discovered that they then wanted a lot more. On top of that on the next page they asked for my address AND my phone number…
Why does a "paid survey matching site" need such personal information I wondered…
Then it became clear, because after checking their privacy policy I discovered that the Surveys2Cash website was owned by a marketing company based out of Denver, Colorado.
The marketing company sell leads to businesses online & the Surveys2Cash website is how they generate them… So effectively by signing up to Surveys2Cash you're just being "sold" on to a third party.
As you can probably guess this means a lot of spam will be coming your way if you do happen to enter your details…
But is there anything worthwhile at the end of it all in return for handing over such personal info?
The short answer is no.
The long is answer is nooooooooooooooo.
Heh, but seriously guys – Surveys2Cash offers nothing of value to the people who sign up. The whole website is just a trick to get you to enter your detail so that they can market BS products/services & even scams to you.
I can say that so confidently because after signing up I just got given access to junk like this:

And if I click on or sign up to any of those things then it's the creator of the Surveys2Cash website who gets paid at my expense… Like I said the people behind it are just in it for themselves, not for you… That's why I never recommend these things.
Save yourself the messing around & just check out my list of paid survey companies here instead.
You Might Also Like:
How Much Can You Earn With Surveys2Cash?
Well the truth is that going off what I've said in this review so far you'll be much more likely to end up losing money as a result of signing up to Surveys2Cash than you will be to actually make it.
The reason I say that is because most of the offers that Surveys2Cash tries to get you to sign up to claim to be free, but in reality they are just "free trials" that could see you getting charged hefty amounts if you forget to cancel the billing…
And like I also mentioned Surveys2Cash itself doesn't actually provide you with any surveys or pay you money, they just act as a middleman that connects you through to other paid survey sites.
So I'd recommend saving yourself the hassle of signing up to Surveys2Cash & saving yourself the potential of losing money by just not bothering with Surveys2Cash & checking out my list of paid survey sites here instead.
The people behind Surveys2Cash have just set the website up so that they can earn at your expense – it isn't really set out with you in mind like it claims to be. They just want to earn as many commissions as they can by tricking you into signing up for a whole bunch of different stuff.
Is Surveys2Cash a Scam?
Surveys2Cash isn't really a scam, but at the same time it's not really a website that's set out to help you… In fact it's actually set out to do quite the opposite. The creators of it just want to make money at your expense.
However because they mention that they are just connecting you with other companies & not providing the surveys themselves it is not technically a scam… But it could result in you losing money.
I think they should make it more clear what's going on…
Plus if you happen to enter your details into the Surveys2Cash website then you are going to end up receiving a lot of spam messages to both your phone, email & potentially your address since they're primary interest is marketing things to you.
For those reasons I would still avoid Surveys2Cash, even though it is not technically a scam.
The Bottom Line
Honestly there is just simply no need whatsoever to sign up to Surveys2Cash – it provides absolutely no value & the claims they make about giving you access to survey sites paying up to $100 are completely false.
The whole thing in my opinion has clearly been put together just to trick you into handing over your details so that the people behind can get you to sign up to as much BS that they are affiliated with as possible so that they can earn commissions at your expense.
You see when they recommend a survey site & you sign up, they get paid because they are affiliates – it's called affiliate marketing.
But there is actually some good news here. Firstly, you don't need to sign up to Surveys2Cash to see the surveys because I've put a list of paid survey sites here – but the other good news is that you can also make money as an affiliate yourself.
I am living proof of that – I now make money as an affiliate full-time and it is something that anybody can get started with. You just need to recommend things online (products or services etc) and companies will pay you commissions in return.
You can get started with affiliate marketing for free over at Wealthy Affiliate.
Or alternatively you can check out some other cool ways to make good money online on my top picks page here.
A Better Alternative
The sad truth is that unfortunately most of the programs promising to help you make money online are scams. I can say that confidently after exposing over 500+ of them here on this blog.
But the good news is that even though most of them are indeed scams, there are actually some very good programs in amongst them - some programs that can truly help you to earn money.
And out of all of the legit programs I've seen, the one I would recommend the most to anybody looking to get started online is Commission Academy. In my own opinion, that's the best place to start.
At Commission Academy, you'll be provided with everything you need (including the training & tools) to begin earning real money by promoting products or services for companies like Amazon online.
The best part is that there's literally no limit on the amount you can earn with it & the process is pretty simple which means that it's absolutely perfect for people that don't have much experience.
Some wealthy affiliates even earn as much as 5-figures per month... Or more!


I mean don't get me wrong, that kind of money won't just fall into your lap without doing any work... But the harder you're willing to work at it, the more you stand to earn with it.
So if you're looking to get started but don't know which route you should go down or which program you should join (and don't want to waste money on bogus things that don't actually work), then I'd highly recommend checking out Commission Academy first. You can learn more about it here.