If you are also one who loves participating in online contests then sweepstakes are something you are familiar with. You may well have heard or read something about Sweeties Secret Sweeps. This website invites members, for $40 per year, and promises an opportunity to win much more than you pay for the membership.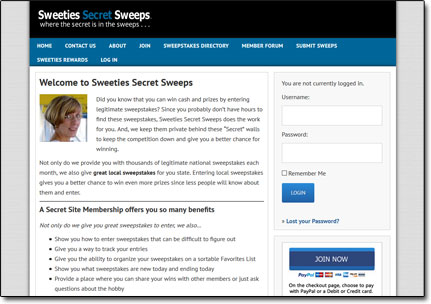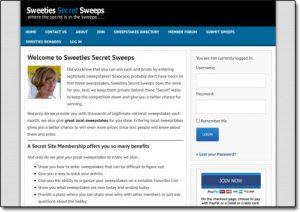 There are various versions of online sweepstakes and lotteries but most of them are fake.
Putting together this Sweeties Secret Sweeps review became our top priority after sensing that our readership was curious about knowing the truth about this platform.
Our Sweeties Secret Sweeps review is going to cover all important facts you need to know before joining or rejecting this platform.
What Is Sweeties Secret Sweeps?   |   What Are Sweepstakes?   |   How Does Sweeties Secret Sweeps Work?   |   How Much Can You Win?   |   Is Sweeties Secret Sweeps a Scam?   |   A Better Alternative
What Is Sweeties Secret Sweeps?
First things first, we are not trying to promote anything here, our sole objective is to reveal the truth to help you avoid any possible scam. As far as this review is concerned, Sweeties Secret Sweeps is a membership site and its yearly membership fee is $40.
The website has been around since 2009 and Wendy is the lady who came up with this idea. According to her, she managed to gain sufficient profit from sweepstakes over the years, including $25k trip to France
She explains that her objective is to help others achieve similar success ratio with sweepstakes. In addition to national as well as local sweepstakes, the $40 membership serves you with a newsletter. According to the website, the membership serves you with the following additional advantages:
Guide on entering sweepstakes
Organizing lists and tracking entries via a reliable method
Updates about ending and upcoming sweepstakes
Sharing information in the sweepstakes-community
Provision of national as well as local sweepstakes on a daily basis
The website also allows you to add sweepstakes to the directory (if permissible). It earns you more points which you can replace with real value, for instance, gift cards, stamps, and paying for membership.

What Are Sweepstakes?
For those who are interested, sweepstakes provide you with a chance to win free stuff. You may call it an alternative to lottery. The stuff you can win may include vacation packages, kids toys, a car, etc.
Companies launch such contests in order to promote their products and services. This is a new concept that is more compatible with the online world. Years ago, we had lotteries but things have changed over the past couple of decades.
Another popular sweepstake that we came across & reviewed in the past was Latest Free Stuff UK.
How Does Sweeties Secret Sweepstakes Work?
Well, the idea is simple, the website collects information to host various sweepstakes contests. You don't have to search for different contests manually as this website gathers them to one place. This is why you pay a yearly fee.
It saves time and effort because the membership facilitates you with updates and more features so that you don't miss out a promising opportunity of winning free stuff.
What's Good About It?
There are no exaggerated claims. The concept is simple, there is nothing malicious happening behind the curtain and there is no such advertisement that promises to make you rich overnight. Overall, everything is simple, to the point, and honest. This is much different than Getting It Free, OM Sweeps & Latest Free Stuff UK.
Another good feature is that the platform features a caring community and you can talk to the members, seek guidance, and share your ideas.
The membership fee is pretty affordable, $40/year which is $3.34 a month.
How Much Can You Win with Sweeties Secret Sweepstakes?
Well, I am afraid that there is no definite answer, it depends on your luck and intuition. Some sweepstakes offer bigger prizes and some don't. It depends on which sweepstakes you manage to win. It is just like opening a closed secret package which could either contain junk or a rare antique.
Realistically speaking, lottery or sweepstakes are not consistent sources of making money. You don't win it every day! But on the other hand, it always keeps you interested to wait for the results and anticipate a really overwhelming win.
In simple words, $40 a year membership keeps continues to your enthusiasm even if you win nothing, you still hope for a jackpot and the best point is that there are equal chances for everyone to win so you are never out of the game.
Is Sweeties Secret Sweepstakes a Scam?
Arriving at a Sweeties Secret Sweepstakes scam verdict is an easy decision, it is not a scam. This is a legitimate platform. But you need to keep in mind that it doesn't promise consistent wins. It is just a platform that facilitates you with opportunities and updates..
If you think that you can win over and over again, you need to visit a fortune teller, he/she will keep you interested. We take it as a fun activity! You install various games from Play Store and often pay for diamonds, gold, and other rewards just to move forward and enjoy the game.
Perhaps you pay more than $40 a year to score big on virtual games. In this sense, it is not bad to pay $40 a year just to try your luck, if it works you'll get real reward not a virtual promotion on a game's leader-board.
It is legitimate, honest, and entertaining however if you are expecting consistent wins and making big money then try something else – such as one of the other recommendations from my top picks page here.
Or alternatively if you're looking for something more consistent (and something that you can potentially do full-time) then you may want to check out affiliate marketing, which is the same way I personally make most of my own income online.
Unlike entering competitions for sweepstakes & "hoping" to win, affiliate marketing is something that can provide you with a predictable income providing you are prepared to put in some degree of work… And if you are prepared in to put in work to make that happen then you can actually get started with it for free over at Wealthy Affiliate.
But whatever you decide to do I just sincerely hope that my review of Sweeties Secret Sweepstakes here has given you a good insight into how the whole thing works & it's legitimacy. Feel free to leave any further questions or comments below.
A Better Alternative
The sad truth is that unfortunately most of the programs promising to help you make money online are scams. I can say that confidently after exposing over 500+ of them here on this blog.
But the good news is that even though most of them are indeed scams, there are actually some very good programs in amongst them - some programs that can truly help you to earn money.
And out of all of the legit programs I've seen, the one I would recommend the most to anybody looking to get started online is Commission Academy. In my own opinion, that's the best place to start.
At Commission Academy, you'll be provided with everything you need (including the training & tools) to begin earning real money by promoting products or services for companies like Amazon online.
The best part is that there's literally no limit on the amount you can earn with it & the process is pretty simple which means that it's absolutely perfect for people that don't have much experience.
Some wealthy affiliates even earn as much as 5-figures per month... Or more!

I mean don't get me wrong, that kind of money won't just fall into your lap without doing any work... But the harder you're willing to work at it, the more you stand to earn with it.
So if you're looking to get started but don't know which route you should go down or which program you should join (and don't want to waste money on bogus things that don't actually work), then I'd highly recommend checking out Commission Academy first. You can learn more about it here.