Technology Profits Confidential is a website that's been recently put out by a company called Agora Financial & it claims that it can show you how you can make a small fortune from a "little known device" that's allegedly set to shake the tech industry…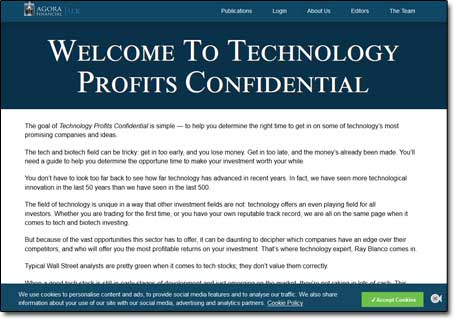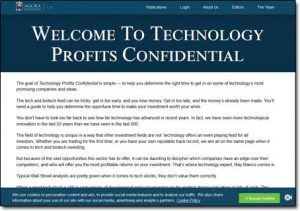 Basically you're led to believe that they're providing you with the "inside scoop" on this tech before it happens and that if you follow their instructions to invest you'll put yourself in a position to make massive profits…
But is it actually legit? Or is Technology Profits Confidential a scam that'll just result in you losing money rather than actually making it? Thankfully you've landed in exactly the right place to find out as I'm going to be explaining exactly what it's all about right here in my real & honest review.
What Is Technology Profits Confidential?   |   How Does Technology Profits Confidential Work?   |   Things Aren't Quite As They Seem   |   Is Technology Profits Confidential a Scam?   |   A Better Alternative
What Is Technology Profits Confidential?
Technology Profits Confidential itself is actually just a newsletter & it's been put together by Ray Blanco who's an author at a company called Agora Financial. Prior to joining Agora as an author though Ray was allegedly working for one of the most successful private wealth management firms in the country & supposedly managed over $30 billion in assets.
His experience, you're told, included technology management for large trading and investment firms & Agora Financial claim that he's an expert in the space – and that he's now spotted a new "trend" that you will be able to cash in on…
But the chances are you've heard of Agora Financial before as they quite often release these hyped-up money making opportunities yet from what I've seen very few of them have actually delivered on their promises.
Some of their previous opportunities include the Secret $20 Bitcoin Blueprint, the Altucher Report & the Big Book of Income…
If you take a look at my reviews of them you'll see that they all make very similar promises to what the Technology Profits Confidential website does, and you'll also see that the websites all follow a very similar structure too.
So you might be wondering what's the deal? Can you really make money with the Technology Profits Confidential program or are they just trying to scam you instead to make money at your expense?
It's good that you're asking the question before diving straight in and signing up (as sadly many people do) but if you keep reading below you'll see the truth when I show you how it all really works…
How Does Technology Profits Confidential Work?
Well it's not surprising that you're likely sceptical about whether or not Technology Profits Confidential really works as promised since the whole thing is actually being promoted via a fake news site as shown below: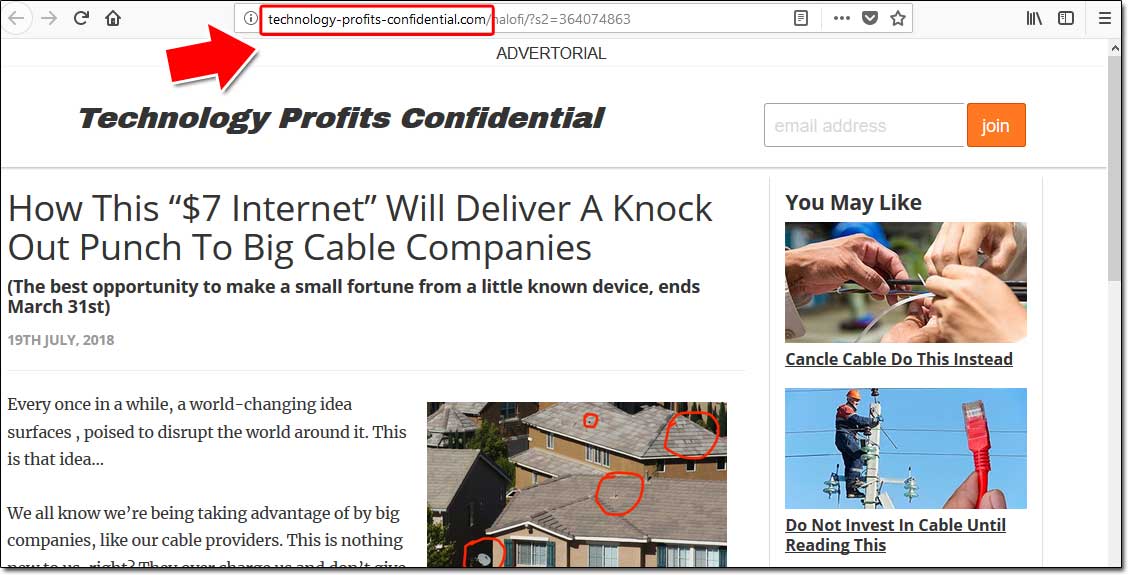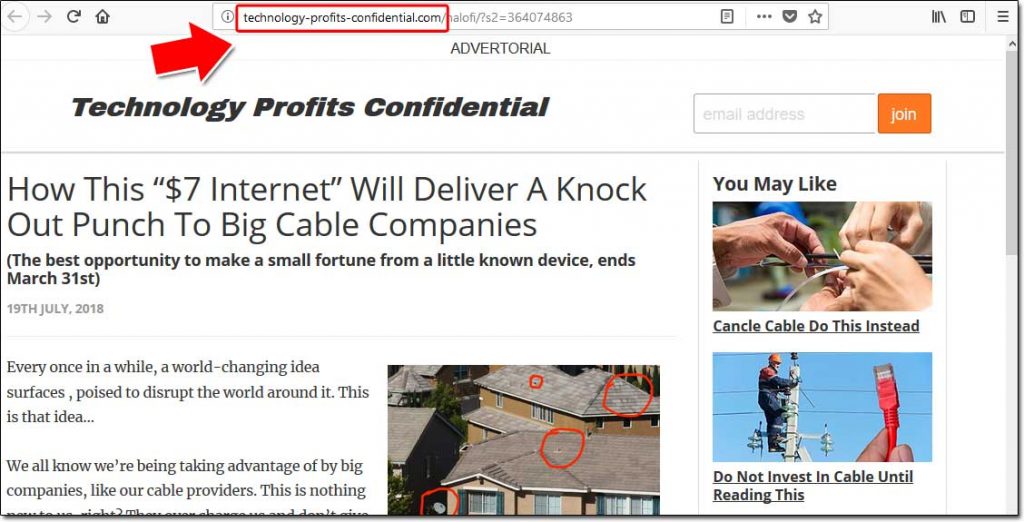 At a quick glance the site appears to be a legitimate news website but in reality it actually only contains 1 page which is hosted on Agora Financial's servers & it's sole intention is to sell you into the newsletter.
If you were to click on any of the links (such as the "You May Like" links on the right hand side) you'd quickly realize that something was amiss as they all redirect back to the exact same page.
Like I say it's just a stunt to essentially "trick" you into signing up to the Technology Profits Confidential newsletter & whilst it's not really against the law as such to do something like that it's pretty strange that they've gone to those measures.
After all if the Technology Profits Confidential newsletter can help people make money so easily then why are they having to resort to such tactics in order to get people to sign up? Surely you'd have crowds of people wanting to join.
That's Because Things Aren't Quite As They Seem…
In short the Technology Profits Confidential newsletter is basically just another one of Agora Financial's hyped up sales pitches. I mean don't get me wrong after handing over your cash you do indeed get access to a trading advice newsletter but it ain't gonna make you rich like the whole website promoting it makes out.
Sure, you might get lucky and make some money – but similarly there's the chance that you could lose everything too & funnily enough there's no mention of that.
The other problem is that most of the investment advice offered via the newsletter requires massive starting amounts to participate. So if you haven't got several thousand to spare (and possibly lose) then Technology Profits Confidential probably isn't the program for you.
And if you're seeing it as an easy way to make money then it definitely isn't the program for you.
The truth is that in my opinion if you were looking to make easy, profitable trades you'd probably find more luck over at a social trading site where you can copy hundreds of traders rather than just rely on the opinions of 1 (aka Ray Blanco).
Plus there's no verifiable evidence that Ray has even achieved the results that Agora are boasting.
So couple all that with the fact that they use a phony fake news site to promote the system… It sure doesn't look good does it? And that probably explains why they're so many complaints about it over at PissedConsumer.
Here are just a few I picked up on:
It should be just as easy to contact by email to cancel as it was to purchase on line, but when I tried to communicate by email with this company, unfortunately, it was virtually impossible.
After joining his subscription service and paying for it I got an email offering a "Premium" version of the same service for $3,000.
I realized that a) their data is outdated, b) they're selling smoke and mirrors, and c) their advice, such as it is, is ***.
You Might Also Like:
Is Technology Profits Confidential a Scam?
Well no, it would be wrong of me to call it a scam – after all they're selling access to a newsletter & access to a newsletter is what you get… It's just that in my opinion the whole thing is extremely overhyped.
You're basically led to believe that you're getting access to some sort of "secret" that is almost guaranteed to make you lot's of money but in reality that just totally isn't true. The truth is you're just getting access to a typical trading newsletter & if you follow the investment advice there is no guarantee for you to make money, instead you could actually just end up losing it.
So overall I am not going to be recommending the Technology Profits Confidential newsletter because I don't believe it will really help you & instead you could just land yourself with a subscription that you find difficult to cancel (based off member reports).
As far as I'm concerned there are better ways to make money online, ways that require much less start-up money & contain much less risk. If you're still interested in making money then I suggest you check out Commission Academy which is one of my top rated legitimate programs.
But anyway whatever you decide to do I just hope this review here gave you a good insight into what's really going on & if you do happen to still have any further questions then don't hesitate to leave them below.
A Better Alternative
The sad truth is that unfortunately most of the programs promising to help you make money online are scams. I can say that confidently after exposing over 500+ of them here on this blog.
But the good news is that even though most of them are indeed scams, there are actually some very good programs in amongst them - some programs that can truly help you to earn money.
And out of all of the legit programs I've seen, the one I would recommend the most to anybody looking to get started online is Commission Academy. In my own opinion, that's the best place to start.
At Commission Academy, you'll be provided with everything you need (including the training & tools) to begin earning real money by promoting products or services for companies like Amazon online.
The best part is that there's literally no limit on the amount you can earn with it & the process is pretty simple which means that it's absolutely perfect for people that don't have much experience.
Some wealthy affiliates even earn as much as 5-figures per month... Or more!

I mean don't get me wrong, that kind of money won't just fall into your lap without doing any work... But the harder you're willing to work at it, the more you stand to earn with it.
So if you're looking to get started but don't know which route you should go down or which program you should join (and don't want to waste money on bogus things that don't actually work), then I'd highly recommend checking out Commission Academy first. You can learn more about it here.