TextBot AI (a program promoted via the weblink 100Dollars.ai) tells you that their "AI chatbot will pay you $100 over & over again"… But will it really?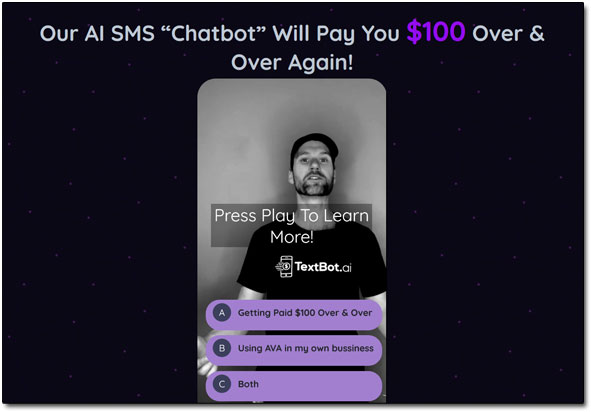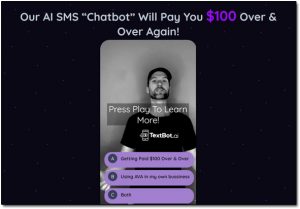 In short, no, not quite.
In this honest TextBot AI review I'll be uncovering the truth about how the whole thing really works, why I believe you shouldn't get involved & what the dangers are if you do.
I'll also be uncovering the truth about the TextBot AI scam rumours & sharing a legitimate alternative that you can use instead (without having to pay $100 upfront, like at TextBot AI).
What Is TextBot AI?   |   How Does TextBot AI Work?   |   How Much Does It Cost?   |   Can You Actually Make Money With It?   |   Is TextBot AI a Scam?   |   A Better Alternative
What Is TextBot AI?
TextBot AI essentially portrays itself as being a piece of automated money-making software & you're led to believe that it'll pay you commissions of $100 over & over again, all on complete autopilot.
All need to do is sign up, enter your number, pay $100 & then the automated chatbot will get to work & earn you money, or so you're led to believe.
The problem?
Well, I actually discovered this new program via a spam link that somebody left in a comment on my review of the Share The Number scam.
Somebody, going only by the name of Karen decided to tell me the following:
I actually like and considered joining sharethenumber, but never did. But I do know others who are doing very well with a similar program (referral link to TextBot AI removed) which is pretty cool and adds more value. But thanks for the review.
And let me pick out the problems with that comment.
Firstly, "Karen" said that she actually liked sharethenumber, which is a known scam. It's a blatant pyramid scheme that recruits new members primarily via text message.
Secondly, "Karen" then went on to a share a referral link to the newly launched TextBot AI scam in a blatantly desperate effort to get new people to join via her link in order to earn a commission.
So here's what's happened…
"Karen" has joined TextBot AI, which leads you to believe that it'll provide you with an easy, automated way to make $100 commissions over & over again every single day.
She's since realized that it's not really automated & that you have to recruit new members in order to earn money.
She's now spending her days leaving spam comments on blogs on the internet in the hope to try to get new members joining (but failing, because website owners like me are simply removing the links).
Not good.
But nevertheless, let's take a closer look into exactly how it all really works.
How Does TextBot AI Work?
TextBot AI essentially promises to provide 2 uses. Firstly, it promises to provide a way to help business owners to promote their businesses via automated text messages.
Secondly, it promises to provide people who don't have a business with an easy way to "make $100 commissions over & over again" through automated text messages.


The primary push, however, is on the second "use".
Realistically, the creator of TextBot AI wants you to sign up, pay $100 to the person that referred you and then get others to do exactly the same, in typical pyramid-scheme fashion.
It's very similar to other known scams like Easy 1 Up, Share The Number & Profits Passport.
The creators of these things try to make it seem like there is a real, genuine product being sold but in reality, the primary focus is just on the income-making opportunity.
Nobody (or at most, very few) people joining these things are joining for the "product". They're joining for the opportunity to refer others in an attempt to earn commissions at their expense.
But the problem is that because of the pyramid-shaped structure to these schemes, the only people that really end up truly benefitting from them are those positioned at the top.
The majority of other people that join below them will just find themselves paying money into the scheme & never actually earning anything back.
And even if you believe that it is a legit MLM (as many members of these types of schemes try to convince themselves), then let me tell you that the average success rate is still only a mere 1%, according to a report published by the FTC: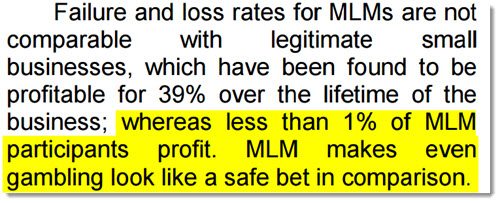 The concept with this particular program, however, is that an "automated chatbot" will do the work on your behalf so that you'll (allegedly) be much more likely to see success.
In short, this means that your job will be to get people to enter their phone number into the 100Dollars.ai website & then the chatbot will begin sending them spam via text message, promoting your link.
If they happen to sign up & pay money, that money gets paid directly to you (which raises yet another problem that you'll see outlined further down below).
But I can tell you as an experienced online marketer that it is extremely difficult to get people to enter their real phone number into a random online website.
It's even more difficult to get them to enter it into a website that looks as suspicious as the TextBot AI scam.
This means that more than likely, you'll just find yourself $100 down & stuck spinning your wheels trying to recruit people, just like "Karen" who I mentioned further up.
How Much Does TextBot AI Cost?
In order to get started with TextBot AI you'll need to pay $100. The idea is that you pay $100 to the person that referred you, then you try to refer others & get them to pay $100 to you.
They call the $100 the "setup fee", but in reality, it's not funding anything to do with the setup because it's just going straight to the member that referred you.
Take a look: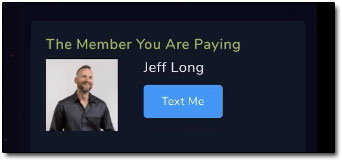 Then, once you've paid the $100 you are still not yet finished as you need to buy further "Usage Credits".
These so-called "Usage Credits" are used to pay for your rental of the chatbot's mobile number & for each message that it sends out. This means that you'll need to keep regularly topping up your account with more & more "Usage Credits" if you want to keep trying to earn money.
You Might Also Like:
Can You Actually Make Money With It?
The truth is that yes, it's technically possible to make money through the Textbot AI scam, but ultimately you will just be earning money by tricking people into joining a pyramid scheme.
Furthermore, all payments made via TextBot AI are made directly member-to-member.
The reason for this is because the creator of the system cannot get approved by merchants to manage payments because processors like PayPal do not work with such scams.
If he tried to take PayPal payments, PayPal would quickly shut his account down & the members of TextBot AI would no longer be able to get paid.
So to get around this, he has enabled direct member to member payments… But this is not a "fix", it just simply means that you're taking on the risk of receiving payments instead of him.
It means that YOUR accounts will be at risk of getting shut down instead, and it also means that you'll have to deal with all of the complaints when people claim that they've been scammed and that they've paid YOU.
YOU essentially become the scammer, as opposed to the creator of the system. It's a cunning trick for the creator to escape the liability & pass it down onto you instead.
That aside though, these are the methods of payments TextBot AI works with:
Google Pay
Cash App
Venmo
Bitcoin (via Coinbase)
Stripe
Zelle
Paypal
Is TextBot AI a Scam?
The creator has gone to great lengths to make it seem like there is a real product in place but it's quite clear that the primary focus is simply on investing money & getting others to do the same.
There is no real focus on any "product" here. It's a pyramid scheme.
It's just the latest version of other similar scams that have come before it, such as Easy 1 Up & Share The Number. This type of thing should be avoided at absolutely all costs.
The truth is that these things are built around gimmicks and hype. They all try to claim they have something special that'll enable you to make money really easily, like the "automated chatbot".
But it's nonsense. If you want to earn money, you must be prepared to put in real work… There are no 2 ways about it & the sooner you learn that the sooner you'll start making real money.
So if you're ready to stop chasing shortcuts & gimmicky systems & actually put in the work instead of making excuses, I'd highly recommend you check out my guide on affiliate marketing.
Through affiliate marketing, you can build up a legitimate income online by connecting people with REAL, genuine products, such as products from places like Amazon.
That's much better than messing around with silly "automated chatbots" that spam peoples phones, right? So be sure to check out the guide here before you go (it's free!).
And if you have any comments about the TextBot AI scam then, of course, don't hesitate to leave them below. As always I'll get back to you as quickly as I can.
A Better Alternative
The sad truth is that unfortunately most of the programs promising to help you make money online are scams. I can say that confidently after exposing over 500+ of them here on this blog.
But the good news is that even though most of them are indeed scams, there are actually some very good programs in amongst them - some programs that can truly help you to earn money.
And out of all of the legit programs I've seen, the one I would recommend the most to anybody looking to get started online is Commission Academy. In my own opinion, that's the best place to start.
At Commission Academy, you'll be provided with everything you need (including the training & tools) to begin earning real money by promoting products or services for companies like Amazon online.
The best part is that there's literally no limit on the amount you can earn with it & the process is pretty simple which means that it's absolutely perfect for people that don't have much experience.
Some wealthy affiliates even earn as much as 5-figures per month... Or more!


I mean don't get me wrong, that kind of money won't just fall into your lap without doing any work... But the harder you're willing to work at it, the more you stand to earn with it.
So if you're looking to get started but don't know which route you should go down or which program you should join (and don't want to waste money on bogus things that don't actually work), then I'd highly recommend checking out Commission Academy first. You can learn more about it here.