Welcome to my review of The Great Heist system, the system that claims to be the closest thing to enabling you to "print money" & the system that claims it'll help you generate rapid wealth from a so-called $1.87 billion dollar industry, without having to do any work…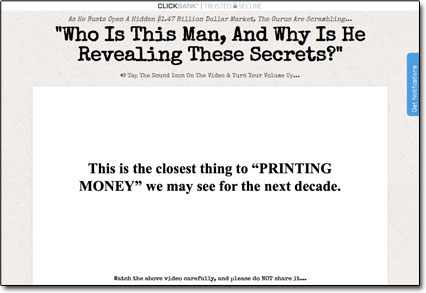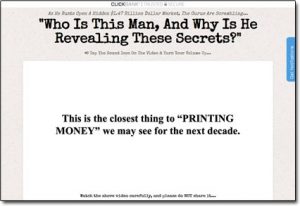 You're literally led to believe by its creator (who remains anonymous) that you'll be able to simply "plug-in" and begin profiting right away… But is that really true? Or is The Great Heist a scam system that you need to avoid?
Well the good news is that you've landed in exactly the right place to find out as I am not affiliated with it (like many other reviewers) so you can rest assured my review here will be honest, unbiased & will give you everything you need to know – including whether or not you can really make any money with it.
What Is The Great Heist?   |   How Does The Great Heist Work?   |   Can You Make Any Money With It?   |   Is The Great Heist a Scam?   |   A Better Alternative
What Is The Great Heist?
The Great Heist is a system that's been put together by a man who has chosen to remain anonymous & it claims to provide you with a "Club Heist" access code which will allegedly see you being able to join a so-called one of a kind underground earners club.
And it's in this so-called underground earners club that you're told you'll be able to find out how to take advantage of what they call a "shocking $1.87 billion dollar industry" and generate rapid wealth online as a result.

The creator goes as far as to call it the closest thing you'll ever get of being able to print money…
But surprise surprise there's a catch.
And that catch is the fact that in order to actually get access to any of what the creator talks about or to find out more about how it actually works, you're pressured into handing over some of your own cash first…
Which I can tell you is a HUGE red-flag.
That's because most of the scams I expose on this blog work in the exact same way – they promise that you'll get rich easily, then they ask for some cash to find out more, and then they fail to deliver on their promises.
So what's the deal with The Great Heist? Does the same thing apply? Is this just another scam to avoid?
Well I can confidently say that the answer is unfortunately yes, The Great Heist is indeed just another scam to avoid & I can say that with confidence because I've actually seen this system before under some other names.
The China Secret, China Cash Clone & Club 365 are just some of the other names this same scam has been launched under – and if you check out my reviews of those programs you'll see they're almost identical.
The creator of it just simply keeps changing the name a little in an attempt to escape the negative reviews so that he can continue parting people with their hard earned cash to be able to earn at their expense.
But you don't have to just take my word for that – instead keep on reading & I'll show you exactly how it all works in detail below so that you can see first-hand for yourself what's really going on with it…
How Does The Great Heist Work?
Basically the sales page for The Great Heist system promises to provide you with a really easy way to get rich, and then it asks you to hand over $9 of your own money in order to find out more & begin making money…
But upon doing that you'll be left to find out 2 things…
The first thing you'll be left to find out is that $9 is not the true cost of the program. The $9 is basically just a fee to get through the door, and then on the inside you will be presented with multiple upsells which in total cost hundreds of dollars.
The upsells claim to be optional, but essentially without them the program is not complete… So the true cost is multiple hundreds of dollars…
And the other thing you'll be left to find out is that the whole thing simply does not work as promised, and that there isn't really any "money-printing method" or automated way to make lots of money.
Nor is there any underground earners club…
All of the things they tell you on the sales page are just tricks to get you to sign up, then after doing so you'll just find yourself disappointed with what you actually receive because it's far from what you were promised.
But What Do You Actually Receive?
In return for your $9 you don't get much, you basically just get more videos promising you easier & quicker riches if you go on to spend more money (which I absolutely wouldn't recommend doing).
But if you did go on to spend more money, then what you would get access to is:
Low quality PDF training on e-commerce & cryptocurrency investing
eBook about Facebook marketing & email marketing
So as you can see, basically you don't get access to a lot.
The other important thing to note is that there's no real structure… They've essentially just thrown a bunch of random things together & bundled them in together, which means as a beginner you'll likely be left feeling extremely confused.
Where do you start? How do you start?
Who knows!
The Great Heist website leaves too much open for guesswork rather than giving you an actual step-by-step plan to follow… And I prefer step-by-step plans which is why I always recommend Wealthy Affiliate to my readers who are looking to build an income online.
Commission Academy has been built around a proven blueprint for creating a thriving business online & all of the training is laid out in a perfectly easy to follow step-by-step manner. Plus they even give you all of the tools you need as well.
So rather than wasting your time with a bogus program like The Great Heist & leaving things to chance, I'd recommend just getting started with Wealthy Affiliate instead as it's there that you'll learn how to do things properly.
You Might Also Like:
Can You Make Any Money With The Great Heist?
Well yes & no… I mean it is technically possible to make money with some of the method that are taught through The Great Heist website however because their training is so poor the likelihood is that you'll just end up spending money, not making it.
Plus whilst it costs hundreds of dollars to get access to the training inside of The Great Heist, you can actually get it elsewhere online for free just by running a quick Google search.
Heck even if you just take a look around my blog right here you'll find much better training for free – such as the training I put together on how to build a blog for free that makes money, or my training on how to make money from an email list.
So yeah, even though from a technical standpoint you could potentially make money with the methods taught by The Great Heist, ultimately the creator is not really interested in helping you to make money, he just wants to make money at your expense.
Which brings me onto…
Is The Great Heist a Scam?
I am going to say that yes, in my opinion I do believe The Great Heist website to a be a scam & the reason I say that is because even though you do get access to some training, the reality is the creator just wants to make money at your expense & you'll be unlikely to actually make any money yourself.
The whole thing has been built on pure lies & deceit to trick you into handing over your cash. There is no secret underground earners club or automated way to make money, and you will not just be "tapping into" a multi-billion dollar industry like you're led to believe you will.
So if you really want to build an income online then I suggest you steer clear of The Great Heist program & instead just stick with something legitimate & proven like the Wealthy Affiliate program which you can get started with for free.
Or alternatively check out my other top picks on this page here.
But whatever you decide to do I just sincerely hope that my review here has given you a good insight into how it all works & hopefully it has helped to prevent you from losing money to this thing.
If of course you do still happen to have any questions or comments though the don't hesitate to leave them below & as always I'll get back to you as quickly as I possibly can.
A Better Alternative
The sad truth is that unfortunately most of the programs promising to help you make money online are scams. I can say that confidently after exposing over 500+ of them here on this blog.
But the good news is that even though most of them are indeed scams, there are actually some very good programs in amongst them - some programs that can truly help you to earn money.
And out of all of the legit programs I've seen, the one I would recommend the most to anybody looking to get started online is Commission Academy. In my own opinion, that's the best place to start.
At Commission Academy, you'll be provided with everything you need (including the training & tools) to begin earning real money by promoting products or services for companies like Amazon online.
The best part is that there's literally no limit on the amount you can earn with it & the process is pretty simple which means that it's absolutely perfect for people that don't have much experience.
Some wealthy affiliates even earn as much as 5-figures per month... Or more!


I mean don't get me wrong, that kind of money won't just fall into your lap without doing any work... But the harder you're willing to work at it, the more you stand to earn with it.
So if you're looking to get started but don't know which route you should go down or which program you should join (and don't want to waste money on bogus things that don't actually work), then I'd highly recommend checking out Commission Academy first. You can learn more about it here.