TimeBucks is a website that promises to pay you money in return for completing simple tasks such as playing games, answering surveys, completing captchas & even posting videos on TikTok.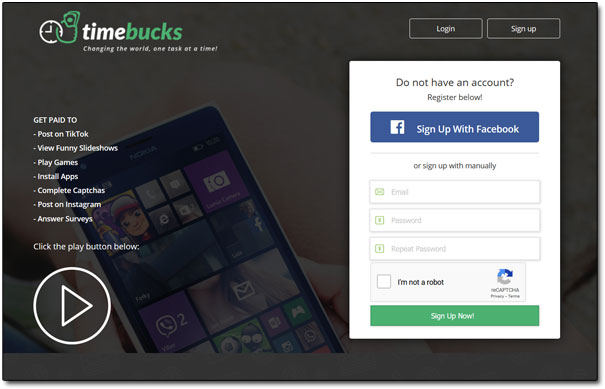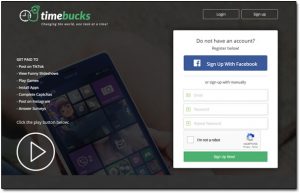 But is TimeBucks actually legit? And if it is, then is it really worth your time?
Well, the good news is that you've landed in the right place to find out because in this honest TimeBucks review I'm going to be uncovering everything you need to know (including how much you can earn).
Plus, I'll also be uncovering the reason as to why I believe that joining TimeBucks isn't such a great idea… So be sure to stick around & read this review right to the end.
What Is TimeBucks?   |   How Does TimeBucks Work?   |   How Much Can You Earn?   |   The Costs   |   Is TimeBucks a Scam?   |   A Better Alternative
What Is TimeBucks?
TimeBucks is what's known as a GPT website, which stands for "Get-Paid-To" & it's basically a website that pays people in return for completing short, simple tasks online.
These tasks can involve a number of different things but typically they involve things like watching videos, playing games, answering surveys, installing apps & so on.
So the idea is that you simply sign up, complete the tasks & then earn money.
Pretty simple, right?
The downside, however, is that because the tasks are so simple, sites like TimeBucks don't really pay out much money. In fact, I'd even go as far as to say that GPT websites are typically just a waste of time.
I mean yes, some of them are legitimate & you can indeed earn money by completing the tasks… But generally, you will be spending a LOT of hours completing tasks, for very little reward.
In my opinion, there are simply many better alternatives available.
But I do appreciate that many people actually enjoy working at GPT websites even if they do pay very little, so for those of you that are still interested in TimeBucks, let's take a closer look into how it all works (and how much you can actually earn)…
How Does TimeBucks Work?
TimeBucks is a pretty simple platform. After creating a free account you're taken to the member dashboard from which you can choose what types of offers/tasks you'd like to begin working on.
The dashboard looks like this (or does at the time of writing this TimeBucks review, at least):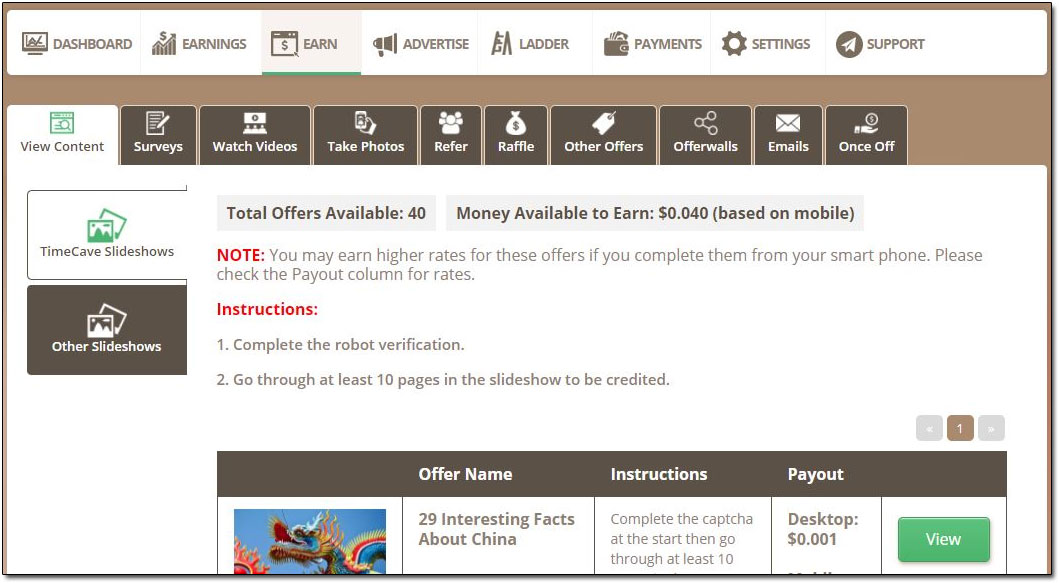 As you can see from the image above, the different types of tasks that you can complete to earn money are all listed across the top on different tabs & they include the following:
View Content
Surveys
Watch Videos
Take Photos
Refer
Raffle
Other Offers
Offerwalls
Emails
Once Off
Below, I'll explain what each one involves in a little more detail.
View Content
Viewing content consists of viewing slideshow-style content, so you'll need to complete a captcha (a robot verification code) & then browse 10 slides of the slideshow to qualify to earn money. Upon qualifying, you'll be paid around $0.001 to $0.002.
Surveys
If you're willing to share your opinion & answer questions, you can earn money for doing so in the surveys section. Each survey can take up to 15 minutes & you'll earn a maximum of around $0.50 per survey (though typically, earnings per survey will be much lower).
Watch Videos
In this section, you'll be told to watch YouTube videos in order to earn money. The rules are that you must watch the entire video & you must also subscribe to the channel to earn. You'll be paid around $0.001 o $0.002 per video – but if you don't subscribe, it won't be counted.
Take Photos
Here, you can take photos and earn money – but generally, these pay very little amounts. Also, most photos are "before and after" style photos (such as hair growth before & after, etc) so the tasks can take a little while to be completed.
Refer
On top of completing tasks yourself & earning, you can also refer others & earn from their efforts too. TimeBucks actually sell referrals for $0.15 per referral, but you will need LOTS of referrals before you see any good earnings from this (potentially even thousands) so I personally wouldn't recommend buying any.
Raffle
In an attempt to maximize your earnings from TimeBucks you can purchase raffle tickets & hope that you win, but this is just gambling so it's certainly not something I recommend because as you likely know, you will rarely come out on top. The house always wins in the end.
Other Offers
The offers in this section tend to pay the most money but that's because they require signing up to various things (such as websites and free trials) which can result in you getting billed if you forget to cancel them.
Offerwalls
This section contains offers from other websites that TimeBucks is affiliated with & it simply consists of more surveys, etc. You earn even less money here though as TimeBucks are taking a percentage of the money earned from the sites before passing it down to you.
Emails
If you don't mind receiving emails from TimeBucks then you can head into this section & earn around $0.01 to $0.02 for every email that you receive (and read). Be aware, however, that there is a cap on how many you can receive per day & each email takes around 1 minute to read so again you are not going to earn a great deal.
Once Off
This section contains tasks that can only be completed once & it involves things such as liking TimeBucks on Facebook or subscribing to their YouTube channel. You can also create your own video promoting TimeBucks & upload it to YouTube for $3 which is one of the highest paying tasks, but this can only be done once.
How Much Can You Earn With TimeBucks?
So now that we know what type of things we can do to earn with TimeBucks, you're probably now wondering how much you can actually earn if you to decide to do them all.
Well, unfortunately… Not a lot!
Even if you were to work at TimeBucks efficiently & diligently every single day, you would still likely find yourself making less than a mere $1 per hour, which is not good at all.
And the worst part is that even if you decided to work long hours at TimeBucks (such as 10 hours or more per day), you still wouldn't be able to make much money because you would just run out of offers.
Take the image below for example: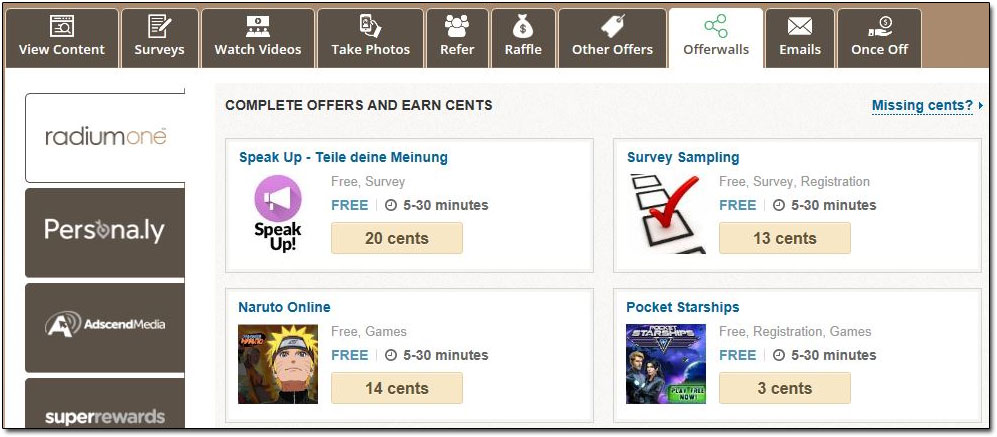 As you can see from the image, each offer can take up to 30 minutes, yet pays a maximum of 20 cents… And in total, on this particular day, there are only a mere 4 offers.
This means that even if you completed them all, you would only earn a grand total of 50 cents… And it could take a whopping 4 hours to earn that mere 50 cents.
Not good.
In my opinion, as I mentioned further up in this TimeBucks review, there are simply much better alternatives.
You Might Also Like:
The Costs
It is indeed free to join TimeBucks, however, you should be aware that some of the offers (mainly those listed on the "Other Offers") page could actually end up costing you money.
You see, some of them require you signing up to third party websites or "free trials" for services (such as Amazon Prime or Netflix) & if you forget to cancel them, you could end up getting billed.
Plus, I also believe that it's important to put a value on your time too… So even though it's technically "free", you'll still be giving up a LOT of your time for very little reward.
And, as far as I'm concerned, there's no need to.
With an alternative method, such as affiliate marketing, for example, you could leverage your time & ultimately find yourself earning a lot more than you would with a site like TimeBucks.
But alongside that, there are also other methods, too, which you can learn more about on my top picks page.
Is TimeBucks a Scam?
No, TimeBucks isn't a scam… It's a legitimate website that you can indeed earn money through by completing small, simple tasks… But it's not very rewarding, to say the least.
At TimeBucks you'll find yourself putting in a lot of effort (and time) and not earning a great deal in return.
As far as I'm concerned, you'd be extremely lucky to earn as much as $1 in a single hour, and you certainly wouldn't be able to do it consistently because there are only a limited number of offers.
So with that in mind, even though TimeBucks is legit, I still won't be recommending it to you because I simply believe that there are many better alternatives available that are more rewarding.
And if you're interested in an alternative then I'll tell you that one of my highest recommended ones is something known as affiliate marketing, which is actually the exact same way that I make most of my own money online.
Through affiliate marketing, you can earn money by promoting products or services for third party companies (such as Amazon) online, and there are no limits on the amount you can earn.
So if that's something you're interested in instead, you can learn more about it here.
But whatever you decide to do I just sincerely hope that you found this TimeBucks review useful & hopefully it's given you a good insight into what to expect & what you will likely earn.
And if you still happen to have any questions then don't hesitate to leave them below. As always, I'll do my best to respond back as quickly as I can.
A Better Alternative
The sad truth is that unfortunately most of the programs promising to help you make money online are scams. I can say that confidently after exposing over 500+ of them here on this blog.
But the good news is that even though most of them are indeed scams, there are actually some very good programs in amongst them - some programs that can truly help you to earn money.
And out of all of the legit programs I've seen, the one I would recommend the most to anybody looking to get started online is Commission Academy. In my own opinion, that's the best place to start.
At Commission Academy, you'll be provided with everything you need (including the training & tools) to begin earning real money by promoting products or services for companies like Amazon online.
The best part is that there's literally no limit on the amount you can earn with it & the process is pretty simple which means that it's absolutely perfect for people that don't have much experience.
Some wealthy affiliates even earn as much as 5-figures per month... Or more!

I mean don't get me wrong, that kind of money won't just fall into your lap without doing any work... But the harder you're willing to work at it, the more you stand to earn with it.
So if you're looking to get started but don't know which route you should go down or which program you should join (and don't want to waste money on bogus things that don't actually work), then I'd highly recommend checking out Commission Academy first. You can learn more about it here.