Top Tier Side Income is a program that claims it can allegedly see you generating a full-time income from home after just following a mere 21 steps. You're told that you'll get everything you need, including access to a personal business coach & that you can even make money if you have absolutely no experience.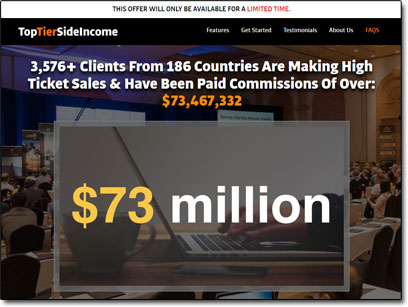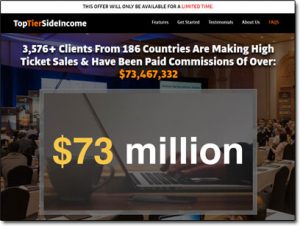 On top of all that you're led to believe that you can get started with the program for just a mere $7… This where it all starts to sound too good to be true, so what's the deal here?
Is it actually a legit program or is Top Tier Side Income a scam that'll part you with your cash?
Thankfully you've landed in the right place to find out because I've taken a closer look into this program & in this review, I'll be uncovering everything there is you need to know, including how it all really works & whether or not you can actually make money with it.
What Is Top Tier Side Income?   |   How Does Top Tier Side Income Work?   |   Is Top Tier Side Income a Scam?   |   A Better Alternative
What Is Top Tier Side Income?
The Top Tier Side Income program calls itself a business in a box & it leads you into believing that you can simply sign up, follow 21 steps & get a proven strategy to making money online.
But on top of just getting a proven strategy, they also claim to provide you with everything you need to start making money too, such as the websites, the sales pages & the so-called "high-ticket" products which will supposedly enable you to earn large commissions…
Like I say you really are led to believe that everything's been done-for-you & that the Top Tier Side Income provides you with a really easy way to start making online without experience or a great deal of work.
It all sounds great in theory but sadly the reality isn't as good.
The reason I say that is because I can tell you right from the off that the Top Tier Side Income system isn't actually a system at all – it's just a sales funnel that's been built with the intention of getting you to sign up to a business opportunity named MOBE.
MOBE might be a program you've already heard of, but if not then I'll point out that I've previously reviewed it & I chose not to recommend it. There were a few various reasons for that & I'll explain them here in this review after I show you how it all ties together…
How Does Top Tier Side Income Work?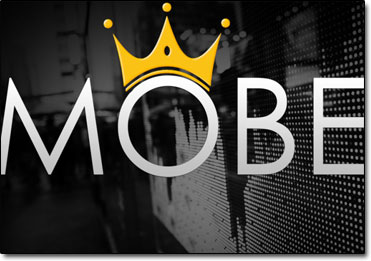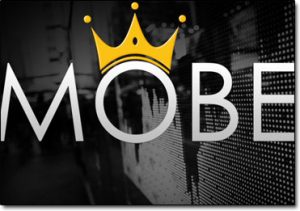 As I briefly touched on above the Top Tier Side Income program isn't actually a program in itself at all, it's just a sales page that's been put together with the sole intention of getting you to buy into a program named MOBE.
MOBE is what's known as a high-ticket network marketing opportunity. In short, this basically means they sell expensive products (products which teach people how to make money online) and they give people the opportunity to earn commissions by recruiting other people.
Whilst you can buy into MOBE by going directly through their website I've seen a lot of alternative sales websites that have been set up (like the Top Tier Side Income website). The reason for this is because as a member of MOBE you essentially make money by re-selling MOBE, so many of the members go on to create their own websites to get more people to sign up to it.
Some of the other sites I've seen promoting it include the My 7 Figure Dream Lifestyle program & the 8 Figure Dream Lifestyle system.
Essentially whilst these are all different sales pages saying different things they all lead you to the exact same place – the MOBE 21 step training program which can supposedly help you earn a substantial income online.
Anyway here's how it all works…
Basically the Top Tier Side Income website sells you on the dream of being able to earn lot's of money online from the comfort of your own home. Then, after handing over $7 you'll find that you've bought the MOBE 21 steps program.
This isn't the end of the world because the claims made on the sales page do still kinda hold true…
You do get the business coach as promised (kinda), you do get access to the 21 steps of training (kinda) and you do get access to high-ticket commissions (kinda)…
The reason I say "kinda" a few times above is that there's a slight catch which you'll begin to realize as you progress through the 21 steps.
The catch is that the $7 fee is merely just the start – after you go through the steps (which are locked until you chat with your "coach") you'll find out that this program quickly gets VERY expensive.
And when I say expensive I really mean it – in order to get the full potential out of this program you'll be required to spend thousands of dollars. Around $50,000 in total to be precise.
You'll also find that the "coach" who's there to help you through the steps is, in reality, just a salesperson that's been hired to get you to upgrade to the higher levels inside of the program.
I mean yeah sure I won't take all the credit away from them, many of the coaches are successful online marketers themselves & they do give out some good tips but honestly, it's clear that their main intention is to get you to upgrade.
And the reason for that is because that's how everybody is making money inside this program… From getting others to buy in & upgrade.
In short, this is a basic run-through of how the process works…
You get pitched the opportunity to make money & sign up to MOBE to find out more
You go through the 21 steps & get pushed into purchasing the higher levels as you progress through
You realize that the way you make money is by promoting MOBE to other people
You promote the MOBE sales pages (like Top Tier Side Income) & earn commissions when the people you refer upgrade
The people you refer then find out the way they make money is by doing exactly what you did
So basically it's a program that claims to teach you how to make money but the real way you make money with it is simply by selling the idea of making money onto other people.
I mean don't get me wrong they do provide some training in return for your money – but as far as I'm concerned the training has been priced with commissions in mind rather than based on the value it provides.
The other problem is that whilst they boast about how you'll be able to earn lot's of money by selling "top tier" (aka expensive) products, you'll find out that you have to personally own the products yourself before you can actually earn commissions by reselling them.
So, in my opinion, a lot of the people who are joining this program are purchasing the products not because they want them, but because they're simply scared that they'll lose out on commissions if they don't.
Anyway, the income disclaimer says it all…
"The average Active MOBE Consultant generates less than $700 per year in commissions."
Given the fact that the overall investment required to get the full potential out of this program is around $50k I personally don't feel like a return of $700 per year is a satisfactory level of income.
That's one of the main reasons I chose not to recommend it in my review! And note the fact that it states "Active MOBE Consultant" – most of the people make so little that they actually give up, but surprise surprise it doesn't incorporate them. Anyway…
You Might Also Like:
Is Top Tier Side Income a Scam?
Well, it's not a scam as such since there is actually the legitimate opportunity to make money through this program – but overall it's pretty misleading, requires a high level of investment & in my opinion just poses way too much risk.
I mean sure, you could make a lot of money by selling high priced products… It's not rocket science, but at the same time, it is not quite as easy as that… If it was then everybody would be doing it, and those "Active MOBE Consultants" would be making a heck of a lot more money.
The truth is that the whole thing is a lot harder than you're led to believe, and whilst you can make it a success with a LOT of work you're sadly only left to find this out after spending thousands of non-refundable dollars. That's why most people end up losing money to this program rather than making it.
In my opinion whilst it claims to be a program geared towards helping newbies get started, I kinda feel like it's a program that's more geared towards helping the gurus take advantage of newbies. There's just no way you should ever need such a large amount of money to get started online – especially not when there are awesome programs like Commission Academy which you can access for free.
So overall it's safe to say that I am not going to be recommending this opportunity to you. Whilst it is technically legit I just feel that it's the best place for you to get started since the likelihood is you will end up losing money rather than making it.
Anyway, hopefully, this review provided you with the insight you were looking for into this program & if you do happen to have any further comments or questions then don't hesitate to leave them below.
A Better Alternative
The sad truth is that unfortunately most of the programs promising to help you make money online are scams. I can say that confidently after exposing over 500+ of them here on this blog.
But the good news is that even though most of them are indeed scams, there are actually some very good programs in amongst them - some programs that can truly help you to earn money.
And out of all of the legit programs I've seen, the one I would recommend the most to anybody looking to get started online is Commission Academy. In my own opinion, that's the best place to start.
At Commission Academy, you'll be provided with everything you need (including the training & tools) to begin earning real money by promoting products or services for companies like Amazon online.
The best part is that there's literally no limit on the amount you can earn with it & the process is pretty simple which means that it's absolutely perfect for people that don't have much experience.
Some wealthy affiliates even earn as much as 5-figures per month... Or more!

I mean don't get me wrong, that kind of money won't just fall into your lap without doing any work... But the harder you're willing to work at it, the more you stand to earn with it.
So if you're looking to get started but don't know which route you should go down or which program you should join (and don't want to waste money on bogus things that don't actually work), then I'd highly recommend checking out Commission Academy first. You can learn more about it here.