The number of online money-making opportunities is continually growing with the introduction of new services and the availability of freelancing jobs. A lot of my followers have recently been asking what is Vicky Virtual? How does it really work? And how much can you earn by working through their platform?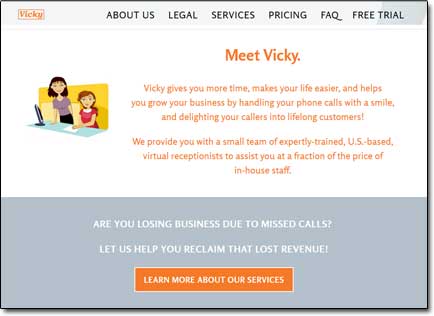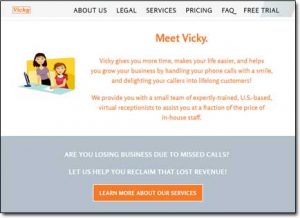 I've spent sufficient time to investigate the ins and outs before compiling this Vicky Virtual review so that it becomes easier for you to make a correct, fact-based, decision.
As always, it is highly important to determine if Vicky Virtual is a scam or if it really offers a legitimate opportunity. Even if it is a legitimate offer then the next important consideration is to determine whether or not you can earn the desired income in consideration of the required time and effort. So let's start by taking a look at just exactly what is Vicky Virtual & what you need to qualify.
What Is Vicky Virtual?   |   How Does Vicky Virtual Work?   |   How Much Can You Earn?   |   Is Vicky Virtual a Scam?   |   A Better Alternative
What Is Vicky Virtual?
Vicky Virtual is a decent multi-page website with the tagline "NO MORE MISSED BUSINESS CALLS". The company offers its virtual calling services all over the world to help businesses and individuals. As a manager of a business, it becomes hectic to attend frequent calls 24/7 so this service encourages the potential clients to let Vicky Virtual take the responsibility on their behalf. Scheduling and managing regular calls to retain and engage customers or clients has never been an easy task so in my opinion this is a pretty innovative idea.


What Do You Need To Qualify?
As per the claims on the website, you don't need prior experience to qualify as a candidate. The job is quite simple but the striking fact is that call services jobs require certain tone, accent, tolerance, and sales/negotiation skills. This is something I don't understand because there has to be some sort of skill-list for the applicants.
It actually makes me slightly sceptical about the whole thing as it sounds almost too good to be true…
What Makes Vicky Virtual Unique?
This platform is different from many other similar service providers. The good thing is that Vicky Virtual focuses on human-service rather than relying on machine dependent virtual calling. This is a defining factor which helps Vicky Virtual to attract hundreds of companies from all over the world.
The accepted reality is that technology – with all its positives – doesn't match the charm of human characteristics. This is the main reason why Vicky Virtual manages to attract a lot of clients which ultimately leads to requirement for more and more callers.
What you need as a caller, virtual assistant, or customer care representative, is the enthusiasm and willingness to take the responsibility. You need to make every caller realize that you are truly interested in listening to him/her and eager to solve the problem/issue under discussion. In my view, the best candidate is the one who has good communication skills and better tolerance level.
How Does Vicky Virtual Work?
Obviously, the main focus is on benefiting from this potential opportunity to earn online income from home. You need to have the ability to take longer calls because most of the clients/callers require details and often ask for repetitions. You've also got to have a great stamina so that the callers are fully satisfied.
Most of the time you'll be responding to calls about issues in certain products/services so like I mentioned previously you'll need to have a good tolerance level too.
One thing that is important to remember is that you don't simply become a virtual assistant immediately after signing up to the platform. Though they stress the fact that no prior experience is required, you'll still have to go through a simple process during which the recruiters will analyse your tone, communication skills, and ability to satisfy the person on the other end.
Scheduling
Though this is a job from home and you only have to sit in front of the computer with good internet speed it doesn't mean that you are completely free in terms of scheduling. You need to show punctuality and stick to the suggested/selected schedule.
Consistency is important because, without consistency and punctuality, you'll not be able to perform well. You have to remain active during the daytime (United States) because the company mainly operates in the US. This is why the job requires you to follow a pre-defined schedule. It means that you don't have the freedom to set your preferred schedule.
The BIG Limitation
Here comes the biggest drawback of Vicky Virtual earning opportunity! This job is only for the US citizens. So, it limits the scope of the offer. Secondly, in addition to being a US citizen, you must know the basics of using different software because Vicky Virtual representatives will provide you with the software and they will also serve you with the basic training. Lastly, you need to possess a humble and tolerant nature. A person with a harsh tone and lack of tolerance will always struggle to do well as a virtual assistant or customer service representative.
For alternatives you can click here to see some non-phone jobs that you can work from home.
How Much Can You Earn With Vicky Virtual?
As a beginner, you can expect a flat rate of US $10/hr and it rises in line with your performance and experience. There are individuals who performed well for a couple of weeks and then reached US $15/hr which is admittedly a fair amount of pay for this line of work – especially considering you get the added luxury of working from home.
Is Vicky Virtual a Scam?
Absolutely not. Vicky Virtual is a completely legitimate and reliable platform currently serving hundreds of companies. If you live in the United States and want to be able to earn a consistent income from your home then this could be a great opportunity for you.
You only need to have good communication skills in addition to the hardware requirement (just a computer/laptop and high-speed internet) and basic knowledge of using software.
The pay is also good and it has the potential to improve over time, depending on your performance and growing experience, so overall Vicky Virtual will be a thumbs up from me as it provides a great way to earn from home.
The only issue though in my opinion is from the flexibility perspective. If you're wanting a work from home job that you can manage around other stuff then Vicky Virtual probably won't be so great as you're pushed towards working specific times, just like you would be at a typical job.
The good news though is that if you are looking for something more flexible then there are plenty of alternatives & one of which I'd highly recommend is something called affiliate marketing which you can learn more about through Commission Academy (for free).
But overall I hope that my review of Vicky Virtual here has given you a better insight into how it all works & hopefully it's helped you decide if it's really right for you. If you do still have any further questions though then don't hesitate to leave them below & I'll get back to you as soon as possible.
A Better Alternative
The sad truth is that unfortunately most of the programs promising to help you make money online are scams. I can say that confidently after exposing over 500+ of them here on this blog.
But the good news is that even though most of them are indeed scams, there are actually some very good programs in amongst them - some programs that can truly help you to earn money.
And out of all of the legit programs I've seen, the one I would recommend the most to anybody looking to get started online is Commission Academy. In my own opinion, that's the best place to start.
At Commission Academy, you'll be provided with everything you need (including the training & tools) to begin earning real money by promoting products or services for companies like Amazon online.
The best part is that there's literally no limit on the amount you can earn with it & the process is pretty simple which means that it's absolutely perfect for people that don't have much experience.
Some wealthy affiliates even earn as much as 5-figures per month... Or more!

I mean don't get me wrong, that kind of money won't just fall into your lap without doing any work... But the harder you're willing to work at it, the more you stand to earn with it.
So if you're looking to get started but don't know which route you should go down or which program you should join (and don't want to waste money on bogus things that don't actually work), then I'd highly recommend checking out Commission Academy first. You can learn more about it here.