If you spend any amount of time on social media it's likely you'll have come across someone holding up a blue You Should Be Here sign, but what is the You Should Be Here sign all about?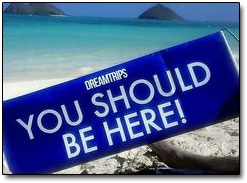 I myself was curious so I did the digging & in this blog post, I'm going to be revealing everything you need to know about this mysterious blue sign.
I'll also be outlining why you might not particularly want to rush out to get one – and why you might also want to inform the friends that you've seen waving them around that they're potentially involved in a scam.
So without further ado let's dive right in & I'll give you the scoop on this peculiar sign…
What Does The You Should Be Here Sign Mean?   |   The You Should Be Here Company   |   The Big Problem   |   Is You Should Be Here a Scam?   |   A Better Alternative
The You Should Be Here Sign Meaning…
The You Should Be Here sign is what it is, it's a sign that reads "You Should Be Here" and it's essentially designed as a way for people to rub it in your face that they're on holiday and you're not… But there's more to it than that…
It's actually a very clever marketing ploy of a company named Dreamtrips & it's been designed as a way for people to promote their "business" by arousing your curiosity… And since you're here reading this then chances are that it's probably done a pretty good job of doing just that.
Basically, in short, the concept is that people join a network marketing company called Dreamtrips (also known as World Ventures) which gives them the promise of riches if they can promote their travel program & get other people to sign up to do the exact same thing.
And what easier way to promote a travel opportunity than to go travelling & then hold up a big blue "You Should Be Here" sign to arouse people's curiosity and get them asking questions?
(there's some sarcasm in that sentence because although it seems easy it's actually a pretty expensive form of advertising since each time you want to promote the opportunity you're going to have to book another holiday!)
But yeah, the conversation is supposed to go like this…
"Hey I seen from your pics you travel a lot, what's that blue You Should Be Here sign all about?"
"Oh you know, I joined this company & I'm making loads of money through them so I go on loads of trips & all I need to do to make money is hold that sign up" (secret reality is that they're probably not making a penny & that they're paying for all the trips out of their own pocket & holding the sign up to desperately try & earn some money back through this "golden" opportunity)
"Wow sounds amazing where do I sign up??" (secret reality is that nobody ever says this ever)
Then if the conversation goes to plan, that person signs up – the person holding the You Should Be Here sign (the one that referred them) makes a little bit of money by suckering them into the program & now this new sign-up will find out that they have to go sucker other people into the opportunity in the exact same manner.
So whilst holding up a "You Should Be Here Sign" might look a little glorious in your photos, sadly the reality is that it absolutely isn't. All those people holding up those signs looking rich & well-travelled are behind the scenes likely going broke trying to chase a dream.
Does anybody make money through the opportunity? Yes, they do – it would be wrong of me to say that nobody makes money. However just understand that a HUGE amount of people that join do not make a penny, and many of them actually spend more than they ever make back.
If you're looking for a good way to lose money then sure it's a pretty good opportunity but otherwise there are better ways to make money.
Anyway, that brings me onto the opportunity…
The You Should Be Here Company
At the start of this post, I briefly mentioned that the whole You Should Be Here sign thing is part of a "business" opportunity named DreamTrips (which is alternatively known as World Ventures) and I use the term "business" loosely because ultimately you are not getting your own business here, you are just getting the ability to promote some travel "scheme".
I also use the term promote loosely too because "sucker other people into an overly priced program" might be a better way of putting it.
But anyway, you might be interested in how it all actually works & how much it costs right? Well if not you're about to hear about it anyway LOL. So if somebody has recommended the You Should Be Here opportunity to you this is what will be going on…
After hitting somebody up about what the "You Should Be Here" sign is all about they'll send you a link to a web page where you can "find out more". Ultimately this page is a sales page & you'll find out that there are 3 levels of membership inside the company which are:
DreamTrips Membership – $29.99 per month
DreamTrips Gold Membership – $249.98 initial membership fee + $54.99 per month
DreamTrips Platinum Membership – $399.99 initial membership fee + $99.99 per month.
Ultimately these memberships give you discounts on various things related to travel, such as hotels, flight bookings & travel insurance etc…
You may or may not want those discounts but if you wish to participate in the Dreamtrips opportunity then you will no choice but to purchase them, and you can only earn commissions on the level up to which you are personally purchased.
So if you buy the Dreamtrips basic membership for $29.99 you will only be able to earn commissions on that particular package even if you refer somebody who then goes on to upgrade to the Platinum Membership package. It's what's known as a "pay-to-play" program, something I really don't like.
On top of that, you can't just join willy-nilly, instead, you'll be forced to find a sponsor (somebody who is already involved in the opportunity to sign you up).
You Might Also Like:
Now Here's The Real Kicker…
You've probably already noticed but the Dreamtrips is VERY expensive. Personally I'm not a big fan of paying money in order to access "savings", in my opinion, it just doesn't make sense – however, there are a few small examples where it could possibly work in your favour.
In this particular instance with Dreamtrips I just feel that it really cannot work in your favour, not unless you were going on an insane amount of trips per year & even then I imagine the savings (compared to the cost) would likely be minimal.
It seems to me that the only "real" way to get cheaper travel through this program is to try & get as many people to join as you can so that you can earn commissions at their expense (which is likely why you see so many people holding up the You Should Be Here signs).
If the savings opportunity was really as great as they make it out to be then I'm pretty sure I'd have heard about it from people who are NOT promoting the opportunity – but guess what? I haven't.
Literally the only people I've heard about this company from are people that are involved with the business opportunity & are promoting it, and it's clear to see what their interest is in getting you to use it.
So yeah, it may "look" okay but in reality, the likelihood is that as a member of Dreamtrips unless you're super heavily promoting the program you're probably just going to be spending more money on memberships than you'll ever save yourself on travel.
My Verdict – Is You Should Be Here a Scam?
Well, the company is not a scam, it is technically legit – but in my opinion, it is pretty borderline… It's certainly not something I would personally want to be involved in & it's certainly not something I would recommend to anyone either.
Basically Dreamtrips sells travel savings packages but the price of these packages is so astronomical that you will likely end up spending more money on the memberships than you will ever earn back in savings.
It's clear to me that this program has been designed with the business opportunity in mind, so what's really going on here is that people are just signing up to it then promoting it as "the best travel savings ever" in an attempt to sucker people out of their hard-earned cash based on false promises.
In reality, the majority of these people holding up these "You Should Be Here" signs will not be making any money, in fact, they'll likely be doing the opposite – they're probably sending themselves broke by pouring insane amounts of money into the Dreamtrips program in the hope of achieving that the dream they've been sold in on… Sadly, in my opinion, it's just a pipedream.
If you are travelling a LOT, and I mean a lot then it is possible you could save money through Dreamtrips, but for the average person, it's unlikely… That's my final say on the matter.
Overall despite being technically legit, the company will be getting a thumbs down from me because it'll just likely see you spending more money than you'll ever earn back.
If you really want to travel & make money there are many more legitimate opportunities that don't require any crazy upfront investment (such as just starting a travel blog for example). You don't need to sign yourself up to a hyped-up opportunity like World Ventures.
A Better Alternative
The sad truth is that unfortunately most of the programs promising to help you make money online are scams. I can say that confidently after exposing over 500+ of them here on this blog.
But the good news is that even though most of them are indeed scams, there are actually some very good programs in amongst them - some programs that can truly help you to earn money.
And out of all of the legit programs I've seen, the one I would recommend the most to anybody looking to get started online is Commission Academy. In my own opinion, that's the best place to start.
At Commission Academy, you'll be provided with everything you need (including the training & tools) to begin earning real money by promoting products or services for companies like Amazon online.
The best part is that there's literally no limit on the amount you can earn with it & the process is pretty simple which means that it's absolutely perfect for people that don't have much experience.
Some wealthy affiliates even earn as much as 5-figures per month... Or more!

I mean don't get me wrong, that kind of money won't just fall into your lap without doing any work... But the harder you're willing to work at it, the more you stand to earn with it.
So if you're looking to get started but don't know which route you should go down or which program you should join (and don't want to waste money on bogus things that don't actually work), then I'd highly recommend checking out Commission Academy first. You can learn more about it here.