Your New Work At Home Career is a website that's just recently launched promising to provide its members with an amazing opportunity to earn hundreds of dollars per day online even if they have absolutely no experience whatsoever.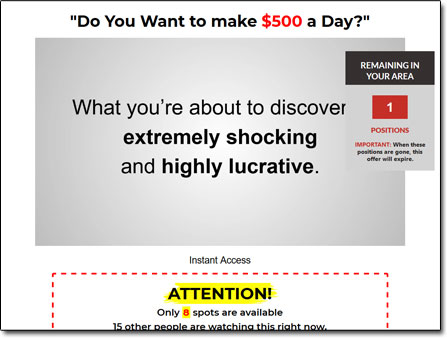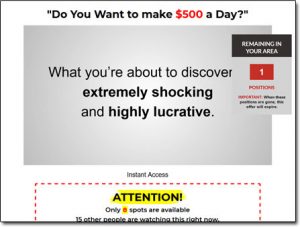 You're led to believe that the method (which isn't really explained in the video) is highly lucrative & that spaces inside of the system are extremely limited…
But is it really legit or is Your New Work At Home Career just another make-money scam that you need to avoid?
Well at a glance it definitely looks like the latter – however you can rest assured that you've landed in the right place to find out everything you need to know as I've taken a closer look into it & in this honest review I'll be uncovering the truth about how it all really works (and whether or not you can really make any money with it).
What Is Your New Work At Home Career?   |   How Does It Work?   |   Something Very Worrying About It   |   Is Your New Work At Home Career a Scam?   |   A Better Alternative
What Is Your New Work At Home Career?
So as I ever so briefly touched on above, the Your New At Home Career system (alternatively known as the YNWAHC system) is a system that promises it can provide you with a super-easy way to earn over $500+ per day online even if you've never made a single penny online before.
The creator of the whole thing who names himself in the video as Greg Thomas promises that literally anybody can make money through the system, but he stresses that spaces are extremely limited & that as a result, you need to "act fast"…
But why does Greg want to rush us in so quickly? What's in it for him? Is it a scam?
No doubt those are all the questions running through your mind but at the same time no doubt you're also worried about potentially missing out on a lucrative opportunity… So the first thing I want to tell you is that in reality, the spaces are NOT limited like Greg claims.
In fact, the whole thing about the spaces being limited is just a big fat lie. You see when you first arrive on the page it states that only 12 positions are left available & this quickly counts down to "only 1 position available"… However, if you refresh the page this counter resets back to "12 positions available"… It's a fake!

And that type of tactic is a tactic commonly associated with a get-rich-quick scam.
But there's another big problem too – which is the fact that the video on the sales page for the Your New Work At Home Career system doesn't really explain a single thing about how it's all supposed to work.
Instead, it just hypes you up about this so-called "amazing method" Greg is going to be giving you access to & you're just pushed into handing over your money to find out more, which as you guessed is another common trick of a get-rich-quick scam.
So it's safe to say that from the off the YNWAHC system does NOT look promising at all, but how does it all really work? Let's find out…
How Does "Your New Work At Home Career" Work?
Well as I just mentioned if you've watched the video on the sales page for the Your New Work At Home Career system then you'll know yourself that it barely explains what the whole thing actually involves & how you'll be making money with it…
Instead, they just want you to hand over $47 to find out more, but at the end of the day $47 is still a good chunk of money & you understandably won't want to spend that on just a whim, not knowing whether it really will work or not…
Thankfully though I was able to figure out exactly how it works – or should I say "what you'll be getting access to"…
You see the truth is there isn't actually any "system" at all like Greg Thomas wants you to believe there is. Instead what you'll actually be getting access to in return for your $47 is an eBook… Yes, an eBook.
That's all!
And the eBook they're selling through the site claims it will teach you how to start a profitable dropshipping business from home – now I'm not gonna lie, dropshipping is a legitimate business – but it's NOT a sure-fire way to make $500 per day.

So what is dropshipping? Well basically it's where you make arrangements with suppliers to sell their products online – but instead of buying them upfront & holding the stock, you list the products for sale & then pay the suppliers to ship them directly to the customer.
There are 2 obvious advantages to this – firstly you don't need to hold stock, and secondly, you only buy products after you've sold them. However, there are also some massive disadvantages too.
One of those disadvantages is that if the customer ends up requesting a refund, you could end up of pocket – and the second disadvantage is that you have to work very hard managing sales & arrange shipments from the suppliers.
Plus on top of that in order to actually make money with dropshipping you have to effectively market your online store – because if you don't get any visitors to it then you won't make any sales. This also takes time, work & money too.
So basically whereas the Your New Work At Home Career website sells you on the idea of being able to easily earn $500+ per day online, that's not actually the reality of what you're getting provided with.
Instead, you're just getting a basic eBook which touches on the idea of being able to start your own dropshipping from scratch (which may never even turn a profit at all).
And to be honest, due to the scammy nature of the sales page I wouldn't be surprised if the whole thing was just a "doorway" which will later push you into something called My Ecom Club, which is a dodgy program to say the least.
The reason I say that is because My Ecom Club also teaches dropshipping & I've seen a lot of scammy systems (similar to the Your New Work At Home Career system) pushing people into it – just like the Click N Flip scam that I recently exposed.
If it does indeed push you through to that system then it is NOT good news as that system charges its members thousands of dollars as highlighted by the image below: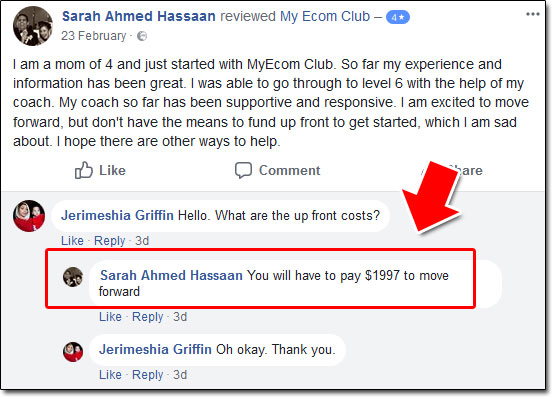 It may be "legit" in terms of providing training, but can it really just those huge costs? I personally don't think so – especially when you can get started for free elsewhere, like at Commission Academy for example.
You Might Also Like:
Something Very Worrying About This Program…
Okay so the bold claims & hyped-up sales pitches (along with the "rush tactics") that are being used by this program to push people into purchasing are already pretty worrying on their own, but there is something else that's even more worrying…
The even more worrying thing is the fact that the creators have used FAKE testimonials on the sales page to pretend that people are making money from it when in actual fact they're just actors.
Take a look at the screenshot below – it's a screenshot of some of the people who are shown on the Your New Work At Home Career website: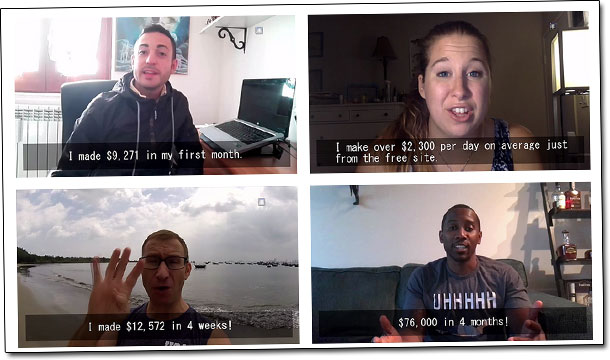 Now take a look at this screenshot below – it's a screenshot of some of the actors from the Fiverr website… Recognize any of them?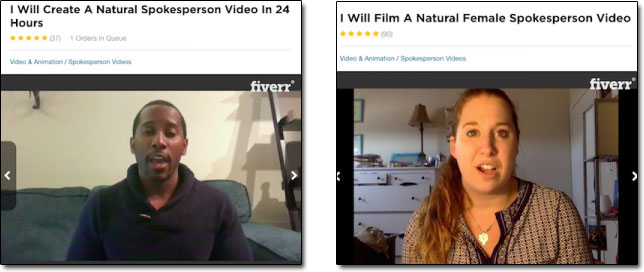 That doesn't seem good at all does it? Why on earth would the creator of a legitimate make-money system need to hire paid actors to pretend that they were making money from the system?
Seems a bit fishy to me! Which brings me onto…
Is Your New Work At Home Career a Scam?
Well, this is where we have to take a realistic outlook, because I mean sure, in return for your money they do indeed provide you with an eBook which teaches you the basics about dropshipping… But will it enable you to earn $500+ per day as easily as they claim? As far as I'm concerned no it won't.
In fact, in my opinion, it's very misleading, and so whilst you do indeed actually get something for your money I personally believe it's a scam because you are essentially kind of "tricked" into buying it… And you will likely find yourself disappointed with what you actually receive due to all of the hype they put out about it.
I believe that the way it has been put together shows that the creator is more interested in earning himself money than he is at actually helping the members of his training course to earn money & so for that reason I won't be recommending it to you.
Plus like I mentioned earlier in this review you can actually get training legitimate & proven elsewhere for free, like at Wealthy Affiliate, so you don't need to pay $47 for an eBook that probably won't even help you make money.
So like I say I definitely won't be recommending the Your New Work At Home Career program but hopefully, you can see why after reading my review here. If you do happen to have any further questions or comments about it though then don't hesitate to leave them below & I'll get back to you as soon as possible.
A Better Alternative
The sad truth is that unfortunately most of the programs promising to help you make money online are scams. I can say that confidently after exposing over 500+ of them here on this blog.
But the good news is that even though most of them are indeed scams, there are actually some very good programs in amongst them - some programs that can truly help you to earn money.
And out of all of the legit programs I've seen, the one I would recommend the most to anybody looking to get started online is Commission Academy. In my own opinion, that's the best place to start.
At Commission Academy, you'll be provided with everything you need (including the training & tools) to begin earning real money by promoting products or services for companies like Amazon online.
The best part is that there's literally no limit on the amount you can earn with it & the process is pretty simple which means that it's absolutely perfect for people that don't have much experience.
Some wealthy affiliates even earn as much as 5-figures per month... Or more!


I mean don't get me wrong, that kind of money won't just fall into your lap without doing any work... But the harder you're willing to work at it, the more you stand to earn with it.
So if you're looking to get started but don't know which route you should go down or which program you should join (and don't want to waste money on bogus things that don't actually work), then I'd highly recommend checking out Commission Academy first. You can learn more about it here.