1DollarAdz.com is what's known as a PTC website, which stands for "Pay-To-Click" – however unlike many of the other PTC websites which typically only pay a few cents per click 1DollarAdz claims to pay a whopping $1 per click instead.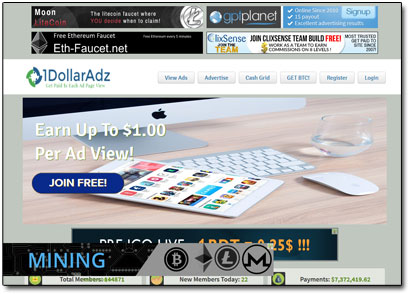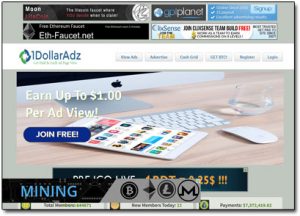 And in my opinion that's a pretty bold claim because $1 is a LOT of money just for clicking your mouse (and it's unheard of for a legit PTC site to pay that much), so what's the deal here?
Is it actually legit or is 1DollarAdz.com a scam?
Thankfully you've landed in the right place to find out because I've done the digging & in this 1DollarAdz review I'm going to be uncovering everything there is that you need know. So without further ado let's dive right in.
What Is 1DollarAdz?   |   How Does 1DollarAdz Work?   |   Is 1DollarAdz a Scam?   |   A Better Alternative
What Is 1DollarAdz.com?
As I briefly touched on above 1DollarAdz is what's known as a Pay-To-Click site, or PTC for short – this as the name suggests basically means that you can sign up & start earning money by clicking on advertisements…
Well, it's not quite as simple as that – instead of merely just "clicking" on the ads to earn money you actually have to click on them & then view them for a set period of time. Usually this is around 20 to 40 seconds but ultimately I think you'll agree it's still a pretty easy way to make money.
And that's what's a little worrying here – the fact that 1DollarAdz claim to be paying a whopping $1 per click. Honestly in terms of legitimate PTC sites that kind of money is just completely unheard of & usually when these sites boast high amounts like this it's often the sign of a scam.
I've exposed several similar programs before which also boasted high amounts such as Two Dollar Click & even a program which was boasting up to seven dollars per click (named Seven Dollar Click).
At a glance these programs all seemed legit, just like 1DollarAdz does, but when it came to withdrawal time they basically weren't paying. Instead they were just getting people to click so that the owners could make themselves money, then when people found out it was a scam they just changed the name & relaunched it again…
I suspect that's probably what's also happening here at 1DollarAdz, but let's take a look to find out for sure…
How Does 1DollarAdz.com Work?
Well the process inside of 1DollarAdz works pretty much just like any other PTC site – however after signing up & taking a closer I can tell you that 1DollarAdz is indeed a scam & that they don't really pay out the promised amounts.
I will show you exactly how I figured that out but firstly let me explain how the process works so that you can get a basic understanding (and then you will see why they cannot possibly pay you what they promise).
OK so basically as a "clicker" you will sign up to 1DollarAdz & for free & then you will be presented with a whole bunch of ads to click on in your dashboard. If you click on these it would appear that you are earning $1 for every ad you view, but ultimately you are not…
The money that you are being paid is supposedly coming from advertisers who are paying to place the adverts on the site, but this is where the issue arises. If you look on the "advertiser" page on their website you will see that they are selling 100 paid-to-click ad credits for just $1.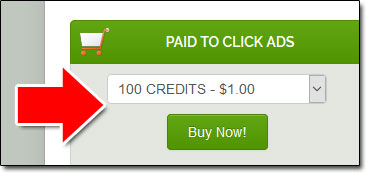 This means that the advertisers ad will receive 100 clicks, and they are charging just a dollar for this – yet they claim to be paying their members $1 for every click. The math just simply doesn't add up here.
I can also tell you that advertisers would never pay $1 per click for this type of advertising because honestly for advertisers this method of advertising is rubbish. Essentially they know that almost 99% of the people clicking on their ads through these PTC websites will not be interested in their product or service & that they are just clicking to make themselves some money.
These types of adverts see very low success rates for advertisers & that's why generally PTC sites pay so low. Usually they don't even pay a cent per click because the ads have to be sold so cheap for advertisers to even bother with them.
If an advertiser had a budget of $1 per click then they would promote their ads on proper channels like Google Adwords, Bing Ads or YouTube… That way they could get actual targeted customers rather than just people who are being paid to view their ads.
Hopefully that all makes sense!
But yeah, with all that being said hopefully you can see why it would be unrealistic for 1DollarAdz to actually pay $1 per click, and hopefully you can see how based on the prices they are charging it is actually impossible…
So with that being said I think we can pretty much wrap up this review.
Is 1DollarAdz.com a Scam?
Yes, as far as I'm concerned it is a scam because the amount of money they're offering per click is just outrageous for this type of website & also based on the prices they are selling advertising space to advertisers it's just impossible for them to pay out such high amounts.
That's also the reason they have such a high withdrawal limit, because like other PTC scams they have just set up their website so that they can earn themselves money at your expense.
Unless you find this review before joining (which many people won't) you probably won't realize it's a scam. So basically they are just hoping people will keep clicking on ads until they reach their withdrawal limit (which will mean they'll need to click on hundreds) and then when they do they'll find out that it's a scam the hard way because their withdrawal request will just get ignored.
So basically although there is no cost to join this program as a "clicker" essentially you are just going to be wasting your time because at the end of it you are not going to be getting anything from it… It's all just a con.
There are many other negative reviews about it online too so I would advise that you just totally avoid it. Whilst I don't really recommend PTC sites anyway because they pay so low, if that's what you are really interested in then there are a few legitimate ones such as Wad Ojooo & DonkeyMails.
But as I say I would personally avoid PTC sites altogether because there are many better & higher-paying alternatives available instead.
Anyway on that note hopefully this review provided you with the insight you were looking for into this program & saved you from wasting your time. If you have any further questions or comments don't hesitate to leave them below.
A Better Alternative
The sad truth is that unfortunately most of the programs promising to help you make money online are scams. I can say that confidently after exposing over 500+ of them here on this blog.
But the good news is that even though most of them are indeed scams, there are actually some very good programs in amongst them - some programs that can truly help you to earn money.
And out of all of the legit programs I've seen, the one I would recommend the most to anybody looking to get started online is Commission Academy. In my own opinion, that's the best place to start.
At Commission Academy, you'll be provided with everything you need (including the training & tools) to begin earning real money by promoting products or services for companies like Amazon online.
The best part is that there's literally no limit on the amount you can earn with it & the process is pretty simple which means that it's absolutely perfect for people that don't have much experience.
Some wealthy affiliates even earn as much as 5-figures per month... Or more!

I mean don't get me wrong, that kind of money won't just fall into your lap without doing any work... But the harder you're willing to work at it, the more you stand to earn with it.
So if you're looking to get started but don't know which route you should go down or which program you should join (and don't want to waste money on bogus things that don't actually work), then I'd highly recommend checking out Commission Academy first. You can learn more about it here.