Seven Dollar Click promises that you'll be paid $7 for every single advertisement you click on via their website & they even claim that their make-money opportunity is completely free to join, but it all sounds a bit too good to be true don't you think?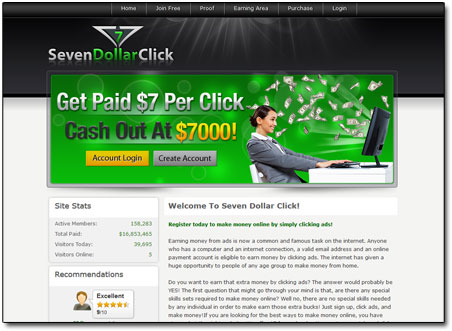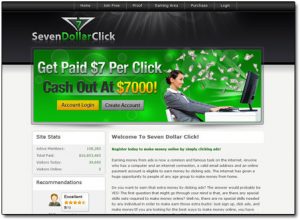 I mean at $7 per click that could see you earning $700 per day by clicking your mouse just 1 hundred times, an easy task I think you'll agree – so what's the deal?
Is Seven Dollar Click a scam, or is it a legit website?
Sadly as you've probably already suspected yourself it is indeed a big fat scam, but if you've already signed up to it don't panic because in this Seven Dollar Click review I'm going to be uncovering exactly how it works & what you need to do if you've already signed up to avoid getting scammed.
What Is Seven Dollar Click?   |   How Does Seven Dollar Click Work?   |   Payment Proof   |   Is Seven Dollar Click a Scam?   |   A Better Alternative
What Is Seven Dollar Click?
Seven Dollar Click poses as a legitimate PTC website (which stands for Paid-To-Click website). As you can probably guess this is basically a type of website that pays you an amount in return for clicking on something.
Although it sounds like a stupidly simple task there are actually legitimate websites that will pay you for clicking on things, however I can confidently tell you that Seven Dollar Click is not one of them.
The reason I can say that say confidently is because firstly legitimate PTC websites pay very little in return for clicks (usually not even a cent per click) so the claim of paying a whopping $7 per click is the tell-tale sign of something fishy. There is no way a website would pay such a large amount in return for such a simple task because there would be millions of people worldwide who are in desperate situations and willing to do it for much less money (hence why typically these types of websites pay very, very little).
Secondly, the other reason is that this is just a re-hashed version of a scam that I've seen many times before. This exact same scam has previously launched under the names Two Dollar Click, Three Dollar Click & even Four Dollar Click. Basically when people like myself expose these scams they just change their website around a little bit & relaunch under a different name in the hope that they can continue conning more people out of their money… Well, I'm doing my best to put a stop to it hence my review of Seven Dollar Click here today, the latest in a long line of PTC scams.
How Does Seven Dollar Click Work?
What I will do here is firstly explain how a legitimate PTC website would work & then I will show you how Seven Dollar Click is supposed to work (but doesn't & instead is just designed to scam you).
Okay so basically a legitimate PTC website will pay you for clicking on advertisements. They will sell advertising slots to advertisers & they will tell the advertisers that the ads are what are known as "incentivized ads" which basically means that they are indeed paying you for clicking on them.
The reason I mention that is because typically advertisers do not pay a great deal for incentivized ads because they know that the majority of the people clicking on their ads are not really interested in their product or service, they're just clicking on it because they're getting paid to do so. It therefore doesn't make a great deal of sense for advertisers to pay a lot of money for this because they're unlikely to get a good return on it.
Couple that with the fact that clicking on ads is very easy & that's why PTC sites pay very, very little. So little in fact that they are not at all worthwhile unless you really are in the most desperate of situations (there are many better ways to make money online).
But yeah, advertisers buy advertising slots, the PTC site takes a cut for themselves for handling the service & then they pass the rest of the money down to the people that are clicking on the ads. That's how a legitimate PTC site operates.
Here's Why Seven Dollar Click Is Different…
Seven Dollar Click claims to do the same thing, but they boast exaggerated amounts of $7 per click. The reason for this is because it is a non-paying website & it is purely designed to make the creator wealthy at your expense.
So basically yes, advertisers are paying to have adverts on this site but Seven Dollar Click will not be passing any of that money down to you, they are just going to keep it for themselves. Sadly you won't be able to find this out until you make a withdrawal & that's the reason they've set their withdrawal limit at a whopping $7,000.
Such a high withdrawal limit is unheard of with this type of PTC website – usually the withdrawal limit is just a dollar because they pay so low, in fact the highest withdrawal limit I've seen on a PTC website is just $10. Setting a withdrawal limit of $7,000 is crazy & it immediately shows me there is something fishy going on.
You Might Also Like:
Seven Dollar Click Payment Proof
On the Seven Dollar Click website, they have a "Proof" tab which apparently shows all the payments that have been made to users. This might make you feel like the website is legit but sadly these are faked – if you do a little bit more due diligence (or look at the images below) you will quickly see that members are NOT being paid…
From the bottom of the Seven Dollar Click website I found a link to their Twitter page & here is where the true story was told. I found many angry members who were writing tweets about not being paid. Take a look: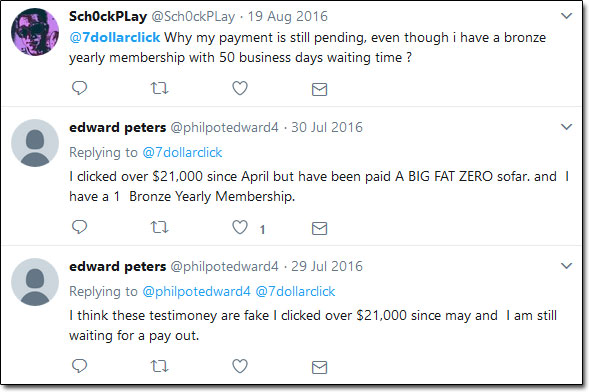 Is Seven Dollar Click a Scam?
I can say confidently that Seven Dollar Click is 100% a scam & hopefully after reading this review you can see that now too. If you just run a search for @7dollarclick on Twitter you will see literally hundreds of complaints from people who are angry at the fact that they haven't been paid.
And I don't blame them for being angry because whilst Seven Dollar Click is free to join, in order to request a withdrawal you must firstly upgrade to a paid membership which costs a whopping $79.99! So not only have these people been scammed out of their time they've been scammed out of money too.
So I want to warn you that you should definitely avoid this company, do not fall for their lies. The only person getting rich as a result of Seven Dollar Click is the creator who has set it up to make money at your expense.
Also if you have already signed up prior to reading this review then it's important that you do not open any of the emails that might be sent to you from them because it's likely that they will push you into even more scams. The creators of these systems have been known to try & push people into high-ticket programs like Bitcoins Wealth Club & AWOL Academy so be very careful.
If you really want to make money legitimately then you need to avoid this kind of junk. To be honest even the legitimate PTC sites aren't worth your time – to make good money online you will need a program like Commission Academy. That is where you will learn how you can build a real income online without the scams.
Anyway, I hope my review helped you & if you were nearly caught out by this scam then I urge you to leave a comment below to share your experience. I'm sure many people would like to hear about it.
A Better Alternative
The sad truth is that unfortunately most of the programs promising to help you make money online are scams. I can say that confidently after exposing over 500+ of them here on this blog.
But the good news is that even though most of them are indeed scams, there are actually some very good programs in amongst them - some programs that can truly help you to earn money.
And out of all of the legit programs I've seen, the one I would recommend the most to anybody looking to get started online is Commission Academy. In my own opinion, that's the best place to start.
At Commission Academy, you'll be provided with everything you need (including the training & tools) to begin earning real money by promoting products or services for companies like Amazon online.
The best part is that there's literally no limit on the amount you can earn with it & the process is pretty simple which means that it's absolutely perfect for people that don't have much experience.
Some wealthy affiliates even earn as much as 5-figures per month... Or more!


I mean don't get me wrong, that kind of money won't just fall into your lap without doing any work... But the harder you're willing to work at it, the more you stand to earn with it.
So if you're looking to get started but don't know which route you should go down or which program you should join (and don't want to waste money on bogus things that don't actually work), then I'd highly recommend checking out Commission Academy first. You can learn more about it here.