The 25 Dollar 1 Up system is a so-called franchise style business system that claims it can completely change your life by enabling you to build an easy & almost automated income online, even if you have absolutely no prior experience.
You're led to believe that everything is pretty much already done-for-you & that you can start making money right away as soon as you sign up… But is it really legit, or is 25 Dollar 1 Up a scam that'll just end up costing you money rather than helping you make it?
Well you can rest assured that you've landed in exactly the right place to find out as I've took a closer look into it & in this review I'll be uncovering the truth about how it all really works as well as whether or not you can actually make money with it. 🙂
What Exactly Is The 25 Dollar 1 Up System?
The 25 Dollar 1 Up system is brand new, but it's actually extremely similar to something that was launched a couple of years ago (which is actually still around to this day) named the Easy 1 Up system… It even shares a similar name.
It's possible that they've actually been put together by the same person because whilst the Easy 1 Up system was extremely popular when it first launched, it's popularity quickly died down & now hardly anybody talks it about it all…
Maybe the creator of that system has set this one up in an attempt to bring back that popularity & make some more money…
Or then again maybe the creator of the 25 Dollar 1 Up system is a different person & maybe he (or she) has built it after seeing the initial success of the Easy 1 Up system…
The problem is we'll never know for sure because the person who's behind the 25 Dollar 1 Up system is keeping their identity hidden which is a huge red flag & is something that's common for the creators of scams to do…
But anyway regardless the 25 Dollar 1 Up system claims to be some sort of powerful system that can enable you to begin earning passive commissions online with ease, even if you're totally brand new to making money online…
You're told that unlike with other business opportunities the 25 Dollar 1 Up system won't involve you doing any home meetings or hotel presentations & it even states that it won't involve you convincing anybody to buy anything…
However as you'll see in just a moment when I show you how it all works you'll quickly see that isn't quite so true. 🙂
How Does The 25 Dollar 1 Up System Work?
Okay so basically in short the 25 Dollar 1 Up system is nothing really revolutionary or magical – it's just another one of those systems that promises to show you how to make money but then leaves you to find out that the way you actually make money is by getting others to sign up to it just like you did.
It's kinda like MOBE… Which just recently got shut down!
So the process looks something like this….
You sign up to the 25 Dollar 1 Up system (which initially costs $10).
Then you choose one of the "product packages" which consist of Gold ($25), Platinum ($100), Diamond ($250), Enterprise ($500).
And finally you recruit others & get them to invest in a package just like you did.
From here you earn commissions at their expense – but only up to the package levels you personally own.
This means that the minimum amount it will cost you to get started with the 25 Dollar 1 Up system is $35, since you'll need to buy at least the Gold package and you'll also need to pay the $10 entry fee (which they claim covers hosting costs).
The important point though as I mentioned above is that you can only earn commissions on the product levels that you personally own. So for example if you invested at just the Gold level (for $25) and you recruited somebody who bought in at the Enterprise level, you would only earn a $25 commission even though they paid $500 + $10 to join.
The rest of the money would be passed up above you to your sponsor (the person who recruited you) – and the $10 would go to the creator of the whole thing.
There's also what they call a "1 up" compensation plan in place (hence the name of the whole thing) which will see you passing up your second sale to your sponsor too – regardless of what level you sell.
So just to clarify…
The 25 Dollar 1 Up Compensation Plan
As a member of the 25 Dollar 1 Up system if you begin recruiting people you'll be qualified to earn from every member you recruit EXCEPT from the 2nd member, up to the level that you've personally purchased.
The second person that you refer will be passed up & locked to the person that referred you – and then whenever anybody else that you recruit goes on to recruit a 2nd person then their 2nd person will get passed & locked to you in the same way.
Ultimately the whole structure kinda looks somewhat like this: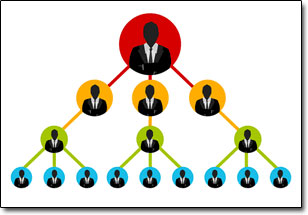 Hopefully that makes sense! Now here's an example…
Let's say you've bought in at the Platinum level for $100 & you recruit 3 people…
The first person buys in at Gold – you earn a $25 commission & the person is locked to you.
The next person you recruit spends $100 and also buys in at Platinum just like you… But because it's your 2nd sale you earn nothing & instead the commission is passed up to your sponsor & the new recruit is locked to them.
Now the third person goes all in at the Enterprise level, spending $500 – but because you're only at Platinum level you only earn a $100 commission and the remaining $400 is passed up to your sponsor (or the next person above you that's qualified at Enterprise).
Get the idea now? I hope so! Which brings me onto the next point…
Can You Really Make Money With 25 Dollar 1 Up?
The 25 Dollar 1 Up system portrays itself as some sort of super easy way to make money, and whilst yes – you can indeed actually make money with it… Sadly it will be nowhere near as easy as it's made out to be.
The other issue is that in my opinion the whole thing just looks an awful lot like a Ponzi scheme & that's likely the reason as to why the creator has chosen to keep his (or her) name hidden away from public view.
In case you don't know a Ponzi scheme is basically a scheme where money is just getting passed between people with no real focus on any actual product sales. The scheme works on multiple levels & as a result it will inevitably collapse resulting in many investors losing money.
I mean don't get me wrong I appreciate that there are indeed "products" sold by 25 Dollar 1 Up… The Gold, Platinum, etc… But come on, it's clear to see that the real emphasis is put on the money making side of things… You can see that clearly from the fact that they don't even talk about the products until after you sign up.
And the creator also stresses several times throughout the video that the whole thing is not a multi-level-marketing scheme, but it blatantly is – so again I don't get why he (or she) would lie about this.
If you pass up your second sale to your sponsor, and you get sales passed up from the people below you then clearly the whole thing is working on multiple levels which is the exact definition of a multi-level-marketing program LOL.
I think the creator's hiding the MLM aspect because he (or she) knows lot's of people don't like getting involved with it. They have good reason not to as well, because as the image below shows (which is taken from an FTC report) very few people find success with MLM programs: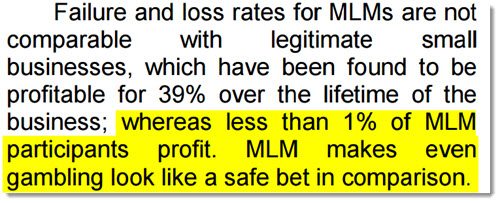 And that brings me nicely onto the final portion of this review…
My Verdict – Is 25 Dollar 1 Up a Scam?
It's not really a scam as such, since you do get the opportunity to potentially make money… But in my opinion it is pretty deceiving & making money with it is going to be way harder than you're led to believe.
Plus there's the fact that to get the most out of the program you're going to have to invest a whopping $510 & even if you do there's still absolutely no guarantee that you'll make a penny of it back.
So for those reasons – and the fact that it just looks way too much like a Ponzi scheme, I won't be recommending the 25 Dollar 1 Up system to you. Instead if you really want to make good money online I suggest you just stick with a legitimate & proven program like Wealthy Affiliate instead.
But of course aside from that there are also several other ways you can make good money online too. There is simply just no need to join an overly hyped high-risk program like the 25 Dollar 1 Up system.
So to wrap it up I hope that my review here has given you a better insight into how it all works, and hopefully it has also helped you save some cash… But if you do still happen to have any further questions or comments then don't hesitate to leave them below & I'll be sure to get back to you as soon as I can. 🙂