The 5K Formula system has been put together by Matthew Neer & it promises to be an "instant commission system" that can make you as much as $5,000 over & over again all on complete autopilot.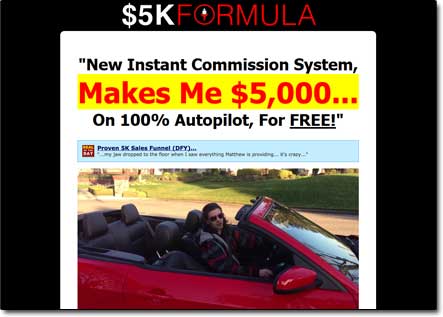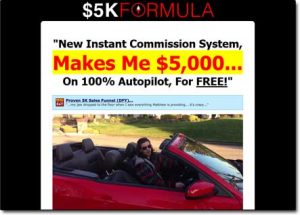 You're led to believe that you can simply sign up, follow some steps & then use his "done-for-you" funnel to begin making money…
But is it actually legit or will the 5K Formula system scam you instead?
It sure pays to be careful when you're looking into anything that boasts such bold promises as this but thankfully you've landed in the right place as here in my honest review I'm going to uncover the truth about how it all really works.
What Is 5K Formula?   |   How Does 5K Formula Work?   |   The Sales Funnel Explained   |   Is 5K Formula a Scam?   |   A Better Alternative
What Is 5K Formula?
As I briefly touched on above the 5K Formula system has been put together by a guy named Matthew Neer, and Matthew might be somebody that you're already familiar with as he's actually launched several other make-money style products alongside this one.
Just recently I reviewed his List Leverage system but he has a whole bunch of others such as the Viral Money Method & Wealth Ascension systems… Sadly though none yet have really delivered on their promises.
Will the $5K Formula system be any different? We'll soon find out!
But the first thing you should know is that this system isn't actually new. It was first launched back in 2015, almost 3 years ago now, but it seems that Matthew is trying to re-push it once again as it seems to be getting promoted quite heavily at the moment.
The concept is that you'll be getting access to the exact same sales funnel that Matthew uses to generate his own income online, meaning you're supposedly going to be able to duplicate his results for yourself…

He even leads you into believing that everything is pretty much "done-for-you" so that you can just sign up & start making money right away… Hence why he's given it the name of the "Instant Commission System".
But obviously those are all pretty bold claims & it's extremely unlikely that they're going to hold true… Once again it looks like it's just going to be another over-hyped system that under-delivers with its value.
There's only 1 way to find out for sure though – so let's take a look into how it all works…
How Does 5K Formula Work?
Okay, so the whole $5k Formula System is all about Matthew's sales funnel. You're led to believe that he's created the "perfect" sales funnel & that you can just send traffic to it & begin making money.

He makes out as if it's totally foolproof so that it pretty much doesn't matter what traffic you throw at it, you'll still make money… And obviously, if that were true then it would be absolutely fantastic.
However, sadly it isn't.
In reality, as I suspected the program is just yet another over-hyped platform & whilst you do indeed get access to a sales funnel that's been put together by Matthew, it's unlikely to make you the money you're promised.
In fact due to the fact that the training on getting traffic is very limited inside of the system (and primarily focused towards paid traffic) the truth is that you could actually just end up losing money instead of making it.
Don't get me wrong though I don't want to totally slam his product – after all, he promises to give you access to a sales funnel & that is indeed what you get, so it's not like it's a flat-out scam or anything like that.
It's just that the promises it makes are kinda BS.
In reality, Matthew is making the most of his money from product creation as opposed to being an affiliate – that's why he's got so many products out… And through his systems like this one, he's basically just trying to get people to sign up as an affiliate of his products to promote them so he can earn even more money overall.
So if you're an experienced marketer then yeah, you do get a fairly decent sales funnel – and if you're specifically interested in promoting Matthew Neer's products to others then the system isn't all bad… But for others, it's probably not going to help you at all.
Instead, I'd recommend you join a more step-by-step & proven program like Commission Academy instead. It's there that you'll learn how to promote anything and you'll also get provided with all the tools you need too.
You Might Also Like:
The 5K Formula Sales Funnel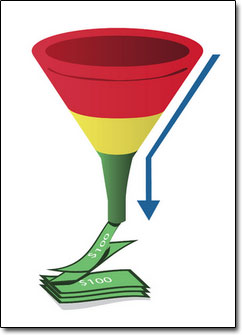 The sales funnel that you get access to through the 5K Formula is what Matthew often refers to as his ascending sales funnel & it's the exact same sales funnel you get provided with through his Wealth Ascension program.
The Wealth Ascension program is newer than the 5K Formula though so if you were going to purchase one of his products – whilst I personally don't recommend either, I'd probably pick Wealth Ascension over this one simply because it's probably more up to date.
The reason I don't recommend either is not that they totally suck – it's just because like I mentioned above I personally believe Wealthy Affiliate is overall a better place for people to get started.
But anyway yeah the whole thing is based around his ascending sales funnel & like I said when I first reviewed it the whole thing isn't really all that secret or revolutionary. Many marketers use the same type of sales funnel & it just basically involves upselling.
So you'll introduce somebody to something for a low price, then you'll gradually add a whole bunch of upsells along the way as they progress through the funnel until eventually, you push them towards purchasing a high-ticket product at the end.
So for a customer who initially signs up for a $1 trial or something the idea is that you build their trust through the funnel & eventually push a super high price product onto them which they'll be more likely to buy. I'll admit it can work quite effectively but the problem is that often these sales funnels don't provide any real money in return for the cash being handed over… The creators of them are just more interested in getting cash so they sell people on false promises instead of value.
It's exactly how the Digital Altitude & MOBE programs worked but the FTC closed them both down because they didn't like how people were being sold & gradually "tricked" into paying more & more.
Anyway, I think you probably get the idea of how it works which means it's time for…
Is 5K Formula a Scam?
It's not a scam at all, that would be a pretty harsh & unfair verdict to arrive at – however, what I will say is that in my opinion the whole thing is pretty darn misleading & making money won't be anywhere near as easy as it seems.
The answer is yes, you could potentially make money with Matthew's 5K Formula system & the sales funnel that you get provided with… However, it's not automated or even entirely "done-for-you" so instead you'll be required to put in a lot of work. You'll need to work hard to generate traffic which you'll be left to do on your own & this is one of the most difficult tasks of online marketing.
So whilst it all seems great on the surface, sadly it's just not quite so great once you get into it. There's also a lot of additional upsells inside of the program too (because Matthew has based it on his ascension sales funnel) and I don't really like that either. I like to know the full outlay of costs before I get into something.
Therefore overall I won't be recommending the 5K Formula system to you because in my opinion, you will likely find yourself disappointed if you sign up to it. Instead, I'd simply advise you to sign up to a legitimate & proven platform like Commission Academy instead which is complete & free to join.
Hopefully though after reading this review you can see why I've come to that conclusion – but if you do happen to have any further questions don't hesitate to leave them below & I'll get back to you as soon as I can.
A Better Alternative
The sad truth is that unfortunately most of the programs promising to help you make money online are scams. I can say that confidently after exposing over 500+ of them here on this blog.
But the good news is that even though most of them are indeed scams, there are actually some very good programs in amongst them - some programs that can truly help you to earn money.
And out of all of the legit programs I've seen, the one I would recommend the most to anybody looking to get started online is Commission Academy. In my own opinion, that's the best place to start.
At Commission Academy, you'll be provided with everything you need (including the training & tools) to begin earning real money by promoting products or services for companies like Amazon online.
The best part is that there's literally no limit on the amount you can earn with it & the process is pretty simple which means that it's absolutely perfect for people that don't have much experience.
Some wealthy affiliates even earn as much as 5-figures per month... Or more!

I mean don't get me wrong, that kind of money won't just fall into your lap without doing any work... But the harder you're willing to work at it, the more you stand to earn with it.
So if you're looking to get started but don't know which route you should go down or which program you should join (and don't want to waste money on bogus things that don't actually work), then I'd highly recommend checking out Commission Academy first. You can learn more about it here.