The List Leverage system has been put together by a guy named Matthew Neer & you're led to believe that it can enable you to easily build a huge email list (almost on auto-pilot) & generate a ton of cash as a result…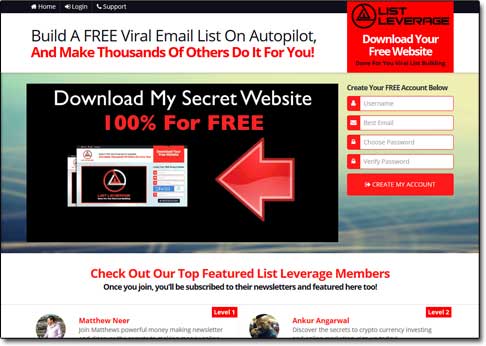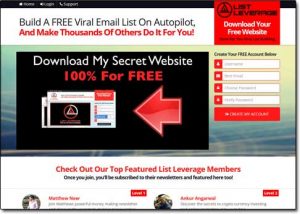 The system's also supposedly been designed with newbies in mind, so basically anybody is supposed to be able to sign up & profit from it… But is it actually legit or will List Leverage scam you instead? That's a question a lot of people have been asking.
Thankfully though if you have also been wondering the same thing then you can rest assured that you've landed in the right place to find out as I've taken a closer look into it all & in this review I'll be uncovering the truth about how it all works & whether or not you can really make any money with it.
What Is List Leverage?   |   How Does List Leverage Work?   |   Why It Won't Work As Promised   |   The Cost   |   Is List Leverage a Scam?   |   A Better Alternative
What Is List Leverage?
As I briefly touched on above List Leverage is one of the latest creations from a guy named Matthew Neer, and I've actually reviewed quite a few of Matthew's previous products right here on this blog.
The majority of his products, such as the Viral Cash App, the Speed Wealth system & the Viral Money Method all promise similar things. They all promise that they can help people lot's of money online really quickly…
Sadly though I've yet to come across one that actually works as promised.
So will List Leverage be any different? A lot of the top internet marketers seem to be associated with it so I'm kinda hoping that there might actually be some substance to this one but there's only one way to find out…
Let's take a look at how it all works & see for ourselves. 🙂
How Does List Leverage Work?
Okay so as the name suggests the List Leverage system is based around email marketing & building an email list. This is something that a lot of people are interested because they here time & time again that "the money is in the list".
Most online marketers will tell you that they make most of their money from their email list & that it's vital for online success… Which is kinda true.
I mean don't get me wrong you don't need an email list to find success online, but having one really can take your income to the next level. However it's not just as simple as "build a list and generate riches".
Successfully building & profiting from an email list is actually quite a fine art.
But that's where the List Leverage system comes in, because Matthew Neer who's behind it claims that he's pretty much done everything for you, and he claims that he's come up with an innovative method which can enable you to turn 1 subscriber into thousands.

So I know what you're wondering… What's his innovative method?
Well basically it's signing up to the List Leverage system, then promoting the List Leverage system & getting others to do the same. The structure of it all kinda looks somewhat like this: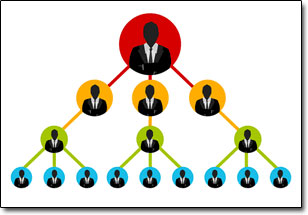 And whenever I see a structure like that I always get a little bit worried as it obviously quite closely resembles a pyramid scheme. I'm not saying that his program is a pyramid scheme – I'd class it as more of a multi-level-marketing scheme, but still there's only a very fine line between the two.
Not so long ago a big company named MOBE which operated a similar structure was recently shut down by the FTC.
It's therefore safe to say you have to tread carefully with these sorts of things.
But now I know your next question… How does this structure help you build an email list any faster?
Turning 1 Lead Into Thousands…
When you initially sign up to the List Leverage platform you're asked to enter your email address, and when you do you'll "secretly" be added to 6 random email lists from other members of the List Leverage system.

This basically means that they can bombard you with whatever they want – and whilst you can unsubscribe from each, I personally feel that it's a big "naughty" for you to get added to all these email lists without really knowing about it.
Anyway if you do actually go all the way through with the registration you'll find out that basically you just have to promote the List Leverage system to others, but via the link you get to promote your email list will be included in those 6 slots.
So if you refer somebody to the List Leverage system via your affiliate link the person you refer will get added to your email list and 5 other random ones.
Then the idea is that you get the person you referred to go on to promote the List Leverage system too. If they do, then through the link they promote their email list will be included in the 6 slots (at position 6) and so will yours (at position 5).
So essentially now whenever this person brings in a new subscriber they are going to go onto their email list, but they're also going to get added to yours too – and that's how you'll supposedly turn 1 subscriber into thousands.
Hopefully that makes sense?
Unfortunately, It Won't Work As Promised
In theory it sounds pretty good & if you're new to email marketing then I wouldn't blame you for thinking that the method could actually work & that you could build a huge email list by doing this… But in reality it won't quite work out as promised…
And there are a couple of reasons for that.
For a start if you really want to build your email list using the "innovative method" this system provides then you're going to have to promote the List Leverage system onto other people & that means two things… If you're no good at generating traffic then you're still going to struggle with building an email list… And the email list you do build will have to be within the MMO niche.
This system won't help you out in any other niches because the people signing up to your email list (without knowing it) are signing up because they're interested in a way to build an email list & make money.
Then secondly, like I just touched on above the people that are signing up to your email list are signing up without really knowing it – and they're signing up to 5 other random email lists too.
What's bad about that? Well they're either just immediately gonna unsubscribe as soon as they see random emails coming through OR they're going to do the even worse thing & hit the spam report button. A few of them do that & boom your email list is dead in the water.
So like I say it's good in theory, not so good in practice.
You Might Also Like:
Then There's The Cost…
The List Leverage system stresses a good number of times about the whole thing being free. The headline reads "Build A FREE Viral Email List On Autopilot", the email sign up form reads "Download Your Free Website", and guess what happens when you sign up?
You get to find out that it's not free at all!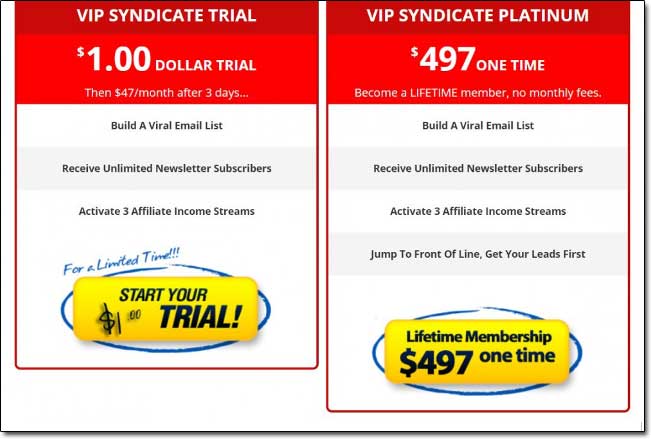 Instead you're presented with two options – you can either sign up for a recurring fee of $47 per month or you can hand over $497 and become a member for life (with the latter option being pushed).
So based on what I've said above is it really worth the cost? In my opinion no, it isn't. You'd be much better off just starting a blog & building an email list the proper way, you'll find more success like that.
Is List Leverage a Scam?
Well no, it's not a scam – not at all… That would be a pretty harsh verdict to come to. I appreciate that Matthew Neer has built something fairly unique, and after handing over your cash you do indeed get access to a "list building system" like you were promised… It's just that in reality it's not quite as great as it seems.
Oh, and also as I just mentioned above it's not free either… So in my opinion whilst it's not a scam (at all), it's just not worth the money because as far as I'm concerned it won't really help you out.
I mean if you're in the MMO niche then maybe it could work out for you & help you get a few extra subscribers but you will still be faced with the problem that they won't know who you are & that they will be added to 5 other email lists at the same time too… This means they won't be very good subscribers at all.
So overall I am not going to be recommending the List Leverage system & hopefully after reading this review you can see why I've come to that conclusion. But if you are still interested in making money & you want legitimate training on how to do it the proper way then I suggest you check out Commission Academy instead.
It's at Commission Academy that you'll learn the proper methods for marketing online & building an email list the right way, and at least you know by joining there you are joining a program that's proven to work.
But anyway if you still happen to have any question about the List Leverage system or if you have any comments you'd like to add to my review then don't hesitate to leave them below & I'll respond back as quickly as I can.
A Better Alternative
The sad truth is that unfortunately most of the programs promising to help you make money online are scams. I can say that confidently after exposing over 500+ of them here on this blog.
But the good news is that even though most of them are indeed scams, there are actually some very good programs in amongst them - some programs that can truly help you to earn money.
And out of all of the legit programs I've seen, the one I would recommend the most to anybody looking to get started online is Commission Academy. In my own opinion, that's the best place to start.
At Commission Academy, you'll be provided with everything you need (including the training & tools) to begin earning real money by promoting products or services for companies like Amazon online.
The best part is that there's literally no limit on the amount you can earn with it & the process is pretty simple which means that it's absolutely perfect for people that don't have much experience.
Some wealthy affiliates even earn as much as 5-figures per month... Or more!

I mean don't get me wrong, that kind of money won't just fall into your lap without doing any work... But the harder you're willing to work at it, the more you stand to earn with it.
So if you're looking to get started but don't know which route you should go down or which program you should join (and don't want to waste money on bogus things that don't actually work), then I'd highly recommend checking out Commission Academy first. You can learn more about it here.