Auto Chat Profits claims to leverage the power of automation & promises to provide its members with access to a way for generating consistent profits of up to $423.67 per day through some sort of so-called "weird robot technology"…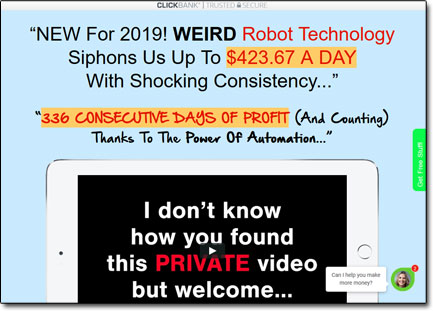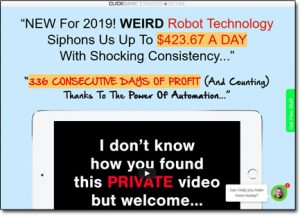 The creator (who remains anonymous) states that it's super easy & that anybody can simply plug-in & start making money. But is it really legit & can you truly make money with the Auto Chat Profits robot or is it a scam that'll just part you with your hard-earned cash instead?
Well, thankfully you've landed in the right place to find out as I've personally taken a closer look into it & in this honest Auto Chat Profits review you can rest assured that I'll be uncovering literally everything there is you need to know (including whether or not you can really make money with it).
What Is Auto Chat Profits?   |   How Does Auto Chat Profits Work?   |   The Big Problem   |   The Costs   |   Another Problem   |   Is Auto Chat Profits a Scam?   |   A Better Alternative
What Is Auto Chat Profits?
Auto Chat Profits claims to be a new piece of robot chat software that has been designed with the specific intention of generating profits online through an entirely automated process, meaning once implemented it'll allow you to make money without actually having to do any work…
And according to the website it won't just generate you "any" money, it'll supposedly generate you whopping consistent profits of up to $423.67 per day – or at least that's what its creator claims anyway… However weirdly the creator remains completely anonymous.

The only name mentioned on the website is that of Samantha Smith, the video spokesperson, but upon scrolling right down to the bottom of the Auto Chat Profits website I read in the disclaimer that "The spokesperson used in the video is using a pen name"… So there's really no trace of who's actually behind all this.

Couple the huge claims with the fact that the people behind this thing are keeping themselves entirely hidden & I'd usually say right from the off that what you're looking at here is a flat out get-rich-quick scam… But after taking a closer look into it I discovered that's not actually quite the case as you'll soon see below…
Though in the same breath with that being said I don't advise rushing right into buying the Auto Chat Profits program because whilst there is some substance to it there are also some big problems – and it's also unlikely that you'll earn anywhere near the amounts advertised… In fact, you could (and likely will) just end up spending more through the program than you ever actually manage to make back.
But with all that being said there is actually an interesting concept behind the whole thing which as I say you'll soon see when I explain how it all works below…
How Does Auto Chat Profits Work?
Essentially the concept here is that in return for $37 the creators of the Auto Chat Profits program are going to set you up with a "done-for-you" website that will contain a robot chat feature designed to generate affiliate sales on your behalf.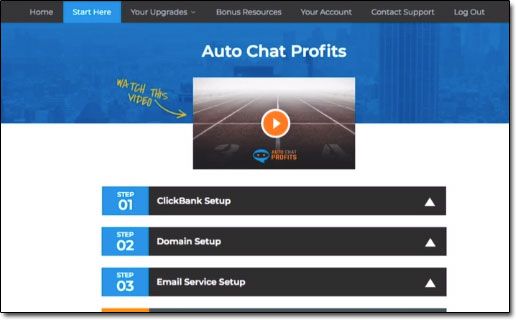 So the first step after signing up to the program will be for you to register with an affiliate network named ClickBank – and this is where one of the initial problems with the software lies. The reason I say that is because whilst ClickBank itself is legit, most of the products found on the ClickBank network are borderline (or outright) scams & these are the things you'll be forced to promote via your "done-for-you" website.
Some example ClickBank scams include the likes of Paid Social Media Jobs & Instant Email Empire which I recently exposed.
Then once you've created your ClickBank account & integrated it with the Auto Chat Profits system the next step will be for you to select a domain name that you'd like to use & this is where problem number 2 lies. They claim the domain name is included with the cost of your membership however you're forced to use one of the ones they've already preregistered (meaning you can't pick your own) & also you never actually own the domain name yourself – the creator of Auto Chat Profits keeps the ownership of it.
Anyway, after that the next step is to sign up with an email marketing service like AWeber or GetResponse. The reason for this is because you'll be collecting emails from people through the website they create for you & you'll be using these email marketing services to follow up with people in an effort to convince them to buy one of the affiliate products (so that you actually earn a commission).
After all, that's done you'll hit the "build website" button and everything will be set up for you in a matter of minutes ready for you to begin promoting…
The idea here is that you'll promote the website, then the chat robot will automatically recommend products from ClickBank (using your ID that you integrated) to the visitors of the website on your behalf giving you the opportunity to earn commissions if any of them happen to make a purchase…
And I'll admit the chatbot is actually pretty good, and in theory, it could work, but this is where the biggest problem of all lies…
The Biggest Problem With Auto Chat Profits
Okay so yes, the creators of the Auto Chat Profits system do indeed live up to their promise of providing you with a "done-for-you" website, however, I got access to one of these websites that they build for their members and it is literally just a 1-page site with the chatbot as shown below: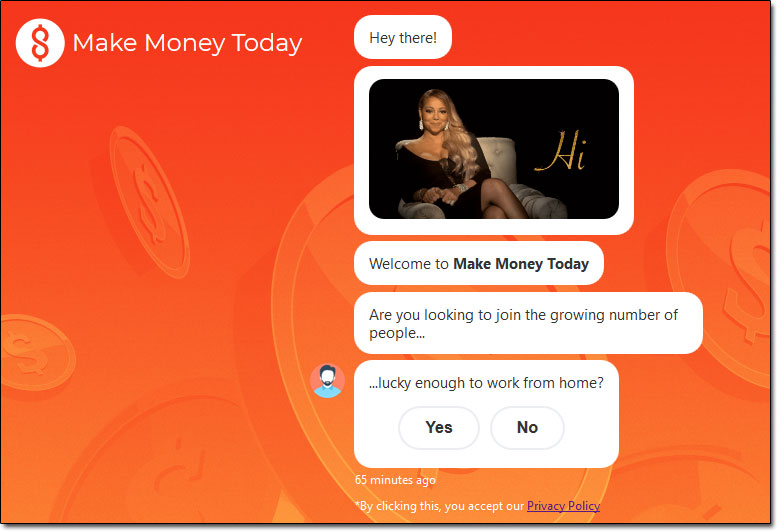 And the reason I say this is a big problem is that there's literally no content on the website whatsoever (other than the default privacy policy & disclaimer etc) so this means if you want to get visitors to the website (which you'll need in order to make money) you'll have to go down the route of paid advertising.
Now I can tell you that even as an online marketing expert it is extremely difficult to come up with a profitable paid advertising campaign & I've seen many big names burn through tens of thousands of dollars before turning so much as a single dollar in profit… I've even seen some spend just as much and NEVER manage to turn a profit.
It's a really risky game, especially if you're now – and what's even worse is that the Auto Chat Profits training puts a focus on a method of paid advertising known as solo ads which is one of the riskiest methods there is.
So whilst the chatbot itself is kinda cool, the rest of it isn't – and as a result, the chances of you actually making money with this thing (despite there actually being some substance behind it) are still slim to none.
…and I think that with that in mind it's now quite clear why the owners have chosen to keep themselves hidden.
After doing some research though I was able to find out that the creators of this program are the same people who were behind the Five Minute Profit Sites scam as well as the Profit With Alex scam.
I was able to find that out by visiting their own affiliate page on ClickBank – and it was here that I also discovered that the $37 fee that is advertised all over their website isn't really the trust cost of the program.
You Might Also Like:
The True Costs of Auto Chat Profits
For a mere $37 you might be thinking "what the heck, I'll try it out & see if it works" but that's exactly what the creators want you to think as after visiting the affiliate page I discovered that the $37 is basically just an entry-fee.
The true cost of the program as shown below is a LOT more:

So after spending the $37 to "get in" you'll immediately be presented with an upsell for $197, then $187, then $97 – so all in all to get access to everything inside of Auto Chat Profits it's going to cost you $518…
That's a LOT of money especially when you don't actually get anything "to keep" in return – which brings me onto my next point…
The Creators Keep Everything – You Get Nothing
On the sales page, you're told that you get a done-for-you website & a domain name, but the truth is you don't really get either of these – at least not to keep anyway, the creator of Auto Chat Profits keeps them instead.
Firstly the domain names are all already preregistered which means you can't even choose your own, you just have to select from a list & the domain is never actually transferred to you so you don't own it…
And secondly, the "done-for-you" website is never sent to you either – so if you already have a website & you want to install the Auto Chat Profits robot on there then, in short, you can't. They literally just set up a duplicated page on their website with the name changed to the domain you chose…
This means that if you do end up making money (which the chances of doing so are super slim) then the creator of Auto Chat Profits still owns everything you have so he could just re-route the profits to himself… Or if Auto Chat Profits closes, so will your site – and so will your profits.
You'll be left with nothing!
But anyway I think I've said enough now to give you an idea of how it all works so it looks like it's time for…
Is Auto Chat Profits a Scam?
I'm not gonna lie, in this instance, this is a pretty difficult question to answer – I mean the claims are extremely hyped up & the as far as I'm concerned the chances of you actually making money with this thing are really slim, but at the same time, you do technically get something that could technically make you money on the other side.
So my verdict here is going to be that no, it's not really a scam as such – but in the same breath, it is going to be unlikely to actually help you make money. I think the only people who'll find themselves making any money through this are those who are already experts in paid advertising & have a huge budget behind them to test the traffic.
Even then I wouldn't really recommend the program though and I say that for 2 reasons – firstly because the creator keeps ownership of everything (meaning your site could get closed at any moment) and secondly because 99% of the things the chat robot recommends to people are scams from ClickBank like Paid Social Media Jobs & Insta Profit Hack.
If you truly want to make good money online then you should steer clear of hyped-up gimmicks like the Auto Chat Profits because even if they did work they are simply not sustainable. Instead, you should just join a proven & legitimate place like Wealthy Affiliate where you'll learn how to create your OWN business that will generate you money for the long term.
Or alternatively, you could check out these better methods that actually work…
But whatever you decide to do I just sincerely hope that my Auto Chat Profits review here has given you a good insight into how it all really works & hopefully you can see why you likely won't make money with it. If you do happen to have any further questions or comments though then don't hesitate to leave them below & I'll get back to you as soon as I can. 🙂
A Better Alternative
The sad truth is that unfortunately most of the programs promising to help you make money online are scams. I can say that confidently after exposing over 500+ of them here on this blog.
But the good news is that even though most of them are indeed scams, there are actually some very good programs in amongst them - some programs that can truly help you to earn money.
And out of all of the legit programs I've seen, the one I would recommend the most to anybody looking to get started online is Commission Academy. In my own opinion, that's the best place to start.
At Commission Academy, you'll be provided with everything you need (including the training & tools) to begin earning real money by promoting products or services for companies like Amazon online.
The best part is that there's literally no limit on the amount you can earn with it & the process is pretty simple which means that it's absolutely perfect for people that don't have much experience.
Some wealthy affiliates even earn as much as 5-figures per month... Or more!

I mean don't get me wrong, that kind of money won't just fall into your lap without doing any work... But the harder you're willing to work at it, the more you stand to earn with it.
So if you're looking to get started but don't know which route you should go down or which program you should join (and don't want to waste money on bogus things that don't actually work), then I'd highly recommend checking out Commission Academy first. You can learn more about it here.