Upon visiting the website for the Auto Online Sites system you're greeted by a lady allegedly named Paula Shaffer who claims that she's created you your very own website which will begin earning you money right away…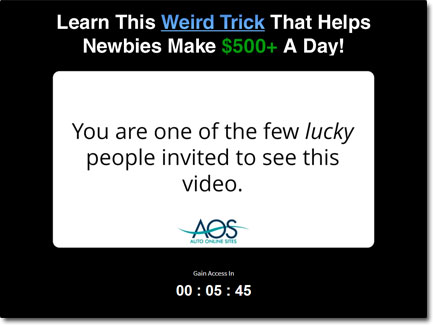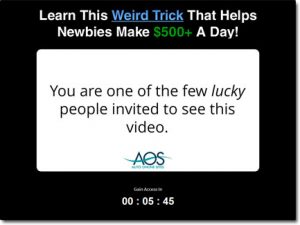 However there's a catch, which is that in order to get access to the so-called done-for-you profitable website she's created you have to firstly hand over $97 of your own money… So what's the deal? Will the site really make you money is Auto Online Sites a scam to avoid?
Well thankfully you've landed in exactly the right place to find out as after being asked several times about this system I've personally taken a closer look into it to find out the truth & in this honest review I'll be uncovering everything you need to know (including whether or not you can really make any money with it).
What Is Auto Online Sites?   |   How Does Auto Online Sites Work?   |   The Problems   |   Is Auto Online Sites a Scam?   |   A Better Alternative
What Is Auto Online Sites?
Essentially Auto Online Sites (which as mentioned above has been put together by Paula Shaffer) promises to provide you with a super-easy way to start making really good money online, even if you're totally new.

Paula leads you into believing that rather than doing the legwork of creating a website yourself & waiting for it to begin generating income you can simply use her Auto Online Sites system to get on that's already been done-for-you & already begun making money…
The problem though is that Paula Shaffer's claim is a load of BS – and as you'll also soon see Paula Shaffer isn't even real.
In short the person who's really behind the whole thing is just trying to scam you out of your hard earned cash by tricking you into thinking that you'll be able to make some easy money, and that's why you have to pay $97 before you can actually get the site.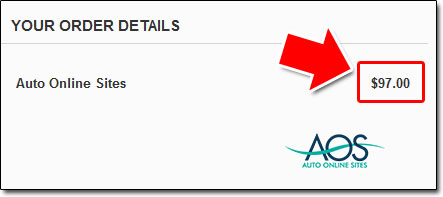 I can say that so confidently so soon because I've seen this scam several times before under various different names. Instant Profit Sites, 5 Minute Profit Sites & Your Dream Websites are just a few examples.
If you click on those links you'll be taken to my reviews of those systems & you'll see that they are actually almost identical to this "new" Auto Online Sites system by Paula Shaffer – the only major difference is the name.
And that's because the person who's really behind it just keeps changing the name in order to escape the negative reviews (like mine) so that he or she can continue scamming people out of their hard earned cash.
Plus the reason I know Paula Shaffer isn't real is because every time the scam launches, even though it's the exact same system the "creator's" name changes. At 5 Minute Profit Sites the creator was Sam Smith, at Instant Profit Sites it was Jake… Now at Auto Online Sites it's Paula.
Lies, lies & more lies – that's all the Auto Online Sites system is built up of but of course I don't just expect you to take my word for that. I appreciate that you might have been hoping you could make good money with this system so instead keep on reading & I'll show you how it all really works so that you can see for yourself what's actually going on.
How Does Auto Online Sites Work?
In short the Auto Online Sites system is loosely based around something called affiliate marketing, and this is where things begin to get a little more complicated as affiliate marketing in itself is actually legit.
In fact affiliate marketing is actually the same way I personally make most of my own money online & it basically involves connecting people with the products that they're looking for & getting paid commissions in return.
Here's an example of what I mean: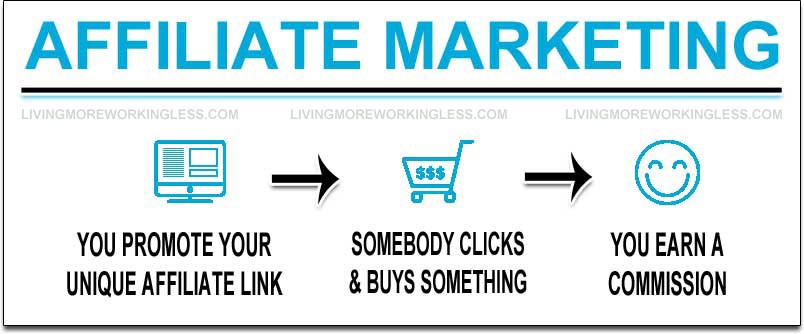 However whilst affiliate marketing is legit (and a very good way to make money), it does take work. You can't just expect to start one day & get rich the next… Which is basically what the Auto Online Sites system promises.
So whilst affiliate marketing is legit & can make you good money if done properly (with the help of this training), the Auto Online Sites method is not "doing it properly"… Instead the creator is just trying to trick you into handing over your cash so that he or she can make at your expense instead.
Then, once you hand over your cash you'll just be left to discover the hard way that it doesn't really work as promised.
I mean yes sure, you do get access to a "done-for-you" website as promised – but the website will fail to make you money because it's the exact same website that they're giving to every single other member.
Plus what they also fail to tell you is that after paying the $97 you'll also have to pay for web-hosting, and they've teamed up with a super expensive web-host (that's paying them commissions) so the hosting will cost you hundreds more dollars too… Before you even get the site online!
Which means you'll have spent $200+ for a naff website that won't make you a penny, when you could have actually setup a profitable website for free by following my step-by-step guide right here.
You Might Also Like:
The Problems With Auto Online Sites
To somebody who is brand new to making money online the concept of Auto Online Sites might seem fairly legit. After all why couldn't you get a done-for-you website that will make you money right away?
Well, there are a good few reasons why it won't work…
The Sites Barely Have Any Content
The site that you're provided with through the Auto Online Sites system barely contains any content at all. Instead it just contains a whole bunch of product listings which take visitors directly to Amazon (through your Amazon affiliate link that you're told to connect).
This might not seem like an issue, but it's actually a very big issue because it means that search engines (like Google, Yahoo & Bing) won't be interested in listing the website within their results – and this means you're losing out on a LOT of potential visitors. The only alternative routes would be to actively market the website on social media or pay for advertising & these are both very difficult tasks.
The Sites Are All Duplicates
Every single member that signs up to the Auto Online Sites system by Paula Shaffer is getting provided with the exact same website. This also poses a big problem because once again search engines don't do duplicate content.
After all, why would they want their results filled up with multiple web pages that all show the exact same thing?
So even if the websites did come with content (which they don't), they still wouldn't get listed within search engines like Google, Yahoo & Bing etc because only the original one would. All the rest would simply be ignored.
You Can't Just Create a Site & Make Money Instantly
The only effective way you could get instant visitors to a new website would be to use paid advertising, and I can tell you that not only is paid advertising very costly – but it's also VERY risky too – even for the experts.
It takes a LOT of trial & error to come up with a profitable paid advertising campaign & all of that trial & error costs real money. I've seen people burn through literally 10's of thousands before turning a single dollar in profit.
Funnily enough though Paula Shaffer in the Auto Online Sites fails to tell you about any of that. She just says that the site is making money right away, but there's simply no way it could be without running paid ads… It's all just lies.
Is Auto Online Sites a Scam?
100% – there's no doubt about it. The Auto Online Sites program is indeed a scam & that's the reason that the true creator of the whole thing (who isn't really named Paula Shaffer) has changed it's title so many times.
Instant Profit Sites, 5 Minute Profit Sites, Your Dream Websites & now Auto Online Sites… He or she is just trying to escape the negative reviews that out it as a scam so that he or she can continue parting more people with their cash. Don't fall for it!
After buying into the Auto Online Sites program you'll just be provided with a copy of a naff website & faced with upsells telling you to purchase additional web-hosting in order to actually get the website online. All in all you could therefore see yourself spending hundreds of dollars, when you could actually start a website that makes money for free.
So it's safe to say with all that being said that I am NOT going to be recommending the Auto Online Sites system to you & instead I'm going to be advising that you steer well clear of it. If you really want to learn how to build an affiliate income then I suggest you check out Wealthy Affiliate which is actually legit.
Or alternatively you can check out my top ways for making money online here.
But whatever you decide to do I just hope that my honest review here has given you a good insight into how the whole thing really works & hopefully it's helped you to save some of your hard earned cash. If you do happen to still have any questions or comments though then don't hesitate to leave them below & I'll get back to you as soon as I can.
A Better Alternative
The sad truth is that unfortunately most of the programs promising to help you make money online are scams. I can say that confidently after exposing over 500+ of them here on this blog.
But the good news is that even though most of them are indeed scams, there are actually some very good programs in amongst them - some programs that can truly help you to earn money.
And out of all of the legit programs I've seen, the one I would recommend the most to anybody looking to get started online is Commission Academy. In my own opinion, that's the best place to start.
At Commission Academy, you'll be provided with everything you need (including the training & tools) to begin earning real money by promoting products or services for companies like Amazon online.
The best part is that there's literally no limit on the amount you can earn with it & the process is pretty simple which means that it's absolutely perfect for people that don't have much experience.
Some wealthy affiliates even earn as much as 5-figures per month... Or more!

I mean don't get me wrong, that kind of money won't just fall into your lap without doing any work... But the harder you're willing to work at it, the more you stand to earn with it.
So if you're looking to get started but don't know which route you should go down or which program you should join (and don't want to waste money on bogus things that don't actually work), then I'd highly recommend checking out Commission Academy first. You can learn more about it here.